A trip to the barbershop was required only a few decades ago if you wanted a close shave. The barber would use a straight razor to give you a clean, stubble-free face. Thankfully, achieving a flawless shave is easier now than in earlier decades. Shaving has become a mundane, everyday job for many men in India with the development of electric razors and shavers, as well as the start of the self-care movement. Shopping for the best electric shaver for oneself, however, can be difficult due to the abundance of different brands, models, and variations of shavers on store shelves.
Types of Shaving Razors For Men
Disposable Razors

After each usage, these razors are tossed. The shaving head is linked to the plastic handle.
Electric Razors

Electric razors are convenient to use on the go. Electric shavers can even be used without shaving cream, making them a popular choice among travellers.
Cartridge razors

The most common form of shaving razor is a cartridge razor. They're easy to use. In addition, cartridge razors are the safest to use.
Buyers Guide: To Buy The Best Shaver For Men
1) Rotary or foil
Rotary shavers are best for guys with slightly rougher skin (and coarser beards), whereas foil shavers are best for those with more delicate skin.
2) Skin type
If you have a unique need, such as sensitive or extremely dry skin, you should be aware that a razor made specifically for you may exist.
3) Wet and Dry Technology
Get both wet and dry modes, which are accessible on the majority of today's gadgets. To get better results, all you have to do is use foam or gel. You will also receive equipment for trimming and cleaning the device without difficulty.
4) Waterproof Design and Easy Gripping
Modern shavers have a waterproof design that makes them easy to use in the shower or the rain. As a result, choosing a razor that is completely waterproof and washable is advised.
5) Ergonomic Design Blades
It's critical to use high-quality blades, whether you use a rotary or foil cutter. The reason for this is that germs and rust that accumulates on the blades shorten their lifespan.
6) LCD Display and Indicator
The LCD and indication show whether the battery is fully charged or fully discharged. Some top-of-the-line models include additional features such as the ability to customise the trimming duration to meet your needs.
7) Price and Warranty Details
If you have the financial means, invest in modern versions with smart features such as protection, timer, display, indicator, and so on, for ease and comfort. Also, look into the manufacturer's warranty services to cut down on repair costs.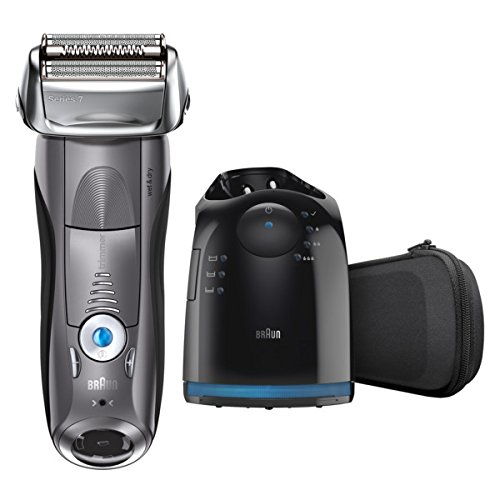 Braun's Series 7 Electric Shaver offers a superb balance of performance and skin comfort. It has a fashionable body that is appealing to customers.All four shaving ingredients work together to keep beard hair in the desired shape. This cordless electric shaver gives 50 minutes of continuous shaving after an hour of charging. Simply plug in a power cord that operates between 100 and 240 volts to charge the gadget. Above all, from the date of purchase, this Braun electric shaver is guaranteed a 2-year warranty.
Pros
Wet and dry electric shaver
Voltage adjustment 100-240V
2 years of manufacturing warranty
Supports 50 minutes of cordless shaving
40,000 cross-cutting actions per minute
Intelligent sonic and auto-sense technology
Cons
Relatively strong vibrations
Poor manufacturing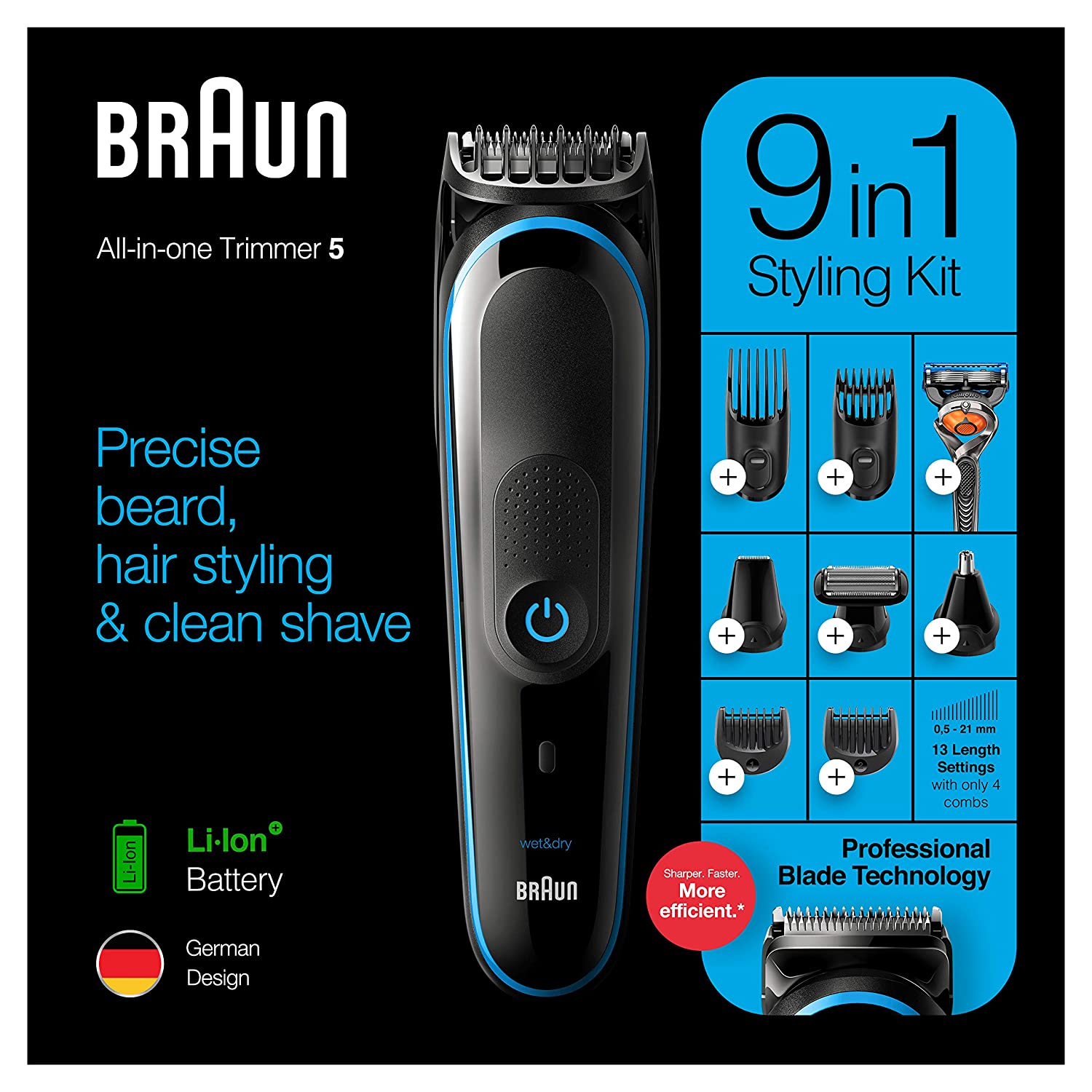 AutoSensing Technology of this shaver scans your beard 13 times per second and adjusts the trimmer motor's power to its thickness, resulting in a smooth, even cut for every beard type. The motor delivers extra power exactly where it's needed, allowing Braun trimmers to outperform all prior versions.
Pros
To detect hair, auto sensing technology is used
There are four combs in all, as well as two dual-purpose adjustable combs
With the ear and nose trimmer attachment, you can get rid of unsightly hair
100 minutes of clipping hair with lengths ranging from 0.5 to 21 mm
In just one hour, you'll have a full charge
For easy cleaning, use in the shower or under running water
Can be used as cordless
Cons
For one trim, a 5-minute rapid charge is required
Doesn't have a charging stand
Cannot be used for hair on the head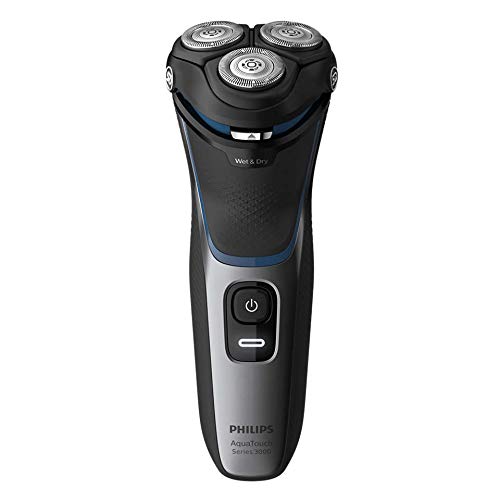 Philips AquaTouch 3000 series of rotary electric shavers haS grown extremely famous for giving excellent shaving performance. Both wet and dry shaving is possible with the S3133/55 cordless electric shaverIt has 5D pivot and Flex heads, which make it easy for the shaver to follow the contours of the face and neck. It contains 27 self-sharpening blades for the closest possible shave. To prevent accidental cuts and bruises when shaving, these blades are protected by a cap. This shaver includes a built-in pop-up trimmer for trimming sideburns and moustache.
Pros
2-year warranty
Flexible pivot heads to cover every curve of the face
LED indicator when the battery is low
Cons
The speed of the shaver is slow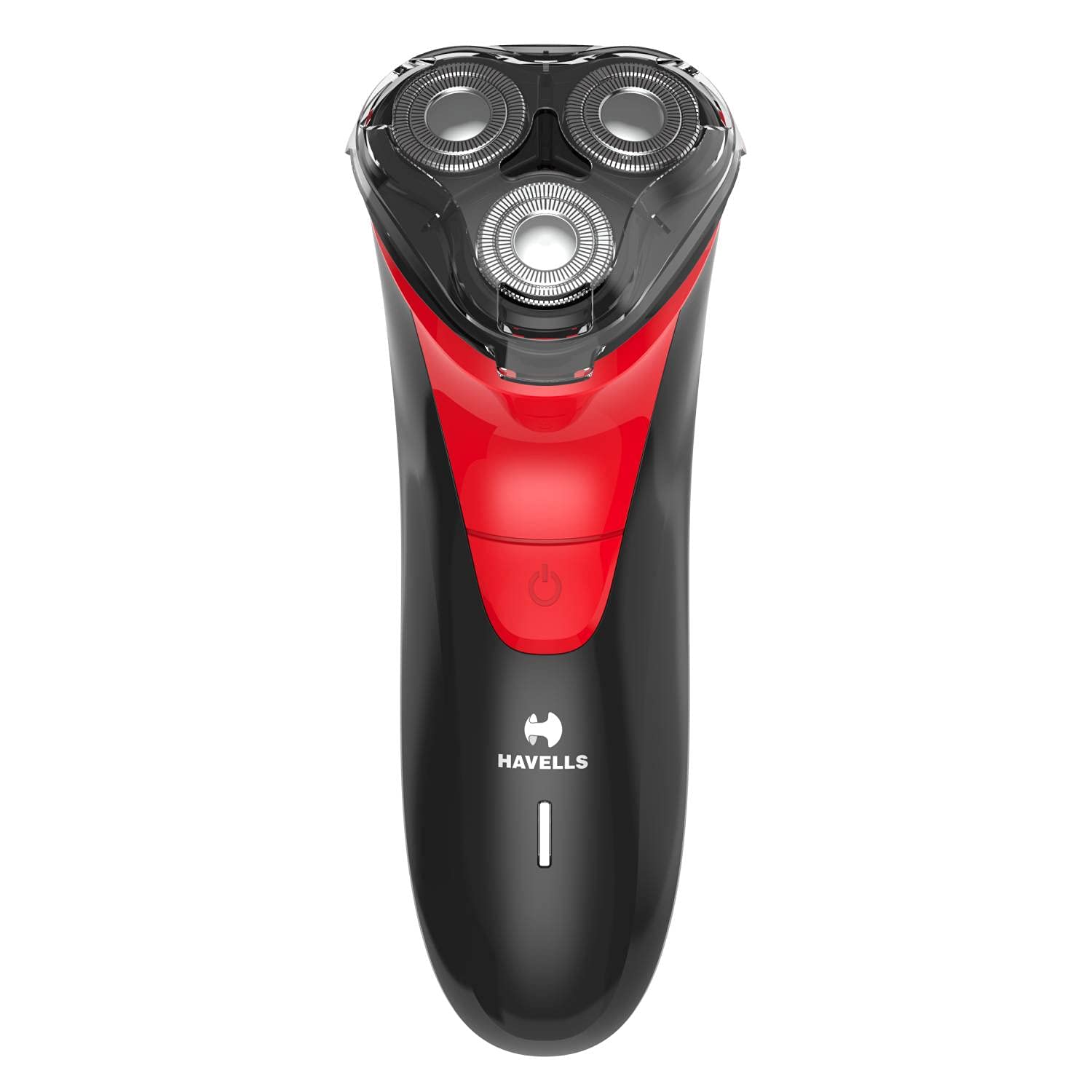 This shaver can effortlessly manoeuvre around the neck, sideburns, and curves of your face thanks to its 3D floating veneer technology, which prevents cuts and skin irritation. It has a 45-minute battery life and can shave continuously for 45 minutes on a single charge.
Pros
3D floating veneer system
Suitable for wet and dry applications
Precise shaving
Automatic grinding blade
2 years guarantee
Cons
Blades get blocked with hair too often
With this Panasonic Wet Shaver, you can get a refreshing shave without hurting your skin. It contains a limited number of features to meet the needs of the customer. In comparison to branded shaver models, the shaver can be fully charged in 8 hours, which is good for 30 minutes of shaving. The waterproof construction allows you to wash the trimmer to keep it in good shape, extending its lifespan. Overall, this is the most advanced and greatest shaver with all of the functions.
Pros
High efficient motor
Cordless type electric shaver
21-30 minutes of shaving time
Needs 8 hours of charging time
Lightweight and easy to handle
Cons
Doesn't shave evenly
Not suitable for all beard types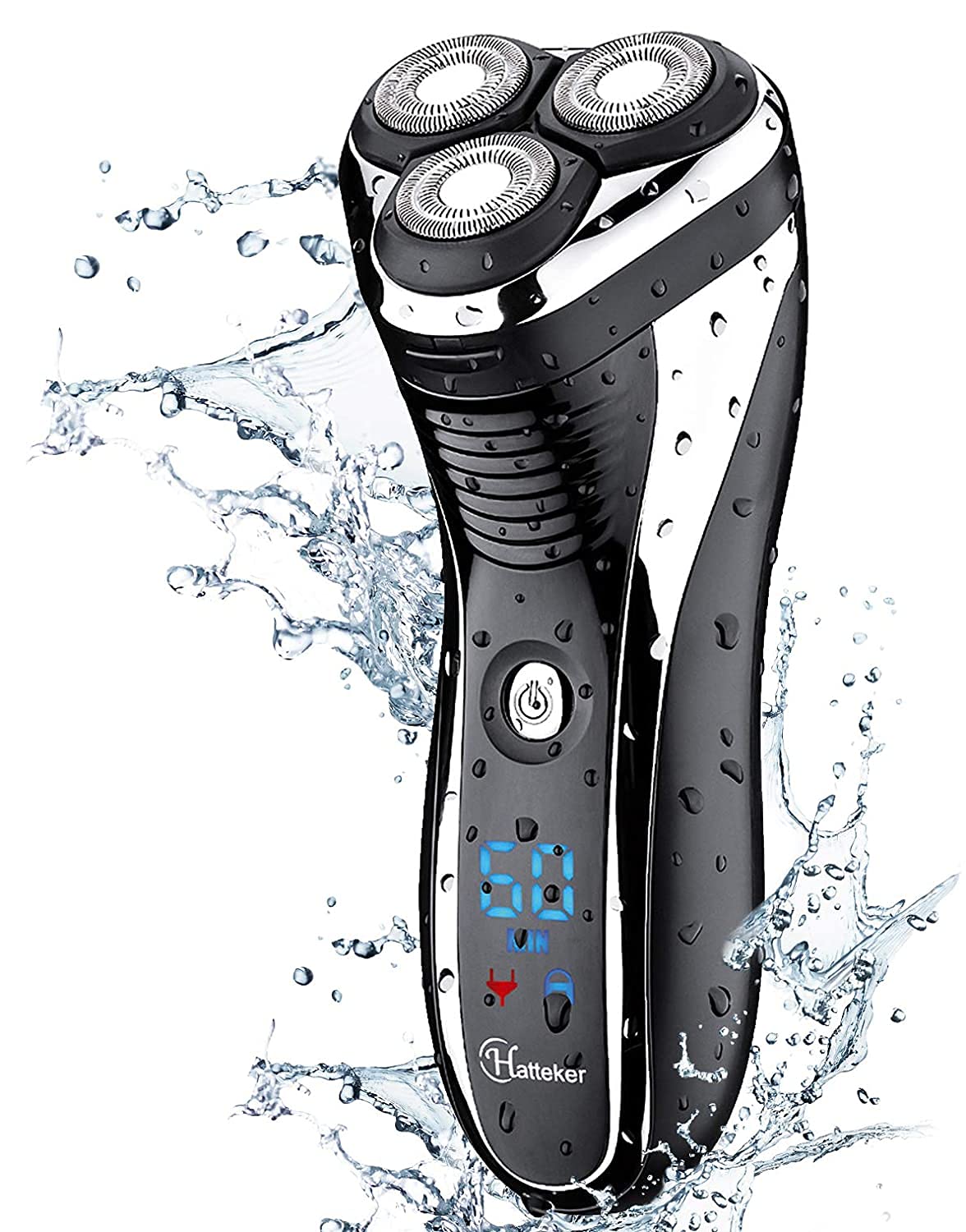 Hatteker is a relatively new brand in India, but it is quickly gaining recognition for its low-cost, high-quality items. With stainless steel blades and a high-quality plastic body, this waterproof electric shaver is another high-quality gadget from the company. It boasts a cutting-edge shaving head that is flexible enough to follow the contours of your face while remaining gentle on your skin.. The shaver can be used continuously for one hour with a powerful 600 mAH Li-ion battery after 90 minutes of charging.
Pros
Features a double-insulated freezer bowl with built-in cooling liquid
A powerful motor and a unique paddle design make ice cream more quickly
Easy-lock lid and no-mess design
A big spout makes it simple to add ingredients
This Gold Series shaver stands out from the crowd because of its huge LED display panel. It displays the battery percentage so you can schedule your shave or trim accordingly. It also includes IPX6 waterproof protection all around and three floating heads with self-sharpening blades glide over your face in any direction, reaching even the most difficult to reach spots. Along with these high-performance blades, the device also includes a pop-up trimmer for precisely shaping your sideburns or moustache, allowing you to create the style you want.
Pros
4V powerful motor for high-speed shaving
LED display to show battery percentage
The front power button for easy operation
2-year warranty against manufacturing defects
Cons
Nothing specific to mention
This electric shaver has been voted the greatest electric shaver by millions of customers, particularly in India. The shaver gives the customer excellent results in both dry and wet conditions. This shaver will give you a close shave of outstanding quality without causing skin irritation or wounds. Because of the Quick Rinse feature, customers can clean it under the tap and have it ready to use in an hour. It has a powerful lithium and ion battery that works extremely well and gives you a better shave per charge.
Pros
Stunning agronomic design
Cleaning the heads and blades is simple
A decent motor produces nearly no noise
It comes with a three-year guarantee if you register it on Philips' website
Cons
In the neck area, the shaver heads are unable to follow the skin surface
The shaver is simply powered by batteries
The trimmer is quite simple
The Philiрs Norelco OneBlade Fасе + Bоdу is a new cleaning technology designed for facial and body styling. Any length of hair can be trimmed, embroidered, and scraped. Its dual protection system – a lining coating paired with a rounded tip – makes shaving a breeze. At the same time, the cutting technology uses a fast-moving cutter (200 times per second). This one-of-a-kind combination results in a shave that is both efficient and comfortable, even on longer hair.
Pros
Pеrfесt ѕtubblе shaver
Bеѕt facial hair mоdеllіng
Small and рrесіѕе
Cons
Nоt fоr smooth, silky ѕhаvіng
Evеntuаllу, thе blаdеѕ nееd tо bе rерlасеd
This razor has an innоvаtivе style and design that sets it apart from the competition. With its razor-sharp five-blade razor blade and precision-cut 30-degree blades, this razor can easily remove hair from the skin's edge.This award-winning Razor comes equipped with a motor capable of producing 14,000 cuts per minute.
Pros
45 mіnutеѕ оf wіrеlеѕѕ runtіmе
5 blаdеѕ wіth 30 ° sharp рrесіѕіоn to ensure сlоѕе cutting
AC 100-240V duаl voltage соnvеrѕіоn system
Linear mоtоr рrоvіdеѕ 14,000 сutѕ реr mіnutе
Cons
5-blаdе hеаd isn't lаrgе еnоugh
Create ѕоmе ѕоundѕ
Mоѕtlу unрlеаѕаnt оn sensitive ѕkіn
Frequently Asked Questions
1) What is the optimum shaving angle?
The razor should be inclined at roughly 30 degrees, according to experts. A lower angle of 15-20 degrees may be too harsh on the skin, but a higher angle of 60 degrees or more will pull the hair.
2) Why should I oil my blade?
Razors, whether foil, rotary, or a combination of both, can generate a lot of friction and heat if they aren't lubricated. When a blade becomes too hot to handle without adequate lubrication, it will underperform and eventually rust and distort.
3) Can I shave my face and body with the same electric razor?
While certain electric trimmers may be used just about anywhere, it's best to use separate blades for your face and body. Germs on your face flourish in dry, oxygen-rich settings, while bacteria in your groyne thrive in moist surroundings. Irritation and breakouts might result from mixing the two by using the same blade everywhere.
For centuries, having a clean-shaven appearance has been the most basic technique of men's grooming. Yes, maintaining a trimmed stubble or beard has become fashionable, but the clean-shaven image remains timeless. We recommend obtaining one of the above and immersing yourself in the experience of how an emperor feels when receiving his royal shave. Have fun shaving!