In this generation, the world has embraced the internet, social networking, streaming, gaming, and so on. Everywhere you look, there are displays. While some people fear the arrival of Skynet and other artificial intelligence, others see that the world and society are changing. As a result of the quick transition, many of us are suffering from irritated eyes due to constant screen use. Computer monitors are certainly hurting your eyes, whether you're at work or a dedicated gamer. Thankfully, there is a simple solution, and some of them are rather appealing. Explore the best Gaming Glasses with technical specs provided in our review to protect your eyes from digital screens while playing games: Worried about your eyes as you stay in front of your PC for hours?
Buyer's Guide: What to Look for in Gaming Glasses
1) Frame Technology
To achieve physical and visual comfort, gaming glasses should be reviewed for frame technology. Frame technology plays a vital role in ensuring a comfortable fit. When comparing gamer glasses, there are a few crucial factors to consider.
2) Lightweight
Lightweight materials create a snug fit without contributing to the overall weight. Look for materials like nylon or high-quality acetate.
3) Rubber Grip
Rubber grips strategically positioned throughout the gaming glass improve comfort while also giving extra staying power by responding to moisture and becoming stickier as you sweat.
4) Proper Fit
Pay close attention to the sizing options while searching for gaming glasses online. Many frames come in various sizes, and choosing the right one will provide you with the most comfort.
5) Lens Technology
The key to a better gaming experience is the use of lenses. They provide more contrast, brighter colours, and relief from digital eye strain symptoms.
6) Blue Light Protection
One of the most prominent sources of hazardous blue light is digital screens. Gaming glasses with blue light protection ensure your visual comfort while safeguarding your eyes from everything from transient eye fatigue to an increased risk of macular degeneration.
7) Anti-Reflective Coating
A high-quality AR coating might help you avoid distracting glare. An AR coating, applied to the gaming glass lens's surface, reduces glare and undesired reflections.
8) Frame Shape, and Size
Frame style choices in gaming glass will mostly come down to personal preference. In general, we appreciated providers with a wider selection of styles because we know not everybody wants that "esports player" look. We also consider the option of wearing gaming glasses outside the house without raising eyebrows.
9) Temple Arm Design
If you are wearing a gaming headset, pay particular attention to how the temple arms of each pair of glasses are made to ensure optimal comfort. It's a recipe for agony when your headphones are too tight, and your glasses arms are too rigid. The better the arms are, the flatter, softer, and slimmer. Good frame width is also important because no temple arm design can save you if your glasses are too tiny for your head.
10) Lens Color
The lenses on gaming glasses are available in several colours, including yellow, amber, and clear. "The stronger the tint, the more efficient the blue light blocking. As a result, even "clear" lenses will have a yellow tint of different intensities. Some gaming glasses come with a little blue light gadget that shows how well the lenses block blue light.
11) Lens Anti-glare
Anti-glare lenses are claimed on nearly all gaming glasses, which makes sense given that they're designed to be worn when staring at a bright screen. The higher-end glasses have double-sided coatings and anti-reflection characteristics built into the lens. If you choose a low-cost pair, you'll have to be careful with your ambient lighting to avoid glare.
12) Price Value
You should expect stiffer hinges, less effective anti-glare coatings, and lower-quality extras with "cheap" gaming glasses (carrying cases and lens cloths). You'll find better performing lenses, higher-quality frame materials, and more fashionable frame options on the higher end.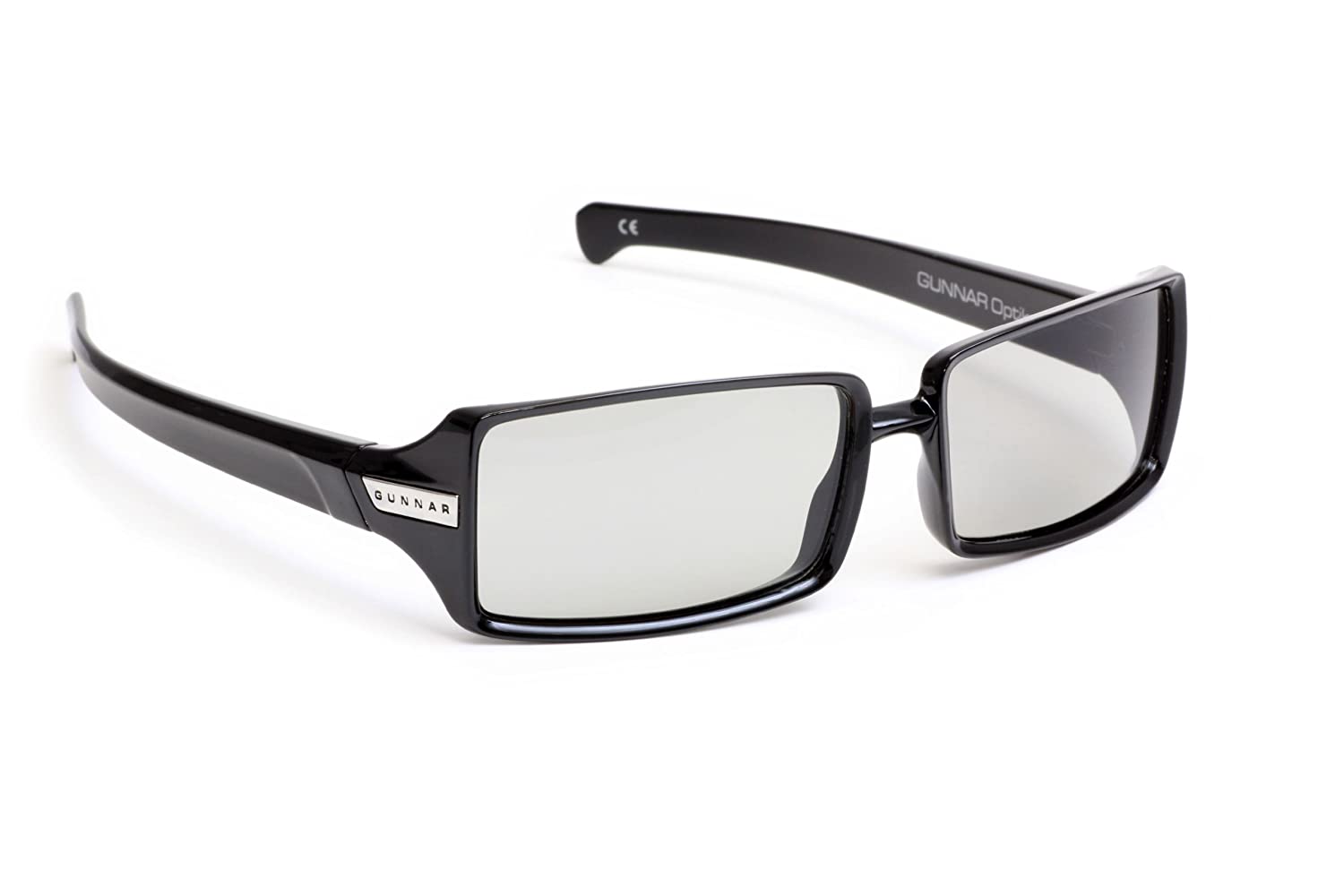 The Gunnar Optiks Gliff combines metal frame precision, strength, and grace with an injection frame's flexibility, sculpture, and fit. It maintains a soft and comfortable fit in the temple region to suit a wide range of facial sizes. Gold metal embellishments and a high gloss finish add to the appeal of this eyewear. It makes use of circular polarised or passive 3D lenses.
Pros
i-AMP 3D Lens Technology
The glasses have the perfect optical clarity
Improves detail and focus
Cons
Glasses are much darker than the lens look in the pictures
No warranty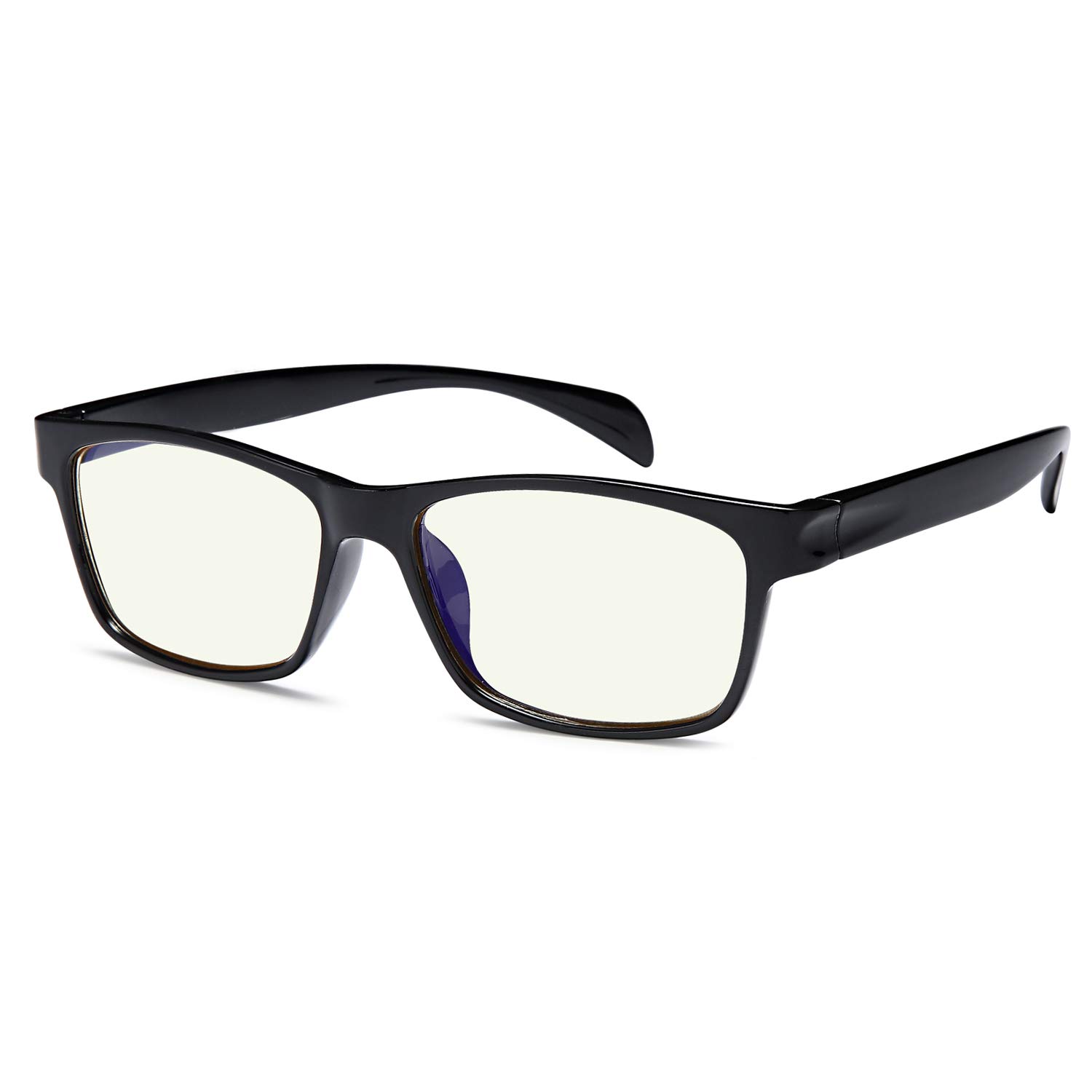 Plastic frames and non-polarized lenses characterise Gamma-Ray spectacles. These amber-tinted lenses are designed to reduce digital eye strain from damaging blue light generated by digital screens. They're great for gaming, surfing the web, and working under fluorescent lighting, and it relieves eye strain and pain caused by long hours of web surfing, gaming, or working under fluorescent lighting.
Pros
Amber tinted lenses to minimize digital eye strain
Anti-blue ray lenses
Alleviates visual fatigue & discomfort from lengthy gaming periods
Ultra-lightweight and flexible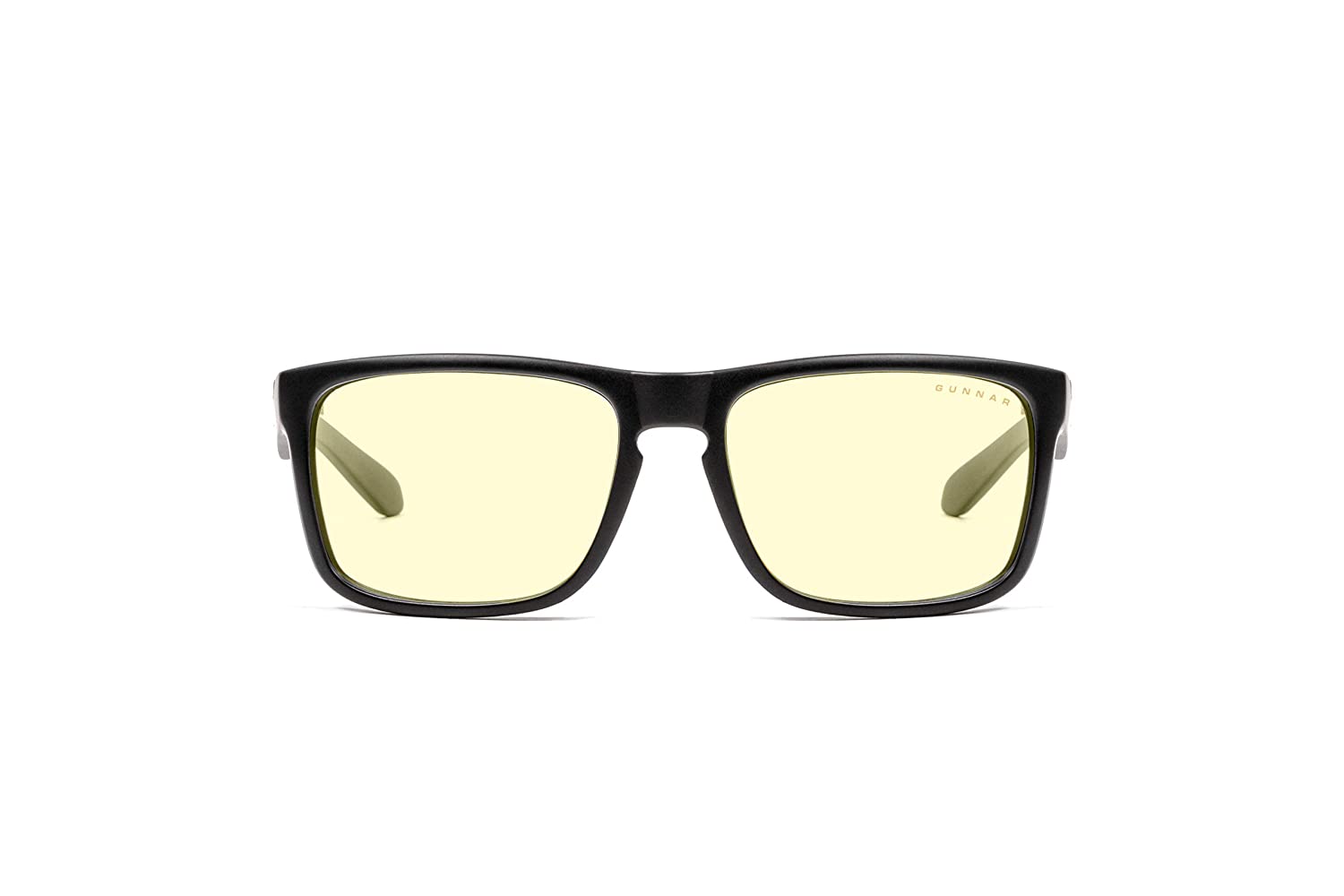 The Intercept gaming glasses from Gunnar Optiks are the first. These glasses look great and provide blue light protection as well as an anti-reflective coating, minimising eye strain and allowing wearers to have a better night's sleep. They are available with various lens options that can block up to 98 per cent of blue light. Overall, these should be a fantastic option for anyone searching for blue light gaming glasses with an anti-reflective coating and a nice appearance.
Pros
Sleek design
Available in various lenses that block different percentages of the blue light spectrum
Includes anti-reflective coating
Cons
A bit expensive
Not very comfortable
Lenses smudge easily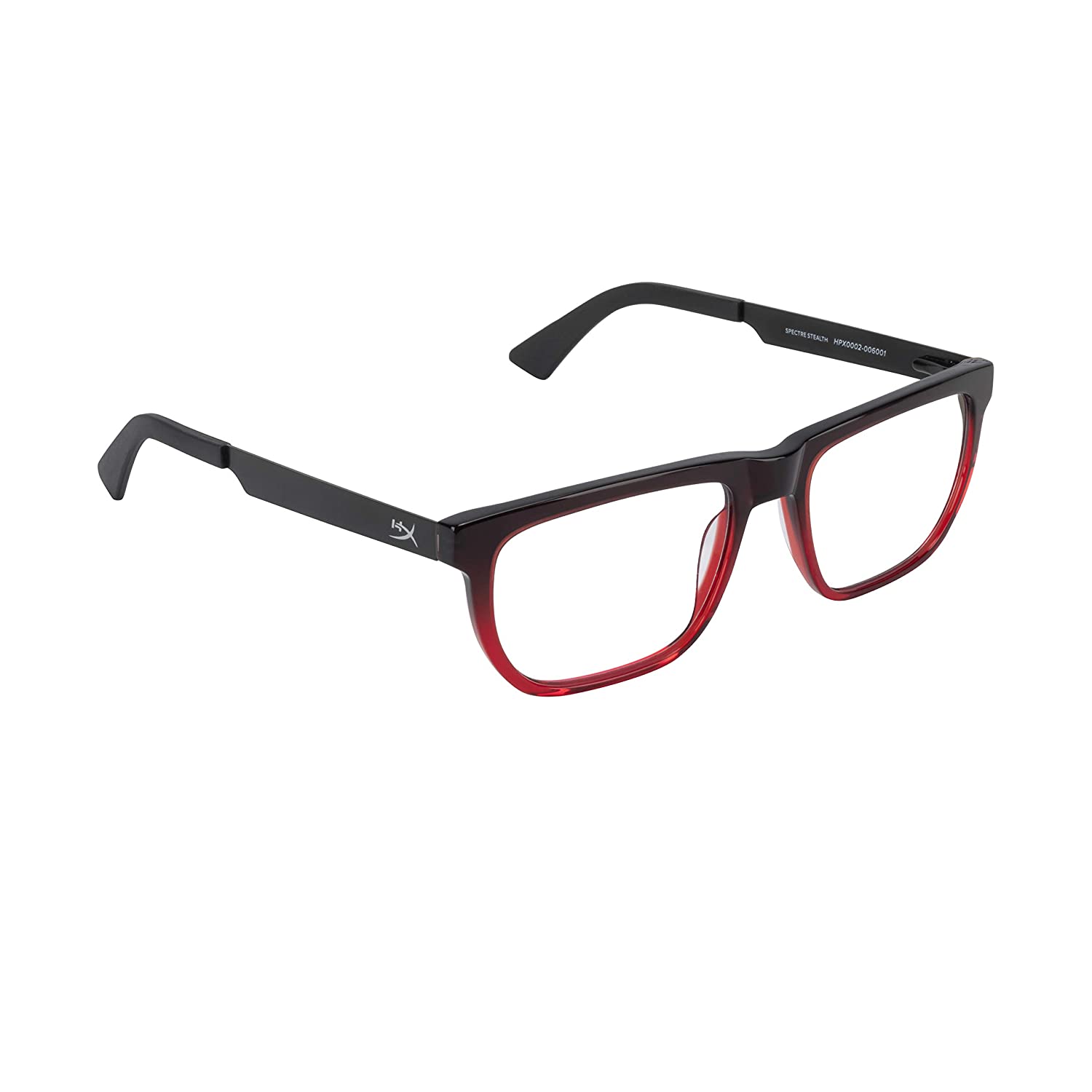 HyperX is known for its high-quality mechanical keyboards and other gaming accessories. Now the business is attempting to introduce a new product in the shape of HyperX Gaming Eyewear. While they are stylish, come in various frames, and provide blue light protection, they are too pricey. You can acquire many pairs of gaming glasses from other manufacturers for the same price that provides the same blue light shielding level. Also missing is anti-reflective coating, which may be more significant than the blue light filter in decreasing eyestrain.
Pros
Attractive design
Available in multiple frame options
Cons
The build is unsatisfactory
Lenses are easy to smear
Too expensive
No anti-reflective coating
The J+S Vision Blue Light Shield Computer Reading/Gaming Glasses are an excellent alternative for users searching for gaming glasses that come in various designs, frames, and lens options. These are low-cost gaming glasses with a stylish design and various designs. They provide blue light protection and an anti-reflective coating, which helps you sleep better and reduces eye strain. There are two lens options for the glasses. Low colour distortion lenses block less blue light spectrum while remaining colour neutral. The high-definition lens has a superior anti-reflective coating and prevents more blue light, but it is coloured, which distorts colours.
Pros
Sleek looking
Includes tinted lenses option for maximum blue light protection
Solid build quality
Come with anti-reflective coating
Cons
Other models filter larger part of blue light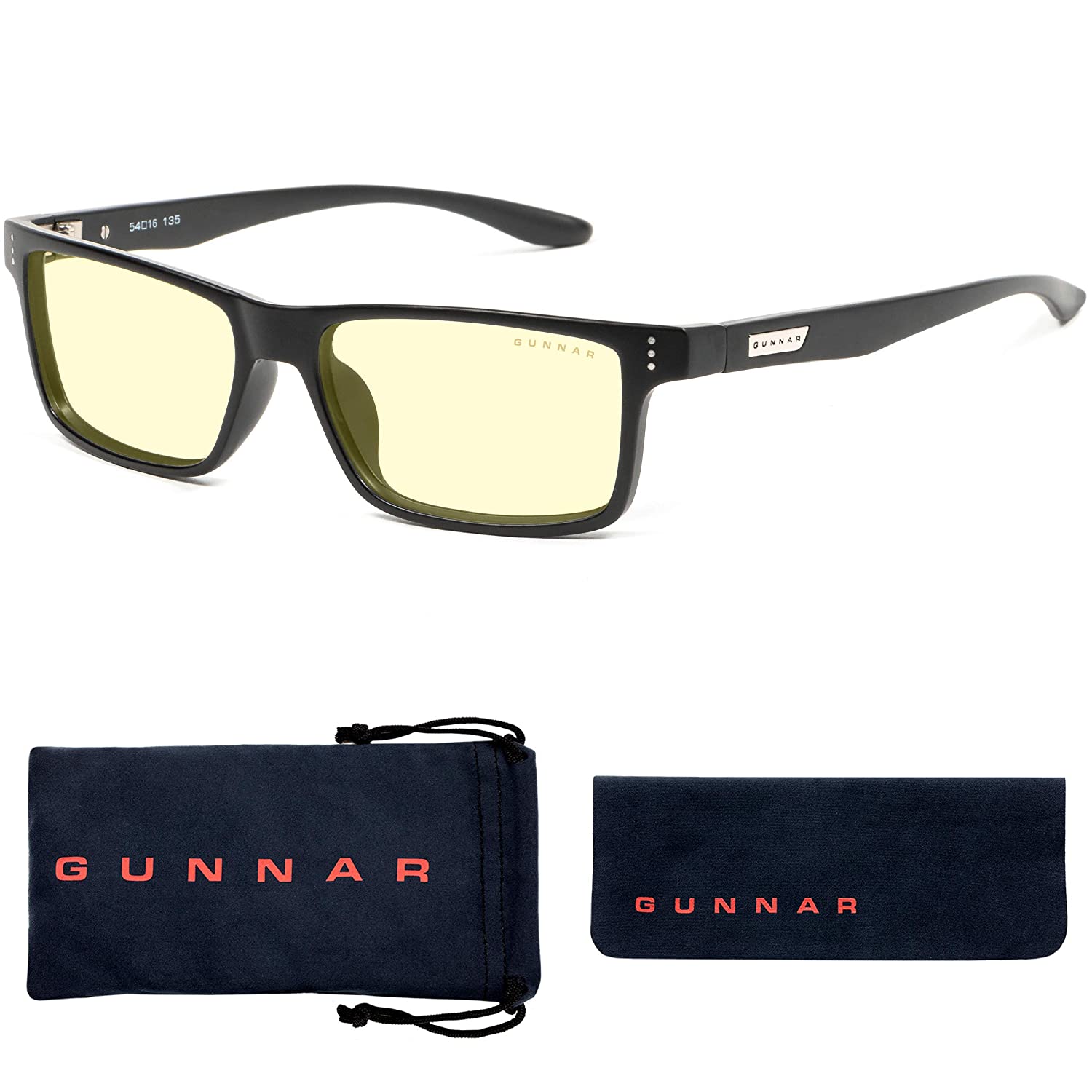 Fortunately, this is the final GUNNAR product. These glasses have a professional appearance and performance and are more expensive gaming glasses. The protective lenses block 65 per cent of blue light from entering the eyes, which can cause retinal damage in the long and short term. Furthermore, it blocks 100 per cent of UV radiation from entering the eyes, allowing you to wear these glasses outside as well. The lenses are also tinted to reduce glare and bounce light off the screen. These glasses are lightweight and durable, and their ergonomic shape allows them to fit comfortably on any head size.
Pros
Professional design
Good enough for outdoor usage
Cons
Costlier than the average gaming eyewear
Not compatible with headsets
Maybe you're a big admirer of the Gunnar brand and can't seem to get enough of them when it's time to get a new pair of glasses. If you're looking for a pair of Gunnar gaming glasses that are a little more understated, the Emissary from Gunnar is a great option. This is a very stylish and sleek set of spectacles. They resemble sunglasses, but the frame does not completely enclose the lens. The frame is onyx black in colour and made of a robust and durable aluminium/magnesium alloy combination that also looks great. The glasses are on the smaller side, which may be excellent for you! They're unbelievably light, and they'll fit snugly under your gaming headset for optimal performance. Wearing this comfy pair will shield you from harmful blue light, enhancing your gaming experience while also assisting in maintaining your circadian rhythm and boosting your sleep cycle (if you can stop gaming long enough to sleep!). What else is there? So, you're getting a Gunnar bag – how wonderful!
Pros
Quality and durable
Excellent eye protection
Black or white option
If the list so far hasn't satisfied you and money isn't an issue, take a look at this stylish pair of HyperX Gaming Eyewear. The bottom of the frame is nicely highlighted by the black and red tones of this flexible pair of hot frames. Their lenses are composed of impact-resistant MR-8 material and are clear and untinted. Because the style of these glasses is so fantastic, HyperX made sure to use hand-cut, coloured acetate armature to ensure that the smooth colours don't fade anytime soon! Because of the HyperX's little colour distortion, your monitor's colours won't have to be dumbed down while you're wearing it. They are expected to endure longer than normal polycarbonate frames. So, if you wish, go ahead and wear these gaming glasses to a party! This brings us to the second engaging feature: they also block UV rays, so you don't have to stay inside all day.
Pros
Excellent Eye Protection
High Quality and Durability
Branding on the Sides
Super Comfortable
Frequently Asked Questions
1) Why prefer gaming glasses instead of normal spectacles?
Most people who sit in front of a computer screen to play games ask themselves this question. The majority of people believe that these glasses have no effect when gaming. They do, however. Gaming sunglasses provide a larger field of vision. They can stop damaging blue light rays from entering the eye with the enhanced lens.
2) What benefits do gaming glasses give?
The gamer glasses work in the same way that any other computer glass does. It serves a similar purpose by obstructing blue light using a yellow or amber hue. The unique coating also helps to protect your eyes from UV radiation, which are hazardous to your eyes. It can also help you avoid spending too much time in front of the device.
3) What are the best gaming glasses to buy?
Any glass that can protect you from the digital screen while also protecting you from UV rays could be an excellent choice. However, it is critical to understand the glasses before selecting them.
4) Can you wear gaming glasses all day?
Wearing glasses while playing video games or sitting in front of a computer screen for long periods can be beneficial. These glasses have a unique characteristic that has no negative side effects and helps to prevent dangerous UV rays from entering your eyes. These well-designed gaming glasses also help to relieve dry eyes.
It is impossible to keep your eyes off the screen while gaming, and staring at it for hours can be painful. Getting the best gaming glasses for your needs is a simple solution. Getting the best gaming glasses for your needs is a simple option. These glasses have a special protective coating on the lens that reduces blur and other harmful rays emitted by the screen. They completely protect you and make it easier to continue gaming. The lens of these glasses has a special protective coating that reduces blurriness and other hazardous radiation emitted by the screen. They completely safeguard your eyes and allow you to continue gaming worry-fre. It may take some time to find the best gaming glasses. If you are perplexed, the buyer's guide for gaming glasses will assist you in determining the best products. We've compiled a list of the best gaming glasses in this article. You can learn more about each one and choose the best one for you.