Your outdoor deserves the same attention as your interiors. Your outdoor speaks for your personality even before someone has stepped into your house. Enjoy a barbeque party in your backyard or soak up the sun on a chilled winter morning with exclusive outdoor furniture. An elegant outdoor furniture piece sets up vibes for a morning cup of tea or a candlelight dinner. Let your verandah, garden, or balcony call for comfort and convenience with exclusive outdoor furniture.
The right furniture not only adds beauty to your space but also adds to its uniqueness. The lazy Sunday mornings call out for some fresh air on a sun lounger or an outdoor sofa. How about a garden table delighting the evening snack or dinner under the natural roof of stars and moonlight? An exclusive range of outdoor furniture is available nowadays to make the most out of your balcony, garden, or patio. Check out what you can choose as outdoor furniture from the list of products below.
Top 8 Outdoor Furniture Products In India
1) Benches
Bench looks amazing in a garden setting. Benches come in almost all materials like wood, plastic, or cast iron. You can enjoy sitting in cozy weather under the sky on the bench with your loved ones. It offers a very welcoming feeling in a garden.
2) Outdoor chairs
Chairs whether in the garden, patio, or balcony, are an affordable setting option. You can choose among plastic, aluminum, or other material for chairs as per your space, budget, and requirements. Hanging swing chairs are modern outdoor chairs perfect for a garden or poolside. Choose an ideal durable chair design that can resist getting damaged even in harsh weather conditions.
3) Tables
To give a complete look, you need to have a table alongside chairs. It must be highly durable from damage and similar to the theme of the chairs. The table may be an alternative for having meals, enjoying the weather, for a morning cup of tea, etc. Some tables are collapsible that can be stacked in a storage place when not in use.
4) Outdoor sofas
If you have a big outdoor space, sofa sets are the best option. When in patio, garden, or balcony, they offer immense comfort with a fancy look. The sofa offers a convenient space to host gatherings or social events. While choosing a sofa set for your space you need to be extra careful as it may get damaged because of the weather conditions.
5) Bistro sets
When talking about gardens or balconies, bistro sets match the best. This small table and pub stools duo look super classy and trendy in any outdoor space. Bistro sets are damage-resistant and strong too.
The list goes on like hammocks, sun loungers, deck bars, umbrellas, etc. These countless products come in various types and materials. Look before you book!
When looking for outdoor furniture, check for durability as it has to withstand all the extreme temperatures. The ideal material must suit your budget along with being extra long-lasting to fit your outdoor needs. In the case of outdoor furniture, quality and type of material matters a lot. Let's look at the types of materials in which your outdoors are available.
1) Wood
Wood has been a popular raw material for furniture since the beginning. It offers a sturdy framework for furniture like tables, chairs, benches, etc. Wood especially hardwood is beautiful, can resist weather conditions, and are highly durable. Wooden furniture is mainly known for its ultimate finishing. Many types and qualities of woods are offered in the markets for furniture purposes.
Teak – Teak wood is the most admired outdoor furniture choice. Being the most ideal choice for an outdoor setting, it is quite expensive too. Teak is unbelievably strong, repels water, and is also highly resistant to damage. Teak has an exemplary long-lasting power of up to 50 years. Whether it's about the patio, garden, or balcony, this honey-brown color furniture will leave you speechless. 'Embrace your outdoor settings with this handsome artistic material collection'.
Pros – strong, highly durable, easy to take care of, and resistant to decay, insects, and weather
Cons – Quite Expensive
2) Metal
We all are aware of how strong metal is. So you should not be surprised to know that metal is the most durable material for outdoor furniture. Metals offer great flexibility for styling and can be combined with other sorts of materials. Metals have got many functional and aesthetic benefits too.
Pros – strong, durable, flexible
Cons – Not susceptible for every weather condition, bit heavy, vulnerable to rust and corrosion
3) Stainless Steel
This is an ideal material for frequent use of outdoor furniture. The coating on it adds resistance to rust and corrosion. Stainless steel is a bit heavy when compared to other materials.
Pros – extremely strong, durable, Corrosion-free, 100% recyclable, easy to clean
Cons – expensive, retains heat, heavy, not suitable for all weather conditions
4) Aluminum
When listing the most appropriate furniture choices for the outdoors, aluminum is one of them. Aluminum is easily integrated into various shapes. It has got many other qualities too.
Pros – Inexpensive, lightweight, strong, weather-resistant, low maintenance, durable, never rust
Cons –Not many colors available, soaks heat, some parts blow over in high winds
5) Man-made synthetic materials
Resins and plastic are getting more popular because of their excellent properties. These materials can mould themselves into various shapes, sizes, and décor styles. Not just outdoor but plastic and resins are the best choices for any kind of furniture.
Pros – Highly durable, various colors available, lightweight, weather-resistant, easy to clean, stylish
Cons – A bit lightweight for high winds
6) Glass
The tabletops are mainly made up of tempered glass which is temperature resistant. It looks classy with a clean airy feel. Glass is a symbol of class!
Pros – Resists temperature changes, gives an elegant look
Cons – becomes opaque in extreme winter conditions, some pieces are too heavy
Why stay indoors when you can have all the fun outdoor too. Reaching out to the least explored places of your house is the real fun. Add value to your property by furnishing outdoor areas. Furniture will add décor in a never way before. Check out the factors to consider before buying outdoor furniture.
Usage of outdoor space
Decide how you wish to use your furniture and plan things accordingly. Whether you want to enjoy yourself with your friends on a couch or have a morning cup of tea with your family. The purpose adds to the kind of furniture you should probably accommodate in your spaces.
Type of outdoor space
First, you need to assess your outdoor space for the location and then, decide which furniture suits your space the most. For best outdoor furnishings, always consider your outdoor area features first.
In residential outdoor settings outdoor dining, sofa set, open flame fire pits, sun loungers, side tables, laid back lounge seating, and decorative benches kind of furniture works best.
Outdoor Settings
Outdoor settings are most preferred with a large free area. Your area must be comfy enough to offer a good amount of fresh air with a relaxing environment. A bistro set can be as fancy as a sofa and comforting too. The key is not to use much of your outdoor space!
Weather conditions
Typically the kind of furniture and the type of material both depend mainly on the weather where you live. Your furniture must be capable enough to handle the extremes of your zone. In hot environment conditions, sun loungers are of no use. Hence, first, you need to analyze well the surrounding environmental conditions for the type of outdoor furniture that is most appropriate for your space.
The type of material to be considered is also based on your location. Plastic can brittle and crack in extremely cold conditions while the wood splinters on hot days. Remember, not every material can withstand your conditions!
Maintenance
As indoor furniture is important, outdoor furniture is as important too. The point to be noted here is that care is closely related to the kind of material, furniture, and finishing done. Cleaning may take some time from your busy schedule. Choose effective furniture pieces that just match the level of care you are willing to give.
Quality and comfort
As the choices are unlimited; choosing what's most suitable is quite hard. Comfort is the ultimate goal you will go for. Choose furniture pieces that offer relaxation and support. Also, go for quality considerations wisely. A low-cost replaceable or a long-lasting luxury, both are right depending on your budget and requirement.
Style
Last but not the least, do what your heart says. You must have some chic pieces in your mind like a cocktail table or a barbeque deck. Your minimalist furniture can be fun, elegant, relaxing, or appealing. Embrace your style with the vibe you most turn on to!
Top 8 Outdoor Furniture Products In India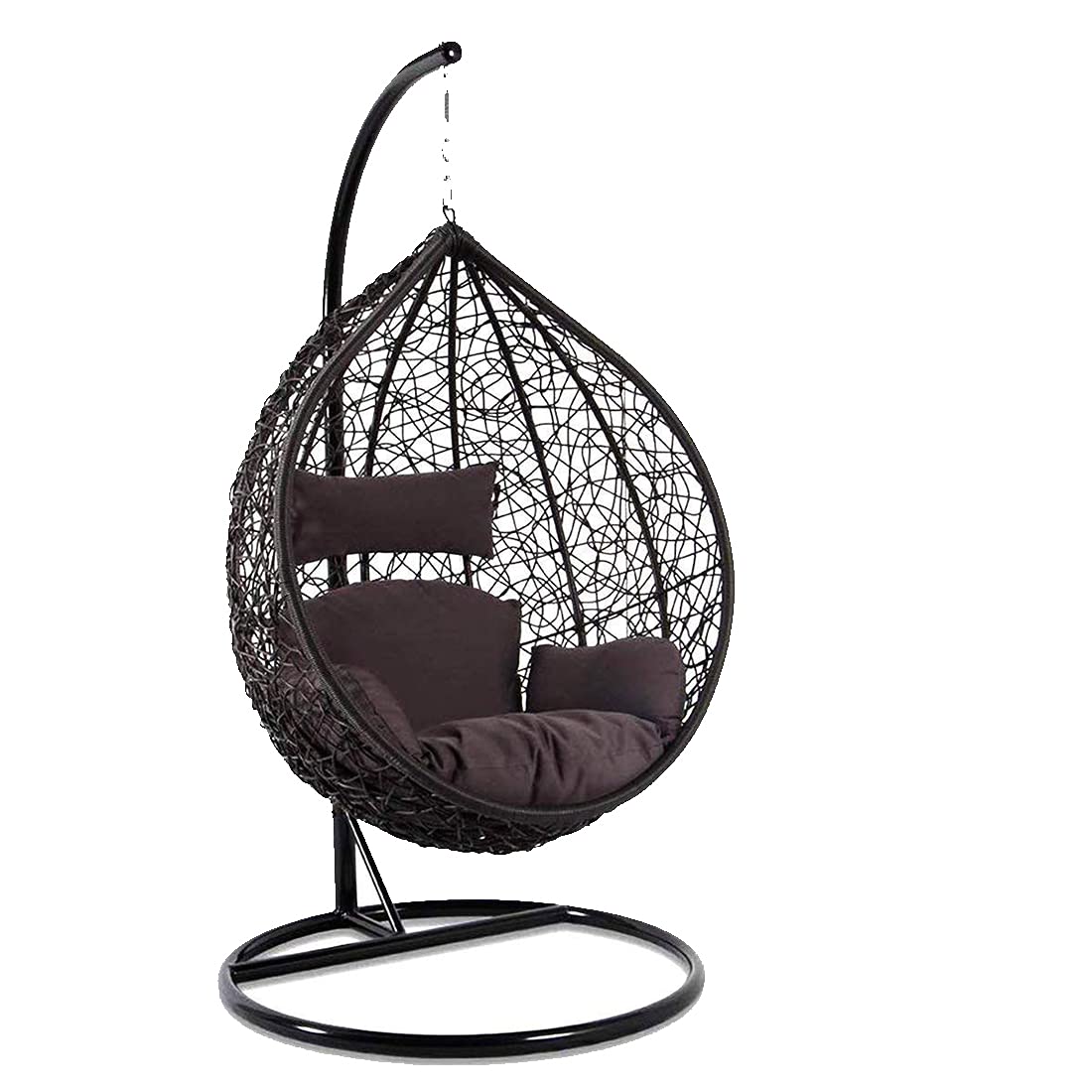 The first one on the list is Swing chair by ZUDO. It comes under the top-rated items on Amazon. This is a single-seater leaf-designed swing chair with a high-quality guarantee from the brand. This swing chair by Zudo comes with a stand and a cushion. The product is ideal for outdoor purposes.

Features
The item dimensions are 120*96*75 cm and the maximum weight is 130 kilograms
Easily washable with hands
Strong, durable and weather protected. Also comes with the UV rays protection phenomenon
Detachable design for easy installation
Made up of Rattan furniture material
Pros
Spacious
high-quality
Durable
Sturdy frame
indestructible
comfortable
easy to use
Cons
Quite expensive
heavy
single-seater,
not safe for kids
take up much space
single cushion included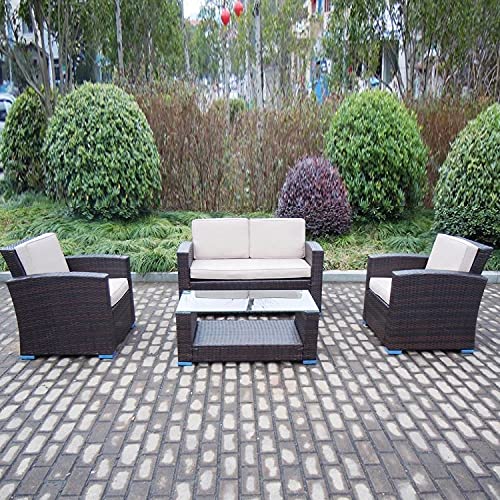 Here Comes The Elegantly Designed Sofa Set By Roxxfly India For Outdoor Purposes. Roxxfly Manufactures All Types Of Outdoor Furniture In India. This Brown Colored Iron-based Sofa Set Offers Modern Style Comfort With An Appealing Look. It's Perfect For Large Outdoor Spaces Or Spacious Balconies.
Features
Capacity – 4 Seater
Comfort- Angled Seat Design For Maximum Comfort
Quality- 100% Authentic And High–quality Product
Customizations Available As Per Requirements
Made Of – Iron
Pros
Durable
Rough
Comfortable
Damage-resistant
Contemporary Design
Cons
Voluminous
Bit Costly
Need Care

A Contemporary Chair Table Set Made With High-quality Material. This Product Is Ideal For Open Spaces And Contemporary Designed Homes. Simple Cleaning Is Required With Damp Clean And Wipes Dry.

Features
10 Days Replacement Guarantee
Comes In Brown Color With 1 Table And 4 Chairs
Uv Rays Protected And Water-resistant Material Is Used
Made In India With Innovative Edge Technology
The Material Is 100% Eco-friendly
Pros
Easy To Clean
Highly Comfortable
Waterproof
Aesthetic Design
Cons
Only Basic Colors Available
Not Suitable For High Wind Areas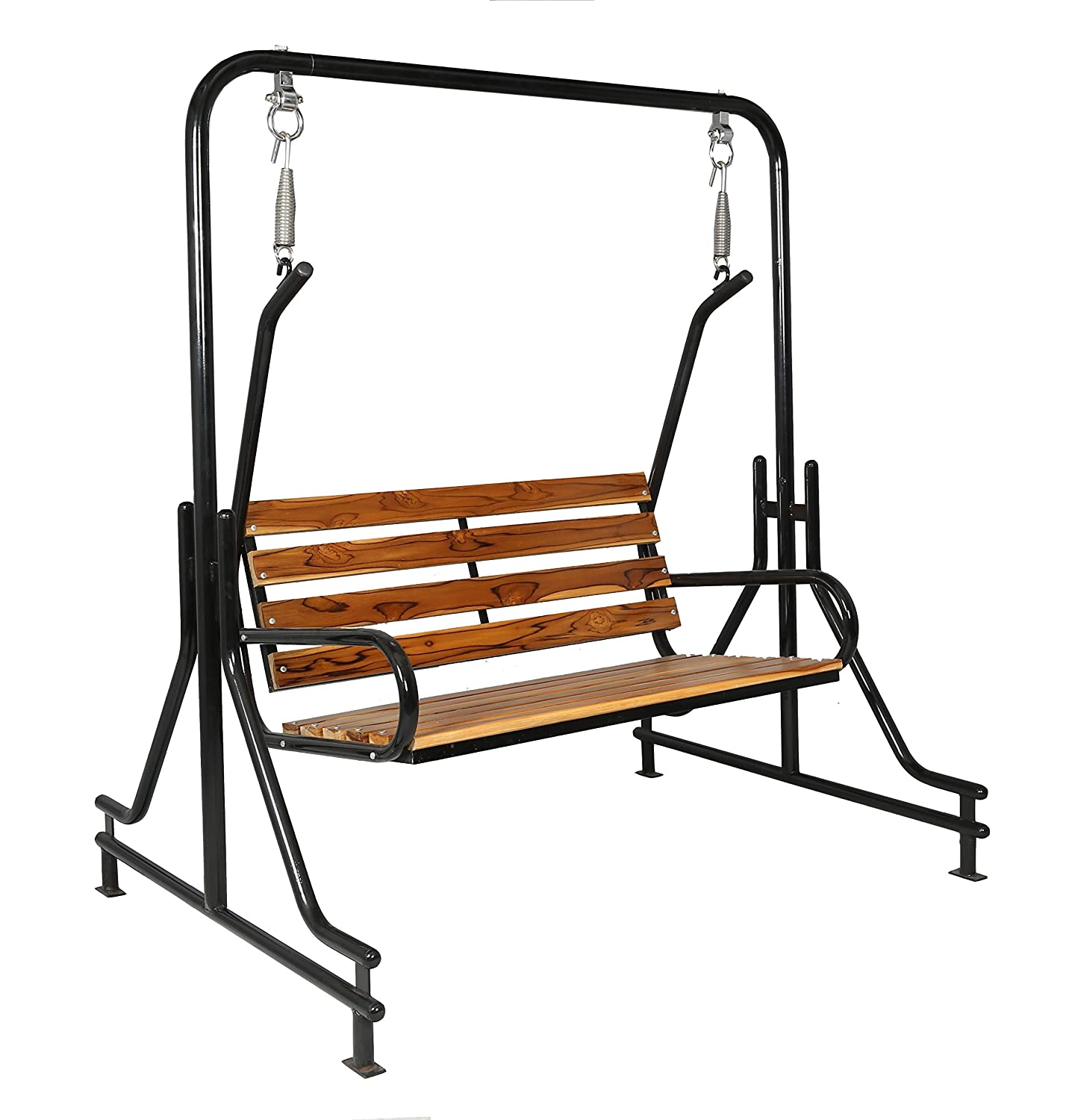 Give Your Outdoor Space A Completely Different Look With This Stylish Jhula. This Teak Wood And Metal Jhula Add A Modern Sense To Your Outdoor Spaces.

Features
Dimensions – 116.8* 144.8*167.6 Cm
Made Of Teak Wood And Iron
300 Kg Weight Capacity
Very High-quality
Modern Design With The Great Color Combination
Pros
Easy To Assemble
Very High Weight Capacity
Durable
Damage-resistant
Cons
Not A Renowned Brand
Heavy
Not Suitable For Uneven Land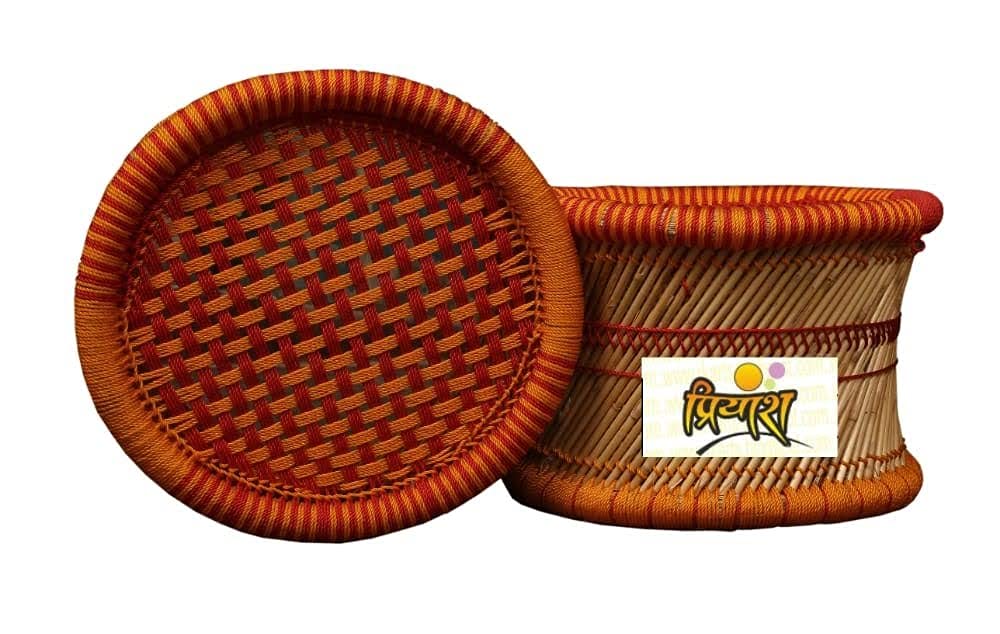 A Savior When You Run Out Of Space. This Traditional Bamboo Cane Bar Stool Is Perfect For Recreational Activities And For Soaking The Sun On A Cold Winter Morning.

Features
Handcrafted With Natural High-quality Bamboo
Set Of 2 Orange Colored Mudda Stool Set
10-days Replacement Guarantee
Pros
Eco-friendly
Affordable
Easy To Store
Doesn't Take Much Space
Durable
Lightweight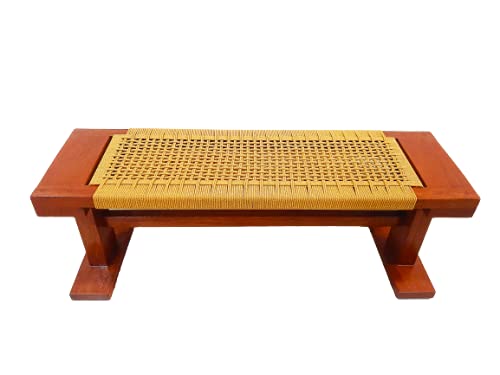 Azuka Is A Popular Brand When It Comes To Furniture. Azuka Is Known For Its High-quality Modern Designs Adding Beauty To Your Homes. Azuka Is Here With Its Classic Style Beige Color Bench Perfect For Morning Tea And A Peaceful Evening.

Features
Made Of High-quality Wood
10 Days Replacement Guarantee With Emi Options Available
Dimensions – 54*16*15 Inches And Weight – 6 Kilograms
Best Suitable For Outdoor Furnishings
Seating Capacity – 2 Individuals
Pros
Durable
Aesthetic Design
Cost-effective
Eco-friendly
Decay-resistant
Water-resistant
Cons
Less Seating Capacity
Not Suitable For Uneven Land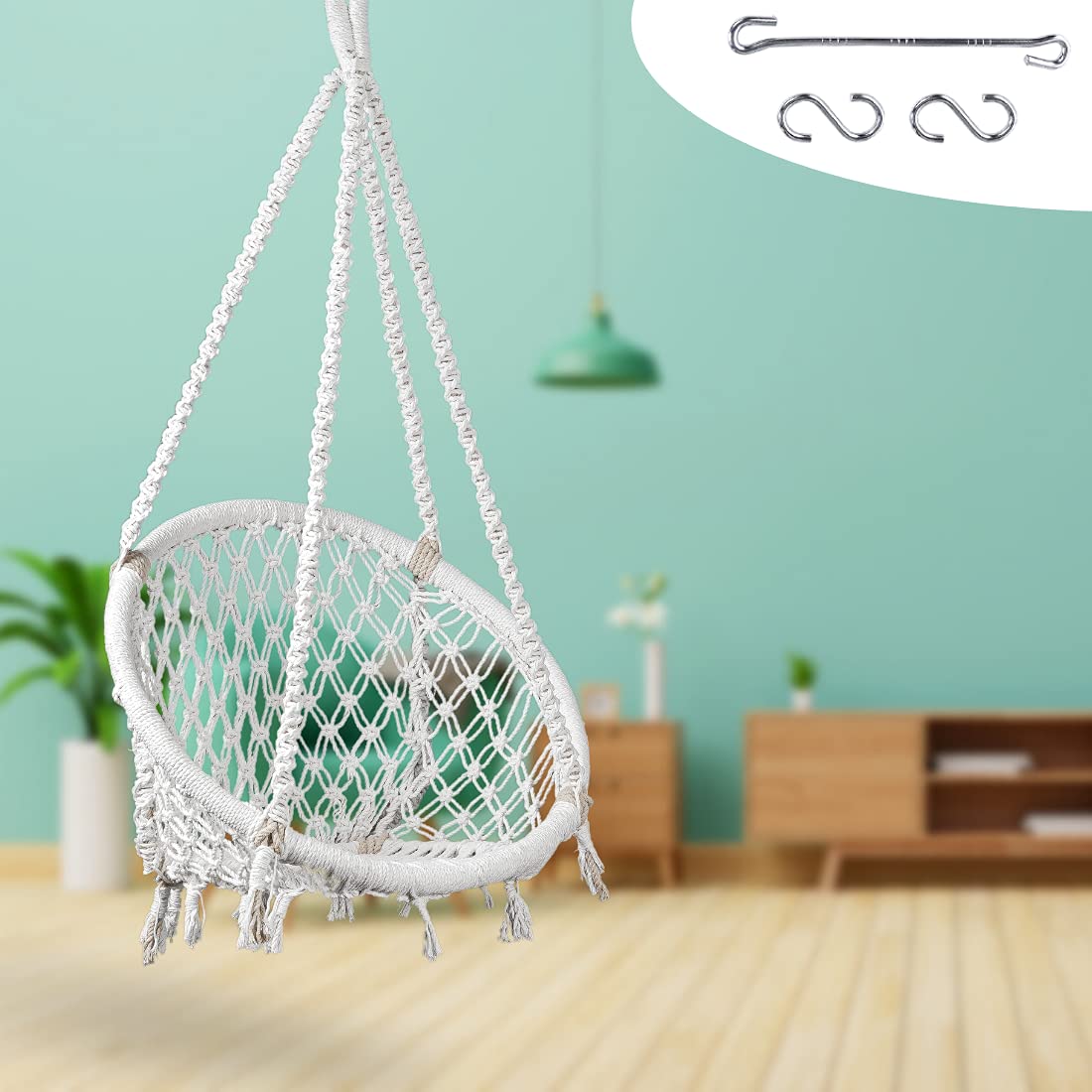 An Ideal Furniture Piece For Outdoor Settings Like Poolside, Patio, Garden, Etc. Is Best For Pleasure And To Enjoy The Weather. This Swing Chair Is For Both Adults And Kids. It Gives A Heavenly Experience Decorated With Lights.

Features
Accessories Included
Off-white Color With A 2-year Warranty And 10 Days Replacement Guarantee
20*20*10 Cm With A 2.2-kilogram Weight
Swing Chair Kit Included
Extra-large For Extra Comfort
Pros
Worth The Price
Super-soft
Handcrafted With Perfection
Ultra-supportive
Strong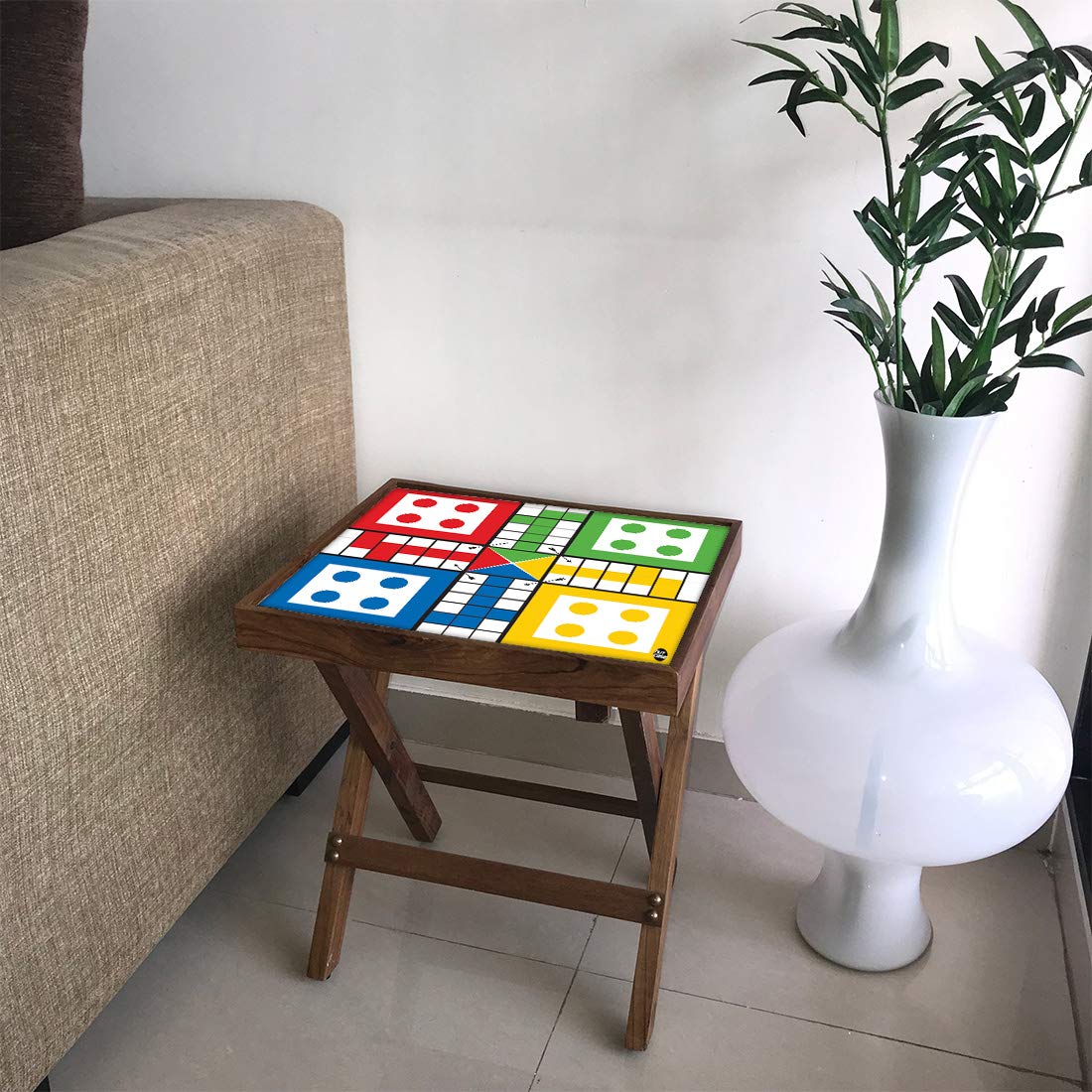 An Amazing Design With Amazing Quality! This Beautiful Outdoor Picnic Table Is A Great Addition To Your Home Décor. Whether Used In The Living Room, Bedroom, Garden, Patio, Balcony, Or Other Spaces, It Fulfils All-purpose.

Features
6-month Warranty
Made Of Teak Wood
Foldable And Portable
Simple, Minimalistic, And Waterproof Design
Made In India
Pros
Light-weight
Great Design
Hard
Multipurpose
Cons
Quite Expensive
Small
More Suitable For Kids
Frequently Asked Questions
1) How To Give A Finishing Touch To My Furniture?
Accessories Are A Great Way To Add A Subtle Look To Your Amenities. Enhance Your Outdoor Experience By Adding Umbrellas, Fire Pits, Lights, Rugs, Pillows, Shades, Etc.
2) How To Take Care Of Your Furniture In The Odd Season?
Although The Furniture Is Quite Tough When Compared To Indoor But Is Still Destructible Or Can Fade. Some Tips To Protect Your Furniture Are – Clean It Regularly Even When Not In Use, Store It In A Dry, And Indoor Environment And Cover If Possible.
3) Which Is The Best Material For Outdoor Furniture?
Aluminum, Teak Wood, Steel, Plastic, And Wrought Iron Are Some Of The Most Durable Materials For Outdoors.
4) Which Things To Consider When Buying Furniture Online?
There Are Several Factors To Be Considered While Purchasing Furniture Online Like Color, Texture, Comfort, Assembling Strategy, Shipping Cost, Availability, Return Policy, And Customer Reviews.
5) When Is The Best Time For Buying Your Outdoor Furniture?
Consider The Factors Like Lowest Prices, Availability And Variety For This. You Can Pick The Best Pieces At The Most Affordable Rate At The End-of-season Sale Or The Festival Sales.
Home Is No Longer Just About Indoors. Outdoor Spaces Are Gaining Momentum Day By Day. Outdoor Amenities Like An Outdoor Kitchen, Pool, Gardens, Gaming Zones, Recreation Zones, Outdoor Fireplaces, Or Others Are A Must-have For Homes Now. If You Too Are Planning To Upgrade Your Outdoor Appeal, Consider Having The Topmost Outdoor Furniture. Let's Get The Ultimate Outdoors Right In Your Backyard!