It's the age of improved technology! Nowadays opting for manual laundry is labor-intensive and time-consuming. Bachelors, couples, and full-fledged families all have different washing habits and preferences. The most common thing about them is the strenuous labor that is necessary for laundry. So, what can one do? Whether you're a single person or a newlywed couple, investing in the finest washing machine in India makes life easier.
Washing machines, whether semi-automatic or completely automated, save you a lot of time and work. Amazingly, you can select your preferences with the aid of the buyer's guide mentioned below and select the finest washing machines from the list of our top 10 washing machines.
TOP 10 Washing Machine, its reviews & buyer's guide
Types of washing machines
There are mainly two types of washing machines – semi-automatic and fully automatic. Fully-automatic ones are further divided into top load and front load ones. Remember, semi-automatic ones come only in top-load form.
1. Semi-automatic machines
Semi as in partially. These machines are only partially automatic. In this, some part of the washing process like filling up water in the tub is done manually. Also, the clothes after washing is to be moved to the drying tub for the further drying process. Semi-automatic machines come only in top-loading form.
2. Fully-automatic washing machines
Fully-automatic ones just work at the touch of a bottom. A single tub is installed in such washing machines for washing, drying, and rinsing. This machine comes in two varieties – top load and front load.
Front-load machine – Front-load washing machines are a kind of fully automatic washing machines that can be loaded from the front. Such washing machines have various pros like higher capacity, better performance, energy-efficient, efficient drying, and many more.
Top load washing machine – Semi-automatic machines and some fully automatic washing machines are loaded from the top and hence named as top load. Top load washing machines are the most commonly found washing machines. It has some benefits like shorter wash cycles, fewer vibrations, less cost, and many more.
Buyer's Guide: Buy the best washing machine
The main differentiating factors that you need to consider before buying a washing machine are:
Loading Type – First consider your requirements that whether you want a top-loading or a front-loading one. 
Capacity – Washing machine comes in various sizes. Choose the size according to the number of individuals in your family.
Function type – Decide budget range and then choose either a fully automatic one or a semi-automatic washing machine.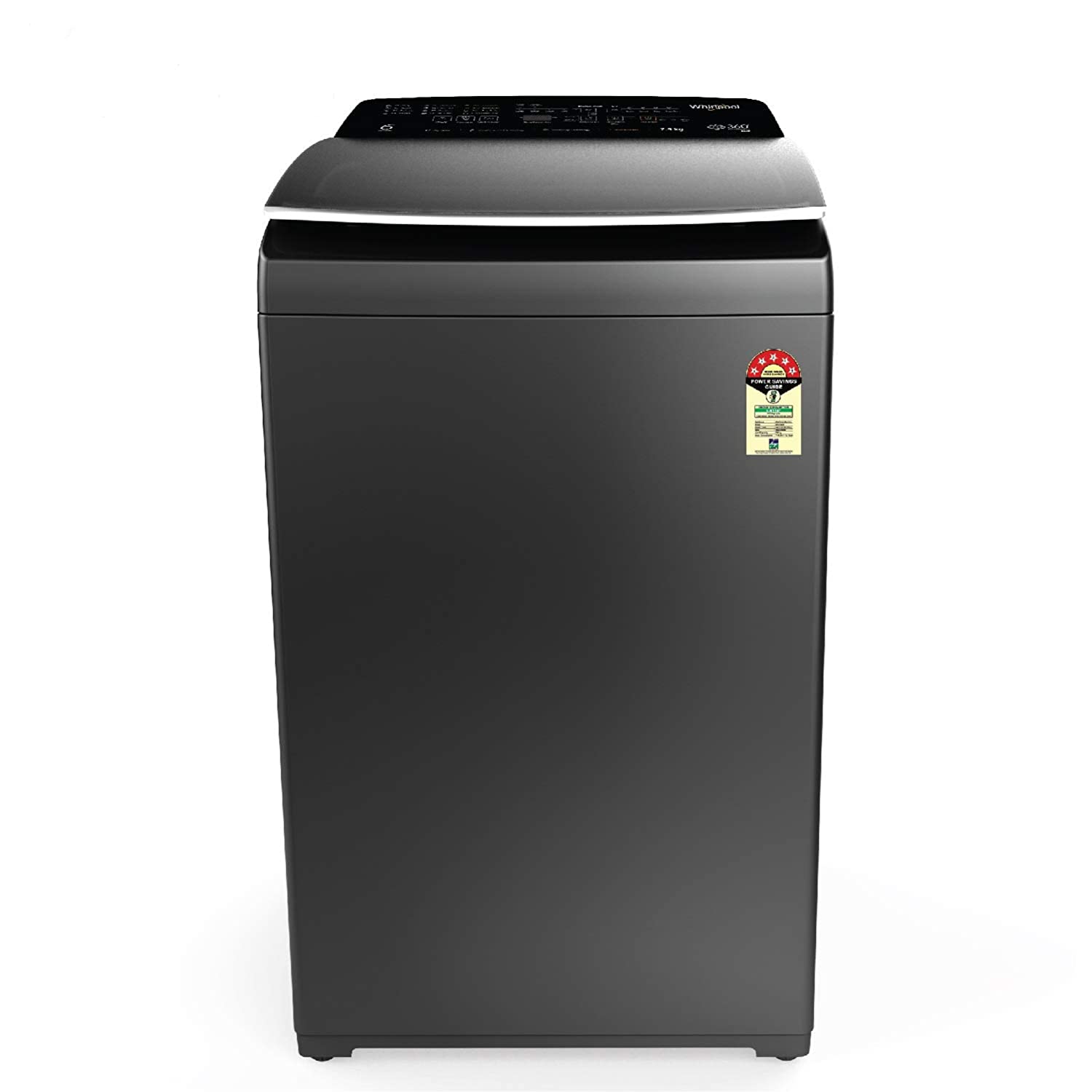 Features:
Price – Rs 22,588
Design – Top-loading
Sensor – Touch control
Weight – 7.5 Kg
Warranty – 2 years product warranty and 12 years motor warranty
Rating – 4.7 stars
Other features – 1100 spin RPM, Heater with 3-temperature settings, 12 wash programs, and 6 step cleaning process, Hexa bloom impeller for fabric maintenance, hard water technology, soft-close lid, etc.

Whirlpool is one of the top-rated washing machine brands in India. This Whirlpool automatic washing machine has an in-built heater for powerful cleaning. In addition, it is equipped with 3 water heating levels for different cloth types. It has also got an intelligent hard water mechanism for improved performance in hard water. This machine also has an automatic dispenser and smart sensors required to detect water quantity. Whirlpool also offers 12 wash programs with 6 step cleaning process with this machine. This multiple cleaning process is to get rid of the toughest stains. Also, there are no chances of fabric abrasion with this machine as it has new-gen Hexa Bloom technology.
Pros
Energy efficient
Water heating technology
Hot soak catalytic mechanism
Better drum access
Easy operation
Cons
Low alarm
Separate water inlet for wash and rinse cycle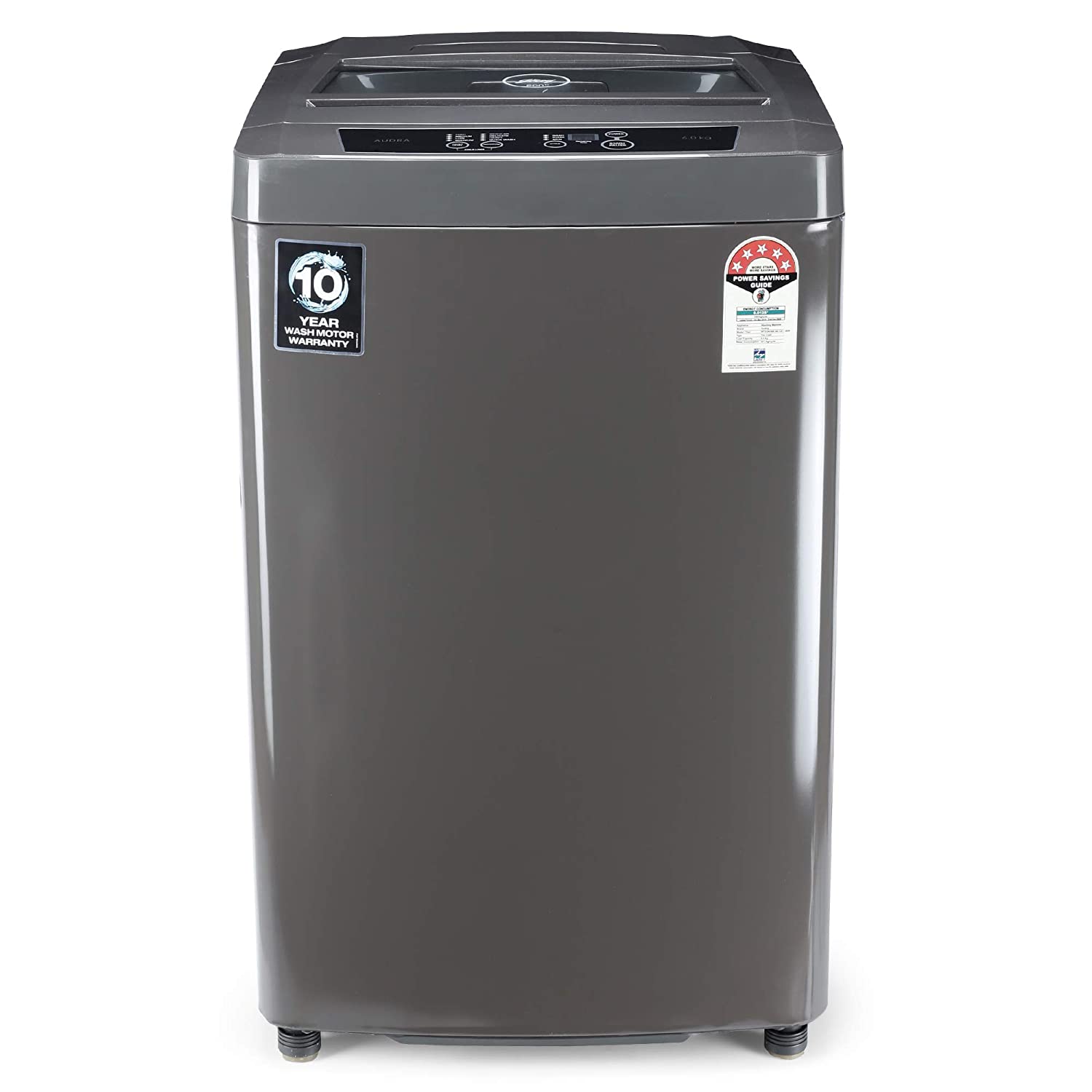 Features:
Price – Rs 13,490
Weight – 6 Kg
Design – Top loading
Warranty – 2 years machine warranty and 10 years motor warranty
Rating – 4.5-star rating
Other features – Stainless-steel washtub, toughened glass-lid, quick wash, child-lock, digital panel control, 9 wash programs, and 700 spin RPM, active soak and many more.

Godrej recently came up with an affordable fully automatic machine that is both efficient and effective. The machine has been installed with 9 wash programs that remove stains without having to scrub separately. The timer is also supplied for better operational control. Godrej has also placed 6 pulsator turbo for better dispersal of detergent.
Pros
Easy operation
Great quality wash
Best for nuclear families
Highly energy-efficient
Hygienic wash
Cons
Dull look
A bit fewer wash programs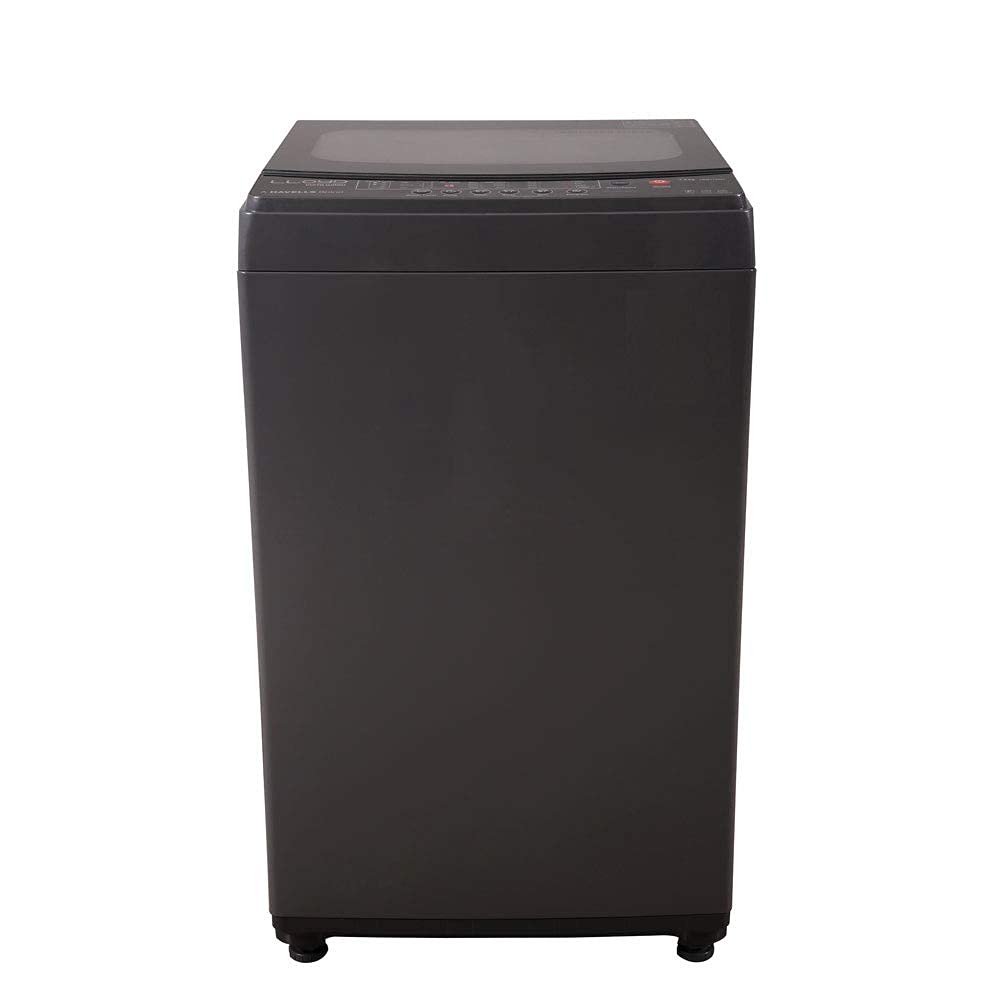 The latest washing machine from Lyold with instawash technology. This is nowadays getting popular for delivering the best quality wash. It also has profound ultra-cube wash technology for a tangle-free wash. The flow of water is multidirectional for better cleaning of clothes and also has faster drying technology for improved performance. Lyold Instawash machine has 15 wash programs for quicker and easier washing. This washing machine also has 8 unique washing functions to support all kinds of apparel. It has efficient water-saving technology along with I-clean technology. This is undoubtedly the best washing machine from Lyold, which is a brand of Havells!
Pros
In-built soak function
Air-dry feature
Easy operation
Affordable
5 kg washtub capacity
Cons
Not meant for tough strains
Less capacity offered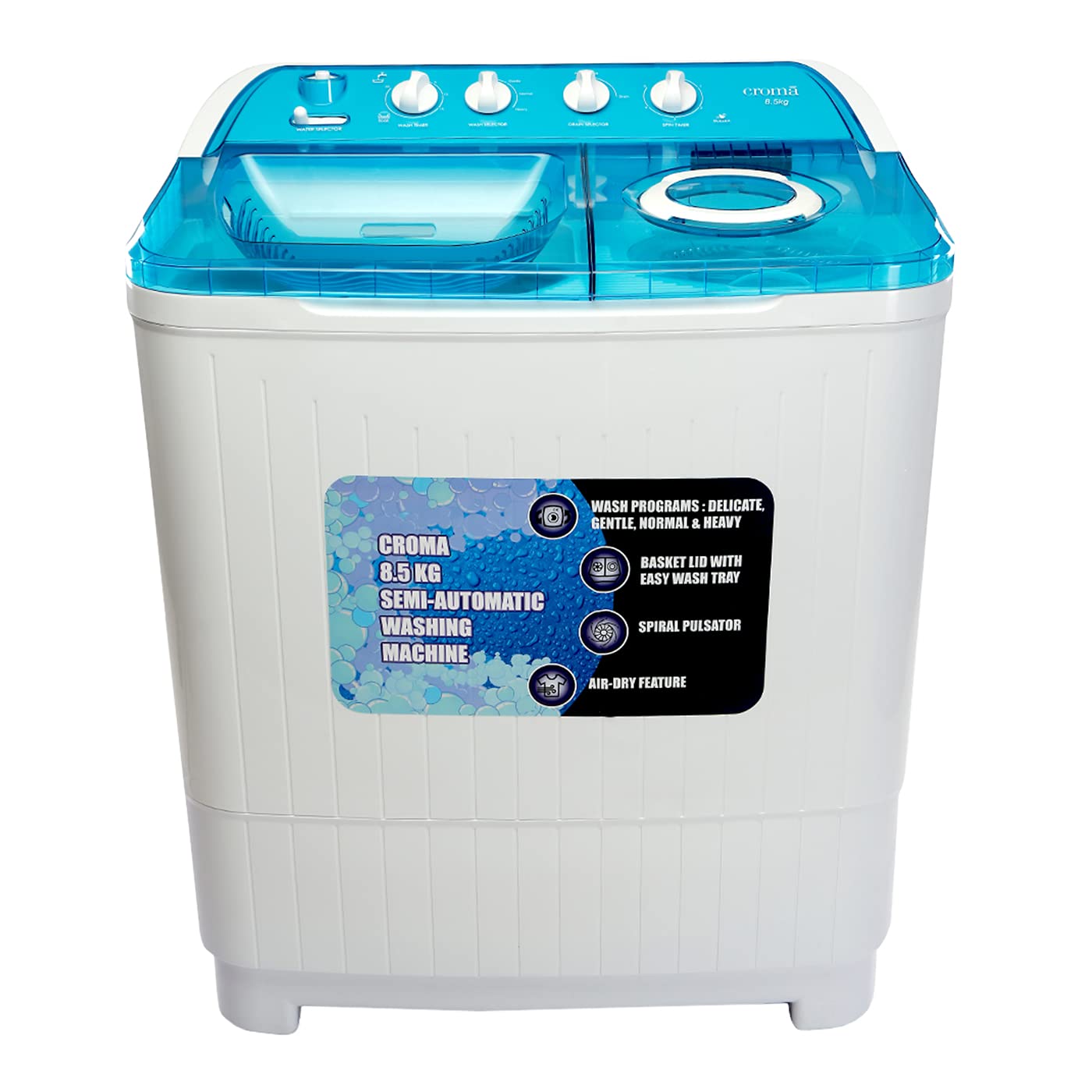 An outstanding washing machine from Croma with a capacity of 8.5 kg. This Croma top load washing machine offers an effortless drying effect by removing excess moisture. For thorough washing, a spiral pulse rotator is offered to spin clothes back and forth. It has 4 washing programs for effective washing results. The Croma washing machine is highly durable as it has a rust-proof body.
Pros
Cheap
Efficient drying technology
Effective cleaning
Durable
Corrosion-resistant
Made of high-quality material
Cons
Less capacity
Not meant for tough stains
Samsung never compromises in quality. This semi-automatic top-loading washing machine works best with all types of clothes like cotton, wool, etc. It is the most economical, energy-efficient, and effective washing machine from Samsung. Moreover, this machine is highly water-efficient with tangle-free technology.
Pros
Better washing performance
Quick-drying technology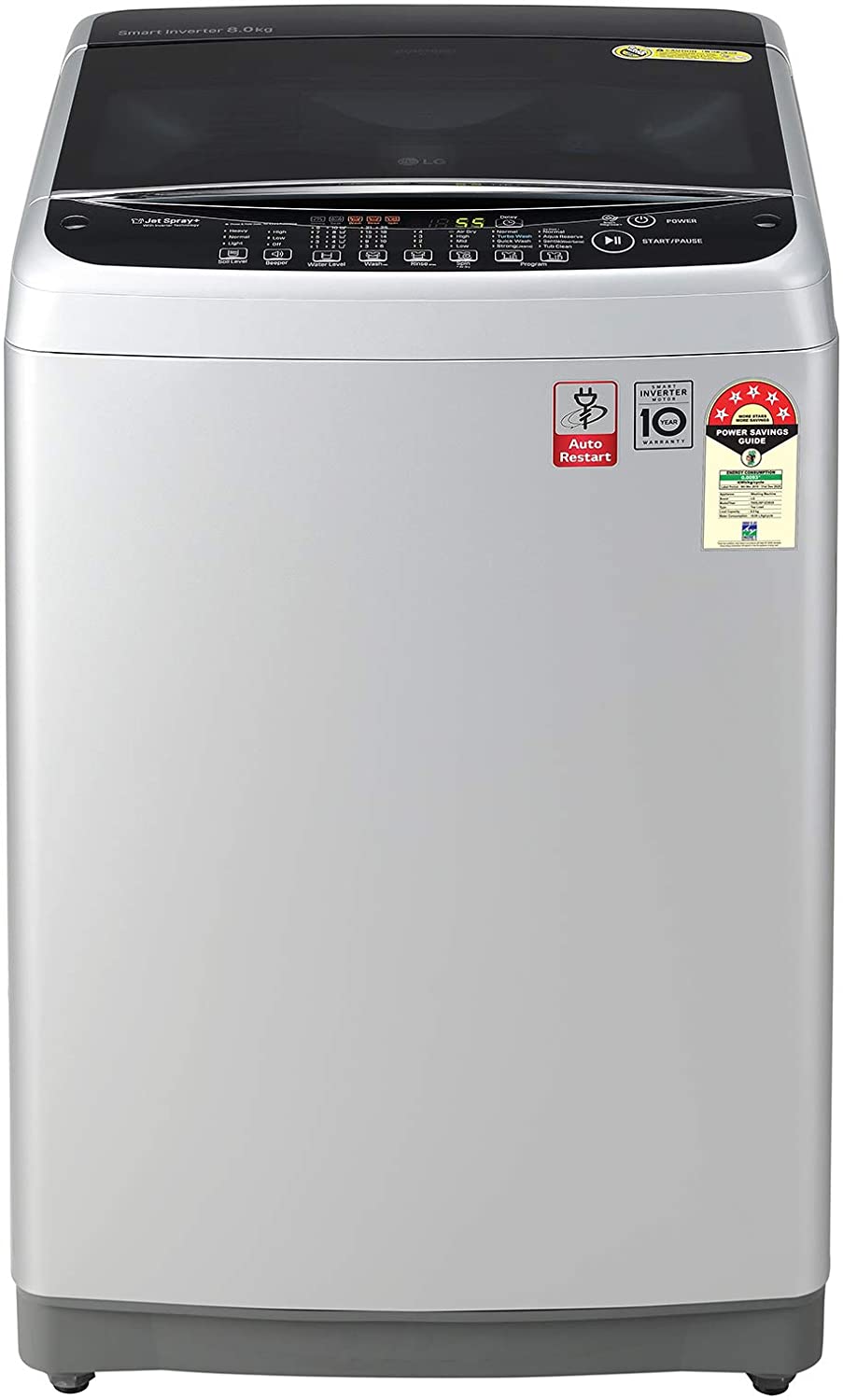 LG fully-automatic 8 kg machine is currently trending in the market. LG is a popular washing machine brand along with being trustworthy. This is the best working model from LG. LG has come up with smart inverter technology for better washing and less noise production. Also, this model has been provided with all the safety features. The washing machine body is 100% dust and rust-proof. In case of a power cut, the machine starts from the cycle it was stopped. Hence, this LG Top loading fully automatic washing machine is a top-rated one to fully trust on.
Pros
Optimum performance
Punch +3 for tough strains
Simple and easy to operate
Long-lasting
Strong body
Rust-free
Vibration-free
Cons
No timer for rinsing
Drier function is of the old style
Features:
Price – Rs 35,000
Weight – 7 kg
Controls – Touch and rotating dial
Warranty – 3 years product warranty and 12 years motor warranty
Ratings – 4.8-star ratings
Speed – 1200 RPM
Other features – Anti-bacterial technology, steel tumble for durability, laser welding drum, inverter motor, and many others

Haier has recently introduced this high-tech washing machine for more reliable washing and stability. Haier washing machine comes with 16 different and unique washing programs to treat all types of laundry well. It is also equipped with an LED display for seamless cleaning operation. For greater longevity, health, and proper cleaning of all fabrics, laser drums are offered with this model. You would be amazed to know that this model has been credited A+++ certification for energy consumption by up to 80%. It is also driven by anti-microbial technology for killing 99.9% of germs that enter the washing cycle.
Pros
Extended warranty
Elegant and compact design
Easy and seamless washing functionality
Durable and zero pressure technology offered
Panasonic is a renowned brand in the world of electronic appliances. This Panasonic model has already made its way to many households in India. The best part about this model is its sleek, elegant, and compact design. The powerful functionality of this appliance removes some of the toughest stains from clothes without harming them. It uses fast and intelligent technology for quicker washing. The compact design uses less power in comparison to other brands.
Pros
Compact design
Powerful washing
Multiple washing programs
Great warranty period
New generation technology
Cons
Expensive
Has less capacity
An excellent quality washing machine from Bosch. The Eco silence technology is present to prevent heat production for long-lasting performance and high durability. It offers an excellent wash because of the presence of anti-tangle technology. This Bosch front-loading washing machine has pressure sensors to detect the amount of water for the respectable load. For better stability and secure cleaning, anti-vibration panels are also supplied.
Pros
Great load detection technology
Durable
Very less noisy
Attractive design
Long-lasting operation
Easy washing operation
Cons
Quite expensive
Water supply pipe is not up to the mark
IFB is ranked amongst the top washing machine brands. IFB cannot be doubted ever for its durability. This washing machine has 11 wash programs for an unforgettable cleaning experience. The prime features of this model include balance correction, voltage control, and auto-restart. Filters like Aqua-energie are installed for efficient detergent dissolving technology.
Pros
High-quality wash
Water and energy-efficient
Intelligent detergent dispenser
Voltage control system
Cons
Noisy dryer
Poor customer support
Frequently Asked Questions
1) Is a front-load machine expensive than a top-load one?
The price of the washing machine depends on many factors like brand, features offered, capacity, and many others. If other influencing factors are kept constant then usually the front-load models are more expensive than the top-load ones.
2) Is RPM an adjustable factor?
RPM is a revolution per minute. This is adjustable in all washing machines. The mentioned RPM against all washing machines is its highest value.
3) Which are some trustable washing machine brands?
Whirlpool, Samsung, LG, Godrej, and Bosch are some well-known washing machine brands.
We have included all of the important facts that a buyer would like to uncover in order to purchase the greatest washing machine. Aside from the aspects, pros, and disadvantages, another important issue that might influence your decision is your budget, which we have taken into account. You don't have to be concerned about the cost because they are reasonably priced.Furthermore, if you have small children at home, you should choose the finest washing machine in India that has a child lock option. In general, the more security features there are, the better. We have listed a complete washing machine guide you have been looking for. Hope you get your desired washing machine model soon!