No woman wants to quit providing their baby with nourishing breast milk. However, some scenarios, such as returning to work after maternity leave, travelling, or other medical concerns, may make it difficult to breastfeed directly. With the help of the correct breast pump, you may easily overcome these obstacles.
Choosing the most significant breast pump isn't as much fun as selecting out attractive costumes for your kid when you're preparing for their arrival, but the proper pump can alter your life!
Yes, other mothers may rave about the pumps they've used, but what works for them may not always work for you. Because every mother and baby have different demands that can alter over time, choosing the right breast pump for the scenario is critical.
Different Types of Breast Pumps
1) Manual Breast Pumps
It is more suited to stay-at-home moms or those who aim to utilize it just in an emergency or in an urgent circumstance. Manual breast pumps are not easy on the hands because milk extraction requires some effort. They are not the best option if milk extraction and storage are regular.
2) Electric Breast Pumps
These run on electricity and are thus less inconvenient and time-saving. Although more expensive than Manual Breast Pumps, these are an excellent option for frequent/daily users and a lifesaver for working women.
BUYER'S GUIDE: How To Choose The Right Breast Pump
1) Material
Choose a breast pump composed of non-toxic materials, such as BPA-free grade plastic. They are more hygienic. Thus, they are a better option. Silicone cushions are also advantageous.
2) Ease of use
The item should be disassembled for cleaning and storage. The equipment should be sterilizable.
3) Different types of breast pumps
Manual pumps (simple and easy to use) and electric pumps (complex and difficult to use) are the two types of breast pumps available (fast and have automatic options). Another electric pump option is a hospital-grade model with quick suction and releasing capabilities. Make a decision based on the functionality you want and your budget.
4) Comfort
Measure the base of the nipple and select the flange that best fits. Shields that are too small may be uncomfortable, while shields that are too large may not generate enough vacuum. A cushion should be inserted for a warm feeling and moderate milk flow.
5) Silent pumping
Look for a breast pump that allows you to pump privately. Look for features and reviews of various pumps for detailed understanding.
6) Pump performance and modes
Look for a pump that allows you to express more milk in the least amount of time. Choose a pump with different modes, such as letdown reflex and expression.
7) Portability
Travel-friendly breast pumps should be tiny, lightweight, and compact. Choose a breast pump that is not too hefty or takes up too much room.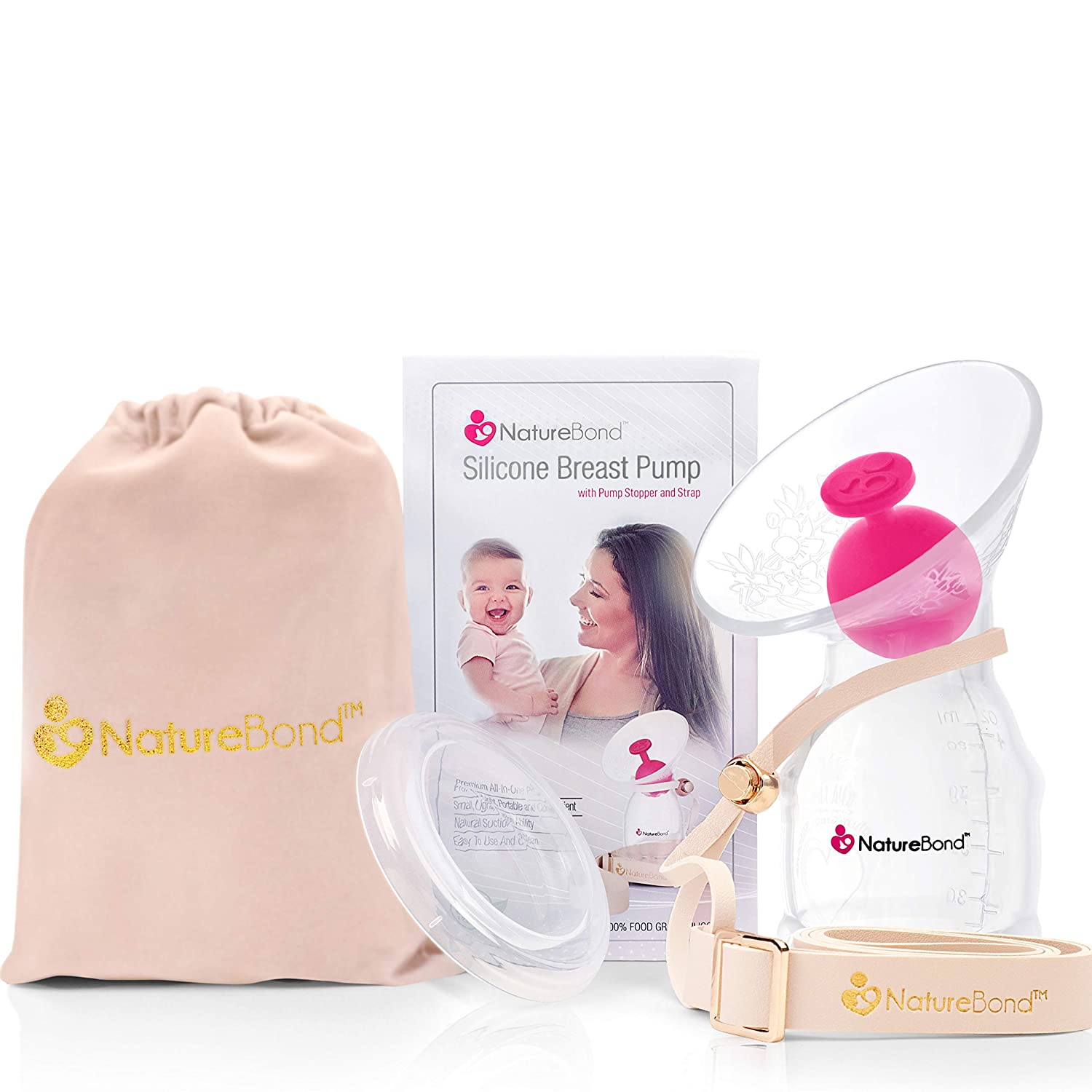 The NatureBond silicone breast pump uses natural suction pressure to collect let down breast milk in a silicone container manually. It comes in an airtight vacuum bag and is safe for both the mother and the baby. An innovative pump strap, pump stopper, dust cover lid, and velvet pouch are included in the package.
Pros
The breast pump strap prevents spillage of breast milk
Scallop hem stopper prevents pump leaking
It comes with a no-pour spout that is soothing on the breast skin
No pumping noise
Cons
When using the unique pump strap, the weight increases
The suction power appears to be low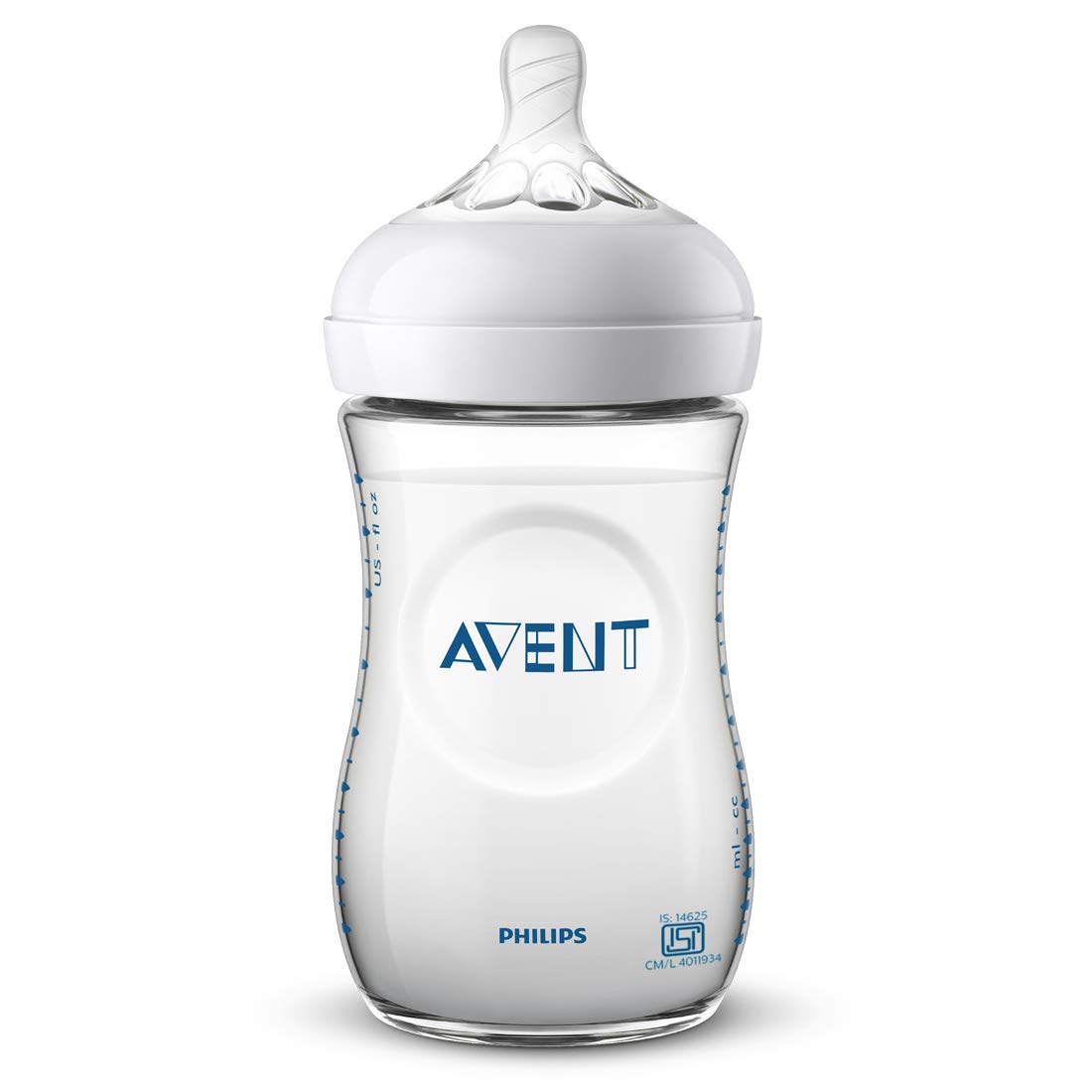 You can express comfortably with the Philips Avent manual breast pump. While the milk flows freely, it can sit erect without leaning forward. The letdown reaction is triggered by the softer massage cushion and shorter funnel. It comes in six pieces that are simple to put together.
Pros
Ergonomic handle for one-handed operation
Compact and lightweight
Dishwasher-safe and easy to clean
From the date of purchase, it is covered by a two-year warranty.
Cons
Working with it necessitates some physical exertion
It is a little noisy
Only one expression setting is included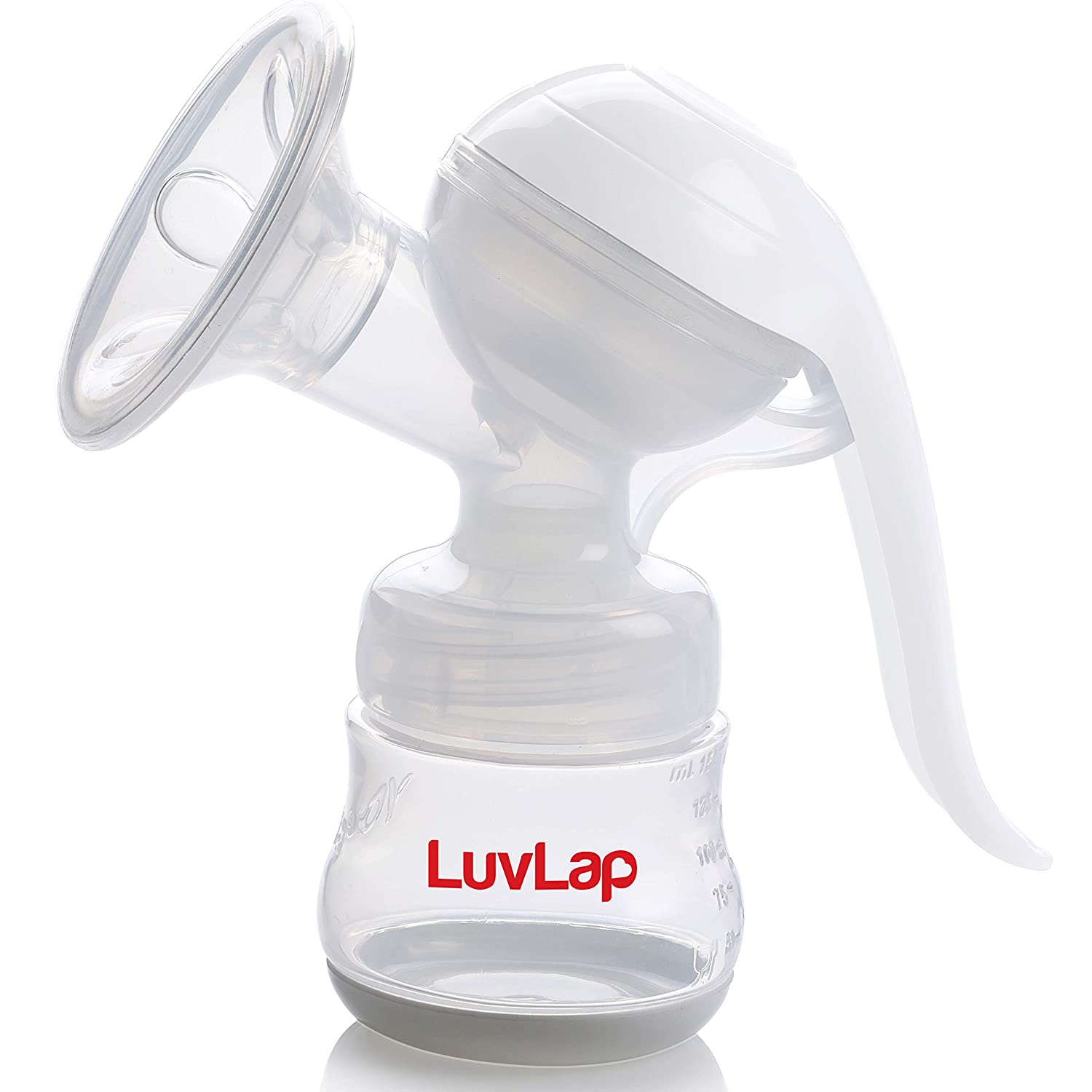 This could be the breast pump for you if you want something simple to use. LuvLap manual pump is safe and comfortable to use, with soft silicone cushions and ergonomic grip handles. It comes with two breast cushions and a valve.
Pros
It's simple to put together and take apart
Provides a secure grip and a comfortable pumping experience
Includes a storage pouch
Store milk for up to eight hours
Cons
Nipples are not included
When used frequently, it may cause hand pain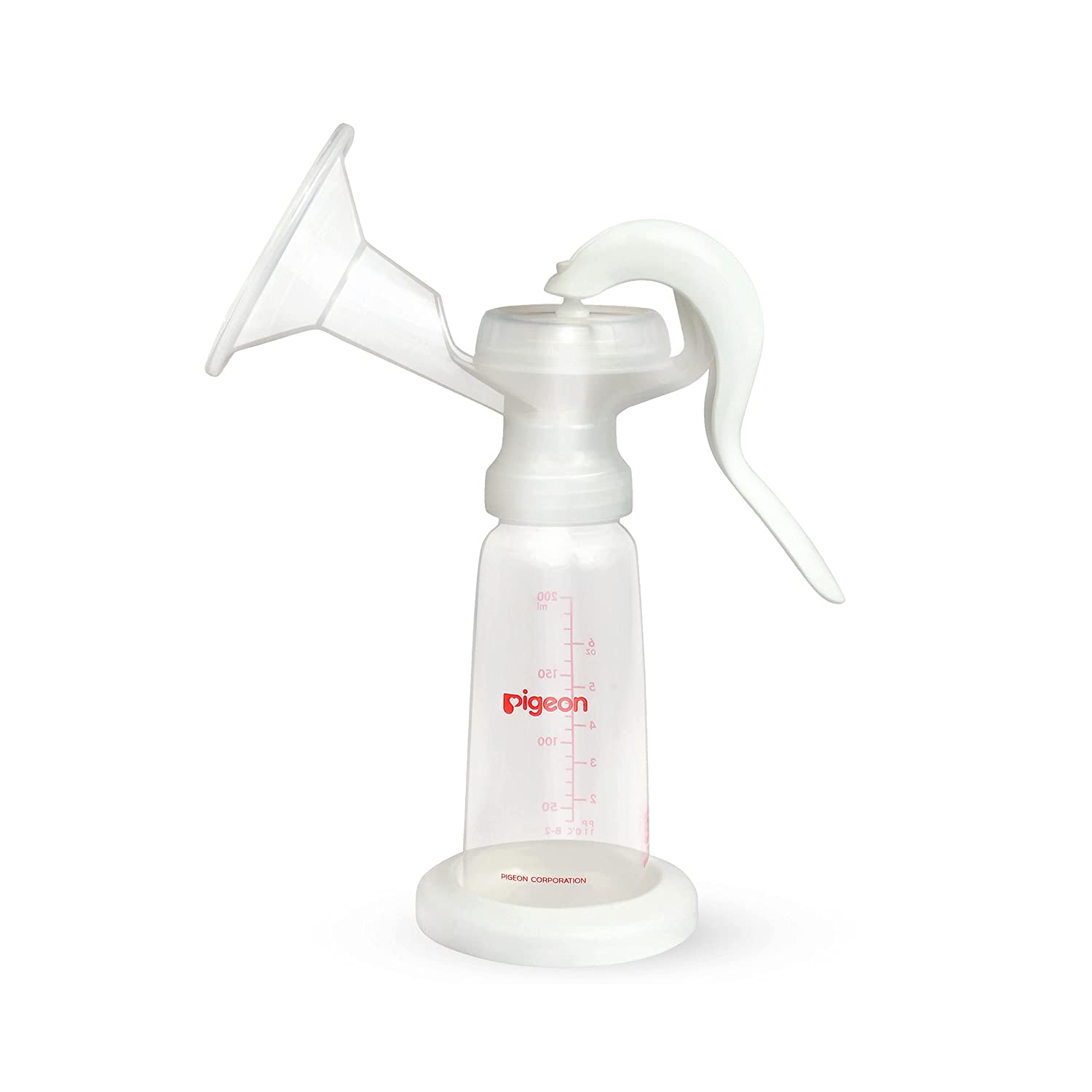 The Pigeon manual breast pump is an ideal pump with respectable beginner performance in expressing breast milk. Breast milk can be expressed and stored whenever it is convenient for you. The set includes a 150ml BPA-free feeding bottle, nipple, and cleaning brush. It's an excellent solution for women who have trouble
latching their babies.
Pros
Simple to assemble and maintain
The diaphragm is made of silicone
A funnel cap that doubles as a bottle stand
Suction pressure can be adjusted to suit the comfort of the mother
Cons
It has a distinctive odor
The suction force may not be as strong as desired
The Chicco classic breast pump expresses milk without pain or discomfort with a pleasant breast shield and suction rate control technology. This could be a good option if you're looking for an essential breast pump, and it's made of high-quality rubber and plastic.
Pros
Aids in the easy extraction of milk without causing pain
Easy to wash and sanitize
Pump that is ergonomically designed and simple to use
It is light and portable
It may not be suited for frequent use
It is impossible to nurse from a different breast because both hands are busy with the pump
The Spectra electric breast pump boasts the most up-to-date technology, including 300mmHg suction and double pumping capabilities. It makes it easier for nursing mothers to express milk. The massage mode promotes rapid letdown, changes suction intensity and cycle speed, and includes a night light, timer, and other conveniences.
Pros
When in use, it makes no noise
It comes with a two-year warranty and is simple to clean and maintain
Cons
Requires a plug to operate
Bulky and inconvenient to transport
Anti-backflow and anti-leakage functions are included with the LuvLap electric breast pump. Massage, simulation, and expression are possible with the three distinct operating modes. This device has a dual power source and can run on either electricity or a battery.
Pros
Smart memory recalls the settings from the previous session
Back-flow of milk is prevented by using a closed pumping mechanism
The battery lasts three hours
Cons
There are no clear instructions for managing rechargeable batteries
When sterilizing, it may emit an unusual odor
Frequently Asked Questions
1) What is the ideal way to clean a breast pump?
Make sure to clean each part of the pump separately with warm, soapy water. Check the pump's instructions to check if it can be put in the dishwasher. Also, after washing, make sure that every portion is appropriately air-dried.
2) Electric pump or manual pump? Which is better?
Whether you go with an electric or manual pump will determine your needs. If you want a pump that is lightweight, affordable, and only used once in a while, a manual breast pump is great. If you want a pump that expresses milk quickly, can be used frequently and requires little effort, go for an electric pump.
3) When is it appropriate for a new mother to use a breast pump?
If a baby cannot feed directly from the breast or has difficulty latching, a new mother should utilize a breast pump. If she needs to be away from the baby and wishes to save milk provided by the baby's caregiver while she is gone, she can pump.
4) Is it safe to use a breast pump on your breasts?
Breast pumps can cause pain in the breasts if they are inappropriately used. If the suction is excessively intense, the breast tissues may be damaged. It is recommended that you cease pumping for a time if you are experiencing any discomfort during pumping.
5) Does everyday pumping affect milk supply?
No, daily pumping does not reduce the amount of milk produced. This is because nipple stimulation stimulates and sustains breast milk production, whether it comes from your baby or a breast pump. If you match your pumping schedule to your baby's hunger, you'll never run out of breast milk.
6) What is the shelf life of pumped breast milk?
At room temperature, pumped breast milk lasts typically at least six to eight hours. However, if you refrigerate the milk as soon as possible or lay ice packs in contact with the milk container, it will stay fresh for up to 24 hours. The milk can be kept in the freezer for up to six months at most.
Breastfeeding is an essential component of a child's early development. As a result, it's critical to invest in the right pump to guarantee that the expressed milk is both safe and healthy for the infant. Take the essential care and maintain the goods, regardless of what you buy. The buyer's guide above will help you to select the most ideal type of breast pump.