Nowadays, cooking food with more butter or oil is considered a crime because the result is unhealthy food. Also, after you are done with the cooking, cleaning the gluey food is a tricky task! For instance, if you use regular cookware, the clean-up might get even more frustrating. Indeed, this situation has made way for the best cookware sets, that are considered to be at the heart of modular kitchens. That is why quality cookware is a sheer necessity in every kitchen!
Types of Essentials in Cookware Sets
1) Frying Pan/Skillet
The slanted sides and flat bottom distinguish the ubiquitous skillet (also known as a frying pan). This is the most often used kitchen equipment, and it can be used for sauteing.
2) Saute Pan
It is distinguished from the skillet by its straight sides. This form provides additional surface area as well as a little more depth.
3) Saucepan
What we usually call a "pot" is typically the saucepan. This item is round with tall sides and holds liquids such as sauces, soups, and water.
4) Stock Pot
A stockpot is used for cooking huge amounts of liquid, such as broths, large batches of soups, or pasta sauces.
BUYER'S GUIDE: Choosing the Right Size
1) Material
Nonstick: Because food doesn't stick to the cooking surface, nonstick cookware sets are comparatively easy to clean and require minimal upkeep.
Stainless Steel Cookware Set: Stainless steel cookware sets are resilient, solid, and long-lasting. They won't react to the food you're cooking and are simple to clean.
Copper: Copper cookware sets heat up quickly and cools down quickly. As a result, copper cookware is ideal for various cooking tasks. Copper, on the other hand, is known to be a reactive metal that may react with acidic meals.
Aluminum: Aluminium cookware constructed of aluminum is highly sturdy and lightweight, making it easy to handle.
2) Consistent heat Distribution
The cookware must be a heat-conducting material to ensure equal heat distribution and optimal cooking.
3) Handling
When you need to fry or stir the food in the pan, you'll have to lift it from time to time to ensure correct mixing. As a result, you should choose cookware that is lightweight and easy to handle.
4) Handles for pots and pans
These should be in an easy-to-grasp and-hold shape. Cookware is typically put at a lower height. Thus, they should be raised at an angle.
5) Safe to use on the stove and in the microwave
Microwave-safe cookware includes stainless steel and cookware with a metallic rim. The stainless steel will withstand the heat and prevent the food from warming.
6) Compatibility with Cooktops
Choosing the right cookware for your cooktop can be a challenge in and of itself. Pans with a flat bottom are ideal for use on smooth cooktops. The round-bottomed woks are placed on the vented rings above the burner for support and to prevent them from dropping or tumbling.
7) Maintenance
When it comes to upkeep, some cookware may be challenging to keep clean. Cookware sets made of various metals require a great deal of attention.
8) Lids made of glass
Cookware with glass lids is available on the market, allowing the user to monitor the cooking process without lifting the lid. However, you may believe that the glass lids are relatively substantial, causing the cookware to be heavy and prone to breaking.
9) Price
The budget or cost price must be considered to ensure that the product provides good value for money. There are high-priced products on the market that may not offer many benefits, whilst low-cost options may give the best bang for the buck.
10) Reactivity
Cookware sets composed of specific metals tend to react quickly with food. As a result, when it comes to material selection, you must use caution. Aluminum, for example, reacts with acidic foods like oranges, tomatoes, and vinegar.
11) Pieces in total
Variable cookware sets come with different amounts of parts to meet the demands of other cooks. You should buy a cookware set that will match your culinary needs based on your cooking style.
Bring home the Prestige Omega Deluxe Non-Stick Cookware Set, which is made in Germany. As a result, the cookware set will endure at least three times longer than normal cookware sets. It also has a unique spray-coated finish that keeps the pieces looking new for a long time. Following that, it's an induction and gas-compatible unit for an unrivaled cooking experience.
Pros
It comes with a long-lasting granite finish for an aesthetic look
Includes a nonstick dish and pan for easy serving and cooking
Has a spatter-resistant inner surface for metal spoons
Cons
It needs to be washed using a soft scrubber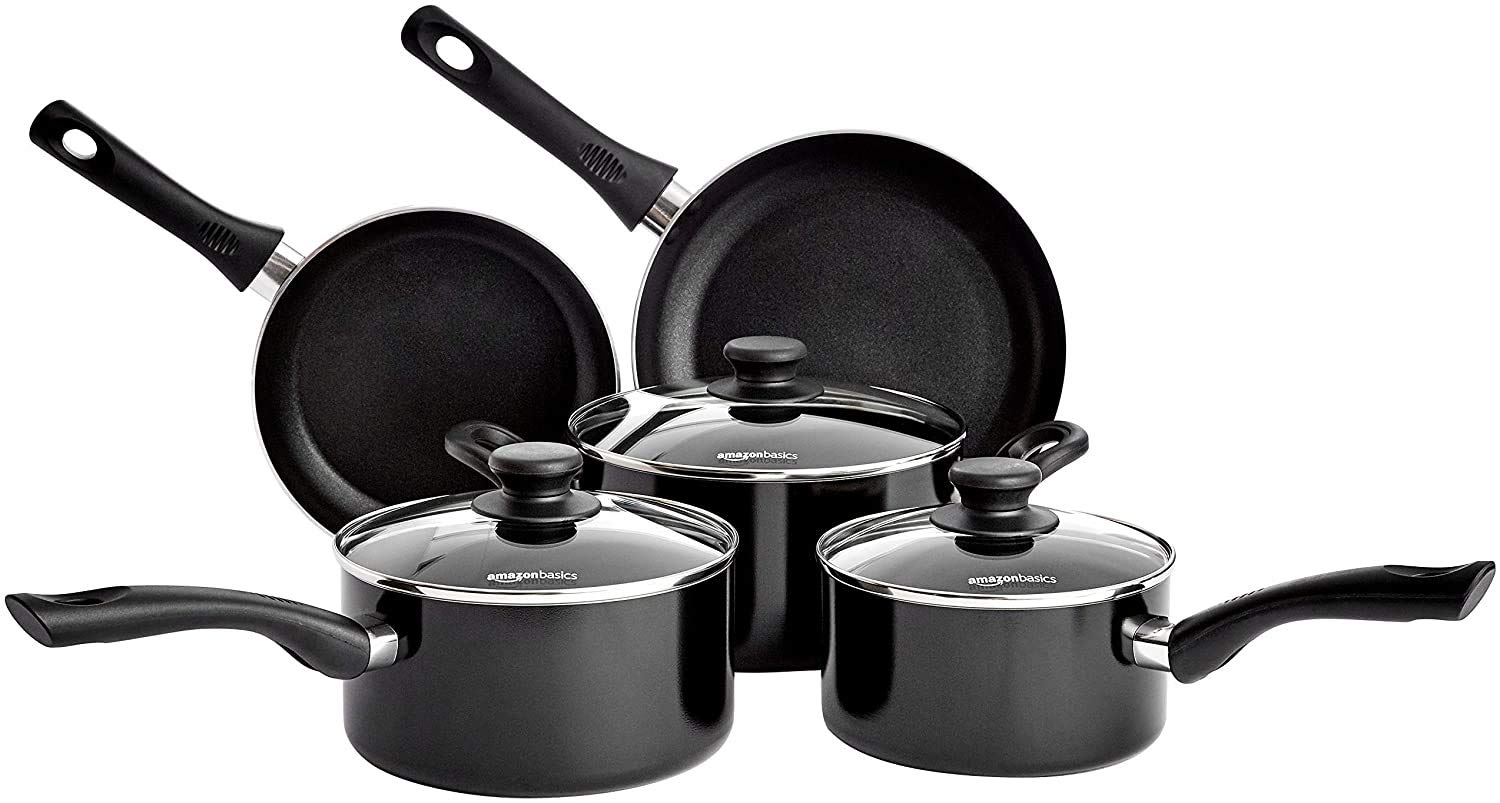 With the all-new Amazon Basics non-stick cookware set, which comes with everyday needs, you can now cook nutritious cuisine at home. Pancake pans, fry pans, and casserole pans are included in this cookware set. As a result, you'll have a more ergonomic and comfortable grip for enhanced maneuverability.
Pros
It has stay-cool handles for stress-free handling
It has a BPA-free nonstick coating for easy cleaning
It has a spiral bottom for uniform heating and cooking
Cons
It isn't compatible with an induction cooktop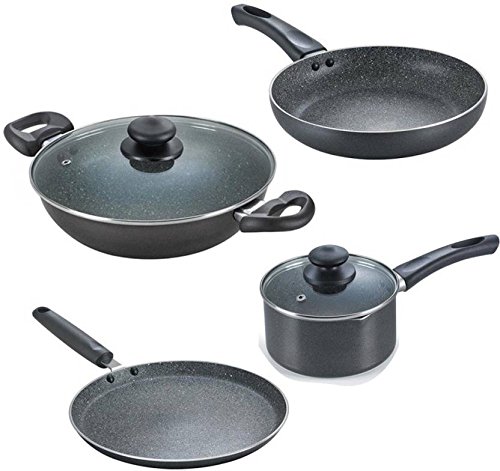 Say goodbye to mindless cooking sessions and embrace your inner chef with the all-new Prestige Omega Granite Kitchen Cookware Set. This cookware set was designed to provide efficient cooking results, with each piece being induction-compatible. The 5-layer non-stick cooking surface also ensures that the utensils survive a long period.
Pros
It comes with a durable granite finish for an aesthetic look
Features a metallic spoon and spatula-friendly surface
German Technology ensures durability
Cons
The handles may slacken over time

For a lightweight design, the Hawkins Futura Non-Stick Cookware Set is made of Hard Anodized Aluminum. As a result, this cookware set is effortless to handle while durable and solid. Flat bottoms tend to speed up heat transmission while ensuring even heat distribution.
Pros
It has a durable non-stick coating for better cooking
It allows for faster heat transmission and consistent distribution thanks to a proprietary production technique
Cons
It isn't compatible with the induction cooktops
This non-stick cookware set has preserved traditions while using modern technology for today's hurried cooks. As a result, utensils will warm the food evenly. Furthermore, this non-stick cookware set comprises high-quality aluminum, which warms up quickly and evenly.
Pros
It comes with punchy red exteriors to suit your modern kitchen
Comprises a non-toxic cooking surface to allow healthy cooking
Crafted using top-grade Aluminium for delivering faster surface heating
Cons
Isn't an induction-compatible cookware set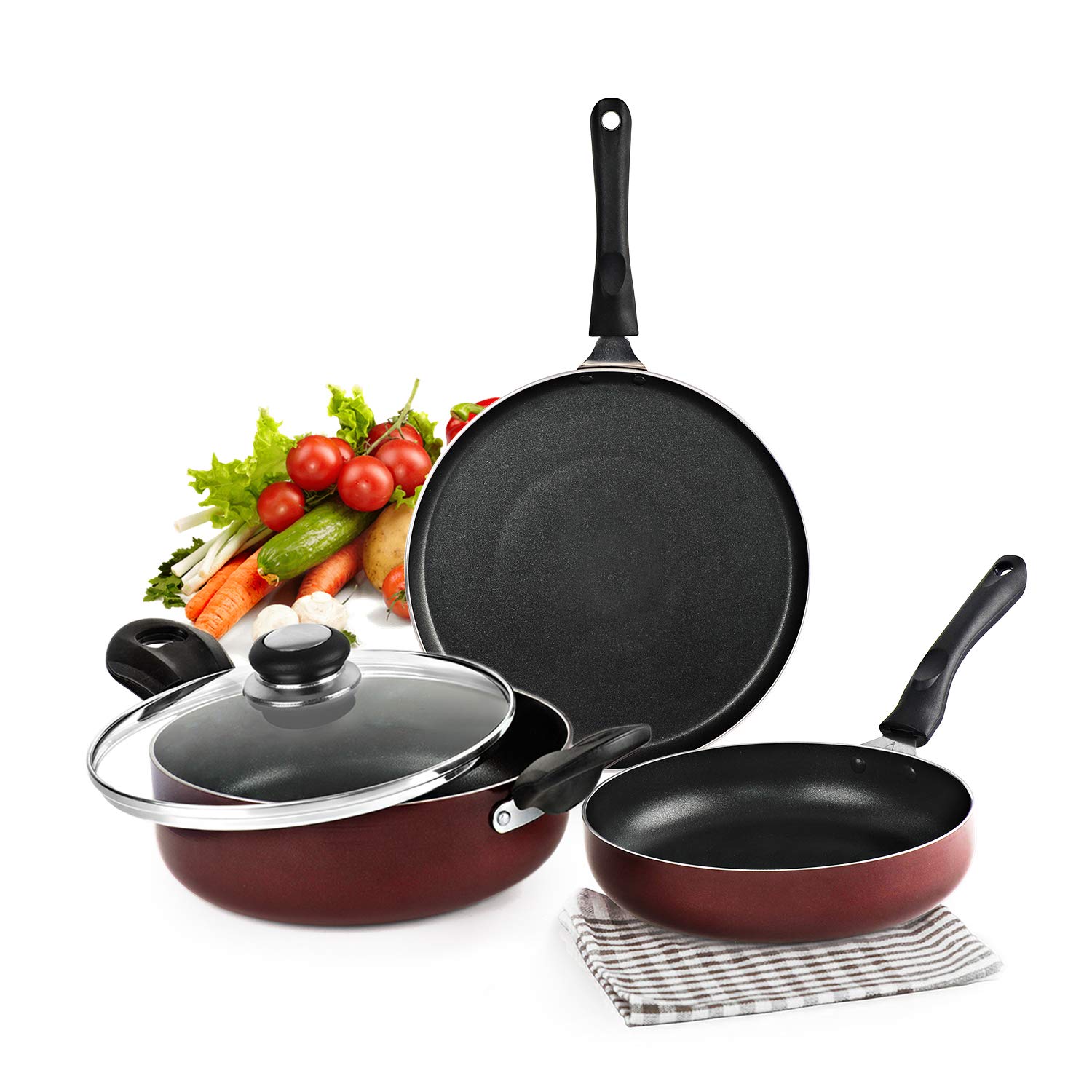 With the Cello Prima Aluminium Cookware Set's unique technology for enhanced heat holding capacity, you can accomplish the same. As a result, you can effortlessly twist and overturn the food items and place them on a plate. The utensils in this cookware set are made of high-quality aluminum and heat up quickly and evenly
Pros
It's gas and induction compatible, so it's quite convenient
Dishwasher-safe cookware set allows for easy cleanup
The handle features a distinctive loop for simple hanging
Cons
The coating layer isn't much dense
To begin with, this 5-piece cookware set works on a range of cooktops, including electric, gas, and ceramic hobs. Similarly, when the utensil achieves the ideal cooking temperature, the indicator turns dark red with Thermo-Spot Technology. It also has a cleverly designed elevated handle that makes holding and serving much easier and more comfortable.
Pros
It comes with the ergonomic elevated handle arrangement
Convenient power-glide coating for added suitability
Cons
It needs to be washed a bit cautiously
Pros
Equipped with the Bakelite handles which are cool & safe to touch
Comprises a transparent glass lid to help check the cooking progress
It comes with a dense Aluminium body to deliver quick heating
Cons
The screw fittings need improvement
The Solimo Non-Stick Cookware Set boasts a fiery crimson color. First and foremost, because it is made of high-quality materials, this cookware set will undoubtedly add value to your kitchen. Without a doubt, this cookware set will make any cooking adventure more convenient.
Pros
Equipped with the riveted Bakelite handles for easy grip
It comes with a 3-layer metallic spatula & spoon-friendly coating
Features a thick Aluminium body to heat up quite quickly
Cons
Solely compatible with the gas stoves
Because of their non-stick coating, you won't have to fight oil and grease. The utensil's body would not be hugged by even the stickiest of foods. With a single wipe, you may remove any leftovers from the utensil. The layer also aids cooking without the use of oil. The utensils will last a long time if you don't use any harsh cleaners on them. The existence of a non-stick coating, which is uncommon in similar hard-anodized products, is appreciated.
Pros
Durable because of the quality construction
Specially curated for Indian households
This is non-toxic and stain-resistant
Frequently Asked Questions
1) Is it possible for non-stick cookware to scratch?
Yes, metal utensils may readily scratch non-stick cookware. Non-stick cookware that has been coated with multiple layers of the non-stick coating is more durable.
2) Is non-stick cooking safe?
Yes, as long as it does not get too hot (meaning above 500 degrees Fahrenheit). Empty lighter pans (aluminum) require just two minutes to overheat, while empty heavy pans (cast iron) take less than ten minutes.
3) What is the maximum temperature at which you can use cookware?
Sets of cookware can endure temperatures as high as 2500 degrees Fahrenheit. Steel begins to melt about 2200 degrees Fahrenheit, so it's best not to heat it above that.
The truth is that you can choose any of the 10 recommended cookware sets that have features that meet your needs, and you'll be OK. Investing in a nice cookware set ensures that you have a wide range of high-quality pots and pans, allowing you to spend more time in the kitchen. If that's not enough to persuade you, consider how much money you'll save compared to buying these items one at a time!