If you're a parent, you'll agree that nothing compares to the fragrance of your child's head. Research has discovered that the scent emitted by a baby's scalp lures the mother and encourages bonding, so there's a reason you can't stop sniffing it! Your baby's head, on the other hand, gets dirty and needs to be washed. You should use good baby shampoo on your baby's delicate scalp and hair for cleanliness and health reasons.
BUYER'S GUIDE: Factors to consider to Buy Best Baby Shampoo
1) Highly Formulated
Baby skin is thin and sensitive; hence exposure to potential toxins should be limited wherever possible. It is preferable to use a shampoo that is well-formulated and has only natural and pure ingredients.
Look for ingredients as follows:
Aloe vera is a soothing plant that aids with hydration.
Chamomile is a calming plant that softens the skin's surface.
Calendula is a flowering plant that is used to treat dry skin.
Coco-betaine is a gentle, natural ingredient obtained from coconut oil that aids in the uniform distribution of shampoo.
2) Age-Appropriate
Check to see if the shampoo is suitable for your age group. Not all products are appropriate for all ages; think about whether you're buying for a baby, toddler, or older child.
Products that are designed for babies are ideally milder than for older children with fewer potential irritants. It is advisable to check the product description for the minimum recommended age or age range before buying a new shampoo.
3) All-In-One combined product
Using an all-in-one or integrated product speeds up the cleaning process for youngsters. There are numerous products available that can be used as both a body wash and a cleansing shampoo. They can also be a convenient option; not only do they save time, but they also reduce the number of bottles you have to lug about.
4) Hypoallergenic
Because children's skin is far more sensitive than an adult's, several chemical substances that are generally acceptable to use may irritate their eyes or skin. If you have any worries or know your child is sensitive, look for hypoallergenic formulas or those free of chemical additives like parabens, sulphates, and mineral oils.
5) Scented or Unscented Shampoo
Some children will enjoy scented bath products, while others will despise them. As part of their wind-down process, soothing herbal smells like chamomile and lavender can help relax youngsters and prepare them for bed.
Unscented shampoos are a suitable solution for youngsters with sensory or skin sensitivity. For some children, the oils and scents in scented shampoo can be excessive and might irritate specific skin problems like eczema.
6) Pump Dispenser
After that, look to see what kind of dispenser the bottle has. Pump dispenser bottles are helpful for parents of babies and young children since they allow you to quickly distribute the proper amount of shampoo with one hand while freeing the other to assist your child. However, be mindful that these dispensers may be too enticing to play with, resulting in messes and product waste.
Squeeze bottles are less convenient to use, but they don't leak and provide more control over dispensing the exact amount of shampoo. Furthermore, if they are knocked into the tub by accident, the valve in the aperture prevents water from entering and shampoo from seeping out.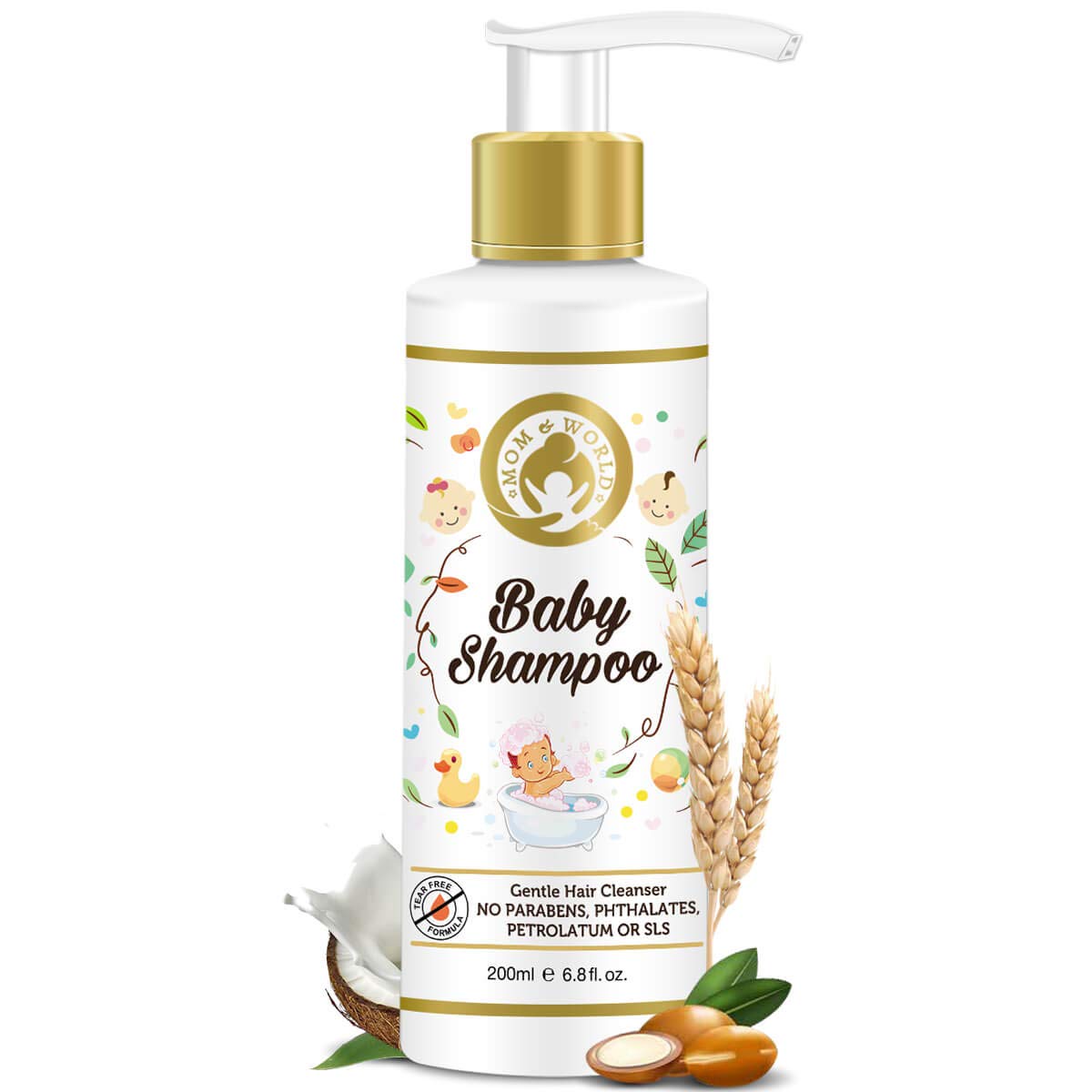 Instilled with Organic Moroccan Argan Oil and Oats Extract, this shampoo is a total organic hair protector for your family's newborns, infants, children, and teenagers. It is soap-free and dermatologically tested to gently cleanse hair, leaving it silky and manageable with a pleasant scent.
It is formulated with a natural blend of organic argan oil, almond oil, aloe vera, oat extract, wheat germ extract, and glycerine to keep hair lustrous and healthy. It also boasts a tear-free composition that protects your child's sensitive skin and eyes from irritation.
Pros
Effectively reduces dryness and hydrates the hair
Sulfates, parabens, synthetic fragrances, and dyes are not present
Dermatologist-approved
Mildness assessed
Hypoallergenic
The bottle includes a locking dispenser to prevent spilling.
Transparent liquid
Cons
There's a problem with offline availability.
Mee Mee Light Baby Shampoo with Fruit Extracts is the complete solution for your baby's scalp and hair when it comes to a mild baby shampoo. The shampoo's No Tear formula and conditioner thoroughly clean the scalp and hair without bothering your child's eyes or sensitive skin.
Because Mee Mee Baby Shampoo is made with natural fruit extracts and has undergone dermatological testing, is hypoallergenic, and has been clinically verified to be safe on infants.
Pros
No-tears formula
Softens and nourishes newborn hair
It has a pleasant, light scent
It contains natural fruit extracts
It lathers up well
A coin-sized amount of shampoo is sufficient for a single bath
Cons
It may lead to drying the baby's hair
Cetaphil Baby Shampoo and Wash is a pH-balanced, tear-free, soap-free, dermatologically tested baby product enriched with Chamomile (to soothe scalp irritation and nourish baby hair), Wheat Protein (to repair damaged hair, thicken and add volume to thinning hair), and Glycerin (to thicken and add volume to thinning hair) (works as a conditioner)
It lathers up nicely and gently cleanses your baby's fine hair without drying it up, leaving it silky and scented.
Pros
It can be used as a shampoo, and a body wash
Free of parabens, soap, and tears
Hypoallergenic
Dermatologist and pediatrician approved
The top minimizes spillage, making this container ideal for travel
Cons
For babies with sensitive skin, the scented fragrance might not be the best option
May cause irritation
Chicco No Tears Shampoo is a baby shampoo that has been extensively tested on delicate skin.
Its No Tear recipe is made from Pot Marigold (also known as calendula), which has softening characteristics that moisturize and prevent tangles in the hair.
This No Tear Chicco baby shampoo is a good choice if you want a mild shampoo at a reasonable price while still getting good value.
It comes in 200 mL and 500 mL containers.
The 200 ml bottle will last you about 1-2 months.
Pros
Free of tears and parabens
Natural Marigold (Pot Marigold) (has softening properties)
Fragrance: Mild
Formulated to soothe skin allergies
The bottle has a flip-top cap that prevents spillage
There are no hazardous preservatives in this product
Cons
Has potential to dry out even more in specific hair structures
To get the shampoo out of the bottle, you have to squeeze it hard
Burt's Bees – Baby Bee Shampoo & Wash, imported from the United States, is ideal for your child's sensitive skin and may be used as a shampoo and a body wash.
This baby shampoo is formulated with soy proteins, Vitamin B, and glycerine to nourish and hydrate your baby's scalp and hair. It's also a fantastic option for soothing cradle caps in newborns.
Pros
Natural product with a purity of 99.9%
Tear-free and pH-balanced formula
Recyclable bottle
Approved by a pediatricians
Hypoallergenic
There are no parabens in this product.
Honey has a light scent
Cons
May lead to stinging sensation in the eyes
All We Know Baby Shampoo from Mothercare combines natural extracts of olive oil, which promotes hair growth, and chamomile, which calms your baby's sensitive skin. It is a tear-free, midwife-tested shampoo with a light conditioner that leaves your baby's hair clean, smooth, and shining.
Pros
Offers natural shine to hair
It is a cost-effective product
Midwife and dermatologically tested
Natural ingredients as Olive oil and chamomile extracts
Hypoallergenic
No-tears formula
Cons
It has sodium sulphate and paraben in it.
Sebamed Children's shampoo is one of the most fantastic options for cleaning babies' and children's fine hair and fragile scalp. Chamomile herbal extract relieves inflammation, inhibits allergies, and soothes the skin.
Its pH 5.5 formula keeps your child's scalp nourished and strengthens it for optimal hair growth.
Pros
Ideal for those with sensitive scalps
Has ideal pH of 5.5
No -tears formula
Consolidates the baby's delicate skin's resistance
Produces mild lather
It helps to get rid of dandruff
Cons
Leakage risks while transporting
Himalaya Herbals Shampoo is a fantastic solution for kids' sensitive scalp because of its unique blend of herbs (chickpea, hibiscus). It is loaded with natural protein sources to nourish the scalp, improve hair structure, and leave it soft and lustrous.
It is extensively tested for its mildness and reduced sensitivity to allergic responses, and its ability to prevent dandruff.
Pros
Effectively gets rid of dandruff
Herbal Supplement
No Tears Formula
Free of parabens or sulphates
Allergic responses are unlikely
Affordably priced and conveniently available
Cons
Not suitable for greasy hair
Frequently Asked Questions
1) Is it necessary to wash the baby's hair every day?
You may believe that your baby's hair is never greasy or dirty, and, indeed, their oil glands aren't creating as much sebum as, say, a teenager's. On the other hand, your baby's hair should be washed frequently to eliminate dirt, bacteria, and dead skin cells that accumulate there.
2) When should I wash the baby's hair for the first time?
The first hair wash can be done from birth, especially if there is dried debris in the hair and scalp. A baby comb can be used to remove skin flakes and other debris if necessary.
3) Is it okay for me to use my regular shampoo on my baby's hair?
Shampoos made for adults may contain chemicals that hurt a baby's scalp. Strong smells and colors may be present, which are not ideal for sensitive infant skin.
4) Is it true that infant shampoo contains fewer chemicals?
To clean the hair, most shampoos contain lauryl sulphates. Sulfates are effective detergents, but they can dry out your hair and cause irritation in your eyes. Milder surfactants (known as amphoteric surfactants) are used in baby shampoos to clean without irritating the eyes. Amphoteric surfactants don't froth up as well as sulphates and aren't as effective at eliminating oil and product build-up, although this isn't usually an issue with babies.
5) Can I use baby shampoo regularly?
Even if you bathe your kid every day, some days, you can rinse their head with water and just shampoo when you notice their hair needs refreshing. If you decide to shampoo your baby's hair more frequently, make sure to choose a shampoo designed specifically for babies since it will be less irritating to their sensitive skin and less likely to cause stinging or burning if it goes into their eyes.

Bath time can be an excellent way for you and your baby to bond as you watch them discover their toes and play around in the water.
While newborns don't require as frequent baths as adults, a safe, gentle baby shampoo designed specifically can keep them clean and smell pleasant. Then it's time for those baby-scented embraces!