The market is flooded with brands claiming that their products are the best. However, we don't know how far is it true. So, in this article, we would discuss the brands and their products which have successfully gained their customer's trust by providing genuine products. Without further delay, let's look at our compiled list of the top five portable refrigerators in India.
Mini refrigerators suit the best for travel, outdoor and individuals. That's the reason portable refrigerators are more popular among the travelers and students who need less space. Another good thing about the mini refrigerators is that they are extremely portable, anyone can move a mini refrigerator from one place to another.
Again don't expect a very high-end good performance from a mini-refrigerators. It's good for some normal usage like – colling water bottle, making ice-cubes and storing a few food containers, water bottles and soft drinks.
Best Portable Refrigerators in India
As portable refrigerators are not very popular in normal households in India, You won't find too many options in mini-refrigerators in India. Although there are many companies who manufacture and sell mini refrigerators in India but still you get only limited options from the top brands.
In case if you are looking for one of the best mini refrigerators in India, here's the list below.
Top 5 Portable Refrigerators To Buy This Year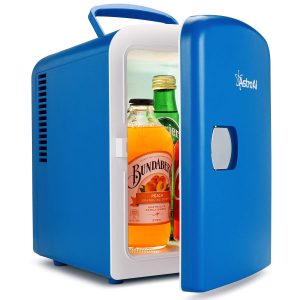 AstroAI Mini Fridge has a compact and sleek design. Its capacity is 4 liters. You can use it in your cars, homes, offices, dorms, etc. Keep your snacks and drinks organized on its removable shelf. Moreover, its larger chip allows better cooling and insulation. Not to mention, this product is mostly used to store skincare items.
We would highly recommend this product as it is easy to maintain and retails for a competitive budget of 11,500 INR. With a rating of 4.3 out of 5, the product seems to the favorite of most customers. Its weight is 2 kg 60 grams.
Pros
Value for money.
Compact and sleek design.
Light-weighted.
Positive reviews and good ratings.
Energy-efficient.
Silent whisper operation.
Well-built.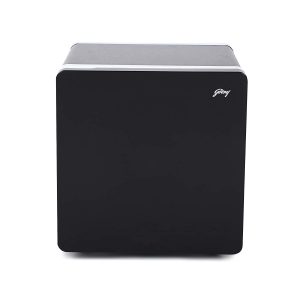 Godrej has a good reputation in the industry by providing good quality products. Our second pick, Godrej 30 L Qube Personal Cooling Solution features Advanced Solid State Technology. It is driven by a small thermoelectric chip that delivers energy-efficient cooling. The fridge is comparatively easy to clean and maintain. You can easily store your food and snacks thanks to its 30 liters capacity. Moreover, it runs on a home inverter so you don't need to worry when there's a power cut.
The product comes with 5 cm thick insulation which ensures maximum cooling retention and its bright, power-saving dual lights help you to find your things. As it doesn't come with a compressor you can expect maximum space and silent operation. Furthermore, you would get one-year warranty on the product. With a rating of 3.7 out of 5, the product deserves to be on the list. Its weight is 11 kg.
Pros
One-year warranty on the product.
Silent operation.
Energy-efficient.
No hassle of defrosting.
Runs on a home inverter.
Value for money.
Rugged built.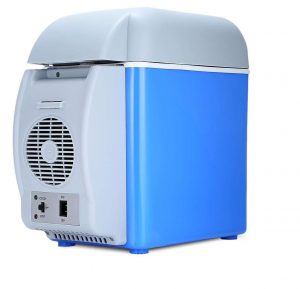 Boriva Mini Car Refrigerator is made of ABS material ensuring durability and longevity of the product. You can easily organize your drinks and snacks thanks to their 7.5 liters capacity. Use it while you're out camping, traveling, picnic, partying, etc. It is exclusively designed to keep your food hot and cold. Moreover, it comes with a shoulder strap which allows easy portability. Reviewers love this product as it has a sturdy built and bottom base for skid.
Plus, Boriva Mini Car Refrigerator features removable shelves which allow easy cleaning and maintenance. Customers love this product as it is durable and budget-friendly. We would highly recommend this product as it compact and can be carried anywhere.
Pros
Sturdy built.
Silent operation.
Value for money.
Comes with a shoulder strap.
Compact and sleek.
Works with Google Assistant and Alexa.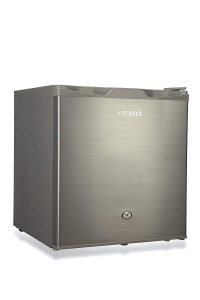 Croma 50 L Direct Cool Single Door Refrigerator has a stylish and compact design. As it comes with a 50 liters capacity you can store a lot of items. It features a separate chiller compartment that helps you keep food items in a frozen state. Moreover, the PCM finishing ensures the durability and longevity of the product. There's a separate chiller compartment to store food items. With its temperature control thermostat, you can control the temperature.
The fridge has a defrost feature and its steel wire shelf can withstand high temperature. Furthermore, its adjustable legs allow you to keep it in a space as per your liking and convenience. Croma is one of the reputed companies in the industry so questioning its quality would be futile. It has energy star certification and qualifies to be on this list with a rating of 3.5 out of 5. Plus, you would get one year warranty on the refrigerator and compressor. The weight of this product is 16 kg.
Pros
Value for money.
Stylish and seamless design.
One year warranty on the product.
Robust built.
Steel wire shelf.
Easy to clean and maintain.
Energy star certification.
Cons
The refrigerator is noisy.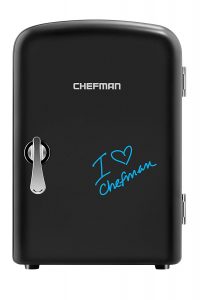 Chefman Mini Portable Eraser Board Personal Fridge has a compact and portable design. It comes with a carry handle for easy portability. You can use it in offices, apartments, road trips, picnics, and more. It includes a removable shelf where you can store all your food items. With a flip of a switch, you can either cool or warm your food.
Chefman Mini Portable Eraser Board Personal Fridge 100% Freon-free and eco-friendly. Moreover, it includes plugs for both 12V car chargers and home outlets. With a rating of 4.2 out of 5 backed up by one year warranty, we would highly recommend this product. Its weight is 2 kg 90 grams.
Pros
One year warranty on the product.
Carry handle for easy portability.
100% Freon-free and eco-friendly.
Compact and sleek design.
Value for money.
Cons
The built quality is average.
Buying Guide for Refrigerators
Consider the following aspects before proceeding with your purchase.
Budget
Before anything you need to finalize your budget. You can check the price of different products online and get the one that suits your budget and requirement. You would easily get a basic refrigerator at around INR 7000 to 10000. We advise you to get a good quality product as it's a long-term investment and you don't want it to stop functioning in one-two years.
Size
You need to look for a refrigerator considering its size. Make sure that it would fit in your kitchen. If you live alone or in a PG then buying a mini-fridge would be a wise decision. Moreover, for larger and medium-sized families 200 to 400 liters would be sufficient. Measure the way width of your space before the purchase.
Door Style
After you're clear about your budget then opt for any of these door styles. Single door, Double door, Triple door, Mini, Side-by-Side, French Door.
Single Door:

This is the most common refrigerator used in Indian households. Single-door refrigerators are suitable for small families.

Double Door:

A double door refrigerator gives more space so it's perfect for medium-sized families. Double door refrigerators use frost-free technology which is not seen in single doors.

Triple Door:

You can easily organize your stuff in triple door refrigerators.

Mini Fridge:

If you already own a refrigerator then opt for a mini-fridge. You can easily store your snacks and drinks in it.

Side By Side:

Side by side refrigerators have the freezer on the left and refrigerator on the right with a split in the middle. The only downside of these refrigerators is that its way too bulky to fit in a kitchen.

French Door:

French door offers plenty of space. There are two doors for the refrigerator compartment and a freezer drawer at the bottom of the refrigerator. French doors are aesthetically pleasing and functional as well.
Extended Warranty
Every product comes with at least one year warranty. But you can ask for an extended warranty as well. Though you have to pay for it. However, it would be a wise decision to ask for it on an expensive product like a refrigerator.

Frequently Asked Questions
1) How do I care for my refrigerator?
If you care for your refrigerator then it would last long. Following are the maintenance steps you can take:
Keep the fridge away from sunlight or any heat source. If the mini-fridge has a freezer then don't store it in areas where the temperature drops below 60 degrees Fahrenheit. The compressor would have to run less leading to the failure of the unit.
Don't stuff items into the fridge. You need to keep some gaps for better air circulation.
Clean the fridge at least once a month. You can use vinegar or baking soda with warm water to clean the fridge.
Keep the coil clean. If it's not clean then the fridge would not run efficiently.
Discard all the items you don't need.
Check the door seal if it's functioning or not.
2) How to defrost a mini-fridge?
Well, not all mini-fridge requires defrosting. Follow these steps to defrost your mini-fridge.
First of all, remove the interior elements.
Unplug it. Open the door and place a towel there so that it can absorb moisture.
Leave it like that for the night.
If there's excess moisture then clean it and remove the towels, trays that you used.
We advise you not to use any harmful detergent while cleaning your refrigerator. Instead use baking soda and warm water for better results. One important thing, only close the door when the interior gets dry to avoid bacteria and rust formation.
These are our top picks. Hope you liked them. You can link down your favorite products in the comment section below.