As summers are approaching, you might be thinking of getting an AC. AC's have become a necessity in India due to the constant rise in temperature with each passing year. Most people nowadays prefer to buy inverter air conditioners because they are both visually beautiful and energy-efficient. Air conditioners contribute a significant portion of the power cost for all families who use them. If you are concerned about high power costs caused by air conditioners, purchasing an energy-efficient air conditioner makes a lot more sense. So, we have compiled a list of the top seven high-rated products to help you with your next purchase.
Top 7 Inverter Air Conditioners in India
Why Inverter Air Conditioner
Inverter air conditioners are energy-efficient and will last several years. Though they are expensive but in the long run it would be considered to be beneficial as it consumes comparatively less power. When compared to non-inverter AC it is less noisy. Once the room is cooled down, it would automatically lower the speed of the motor thus saving energy. The spouts at the end of bottles that help control the liquid flow are called pour spouts or speed pourers. Muffler/ Pestle: You can't create a Mojito without a muddler/pestle, which is a utensil for smashing fresh herbs and fruits.
Advantages of Inverter technology?
The benefits of adopting inverter technology are self-evident. Let us take a quick look at them.
Inverter air conditioners use less energy than standard air conditioners.
Inverter AC units operate at various speeds and tonnage capacities. This is in stark contrast to standard AC units, which operate at set speeds and tonnage.
They accurately regulate the temperature level in the room according to the thermostat setting.
In comparison to standard AC units, inverter units produce less noise.
Tips for Conserving Energy in Your Air Conditioner
We are all aware that air conditioners need a lot of power to run. However, there are certain techniques to preserve energy and let the air conditioner run more efficiently in the long term. They are as follows:
Seal leaks in your doors and windows: After operating the air conditioner in a room, lock the door and go outdoors. Check for any leaks or creaks that may be allowing chilly air to escape. If so, adequately seal such openings to check the load on the AC, which will minimise power usage.
Replace your air conditioner: If you still have an air conditioner that does not have a smart thermostat, it is time to replace it.
Place the Gadget on the Correct Wall: Never install a machine directly next to a window. As a result, the wall will become hotter, resulting in greater power usage.
Correct usage of Fans and Blinds: Use a fan and close all of your room's blinds to avoid putting strain on your air conditioner. This will help you save energy in your home.
Increase High temperature: The higher the temperature, the lower the energy cost. Never use a low-temperature setting on your appliance. By setting your machine to 5 to 6 degrees warmer than the room temperature, you may save 10% on your energy expenditures each year.
Buyer's Guide for the Best Inverter Air Conditioner
Consider all these factors before purchasing an air conditioner.
1) Budget
Before buying an inverter air conditioner, you need to finalize your budget. How much are you willing to spend on a quality product. We advise you get a good product as you're going to use it for years and getting a cheap product can double up the cost.
2) Capacity
Well, you need to get a product which can perfectly fit your bedroom. 1-ton inverter air conditioner would be suitable for a room size of 150 sq. ft. First, measure the size of your room then how much tonnage of AC you would need to cool down your room. If you choose a big air conditioner, it is evident that it will chill your room faster; nevertheless, it will take a lot of power.
3) Efficiency and Energy Rating
The most important thing you need to check in an inverter air conditioner is its energy certification. Go for products that have an energy star rating of 3 or above. A five-star rating would be expensive however, it would be energy-efficient.
4) Noise Level
You can check the noise level of the particular product on its description. A noisy air conditioner can be can quite annoying if you have a kid at home. It shouldn't exceed 35 dB (depending on the tonnage of the AC).
Top 7 Inverter Air Conditioners in India

If you're looking for a high-quality inverter air conditioner that may save you money on energy, go no further than the LG 1.5-ton inverter split AC. This inverter air conditioner has a dual inverter compressor that allows for a higher rotational frequency and so saves energy while providing faster cooling. Another good characteristic is that it gives anti-virus protection. R32 refrigerant is used in these appliances, which is one of the best on the market today, with a lower global warming potential than R410A and R22. The smart diagnosis tool in this inverter air conditioner assists you in promptly resolving issues by seamlessly coordinating with the nearest LG service facility. Voltage fluctuations are prevented without sacrificing safety, savings, or comfort thanks to the stabilizer-free operation.
Pros
This AC goes above and beyond to give great results
High on power savings and performance
Long-lasting AC that makes minimum noise
Cons
Installation charges are extra
The remote requires a lot of improvement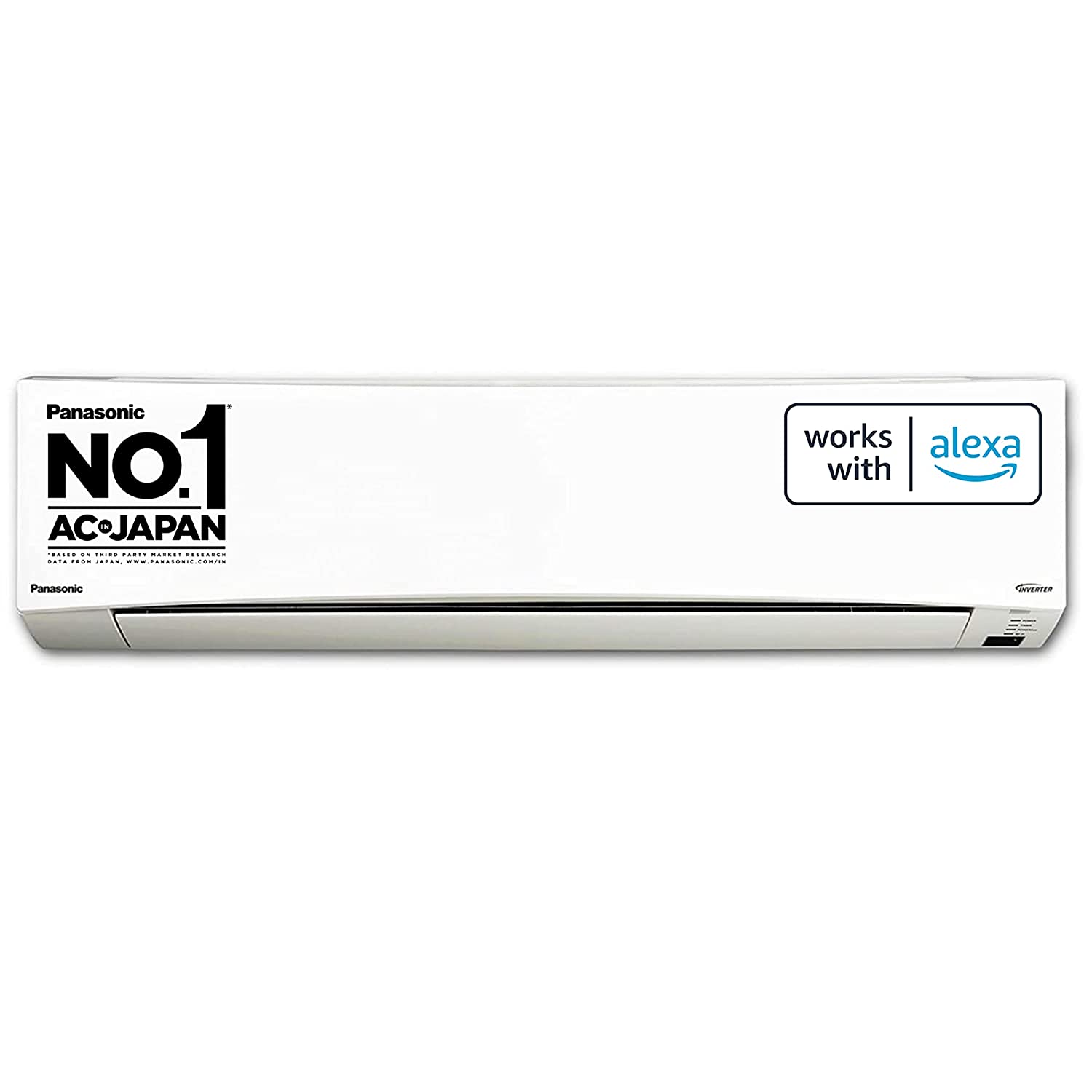 With Wi-Fi-enabled technologies that redefine connectivity, comfort, and convenience, Panasonic takes air conditioning technology to the next level. In this inverter air conditioner, MirAIe Platform allows you to personalise sleep profiles, giving you more flexibility to pre-set temperatures throughout the night for a restful night's sleep. The built-in AQI sensor continuously monitors air quality and filters out 99 per cent of PM2.5 contaminants to circulate clean air throughout your home. This inverter air conditioner also incorporates Blue Fin Condenser technology, which is a corrosion-free coating that ensures a long lifespan.
Pros
Wi-Fi connectivity allows remote AC operation
Jet Stream technology improves airflow over vast distances
One of the most long-lasting air conditioners on the market
Cons
After-sales service is not satisfactory
Voltas is known for pioneering AC technologies that provide outstanding cooling performance while consuming the least amount of energy. The Active Dehumidifier feature in this inverter air conditioner is fantastic since it detects and manages interior humidity levels throughout the rainy season. This inverter air conditioner has high-quality filters for eliminating dust and other dangerous allergens from the atmosphere are part of the multi-filtration benefit. To provide you with complete peace of mind, the steady cool compressor improves electricity savings and maintains an appropriate room temperature.
Pros
The adjustable inverter compressor is remarkable
Excellent cooling performance and power savings
Air purification of the highest order
Cons
There are no extended warranties available for the compressor
Installation charges push up the costs further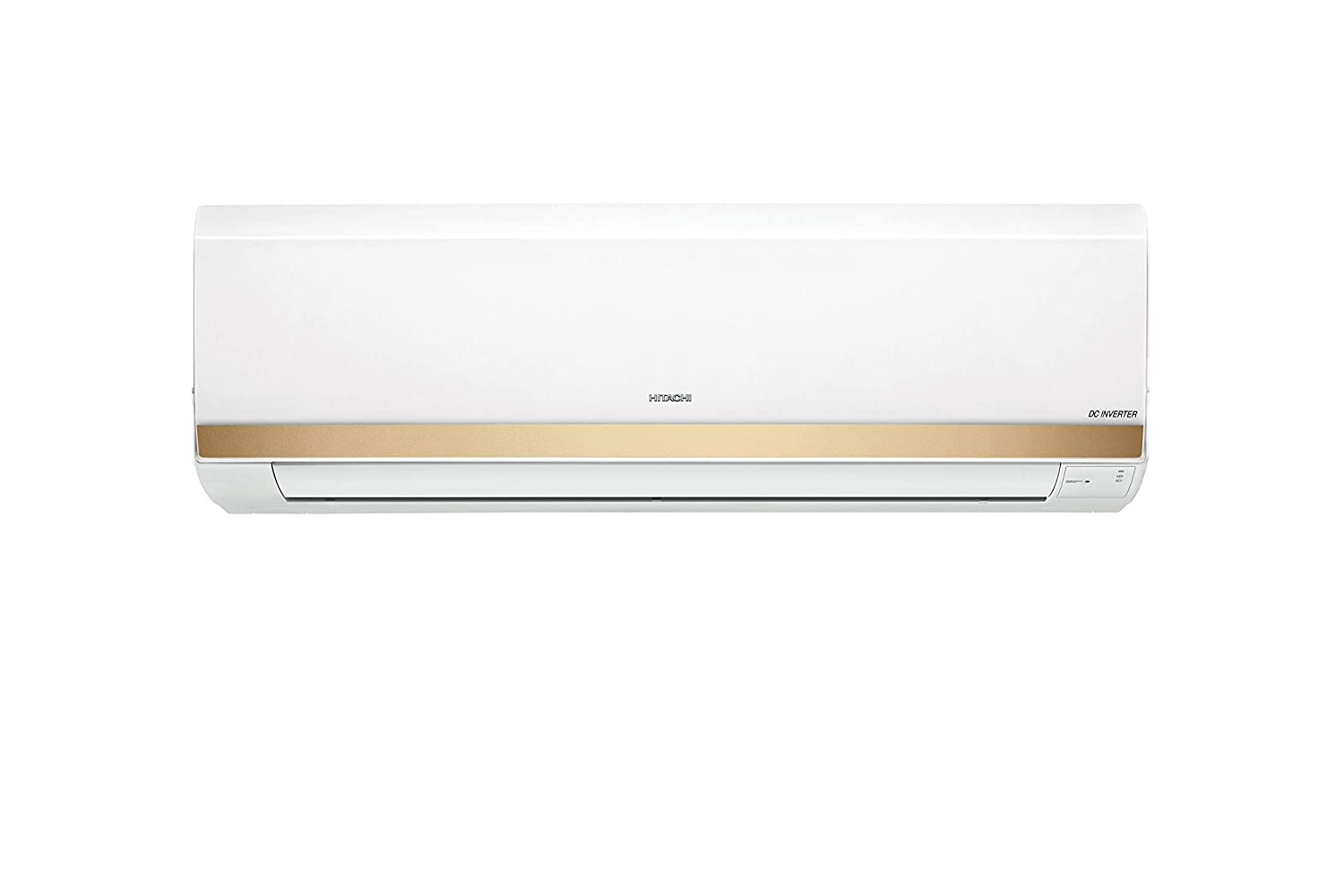 Hitachi combines the best of Japanese technology with unique characteristics that appeal to Indian consumers and increase the company's overall popularity. Frost Wash and Auto Filter Clean are two technologies that greatly improve your comfort and convenience in this inverter air-conditioner. The feature of this Hitachi air conditioner is its expandable inverter compressor, which expands its capacity to perform above its rated capacity in extreme temperatures while lowering humidity levels during the rainy season to provide optimal comfort. After every use, the Auto-Cool Dry Technology guarantees the copper pipes are dried and cleaned.
Pros
Powerful cooling performance combined with significant electricity savings
Low noise levels ensure undisturbed sleep
Ensures delivery of fresh air due to various filter
Cons
IDU lacks a temperature display
Lack of self-diagnosis feature to assist AC's maintenance
The Neo Swing Compressor is used by Daikin Air Conditioning. There is minimal friction and vibration because of the smooth spinning. As a result, this inverter air conditioner is among the quietest. Furthermore, it inhibits refrigerant leakage during compression. The Econo Mode or Power Saving Mode is included with this inverter air conditioner. The exceptional after-sales service provided by Daikin is one of the company's hallmarks. As a result, it saves a lot of energy and gives you a lot of money. The silent operation of the Daikin AC's indoor unit is one of its best features that guarantee that the airflow speed is optimised by the noise level, resulting in continuous comfort.
Pros
Silent and powerful operations
Energy-saving features
Can handle extreme voltage fluctuations
Excellent performance
Cons
Controllable only by the remote
Might pose a problem if the remote batteries drain out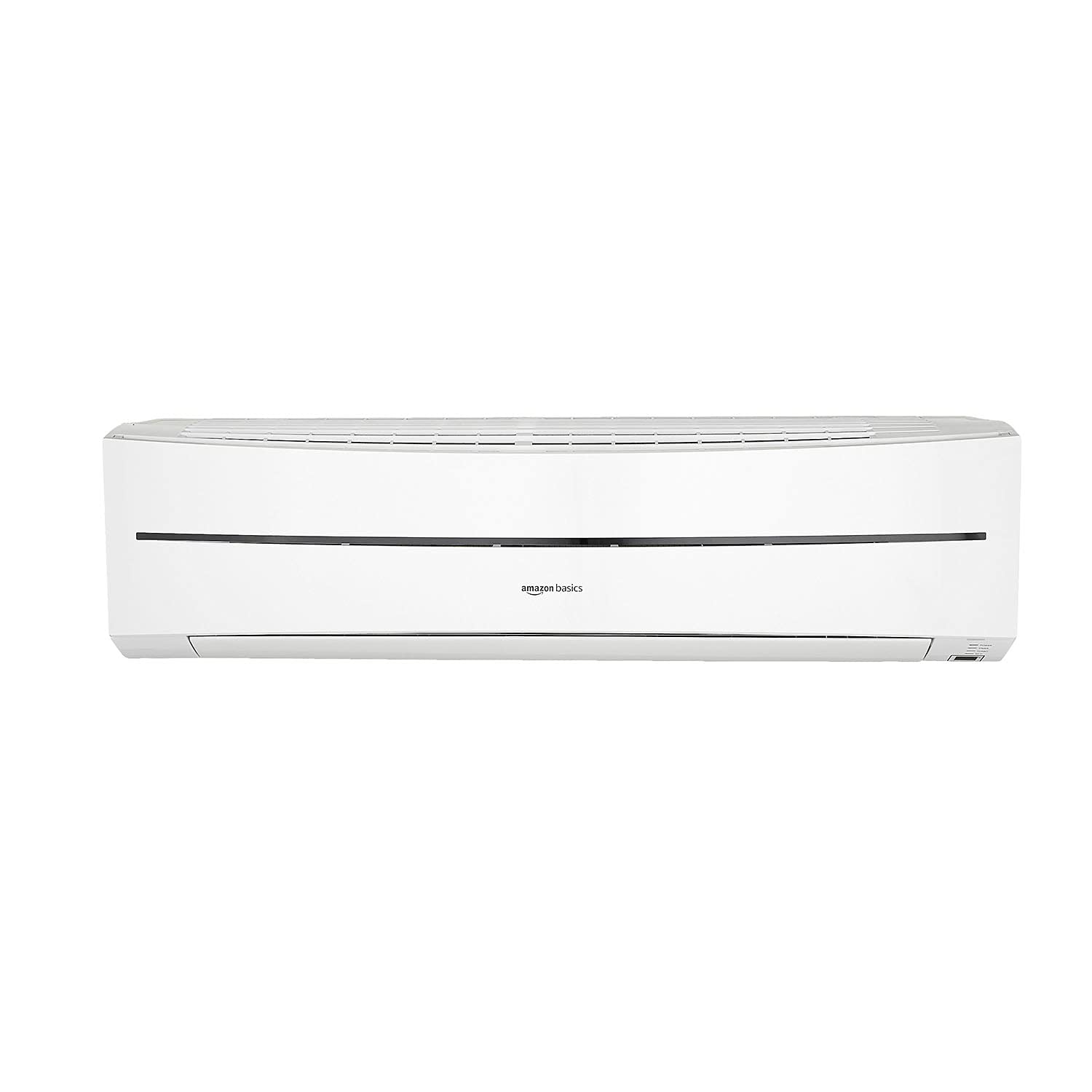 Carrier air conditioners are known for their high efficiency and long life, and this one is no exception. This induction air-conditioner uses best-in-class copper wires that are guaranteed to survive for 10-15 years without leakage or damage. Furthermore, the outside unit of this features a high-quality hybrid jet that combines air and low-temperature refrigerant to keep the outdoor cold and work even at 54 degrees. Another fantastic aspect of this inverter air conditioner is that they offer the longest compressor warranty. Finally, it operates without a stabiliser, which means it can withstand temperature fluctuations between 120 and 290 volts.
Pros
Works well and is long-lasting.
Excellent warranty period
Works well in small and medium-sized areas; does not require the use of a stabiliser
Cons
The actual power consumption is slightly higher than the given figure
If Godrej is a well-known name for its electronic devices, this one is quite remarkable for such a low price. The inverter air conditioner features a connecting line and a 100% copper condenser that will last you for years. It contains Catechin Filter, which has antiviral and antioxidant effects and aids in deodorization. These devices also help to eliminate excess moisture from the room. When reducing humidity, it's best to use the dry mode. It also offers features such as quick cooling, dry mode, wet mode, adjustable fan speed, and a timer. The appliance cannot withstand changes in voltage, whether low or high. Hence, for its efficient working, it's better if you operate this inverter AC with a stabilizer.
Pros
Performs decently
Bacteria, viruses, and other contaminants can be trapped
Different modes are available
Cons
A separate stabiliser is required
Frequently Asked Questions
1) Which company is best for Inverter AC?
Voltas is considered the best company for inverter air conditioners as it is one of the oldest, most trustworthy and reliable brands in the air conditioner market.
2) Is it worthwhile to invest in an inverter air conditioner?
Yes, it is a must-have, especially if you use your air conditioner for long periods. They utilise less electricity and are therefore more cost-effective in the long run. They are also eco-friendly.
3) How much does it cost to keep an inverter air conditioner's maintenance?
Inverter air conditioners do not require any specific maintenance. You must maintain it similarly to other air conditioners, by having it serviced by a professional once a year and cleaning the filters every three months.
4) Is it true that inverter air conditioner saves energy?
Yes, inverter air conditioners are known to save energy. It does not turn off the engine, but it does lessen the amount of electricity required to chill the area.
5) How much energy does a 1.5-tonne air conditioner use?
A standard air conditioner uses 1.5 units per hour, while an inverter air conditioner uses 0.91 units per hour.
6) Which is better AC inverter or normal AC?
Inverter ACs utilizes 30 to 40% less energy and achieve the desired temperature much faster than the normal ones. This reduces the start-up time by more than 30%. Inverter air conditioners regulate temperature changes and voltage peaks on the compressor while operating practically silently. All these advantages made inverter AC better than the non-inverter ones.
7) Is inverter AC good for home use?
Yes, an inverter air conditioner is always good to install for home usage purposes as it will not only save power and money but is also proficient from the performance and features point of view.
8) What is the difference between 3 and 5 stars in AC?
The stars in an AC determine the efficiency of the machine in saving power and thus reducing the electricity bill. The range varies from 1 to 5. A star AC will consume more power than a 5 star rated one.
9) Is the stabilizer required for inverter AC?
All the inverter ACs come with a built-in stabilizer that operates problem-free in the range of 160 to 245 volts. As a result, inverter air conditioners do not require a stabilizer to function.
We're all buddies here, so we're not passing judgement on your increased booze consumption since the quarantine began. Why not make your next drink a good one if you're going to make more cocktails at home? The possibilities are practically unlimited when you have the right equipment, whether you mix alone or with the company. Check out our list of portable bar sets and cherry-pick the right bar set for yourself considering our buyer's guide. Gift one of the best portable bar sets from the above list to your near and dear ones to put a cool impression on them.