Best Inverter Split Air Conditioners in India
As summers are approaching, you might be thinking of getting an AC. AC's have become a necessity in India due to the constant rise in temperature with each passing year. These days, most people prefer buying inverter air conditioners as they are aesthetically pleasing and energy-efficient. So, we have compiled a list of the top seven high-rated products to help you with your next purchase.
Buying Guide for the Best Inverter AC
Consider all these factors before purchasing an air conditioner.
Budget
Before anything you need to finalize your budget. How much are you willing to spent on a quality product. We advise you get a good product as you're going to use it for years and getting a cheap product can double up the cost.
Capacity
Well, you need to get a product which can perfectly fit your bedroom. 1 ton AC would be suitable for a room size of 150 sq. ft. First, measure the size of your room then how much tonnage of AC you would need to cool down your room. If you opt for oversized AC then it is obvious it would cool your room faster however, it would consume a lot of electricity.
Efficiency and Energy Rating
The most important thing you need to check in an AC is its energy certification. Go for products that have an energy star rating of 3 or above. A five-star rating would be expensive however, it would be energy-efficient.
Noise Level
You can check the noise level of the particular product on its description. A noisy AC can be can quite annoying if you have a kid at home. It shouldn't exceed 35 dB (depending on the tonnage of the AC).
Top 7 Inverter Air Conditioners to Buy in India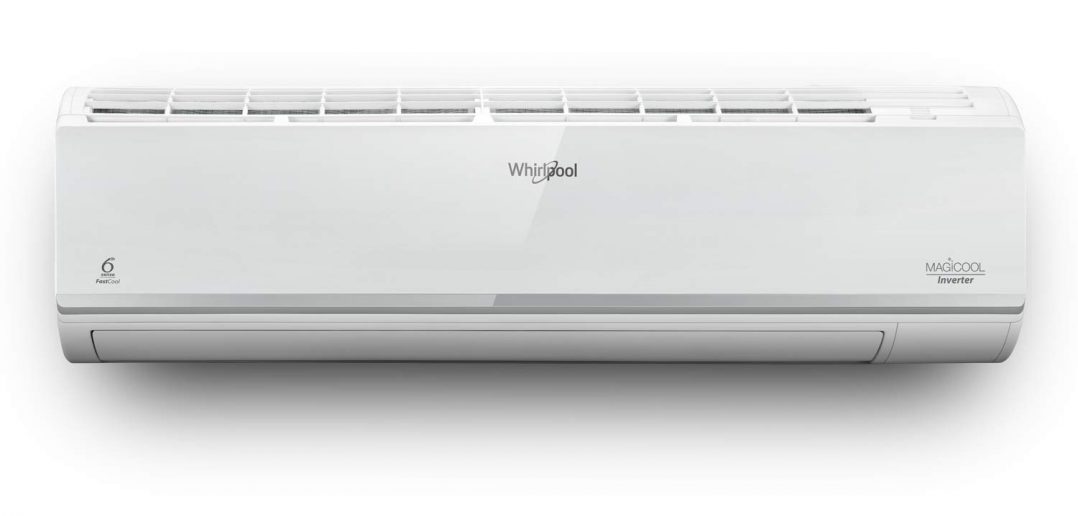 Whirlpool 1.5 Ton 3 Star Inverter Split AC has a sleek and compact design. It provides instant and uniform when switched on. There are a lot of significant features to it: its self-clean function ensures that there is no formation of dust and the AC doesn't give off a bad smell. Moreover, its advanced Inverter Technology adapts to your cooling needs while consuming low electricity.
The AC is suitable for small-sized rooms up to 150 sq. feet. Reviewers like this product as it has a sturdy built and is energy star certified. Furthermore, the brand offers one year warranty on the product and five years on the compressor. Overall, the product is worth every penny. Its weight is 62 kg.
Pros
Silent operation.
One year warranty on the product and one year on the condenser, ten years on compressor.
Energy star certification.
Sleek and compact design.
Suitable for small-sized rooms up to 150 sq.feet.
Stabilizer-free operation.
Cons
Customer service is not good.


Panasonic has a name in the market. Our third favorite product from Panasonic has a sleek and elegant design that would go well with modern interiors. It features a copper condenser coil ensuring uniform cooling. Panasonic's Nano Technology traps visible and invisible dust particles and keeps your family safe.
Panasonic 1.5 Ton 5 Star Wi-Fi Inverter Split is exclusively designed to withstand all weather conditions. It provides maximum airflow up to 45 feet in length and delivers air in each corner of your room. Moreover, it has rugged and sturdy. built. We would highly recommend this product as it has 5 Star Energy certification. Though it's expensive it's worth every penny.
Pros
Value for money.
One year warranty on the product and ten years on the compressor.
Five-star energy rating.
Stabilizer-free operation.
100% copper tubing.
Suitable for medium sized room (111 to 115 sq.feet).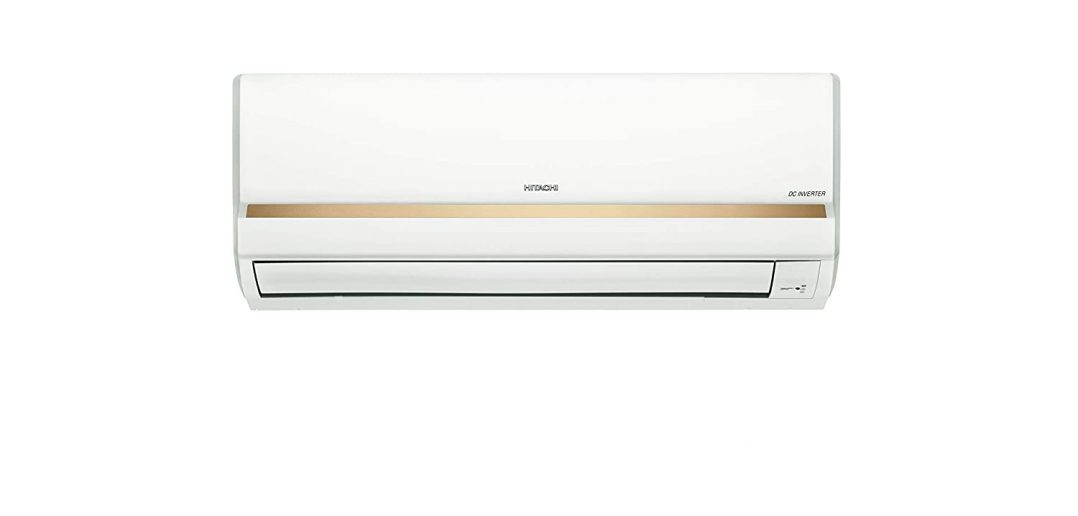 Hitachi is one of the reputed brands in the industry. This product from Hitachi has a seamless and compact design. It is exclusively designed to withstand all weather conditions. There are various significant features: Filter Clean Indicator, SuperFine Mesh Filter, Stepless Compressor Control, Penta Sensor which would cater to all your cooling needs. It is suitable for rooms up to 110 sq. feet.
With an energy star certification, this product deserves to be on the list. Furthermore, you would get one year warranty on the product and ten years on the compressor. Its weight is 40 kg 700 grams.
Pros
Value for money.
Energy star certification.
Silent operation.
Energy-efficient product.
Ideal for rooms (100 to 120 sq.feet).
Eco-friendly.
Cons
Customer service is disappointing.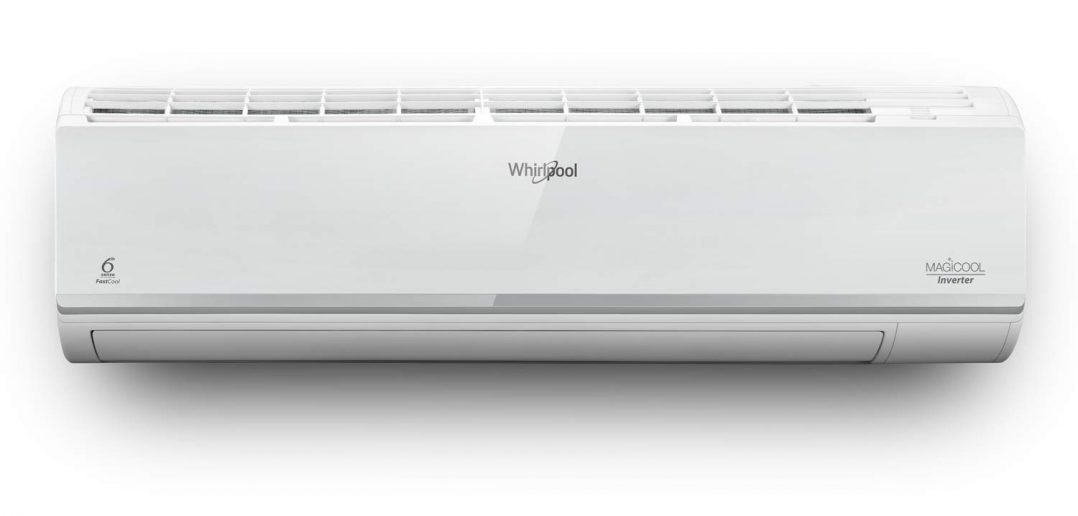 Whirlpool 1 Ton 5 Star Inverter Split AC is powered by Magicool technology cools even at the extreme temperature of 55°C. Its advanced Inverter technology caters to all your cooling needs while consuming less power. Moreover, the product uses use the R-32 refrigerant. That means it emits a few greenhouse gases. Its stabilizer-free operation resolves the issue of buying an extra stabilizer.
Overall the product is good. We liked the product for its design, great performance, and noise-free operation. Furthermore, its quality is top-notch. So, you can go for this product. Its weight is 47 kg.
Pros
6th sense fast cool technology.
Intellisense inverter technology.
One year warranty on the product and ten years on the compressor.
Silent operation.
Hidden LED display.
Cons
The customer service is worst.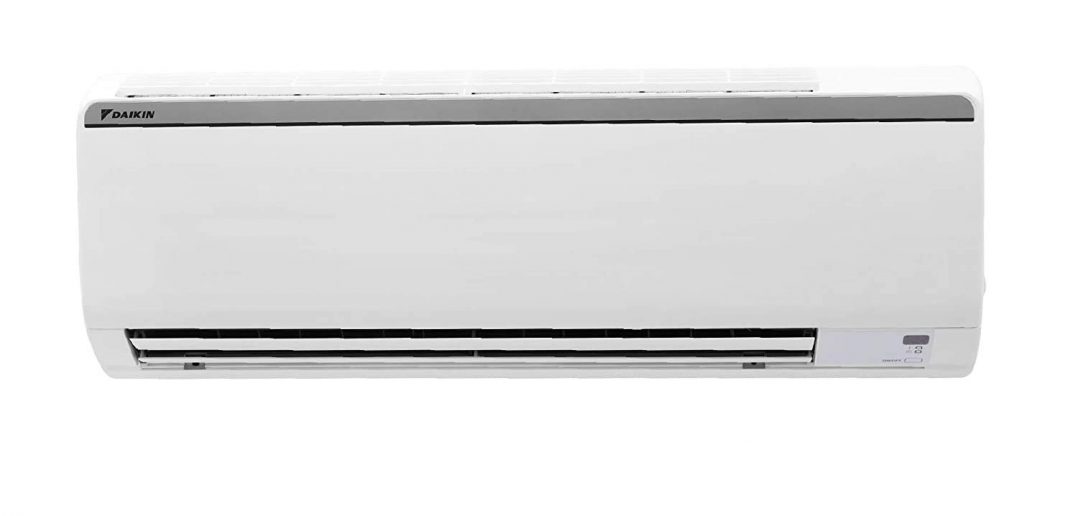 The Daiken 0.8 ton inverter split AC is by far one of the most affordable options you can find out there in the market. If you are particularly looking for a 3-star model, this is just the right fit for you. It comes with all the standard features including an economy mode, power chill operation as well as Coanda airflow.
The best thing above all is that the AC is completely stabilizer-free. That being said, even with a 3-star rating, it only consumes 594 units annually. The copper condenser coils packed within the air conditioner offer a better cooling solution with minimum to no maintenance. This Daikin AC is best suited for both indoor as well as outdoor units.
Pros
One-year manufacturing warranty on AC
Comes with a very compact design
Completely environment friendly with R32 refrigerant
Easy to use
Very low-cost maintenance
Cons
The 0.8 ton is not sufficient for larger rooms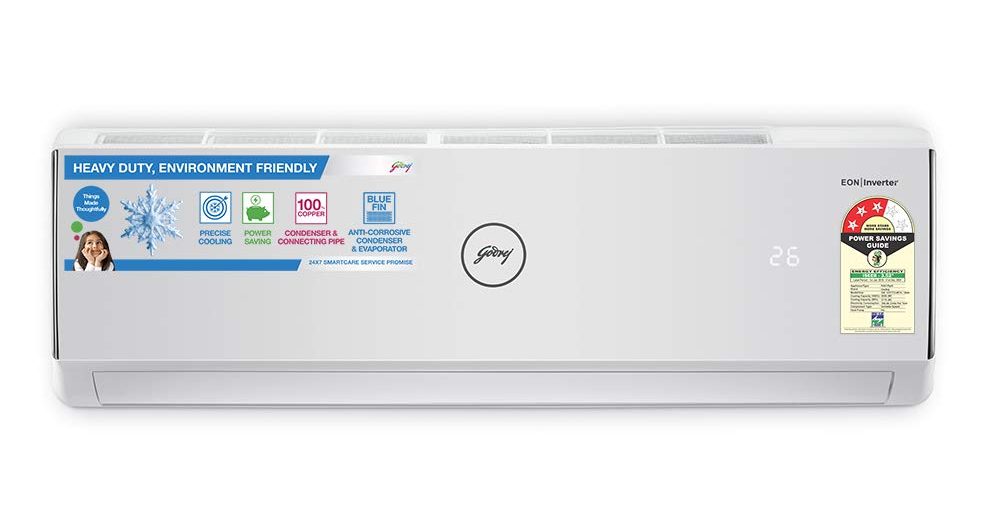 If you are looking for the most comprehensive, feature-packed air conditioner, the Godrej 1 ton 3 star split AC is just made for you. With the addition of the variable speed compressor, it can automatically adjust the load based on heat. That being said, the 1 ton AC is perfect for any small to medium-sized room.
The bluefin anticorrosion condenser ensures that you get a long-lasting cooling solution. The dust filers added with the AC also come with anti-bacterial and anti-fungal properties, which gives you a healthy environment. Lastly, with the one-year manufacturer warranty, the air conditioner is not going to die on you any time soon.
Pros
The most feature-packed AC
Offers 10 years warranty on compressor
Comes with antibacterial filters
Offers a healthier environment
Some of the lowest noise operation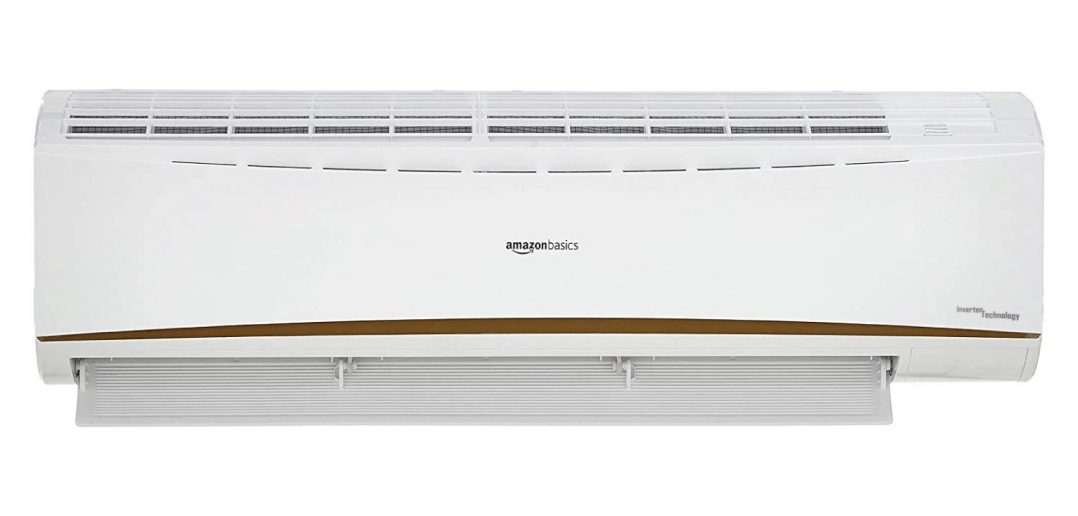 AmazonBasics 1.5 Ton 3 Star Inverter Split AC comes with a copper condenser ensuring durability and protection of the AC in all weather conditions. It is equipped with a power-saving mode and an ISSER rating of 3.98 which helps in beating the heat of the summer days effectively. The four-stage filtration system keeps away all dust particles ensuring the safety of your family. Moreover, there are additional features like hidden display, sleep mode, turbo mode which would cater to all your needs.
The brand offers one year warranty on the product and five years on the compressor. You can always ask for an extended warranty. With a rating of 2.5 out of 5, the product has successfully made it to our top 7 list. The weight of this product is 38 kg.
Pros
Value for money.
Sturdy built.
Ideal for rooms up to 180 sq.ft.
Bluefin for higher efficiency.
Anti-corrosion coating.
Intelligent features like Auto-restart, Auto-defrost, Hidden display.
Why Inverter Air Conditioner?
Inverter air conditioners are energy-efficient and will last several years. Though they are expensive but in the long run it would be considered to be beneficial as it consumes comparatively less power. When compared to non-inverter AC it is less noisy. Once the room is cooled down, it would automatically lower down the speed of the motor thus saving energy.

Advantages of Inverter technology?
The advantages of using the inverter technology are obvious. Let us look at them in brief.
The inverter AC units consume less power in comparison to the regular ACs.
The inverter AC units work at varying speeds and tonnage capacities. This is very much unlike the regular AC units that work at fixed speeds and tonnage.
They maintain the temperature level in the room according to the thermostat setting accurately.
In comparison to the regular AC units, the inverter units make less noise.
Frequently Asked Questions
There are innumerable numbers of questions that may come to the mind of a buyer before purchasing an Air Conditioner for their home or office. We have tried to answer some of those frequently asked questions in the section below.
Which is the best inverter AC in India 2021?
LG 5 Star Inverter Split AC of model number KS-Q18YNZA is the best 1.5 ton inverter ac in India 2021 due to its superb features, different operations, outstanding price and trusts of the brand name LG.
Which company is best for Inverter AC?
Voltas is considered as the best company for inverter AC as it is one of the oldest, trustworthy and reliable brands in the air conditioner market.
Is inverter AC worth buying?
If you are staying in a hot and humid place and is using an AC for more than 8 hours per day, then inverter air conditioners are the ones for you. It will not only create a cooling environment but will also reduce power consumption, thus resulting in a decrease in the electricity bill.
Does 1.5 ton AC consume more power than 1 ton?
The power consumption capacity not only depends on the ton weight but also on several factors. A best 1.5 ton split inverter ac in India will consume less power than a 2 star rated 1-ton ones. Also, if the 1.5 ton AC is installed in a hot area, it will use more power than the 1 ton air conditioners that may be installed in a less humid area.
Which is better AC inverter or normal AC?
Inverter ACs utilizes 30 to 40% less energy and achieves the desired temperature much faster than the normal ones. This reduces the start-up time by more than 30%. Operating almost noise-free, inverter air conditioners control temperature fluctuations and voltage peaks on the compressor. All these advantages made inverter AC better than the non-inverter ones.
Is inverter AC good for home use?
Yes, inverter AC is always good to install for home usage purpose as it will not only save power and money but is also proficient from the performance and features point of view.
What are 3 stars and 5 stars in AC?
The stars in an AC determine the efficiency of the machine in saving the power and thus reducing the electricity bill. The ratings are given to the customers to understand the difference. The range varies from 1 to 5. A star AC will consume more power than a 5 star rated ones.
Is the stabilizer required for inverter AC?
All the inverter ACs come with a built-in stabilizer that operates problem-free in the range from 160 to 245 volts. That is why inverter air conditioners do not require any stabilizer to operate.
What is the difference between inverter AC and dual inverter AC?
Inverter AC comes with a compressor that controls the speed of the motor. This regulates the temperature of the room competently without worrying even if the compressor is not working. Dual Inverter machines contain 2 motors for the speed control of the compressor and are more skilled in cooling down the room than the inverter ones.
What is the power consumption of 1.5-ton Inverter AC?
According to BEE readings, a 1.5 ton 4 star AC will consume 945 KWh and 5 stars rated 1.5-ton machines will use 840 kWh energy on an annual basis
Does Inverter AC really save electricity?
The rotary compressor of an inverter AC helps in fast cooling, saves energy, and has greater stability. All these qualities accelerate the saving of electricity by up to 30 to 40%.
What is the disadvantage of inverter AC?
The only disadvantage of an inverter AC is that it is a bit expensive than the normal ones. The parts of the machine are also costly and will require a technician with a valid license to repair it in case it breaks down.
Is inverter AC expensive to maintain?
Generally, the best inverter ACs in India has no maintenance cost and comes with a long warranty period on the compressor and the product. But after the warranty terms are over, if the machine breaks down the parts are a bit expensive to replace due to its high technology used.
Well, like any other product, there is a massive range of AC in the market confusing us about which one to choose. That's when our reviews come in. The products we have recommended are quite reliable and energy-efficient.
Hope this article helps.