In the winter weather conditions, it is important that we have an efficient room heater at our home. These heaters are designed to warm the air around the room without creating a hazard for the furnishings and furniture for the house. Not all houses can afford a good fireplace hence, a room heater can be a good option.
What to look for before buying a Room Heater?
Heating
There are basically two technologies used in room heaters. The oil-filled and fans used in the heaters are convection technology. This tech is useful for the small space to warm up. On the other hand, radiant technology best suits the rooms and space which are a little big or require spot heating. The use of infrared rods in the heaters is the aspect of radiant heating.
Size of The Heater
In general, to heat the 1 sq foot area of the room you need 10W power from the heater. So, if your room is 150 sq ft in size, a 1500W room heater would be sufficient.
After Sales Service
Whenever you buy an electronic appliance, you need an after-sales service after some point in time. Hence, while you buy a room heater, you must also investigate the other customer reviews about their service in case of repairs and replacement.
Durability
Electronics like room heaters should have a long life. Hence the reviews about their durability should be checked.
List of Top 10 Room Heaters In India
Here are our top ten pics for the room heaters to buy in India based upon the factors mentioned above.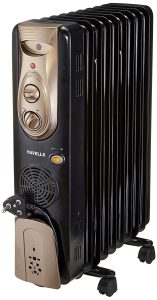 Havells Oil Filled Radiator with the 2400W model is the perfect solution for the winters. The heater is sufficient for Indian rooms by using a 230V power setting. The heater uses the OFR technology and heats and distributes hot air in the room evenly. The heater comes with three power settings, offers adequate wattage for each and thermostatic heat control. The company has designed the heater with safety protocol, which restricts the heater to overheat itself. Overall Havells Oil Filled Radiator is a good option for places with the temperature dropping to 10 degrees Celsius.
Features
Power input 230V
Caster wheels for easy mobility
Cord storage and rear safety cover
PTC heater Fan
Thermostatic heat control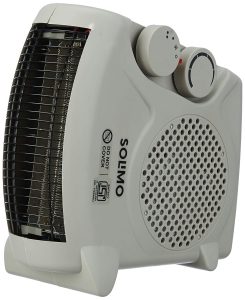 Solimo is an Amazon brand that is extremely popular among Indian households. The heater works in the convection heating technology which can warm up the 200 sq feet room easily. The room heater is a particularly good option for the mid-budget family looking for a cheap and good quality room heater in the winter. The heater comes with the thermostat setting options hence you can adjust the temperature of the heater according to your need. The heating in the initial use may produce some burning smell, but the same will be gone as the motor varnish burns initially.
Features
Comes with overheating protection
Thermostat setting for hot, warm, and cool air
Compact in size and easy to store
Wall mountainable
Comes with a one-year warranty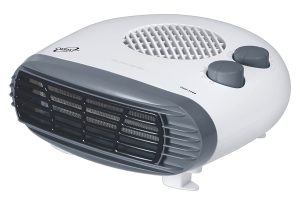 Orpat OEH-1260 2500-Watt Fan Heater is a mid-budget room heater for small size rooms. Orpat is the largest supplier of electronics in India. The heater is powered by a 2500-Watt motor which can warm up small to medium size rooms easily. It comes with two power settings- 2500Watt and 1000 Watt. Hence it can be used in all kinds of places with extreme to normal winters. The heater has a heating fan which can be used as a normal fan when not heating. The exterior of the heater is touched to cool for safety purposes. Even the overheating protection in the heater is a particularly good feature.
Features
Small and compact for small households
Comes with a handle for easy portability
2 thermostat settings
The branded and renowned company
Sufficient cord length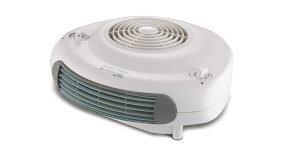 Bajaj Majesty RX11 room heater is the best buy for families looking for a reliable room heater with the brand name of Bajaj. The heater has all the essential features like dual thermostat settings, overheating protection, and a lightweight body. Although the best part about the room heater is that it comes with a 2-year warranty from Bajaj and has the best after sales service. As Bajaj Majesty RX11 is exceedingly small and compact, you can store it wherever you want. It takes a small space for your storage.
Features
Small in size and easy to store
Thermal cut off in case of overheating
2-year warranty with excellent after-sales services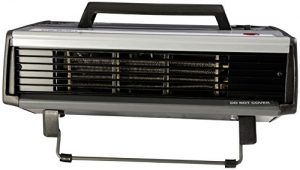 Usha 423N 2000-Watt Heat Convector is the oldest room heater model available in India with updated convection heating technology. The heater is a durable, versatile, and portable heater for Indian households. The 2000-Watt motor is powerful and uses a rotating fan for distributing the heat in the room air. The convection technology helps in the heating of the room equally. However, this room heater has three thermostat settings- 2000 watt setting for extreme winters, 1330 watt for moderate chilly winds, and 665 watts for lower power consumption.
Features
Three-way thermostat setting
Safe to touch the body
Dual speed fan
Lightweight and hence portable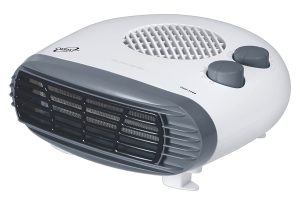 Orpat OEH 1410 1220-Watt Radiant Heater is a durable and heating rod heater that can be a very handy tool to warm up the spot. OEH heaters are known for their long lives and spot heating. These heaters are a good option if you are looking for energy-saving heaters for your room. It is designed with the grills on the rod which heats up very fast and hence warm up the room in less than 15 minutes. Radiant heaters are a very good tool for spot heating and do not consume much electricity. Instantly warm up your feet with this small and compact room heater.
Features
Radiant heating technology
Less power consumption
Rods and grills for fast heating
Affordable and cheap
Two-year warranty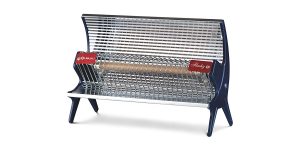 Bajaj Flashy 1000-Watt Radiant room heater has the rods and radiating heating plates for making your room warm and cozy. The heating plates are lined with anti-corrosion elements like nickel and chromium. They heat up pretty quickly and warm the room in less than 15 minutes. However, the radiant heaters are a little risky for kids and hence the advice to keep in on the height as a table. As there are no thermostat settings and rotating fans, they consume less energy, and power consumption is very low.
Features
Instant heating and warming the room
Corrosion-resistant heating plates
Safe and cheap room heater
High-quality heating rods for durability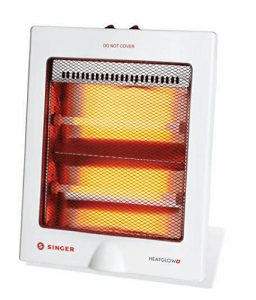 Singer Quartz Heat Glow Plus 800-Watt room heater is a very compact and self-standing heater. The rods are inside the heater and for safety, the rods are covered with a mesh cover. If you have a small room with moderate winters in the place, this would be the best buy. The heater uses heating bulbs made of quartz material. The heater is a good option for spot heating and keeps the room warm for a longer time.
Features
Portable and lightweight
Covered with mesh for safety
Energy sufficient
Safety switch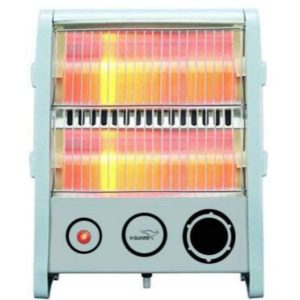 V-Guard 800 RH2QT-1000 Room Heater is a small and compact heater for smaller rooms. The heater comes with two thermostat settings- 800-watt and 400-watt. You can change the thermostat as per the weather. Although this heater is sufficient for a smaller room, you can use it for spot heating. The heater is designed with two glowing bulbs made of quartz which transfer heat instantly. The quality of the heater is very good and available at a cheap sustainable price.
Features
Cheap and durable
Infrared technology for heating
Energy saving
Portable and easy to store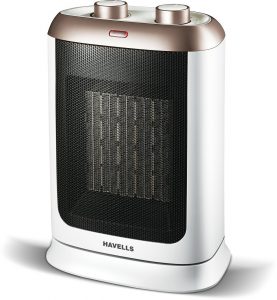 The Havells Calido is a smart looking room heater with 2000-Watt motor power. It is lightweight and can be stored in your cabinet easily. The heaters come in durable plastic bodies and cool to touch material. It is safe for families having pets and kids. The AC power supply in the heater saves you from the overheating of the appliance. There are two thermostat settings- 1300 Watt and 2000- watts.
Features
Long-lasting durable plastic body
Comes with the light indicator
Inbuilt safety for overheating
Good quality thermostat
Dual power setting for energy efficiency
Final Thoughts!
A room heater is an essential electronic appliance for the winter. Many households look for a room heater with various features. However, it is necessary that you pick the right room heater for your household which is apt and easy to use. Most of the households have the 5 AMPS socket, so a 1000-watt heater would be sufficient. But if you want to install 1500-2000 watts heaters, you must need a socket change to 15 AMPs. These are the few factors to look out for when you buy room heaters.