Have you ever wondered what refreshes your mouth each morning is made of? It's a daily ritual: you get up, wash your face, and brush your teeth. However, what may seem trivial should actually be worth considering, as many toothpaste companies will go to great lengths to ensure that you squeeze their toothpaste tube. They take advantage of every opportunity to send you dozens of (sometimes conflicting) messages, claiming everything from decay prevention to teeth strengthening to whitening to gum shielding.
Understanding what you need and what you must avoid gets quite perplexing. Some of you have even switched to herbal toothpaste in the hopes of avoiding chemical-based toothpaste. You might also believe that switching to herbal toothpaste frees you from the suffocating effects of regular toothpaste that gives no positive result. Read on to know which factors you need to consider before buying Ayurvedic toothpaste.
Indian Oral Care Industry
Many Indians still brush their teeth with traditional methods and materials such as neem twigs, salt, ash, tobacco, or other herbal components. The average per capita toothpaste usage in India is as low as 82 grams. In the country, the dentist-to-population ratio is also dreadfully low as 1:35000. As a result, oral hygiene awareness is low, and dental problems are common. Only around a quarter of Indian toothpaste users brush twice a day. Together, Colgate and Hindustan Lever control over 85% of the organized toothpaste market.
Top 16 Ayurvedic Toothpaste
Fundamental composition
When you examine the content of so-called herbal toothpaste, you will notice that it differs from regular toothpaste by no more than 5%. Ayurvedic toothpaste is created using 5-15 herbs and every herb used targets individual oral problems. For instance, Chamomile has an anti-inflammatory impact, echinacea stimulates the immune system, sage and rhatany have anti-hemorrhagic characteristics, myrrh is a natural antiseptic, and peppermint oil contains analgesic, antiseptic, and anti-inflammatory properties. Check out the fundamental composition of the toothpaste you want to buy and if its ingredients can cure your oral problem or not.
Fluoride Ion
Fluoride is the fluorine ion that is included in toothpaste and mouthwashes to help prevent cavities. Although it has not been demonstrated that raising the concentration of systemic fluoride (by fluoridating drinking water) reduces tooth decay, it does rebuild and help mineralize damaged enamel when it comes into direct contact with teeth. Chemical toothpaste should have no more than 1,000 ppm fluoride, whereas non-fluoridated (Ayurvedic) pastes should have no more than 50 ppm fluoride. Check for these figures on Ayurvedic toothpaste.
Healthy tooth and gums
Ayurvedic toothpaste contains components such as neem, which is a natural antibacterial and cleanser with great tooth-healing capabilities. Other plants, such as clove can help with toothaches, aching gums, and mouth ulcers. All of these herbs are included in Ayurvedic toothpaste to keep your teeth healthy and your gums safe.
Whitening
Ayurvedic toothpaste contains teeth whitening accelerators such as licorice root, turmeric, basil, sesame oil, coconut oil, olive oil, etc. that gently exfoliate stains and polish your teeth. Ayurvedic toothpaste has herbal compounds that not only whiten your teeth but also protect your enamel, remove plaque, and keep your breath fresh. Ayurvedic toothpaste is free of teeth bleaching agents like triclosan that is harmful to the body.
Long-lasting freshness
While brushing, the sensation in the mouth can be described as minty, chilly, or fresh. Check for these descriptions on the toothpaste. Unless you feel fresh after brushing, it is of no use buying that toothpaste.
Sensitivity
When you eat sweet or savory foods, your teeth show sensitivity. Some herbs, such as cinnamon, arnica, and thyme react with your tooth enamel to form a protective or strong layer over your teeth's weak regions. This barrier helps to defend against sensitivity.
Use of natural herbs
When you use toothpaste on a regular basis, these natural herbs work to improve your overall oral health. For instance, neem targets gum care, clove strengthens teeth and gums, amla keeps germs away, tulsi gives you freshness and honey is a good ingredient for gum massage. Ayurvedic toothpaste is free from paraben and chlorine to ensure that you get the best benefits of natural herbs.
Brand
Many Ayurvedic brands have flourished in recent years for their quality herbal products and have been trusted by a lot of people. When you go on Amazon and search for Ayurvedic toothpaste, check out the reviews on the store page of that brand. Cherry-pick toothpaste from those brands that shows positive reviews.
Top 16 Ayurvedic Toothpaste
Features:
Herbodent is completely vegetarian.
HERBODENT is a one-of-a-kind blend of 21 herbs.
Herbs provide total dental care due to their antibacterial, gum tightening, and immunising properties.
HERBODENT aids in treating dental issues such as pyorrhoea, gum bleeding, cavities, and sensitivity.
There are no artificial flavours, chalk powder, or gelatin in Herbodent.
Herbodent protects teeth and gums from cavities and other dental and gum issues.
There is no need to use more mouthwash because Herbodent has a natural taste and freshness of herbs.

Herbodent toothpaste is an Ayurvedic toothpaste produced with uncommon herbs and fruits demonstrated to improve oral health and cleanliness. The qualities of these herbs have been used to reflect the values of Ayurveda. The herbal elements of this toothpaste are highly concentrated and easily soluble in saliva, making it a one-of-a-kind product. Natural tooth powders have a penetration power of more than 100 times that of natural tooth powders. There are no artificial flavours, no chalk powder, and gelatin in Herbodent.

Pros
It's a vegetarian item
It's the best for toothaches and sensitivities
To be used in small quantity
Gums are strengthened
Cons
Not a chemical-free product
Isn't fluoride-free toothpaste (1000 ppm present)
Expensive
Features:
Meswak's Power: A centuries-old herb that helps prevent tooth decay and gum disease.
Rare Herb: Fights foul breath, reduces tartar and plaque and keeps bacteria at bay.
Scientifically validated: Removes dental issues
Protects: Prevents cavities and maintains gingival health.
The pure extracts of the Meswak plant are used to make the various Meswak toothpastes.

All the Meswak toothpaste delivers Meswak's highest and purest advantages. This product is regarded as one of the best herbal toothpastes in India due to its herbal solution. Meswak is a natural whitening toothpaste available at a relatively modest cost, making it accessible to most customers. Another benefit of this toothpaste is that everyone in the family may use it. Generations of people have utilised only the parts of the Meswak plant to clean their teeth, according to Indian history. It has antibacterial, astringent, and anti-inflammatory properties that aid in the battle against pathogens. It not only tightens the grip of the gums but also lowers oedema.

Pros
Medicinal properties of Meswak
Fights against all oral healthcare problems
Maintains oral hygiene
It gives a solid grip to gums
Removes malodour
Features:
Herbal Ingredients: Tried and true herbs Natural cure: Toothaches, cavities, gum disease, and tooth decay.
Sensitivity issues: Aids in the reduction of sensitivity issues.
Freshens breath by removing unpleasant odours from the mouth.
When it comes to inventing and presenting the benefits of natural toothpaste, this brand requires no introduction.
It is one of the most well-known natural toothpaste brands.
To develop its toothpaste, it solely uses herbal and natural materials and ingredients.

Patanjali Dant Kanti, a relatively new brand, is becoming increasingly popular in and across the country. This brand has recently emerged as one of India's most famous Indian toothpaste brands. We're confident you'll agree that Patanjali Dant Kanti has earned a particular place in our hearts in a short period. The toothpaste's successful results have demonstrated that its claims are correct, and it is operating as a medicinal answer to dental problems. If you have a dental problem, such as plaque, pain, or discolouration, you can use this paste, and it acts as a miraculous wand for all of your mouth aches and problems.

Pros
Highly effective
Fights off dental problems
Composed of natural ingredients
Gifts fresh breath
It makes your smile beautiful
Low price
Cons
Little unpleasant due to natural herbs
Features:
Natural Components: 13 potent Ayurvedic ingredients that have been clinically tested
There are no side effects
There are no adverse effects, and the materials are natural and Ayurvedic
All-in-one solution: Bad breath, plaque, sensitivity, toothache, and weak gums can all be solved with this treatment
Clove Oil: Fights Gingivitis and kills bacteria when present
Pudina Satva: Provides fresh breath and relieves toothaches

Dabur Red Ayurvedic is a remarkable blend of current and traditional medicinal technology that provides a one-stop solution for all dental problems. Tomar, clove oil, and 11 other strong chemicals are among the constituents of Dabur red toothpaste. The mixture is an ideal method to address all dental care issues that individuals commonly face. The majority of the ingredients in this toothpaste are natural, ensuring that you get the most out of it. There are no side effects; hence, this may be the most beneficial oral gift you can offer your teeth.
Pros
It has all the natural ingredients, with no side effects
The presence of natural ingredients makes it a highly effective pain killer
Results in more robust and healthier teeth
It keeps you away from major dental problems
Acts on the issue of sensitivity
Cons
Bitter taste
Not liked by children
Features:
Cardamon, Rock Salt, Turmeric, Saffron, and Cow Ghee offer a variety of effects, including reducing foul odours, whitening teeth, and treating gum diseases
Apart from the health benefits, the toothpaste is reasonably priced, making it one of India's top toothpaste
With its unique and powerful aromatic scent, cardamom (Elaichi) aids in the elimination of unwanted odours and provides fresh breath

The Ayush range of products has been meticulously crafted using authentic recipes and processes prescribed in ancient Granthas. The recipe for Lever Ayush Freshness Gel Toothpaste is based on 5000 years of Ayurvedic wisdom. The Ayush Freshness Gel Toothpaste has been infused with ingredients that are known to provide overall oral care, making it India's sixth-best toothpaste without a doubt. It contains the goodness of Cardamom Arimedadi Thailam, which keeps the teeth and gums healthy while also giving long-lasting breath freshness.

Pros
It also has antioxidant properties that aid in treating tooth and gum infections
Rock salt has been known for centuries as a powerful solution for whitening teeth
It also adds the goodness of Turmeric, Saffron, Cow Ghee to prepare the best toothpaste in India
The anti-germ formula retains the fresh breath for a long while after usage
Arimedas Tailam is an Ayurvedic oil that promotes dental health and fights tooth decay
Cons
There are no significant problems in the toothpaste
This toothpaste is a one-stop shop for oral hygiene, resulting in healthy gums, strong teeth, and fresh breath. This toothpaste can work wonders for you if you appreciate the taste of Neem and are looking for an advanced natural dental remedy. Bishop Weed, Pomegranate, False Black Pepper, Neem, Five Leafed Chaste Tree, and Triphala are herbs. These herbs allow the paste to work all day, giving you fresh teeth and healthy gums, which is why Himalaya Herbal is regarded as India's best toothpaste.

Pros
A natural solution to Oral care
No side Effects
Fights against Dental Plaque and Gum Inflammation
It keeps your mouth fresh for a longer period
Works on toothaches
Cons
Some people dislike the natural flavor
Vicco Vajradanti is a real combination of natural Ayurvedic herbs and barks with a long history of delivering medical treatment and remedies to people. It is created entirely of natural components and contains no added chemicals. Vicco is the best ayurvedic toothpaste in India because of its attribute. This potent substance is infused with the pure force of nature and can assist you in various ways in resolving dental issues. Furthermore, it is a blend of more than 20 natural herbs, which means you get a lot for a low price.
Pros
It is one of the oldest toothpaste brands
Highly effective
Purely natural
Ayurvedic components
No chemicals
Wades off problems naturally
Cons
Due to its natural products, the taste can be a little bitter
With Patanjali Dant Kanti medicated, you may now achieve exceptional oral hygiene and strong gums and teeth. The paste tightens gums, combats bacteria and infestations, and provides much-needed relief from tingling feelings. It is a unique fluorinated blue gel infused with the potent herbal extracts of sphatika bhasma and kalmi shora. The toothpaste comprises 26 natural ingredients, including Asphaltic Bhasma, Tankana Bhasma, Glycerine, Zinc citrate, Sodium Benzoate, Calcium Carbonate Base, taste, and water is sufficient to assess its effectiveness and consider it India's best toothpaste.

Pros
Provides complete oral care naturally
The toothpaste is helpful in the treatment of gingivitis, toothache, bad breath, spongy & bleeding gums
It fights germs and bacteria and leaves you with fresh breath
Cons
No drawbacks have been observed so far
Dabur India Ltd is a significant FMCG company in India. Dabur is India's Most Trusted Name and the World's Largest Ayurvedic and Natural Health Care Company, with a 133-year tradition of quality and experience.
When it comes to holistic Ayurvedic oral care, Dabur Red Paste is an unmistakable name. It is India's No. 1 Ayurvedic Fluoride Free Paste and contains a unique blend of traditional Indian medicine and modern pharmaceutical technology, providing total protection from 7 dental problems: cavities, gingivitis, plaque, toothache, poor breath, yellow teeth, plus weak teeth and gums. In compared to other conventional toothpastes, it also gives a 35 percent improvement in oral care hygiene index. It's a one-stop dental care solution for the whole family, as it's also suitable for children.

Pros
Cures 7 dental problems: cavities, gingivitis, plaque, toothache, bad breath, yellow teeth, plus weak teeth, and gums.
Best for sensitive teeth
No harmful chemicals or additives or fragrances
Recommended for kids too
Low price
Cons
Flavor is slightly bitter.
Spicy taste in the first few use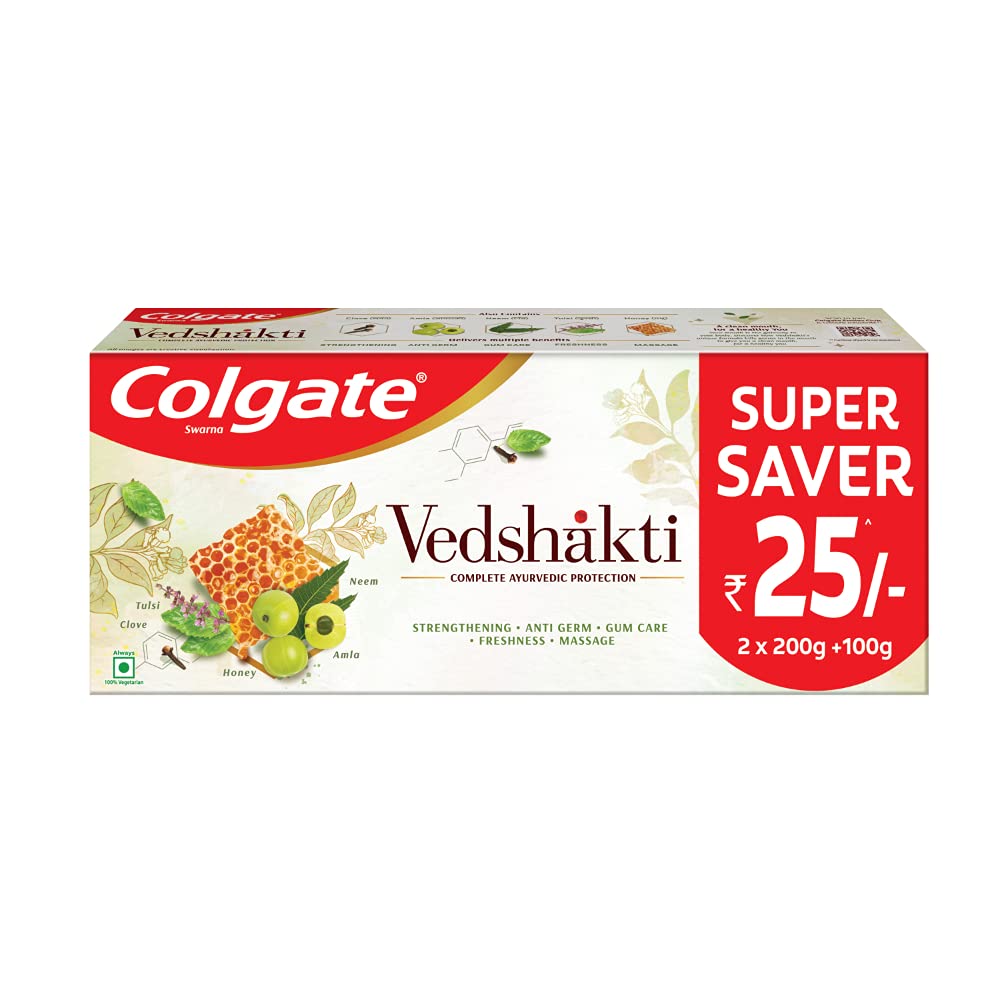 Colgate is a well-known American oral hygiene company that produces toothpastes, toothbrushes, mouthwashes, and dental floss. Originally, the business sold soap. Colgate oral hygiene products were initially sold in 1873 by Colgate-Palmolive. Oral care products (mostly under the Colgate brand) were the Colgate-Palmolive company's greatest source of revenue in 2015.
Swarna Vedshakti helps prevent infections from entering the body by fighting germs in the mouth. Its unique composition contains 5 Ayurvedic ingredients: Neem, which is renowned for its gum-care characteristics, Clove, which is known for strengthening, Amla, which is known for its anti-ger properties, Tulsi, which is known for freshness, and Honey, which is used for gum massage. The Indian Dental Association has rated Colgate as India's Most Trusted Oral Care Brand. This toothpaste is completely gluten-free, sugar-free, and vegetarian. This toothpaste is produced in India at our True Zero Waste Platinum Certified manufacturing facility.

Pros
Gives a refreshing feel to the mouth
No bad flavour in the mouth after brushing
Removes bacteria from mouth
Main ingredient is neem which cures gum problems
Cons
No bad reviews from customers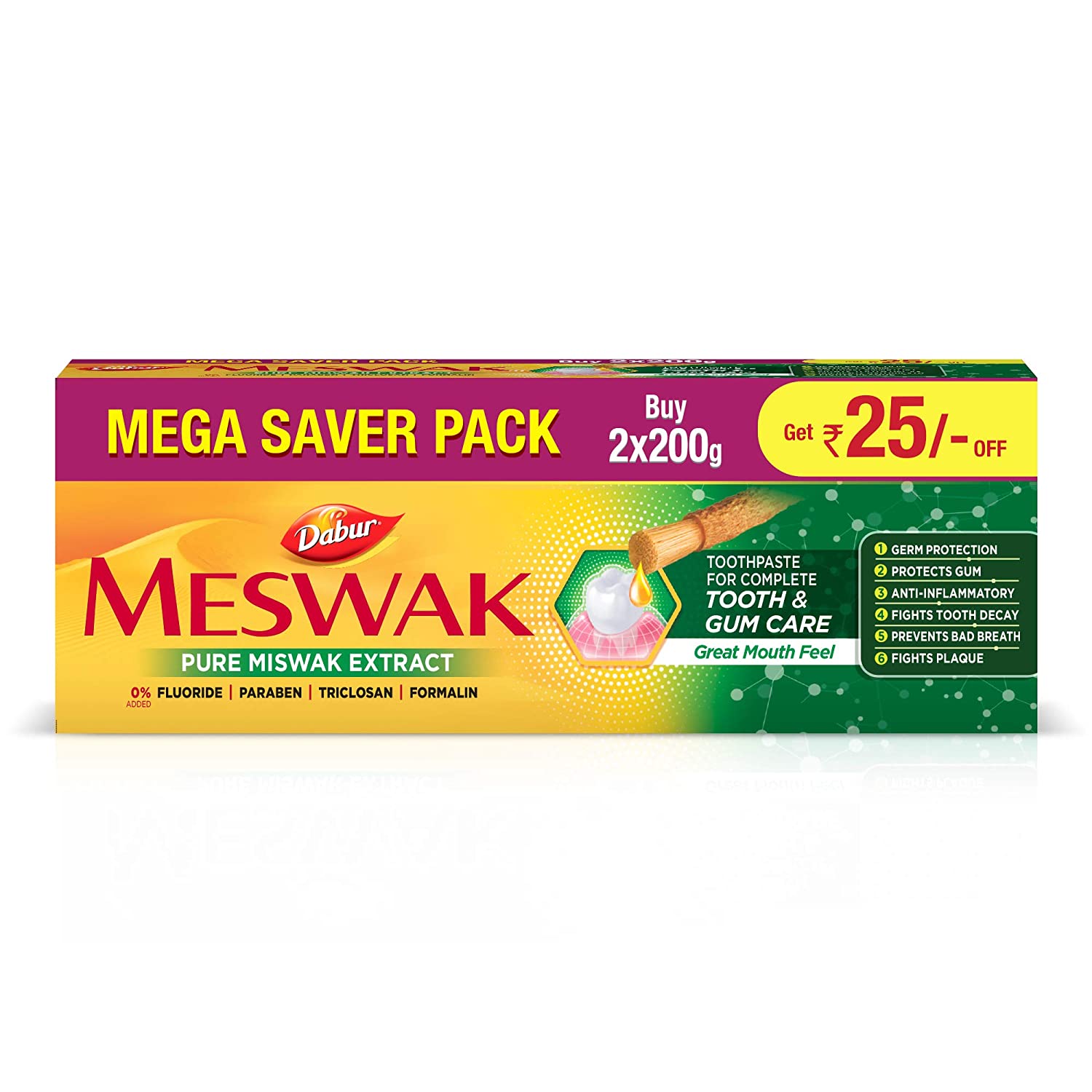 Dabur India Ltd is a significant FMCG company in India. Dabur is India's Most Trusted Name and the World's Largest Ayurvedic and Natural Health Care Company, with a 133-year tradition of quality and experience.
Grab a pack of Dabur Meswak today if you want to start your day with something truly unique. Dabur Meswak is manufactured from a pure extract of the rare Miswak herb, which grows slowly in the sand dunes of Africa and South Asia, resisting the harsh forces of nature. Even a modest amount of this plant can provide you with Complete Oral Care. Dabur Meswak is truly unique due to the Miswak herb's components. It contains Resins, which build a protective coating over the enamel, preventing cavities; Silica, which eliminates stains; and Alkaloids have a bactericidal and stimulatory impact on the gingiva. Essential oils increase saliva flow, which acts as an antibacterial. Vitamin C aids in tissue healing and repair, among other things. The nicest aspect about this one-of-a-kind toothpaste is the incredible mouthfeel it leaves behind, which lasts all day.

Pros
Fights tooth decay
Fights germs and bacteria
Removes malodour
Protects against cavities
Helps improve gum grip
Fights tartar and plague
Has 0% fluoride, paraben, triclosan and formalin
Cons
No bad reviews from customers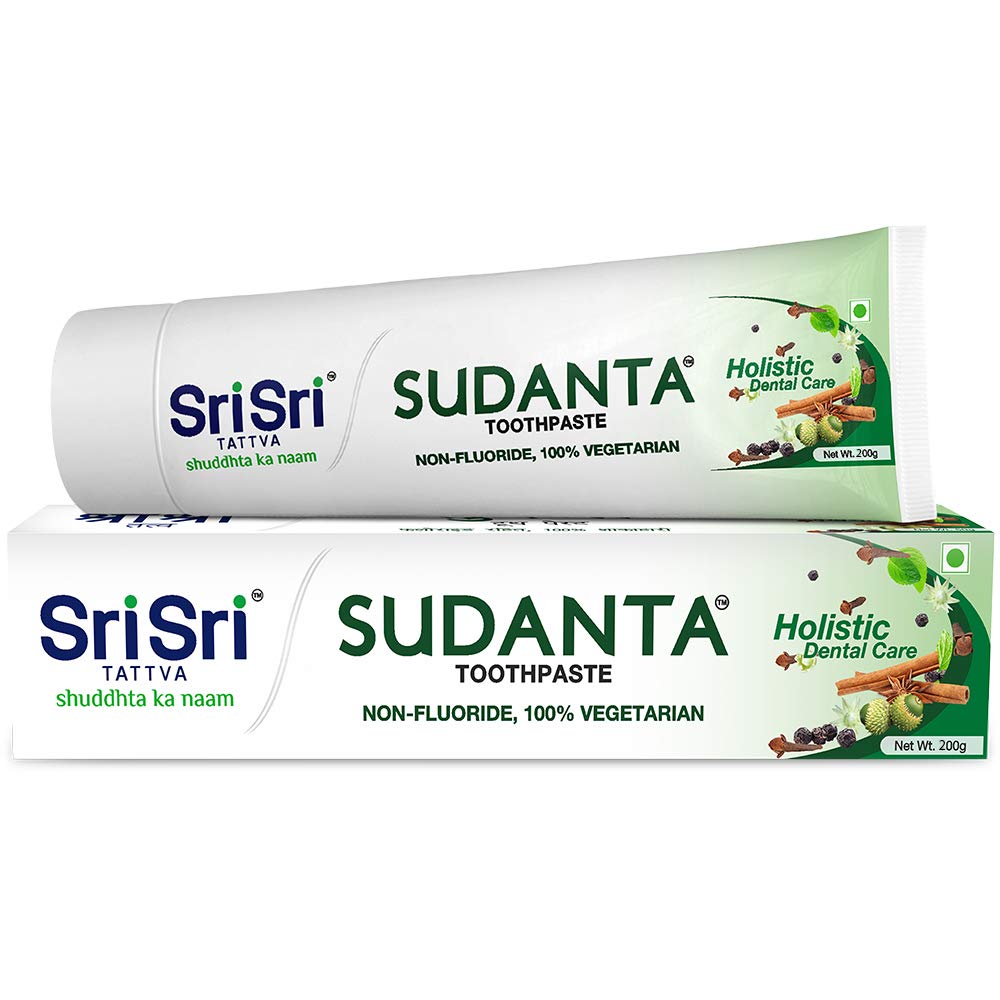 Sri Sri Tattva is a product manufactured by Netmeds.com. This brand is provided to you by Dadha & Company, one of India's most reputable pharmacies with over a century of experience distributing high-quality medications. Wellness items, vitamins, diet/fitness supplements, herbal products, pain relievers, diabetes care kits, baby/mother care products, beauty care products, and surgical supplies are among the OTC products available.
This toothpaste is made entirely of vegetarian pure herbs and is packed with healthy, powerful, and safe components. This toothpaste is paraben-free, fluoride-free, allergy-free, and has no harmful or chemical chemicals, according to AYUSH certification. Its heavenly herbal recipe has been thoroughly evaluated for quality and safety, making it suited for people of all genders and ages.

Pros
100% vegetarian product
Flouride-free
Protects teeth, gums and breath
Cleanses impurities from your gums & teeth
Relief from toothache, bleeding gums & caries
Cons
Might not be the best teeth whitener
No menthol effect

Dr. Jaikaran specialises in the production of oral care products and is one of the world's largest exporters of high-quality oral hygiene products. At Dr. Jaikaran, we believe in operating a responsible business where oral care, which is an important part of general health, becomes a fundamental component of one's total well-being. Over the years, we have established ourselves as one of the most favoured businesses, providing high-quality oral care products in a variety of formulations including pharmaceuticals, ayurvedic/herbal, and cosmetics.
This toothpaste contains potassium nitrate, which is a well-known treatment for dental sensitivity. The toothpaste's ingredients address sensitivity concerns caused by enamel, cavities, heat, cold, acids, and other factors. Incorporation of natural components that have a medicinal effect on the gums and aid in the tightening of loosened teeth. It contains the finest herbal extracts as active components, which have been carefully selected to provide users with a variety of dental advantages.

Pros
It is a vegetarian product
Best for toothache & sensitivity
Less quantity to be used
Strengthens gums
Cons
Not a 100% chemical free product
Isn't a fluoride-free toothpaste (1000 ppm present)
Expensive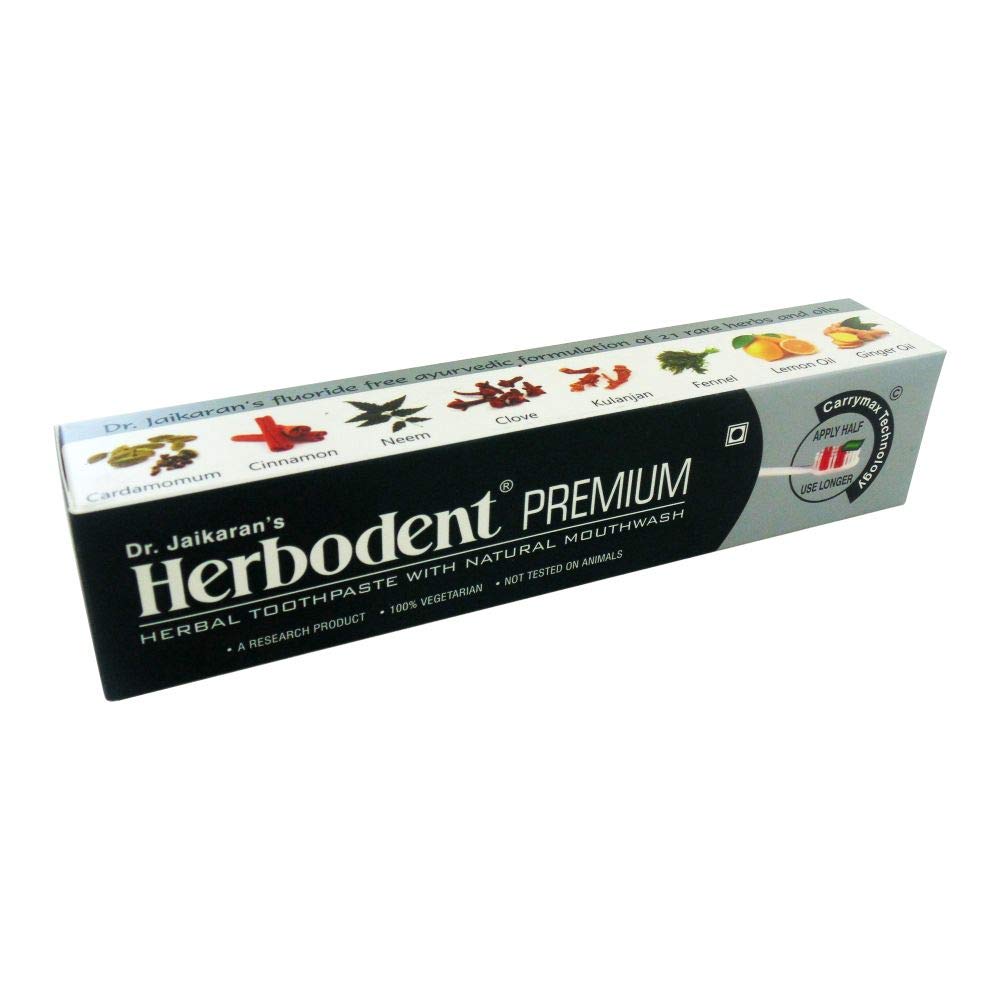 Dr. Jaikaran specialises in the production of oral care products and is one of the world's largest exporters of high-quality oral hygiene products. At Dr. Jaikaran, we believe in operating a responsible business where oral care, which is an important part of general health, becomes a fundamental component of one's total well-being. Over the years, we have established ourselves as one of the most favoured businesses, providing high-quality oral care products in a variety of formulations including pharmaceuticals, ayurvedic/herbal, and cosmetics.
Dr. Jaikaran's flagship product, premium herbal toothpaste 'Herbodent Premium,' has been highly praised by our prestigious consumers all over the world. The popularity of 'Herbodent Premium' stems from the fact that it is a proven protector against dental disorders such as gum bleeding, cavities, sensitivity, and pyorrhea.

Pros
No artificial flavours, gelatin, or chalk powder
Has a natural taste and the freshness of herbs, which gives it a relaxing sensation in the tongue
Active components in the herbal extract are highly concentrated and easily soluble in saliva
Protects teeth from cavities, gum disease, and other dental issues
100% Vegetarian
Cons
Not a 100% chemical free product
Contains – permitted preservatives & colors
Expensive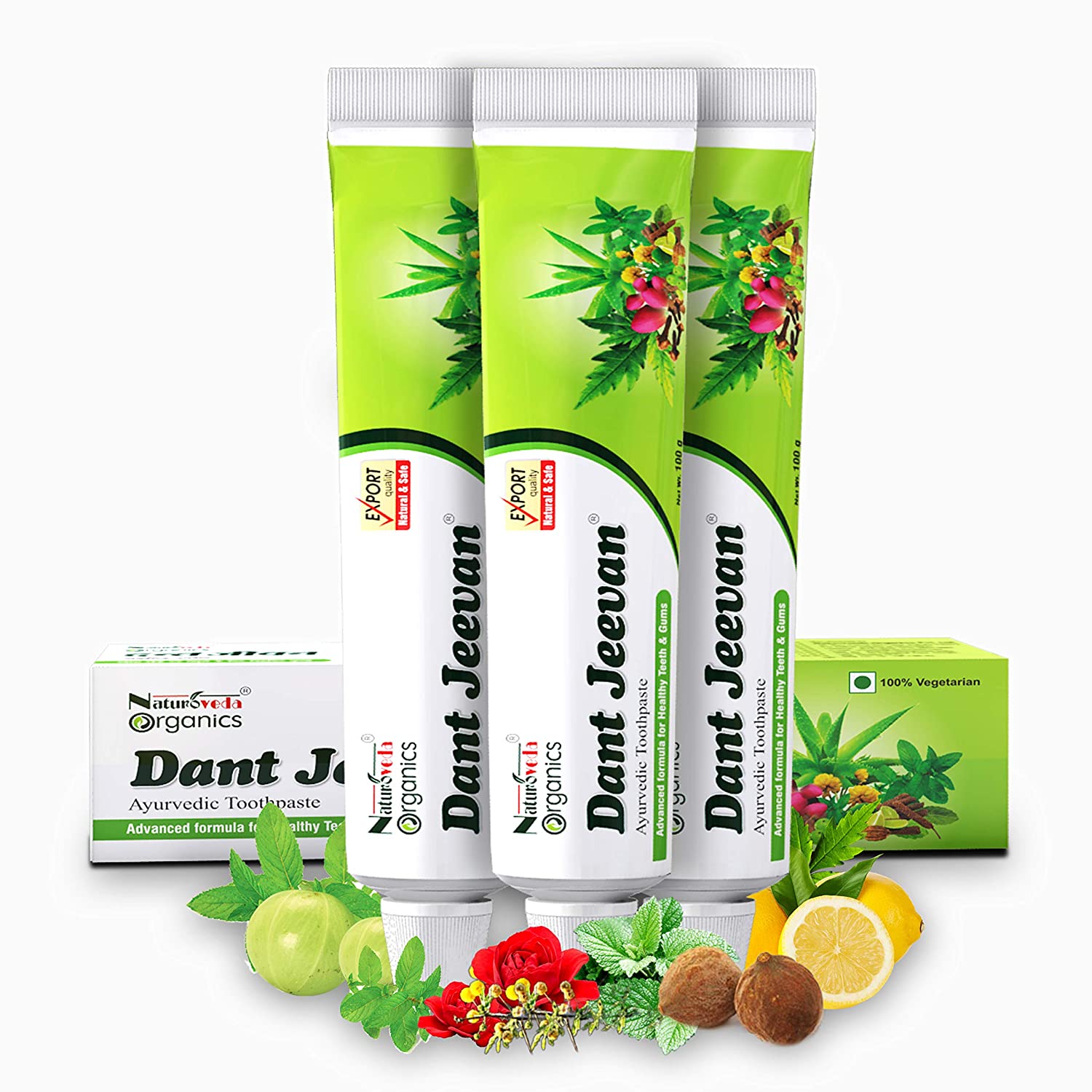 Naturoveda has been a pioneer in providing natural remedies in the most scientific and patient-friendly way possible for implementing a complete health solution that is free of side effects. For their Unani and Ayurvedic clinic, they have garnered significant accolades. They've given the subject of health and wellness a whole new meaning.
Jeevan is a full treatment to many oral ailments, containing the benefits of Ayurvedic herbs such as Manjistha, Triphala, Aloe vera, Laung, Pudina, Gulab, Nirgundi, Ajamoda Satva, Baabul, Vaikranta Bhasma, Tumbru, Majuphal, Tankan, Vidanga, and Molsari. Gum bleeds and swells, toothaches, sensitive teeth, mouth ulcers, tooth decay, spots and discoloration on teeth, foul breath, pyorrhoea, and loose gums and teeth will no longer bother you. Thousands of people have made Dant Jeevan a part of their life and you can, too. Welcome Dant Jeevan into your life and make dental health and cleanliness an intrinsic part of your lifestyle with the power of Ayurveda.

Pros
Stronger, Whiter, Healthier Teeth
Offers complete oral care solution
100% Vegetarian, chemical-free formula
Long-lasting freshness because of the active ingredients present in Laung, Pudina and Gulab
Cons
Contains sodium benzoate
Has a bitter herbal flavour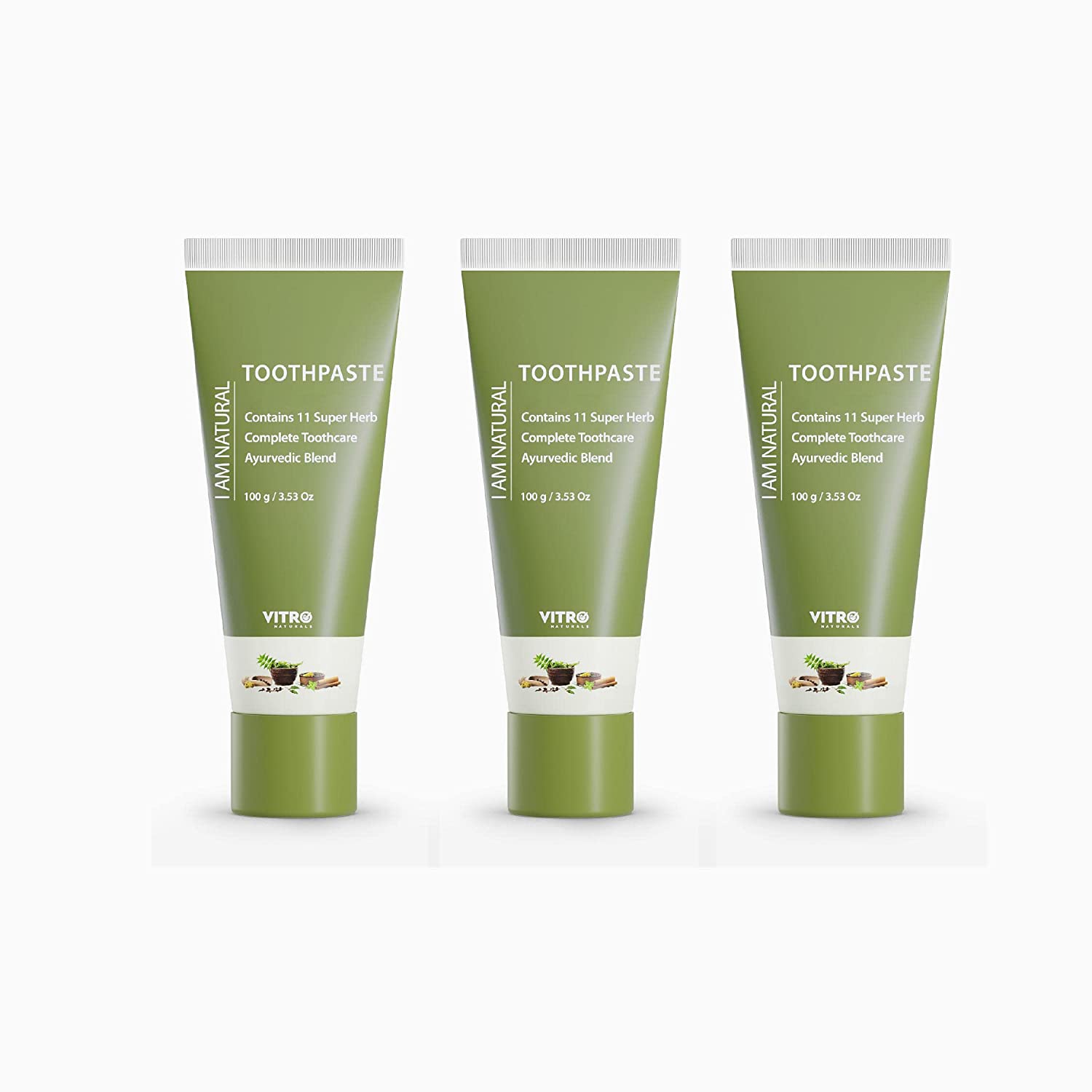 Vitromed Healthcare's systems are ISO 9001:2008 and ISO 13485:2003 certified, and all of its products are CE labelled and meet European standards. They have extensive quality checks in place from raw material entry to completed product to assure the highest possible quality.
Vitro Toothcare toothpaste is a herbal product that contains 10 super herbs as well as ayurvedic compounds such as Neem, Laung, Babool, Vajra Danti, Meswak, Maju Phal, and Pudina. Bakul, Vidang, and Tomar are three people. It helps to keep teeth and gums healthy. It aids in the prevention of infections in the teeth and gums.

Pros
Helps to protect the teeth and gums from infections.
Prevent cavities, bad breathe, toothache, Gingivitis
Provide long-lasting freshness
Deep cleans your teeth
Flouride & triclosan free
Very affordable
Cons
Contains parabens and SLS (sodium lauryl sulfate)
Frequently Asked Questions
1) Is Ayurvedic toothpaste free of triclosan?
Triclosan's function is to prevent bacteria from forming new cell walls, which means that if it's used in personal care products, bacteria won't be able to grow or reproduce on your body. Although it is not harmful to one's health, this antibacterial chemical has been connected to a variety of human health issues. The majority of exposures occur through skin absorption or through the mouth lining. Contact dermatitis, or skin irritation, has resulted as a result of these exposures, as well as a rise in allergic reactions, particularly in youngsters. The FDA has placed triclosan on a list of hormone disrupting substances. Triclosan is not found in Ayurvedic toothpaste.
2) Which toothpaste should I use to lessen gum swelling?
Toothpaste with ingredients like mulethi, licorice is good gum problem solvers. Mulethi prevents tooth cavities. Clove and neem herb reduces gum swelling and irritation.
3) Is Ayurvedic toothpaste vegetarian?
Yes. Only plant extracts are used in toothpaste and are free of animal cruelty.
4) Can Ayurvedic toothpaste be used for kids?
Yes. Ayurvedic toothpaste is free of chemicals that might be harmful to kid's oral health. They are 100% natural with botanical extracts only. It is specifically mentioned on the toothpaste about children's usage. Toothpaste like Dabur Red or Dant Kanti is safe for kids to use.
5) Which toothpastes are best for tooth decay?
Toothpaste with ingredients like neem, Clove is best for getting rid of tooth decay. AloeVera in toothpaste eliminates harmful cavities causing bacteria, ensures strong teeth, and prevents tooth decay.
For a variety of prices and from top manufacturers, we've chosen the best Ayurvedic toothpaste for all your oral care needs. We hope the information in the buyer's guide can help you in purchasing the most suitable one for yourself and also can help you keep tooth problems at bay.