It's the era of high workload and in the midst of our busy lives, we rarely get the time to keep our homes clean. Often cleaning the home comes last as other tasks like professional life; cooking, socializing, etc. take up the first place. Especially, when you have kids, cleaning becomes another hectic level. There comes in your savior – Vacuum cleaner!
A smart device for your smart home – Robotic vacuum cleaners perform all your cleaning chores with just a single click. In an Indian setting, helpers and maids take care of the entire sweeping and cleaning job. This makes you dependent on them and whenever they are not available the entire load comes on you. Such smart devices reduce your dependency on them and also on time constraints. Robotic vacuum cleaners keep your home clean without even letting you lift your finger. A robot will do all the work for you. All you have to do is pick up the right robotic vacuum cleaner that will get everything done for you at your command.
TOP 8 ROBOTIC VACUUM CLEANERS
Buyer's Guide: Factors to consider to buy Best Robotic Vacuum Cleaners
There are certain factors to look carefully upon before buying a vacuum cleaner like the size of the dust bin, filter type, sensor effectiveness, noise level, cleaning efficiency, and brand. Robotic vacuum cleaners offer great service in both small and large homes. Their efficiency is irrespective of the size of the area to be cleaned. This smart device works independently, only cleaning intervention of dustbin is required from time to time.
Types of filter: The most efficient of all air filters are HEPA (high-efficiency particulate air). This removes around 99.97% of all dust particles from the air passing through it. HEPA technology is most effective in removing the particles of size 0.3-micron particles. This filter is great for people having asthma or other breathing disorders.
Size of dust bin: The bin size in robotic vacuum cleaners ranges from 0.25 litre to 1 litre. The cleaning capacity is directly proportional to the size of the bin. For bigger cleaning areas, opting for higher sizes is the best option.
Battery life: The robotic vacuum cleaners automatically go to the dock for charging when needed. In general, they take about 3 hours to charge which is quite long. For quicker and efficient cleaning, cleaners with long battery life are preferred.
Sensors: Sensors of the robotic vacuum cleaners are meant for detecting the obstacles the need to stop. The sensors detect the wall, or table, or other household items nearby and change the route. In cheap robotic vacuum cleaners, sensors don't efficiently work and the vacuum cleaner is able to stop only after hitting the object. Sensors play a great role in maintaining the longevity of vacuum cleaners.
Scheduled cleaning: New-gen vacuum cleaners come with internet connectivity. These cleaners can be remotely controlled through your smartphones and even notify you when the work is complete. Not only finalization but errors or issues can also be detected in your smartphone.
Corner effectiveness: Most devices, even the manual vacuum cleaners are hard to reach in corners. Robotic vacuum cleaners overcome this problem as their design lets them reach in the slightest of corners. Don't ever go for bulky vacuum cleaners as they do the corners well.
Noise: Go for a lower decibel vacuum cleaner for a lower noise level.
TOP 8 ROBOTIC VACUUM CLEANERS
To ensure you get the best thermal flask for you, we are here with a few suggestions. Have a look at the buyer's guide above and then look for these recommendations to make the best purchase possible.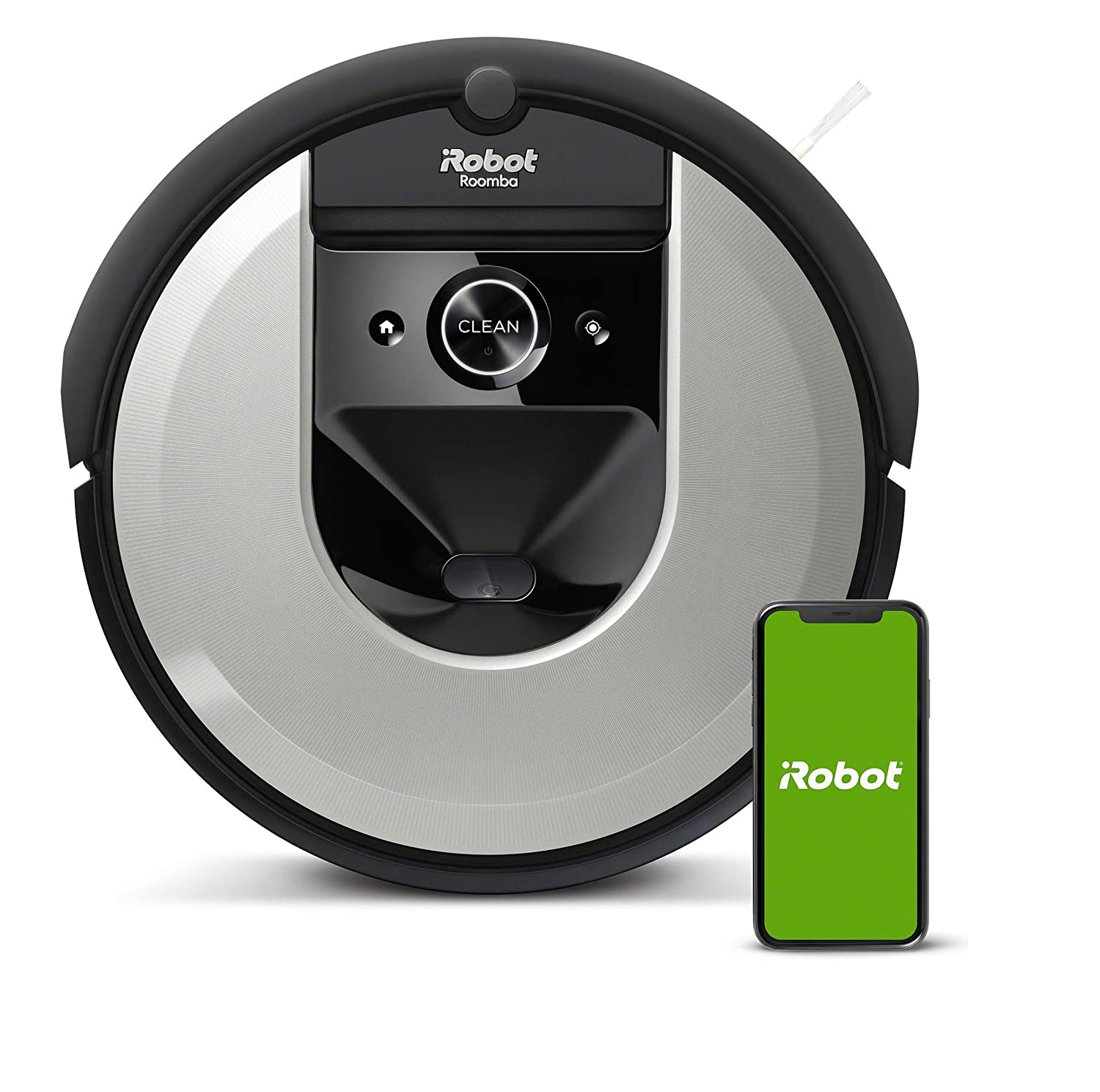 This wifi-connected robotic vacuum cleaner by iRobot is at another level. it is a choice for newbies as it features all the new-gen qualities. The 3-Stage Cleaning System can't hide dirt or dust. A specifically designed Edge-Sweeping Brush, Dual Multi-Surface Rubber Brushes, and Power-Lifting Suction target anything on your carpets and hard floors, from minute particles to huge dirt. Mold, pollen, dust mite, dog, and cat allergens are all captured by the High-Efficiency Filter.
Pros
Excellent cleaning
Easy operation
Effortless maintenance
Low noise levels
Smart mapping feature.
Cons
Mopping feature absent
Quite expensive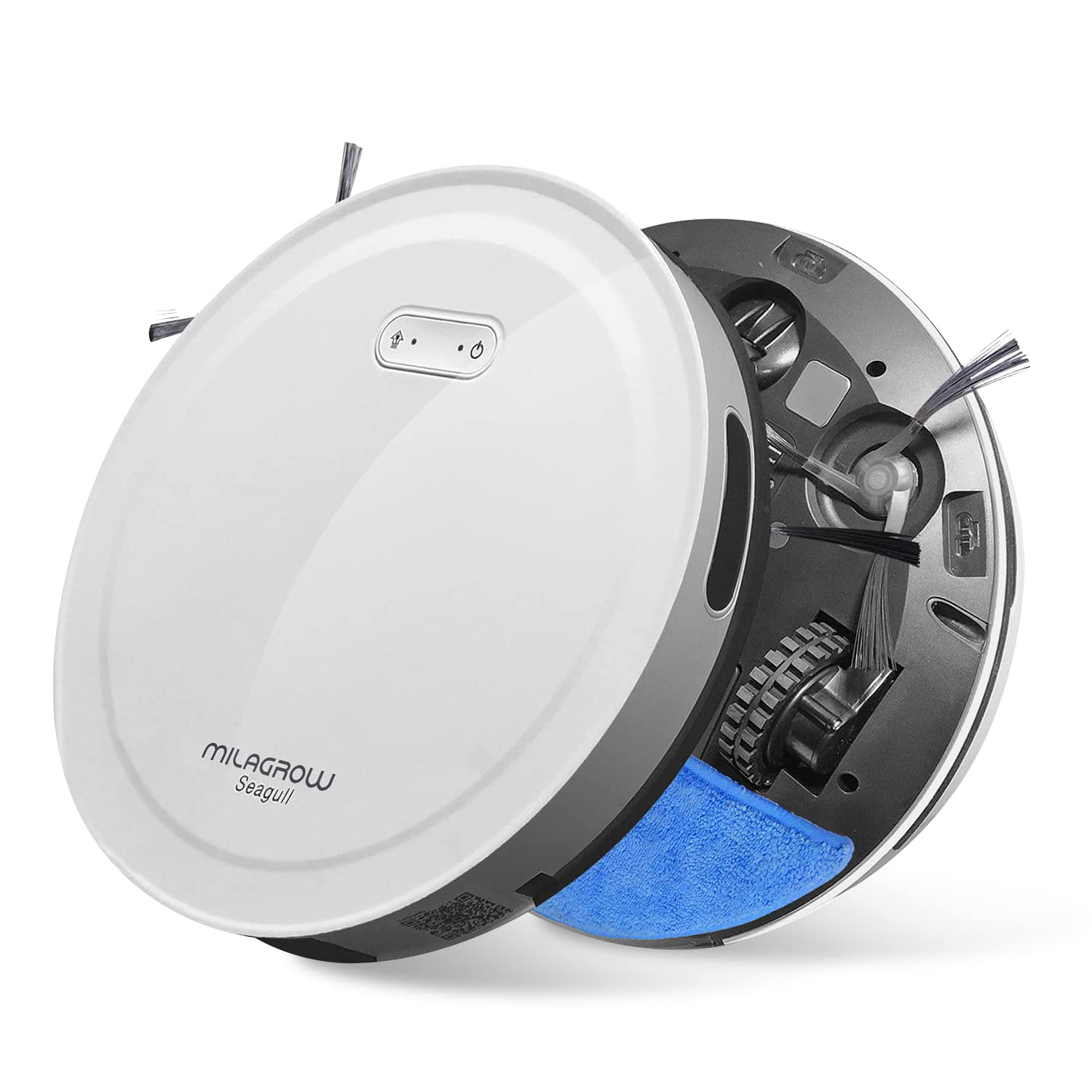 Features:
Price – Rs 11,490
Only 7.2 cm thick for easy reach under your sofa, bed, and other furniture
65-litre large bin capacity for efficacious cleaning
Gyro mapping sensor technology for identifying surroundings
3 cleaning modes – zig-zag, wall-to-wall, and spot spiral mode.
The suction power of 1500 Pa available for intense cleaning purpose
HEPA filter for 99.97% germ removal
Smartphone connectivity feature for scheduling cleaning, suction control and for changing direction and mode
Automatic charging when the battery level drops below 15%
2 years product warranty and 5 years suction motor warranty

A lightweight and thin floor cleaning robot by Milagrow. Milagrow is a brand from India. It is the most established and well-known brand in the Robots category. It was founded in 2011 and now boasts the most diverse variety of consumer and service robots. Milagrow has robots for practically every application. The Seagull Robotic Floor Vacuum Cleaner is constructed with technology that allows smart wireless communication, allowing the machine to be linked with your smartphones and operated by Google Assistant or Amazon Alexa. This device is capable of both dry vacuuming and mild wet mopping without the use of a water tank, allowing you to clean your floors without breaking a sweat.
Pros
Large dust bin capacity
3 cleaning modes
Durable
Smart mapping features
Anti-collision safety features
Ideal for pet hair
Smartphone control
Cons
Lacks mopping feature
Makes noise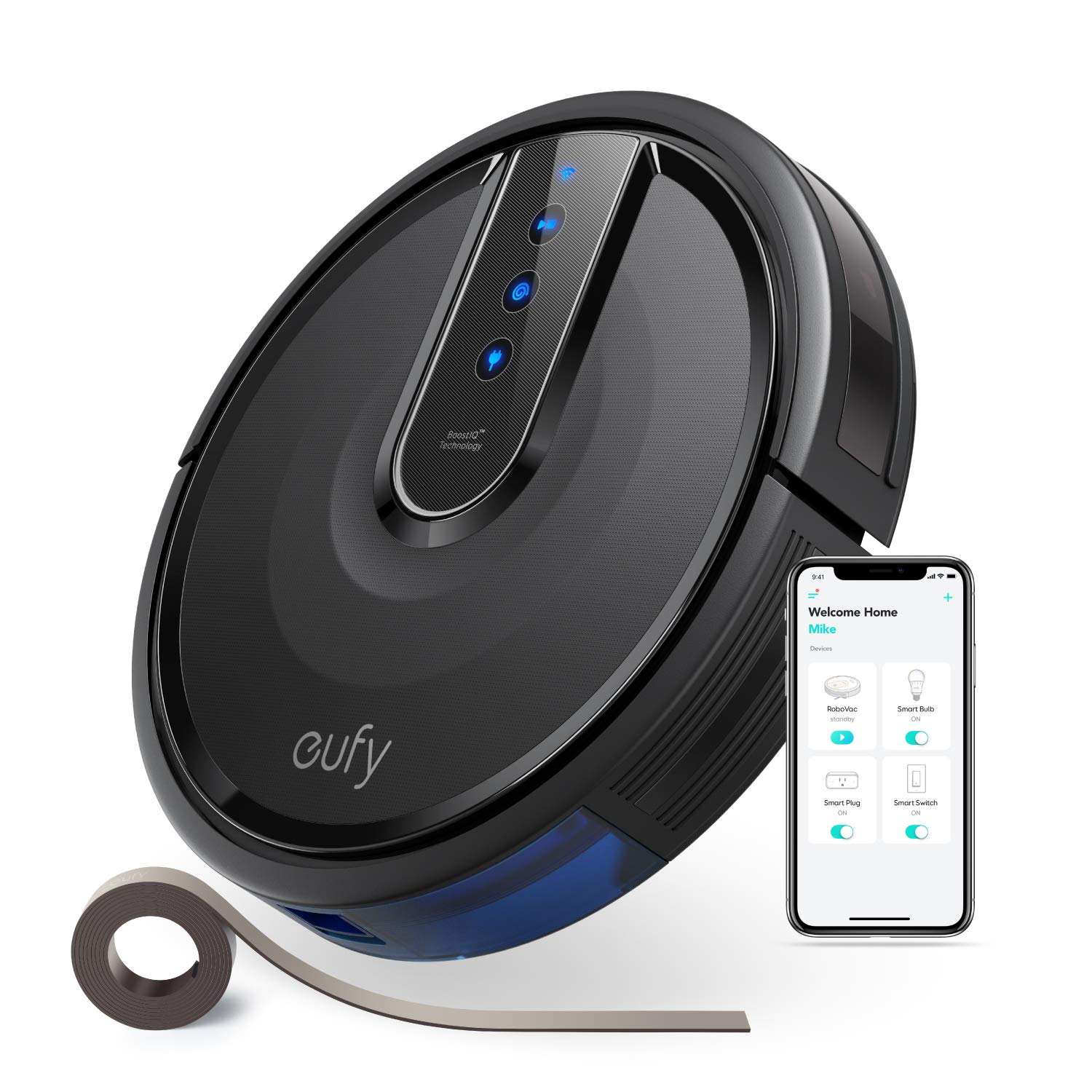 Features:
1300 Pa powerful suction power for cleaning
0.6L large capacity dustbin for more dirt and dust
Dual layer filter with one high-performance filter for a cleaner home
Smart drop-sensing technology for attention free attention
For effortless cleaning – automatic cleaning and schedule cleaning
Long battery life and returns to its dock for automatic charging
1 year vacuum cleaner technology

Slim body circular robotic vacuum cleaner. Its three brushes and powerful suction force effectively loosen, remove, and suck debris for a thorough clean. RoboVac 35C sucks up dirt and dust with 1500Pa suction for a visible and tactile clean. RoboVac achieves a clean house by combining a dual-layer filter and one high-performance filter.
Pros
Slim, elegant design
High suction power
Anti-scratch technology
Schedule cleaning mode
Large bin capacity
Smart-sensing features
Great battery backup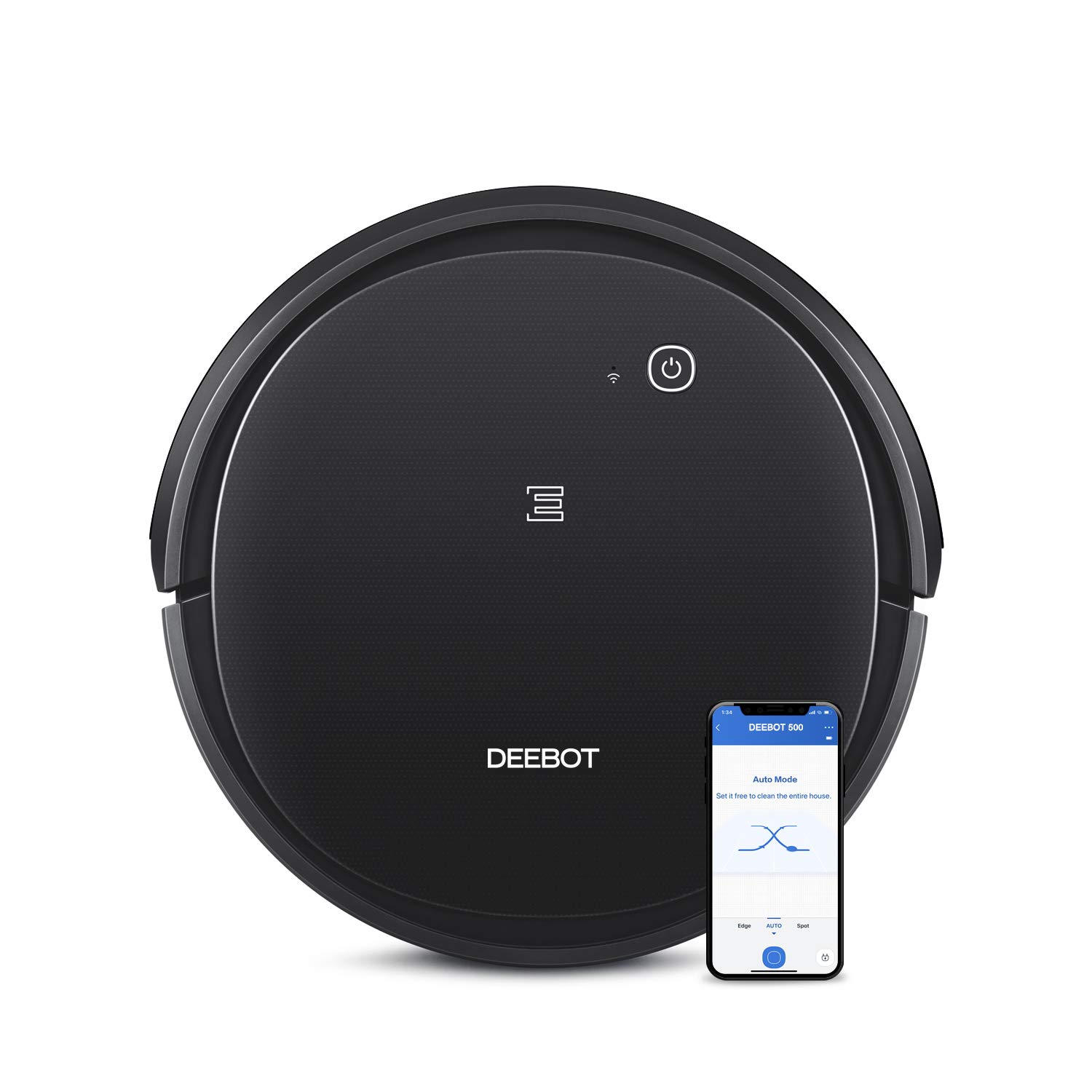 Features:
Smart App control for remote Monitoring and cleaning function
Alexa, Google Home, and other smart devices are supported
3 stage cleaning system for fruitful cleaning
Advance technology features like anti-collision and anti-drop sensing
Soft cushion bumpers for high durability
Multiple cleaning modes – AUTO( for general wiping), EDGE(for edges), and SPOT(for intensive cleaning)
Schedule cleaning with timer settings

ECOVACS brings up this powerful vacuum cleaner at the price range of Rs 12,400. Prepare your home for big events by performing a thorough deep cleaning. Suction power may be increased up to double in Max mode. DEEBOT 500 cleans up the daily messes without disturbing your family due to its low noise level. Take a deep breath and relax while your robot cleans. Your robot will eliminate airborne triggers while vacuuming thanks to its High-Efficiency Filter.
Pros
An ideal choice for hard floors
Long battery life
Easy connectivity with smart household devices
Great sensors
No noise production
Cons
No notification for the dustbin
Features:
2200 Pa massive adjustable suctioning strength
Xiaomi Mi Home App-enabled control
Powerful brushless motor for high-performance cleaning
2 in 1 hybrid tank – 200 ml water tank and 300 ml dust box
Sweep, vacuum, and mopping cleaning features
12 different smart sensors including anti-collision, wall sensors, and anti-drop
Long 3200 mAH battery life for one go cleaning of the whole house
With 1 year warranty

A High-tech smart cleaning device by Viomi. Viomi brand is widely known for its simple yet classy designs and affordable pricing range. Viomi SE supports automated recharging and self-resumption of work. This lets you to sit back and relax as it thoroughly cleans your home. It is well-thought-out, with AI smart algorithms cleansing routes for Indian households. The S-Pattern assists in cleaning big areas while using less battery power. For a thorough deep clean, use the Y-Pattern to imitate the hand mopping effect with dual direction repetitive wiping.
Pros
Simple design
Easy to operate
120 minutes battery backup
Auto-return to the dock
Powerful sensors
Power button for quick operation
Very high suction power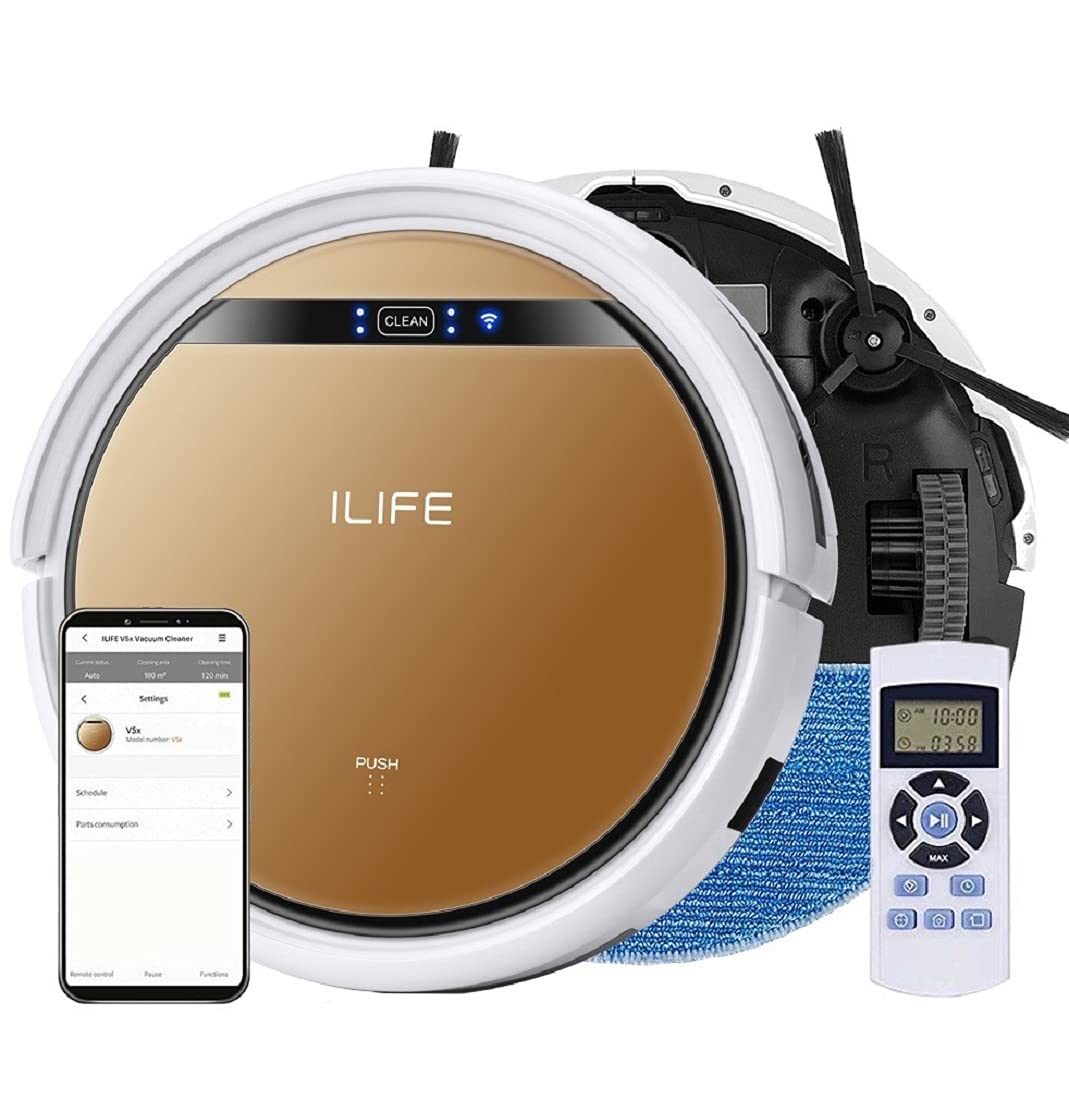 Features:
Brushless motor for high suction power and less noise
Mopping feature
Ideal for wet mopping catches and hair, dust, and debris collection
4 cleaning modes available – Auto, Edge, Spot, and Schedule mode
Smart sensors for protection
80-minute wet mopping with 250 ml water tank
i-dropping technology for less water consumption while wet cleaning
Compatible smart devices like Alexa
120 minutes battery backup with 2600 mAH battery capacity
1-year cleaning guarantee

You may link your ILIFE V5x (V5s Pro with App) to a Smart Home device and operate your robot with your voice using the Smart Home voice control. Take care of the kids or the laundry while the V5x handles the rest. The ILIFE V5x can be cleaned down on laminate and tiles with a single tank that can fill up to 180 m2. The ILIFE V5xsuction wipe robot protects the iDropping against moisture damage. This enables you to wipe down the parquet.
Pros
Stylish design
Both dry and wet mopping
High suction power
Different cleaning modes
Safe
Great battery backup
Automatic return to a charging point in case of low battery
Features:
Price – Rs 18,999
User-friendly design and operates easily
3 in 1 cleaning modes – dry suction, U.V. suction, and mopping features
Multiple brushes for all floor types cleaning like marble, tiles, wooden, etc
9 smart sensors for obstacle detection
Auto-cleaning mode, spot, edge cleaning, and schedule cleaning mode

Forbes vacuum cleaners include a thermal cut-off feature that immediately turns off the device for the protection of our consumers and the product. It is a one-of-a-kind cleaning miracle that can be used on any surface, including carpets, hardwood, and marble floors, making it the finest alternative for daily cleaning.
Pros
User-friendly
Ideal for different types of floors
Smart detection technology
9 smart sensors
Cons
Lacks mopping features
Bit noisy
With its powerful smart navigation technology, the 2-in-1 vacuuming and mopping robot provides a new level of interactivity and deeper cleaning than ever before. It comes with a 510ml dust bin as well as a 350ml water tank. It features many cleaning modes for different messes – Scheduled, Deep, Edge, and Spot Cleaning Modes provide you with uncomplicated cleansing.
Pros
Smart navigation
Effortless charging
Large dust box
Fall protection safety
Frequently Asked Questions
1) What are the different benefits of robot vacuum cleaners?
Efficiency, ease of use, time-saving, compact, and intelligent dust-sensing technology are some of the features of robotic vacuum cleaners.
2) How do these vacuum cleaners work?
These vacuum cleaners have motherboards and suction technology to pull in the dust. It has also got smart sensors to prevent bumping into obstacles.
3) Is a robotic vacuum cleaner equipped with any accessories?
These vacuum cleaners come with a variety of accessories like filters, cleaning brushes, cleaning wipes, remote control, dock charging case and charger, virtual walls, and many more.
A clean space is a need of every household and an individual. Thus, grab your favorite option out of the best 8 selected robotic vacuum cleaners. Give your surroundings a clean look with the use of the best top-notch quality robotic vacuum cleaners. Every vacuum cleaner listed above has gone from the numerous testing processes and thus are known as "The best top 8 Robotic Vaccum Cleaners"