It's always said that start and end your day with a glass of water! Dehydration can cause serious after-effects on your body like dizziness, muscle cramps, headaches, constipation, mood swings etc. The best piece of advice is to keep a bottle of water with you. This way you will consume more water and keep yourself hydrated. Keeping yourself well hydrated is the key to staying fresh 24/7. A thermos flask bottle will best keep you hydrated in all temperature conditions.
Thermos is referred to as a type of appliance that keeps cold things cold and hot things hot for some time. Thermas is also known as vacuum flask is useful for keeping coffee, tea, lemonade, etc. Surprisingly, your hot beverages will remain hot for a substantial period and cold ones will remain cold.
How does a thermal flask work?
It doesn't allow heat transfer at all. Heat can neither travel from inside to outside nor from outside to inside. All ways of heat transfer convection, conduction and radiation are blocked. Furthermore, the casing offers extra insulation. Thus, it preserves the temperature of the beverage inside it and offers no change even in taste.
Buyer's Guide: Complete guide for buying the best thermal flasks
Top-performing insulated thermal flasks must be looked upon while purchasing. There are some things to consider well before making a purchase. These vacuum flasks prove themselves to be handy and cost-effective. For drinks, thermal flasks are available while on the other hand, thermal food jars are available for storing food.
Cost – There is a huge range of vacuum flasks available currently in the market. As they are increasing in popularity, their range is also improving. You could find the cheapest to the most expensive one if you look carefully. They all differ in features, capacity and heat insulation period. First and foremost decide your budget before looking for design and other things in a flask. 
Capacity –your purpose of use may decide the capacity of your bottle. Choose carefully as it will depend upon the capacity of how much quantity of beverage you can take with you. Typically, it ranges from 300 ml to 1000 ml. Note that capacity influences the size of the flask but not necessarily a big flask will have a greater capacity. Choose your flask size and capacity carefully.
Material –Durability and the period; that how long it lasts is mainly categorized by the type of material used. Stainless steel is the most popular and common choice as it retains heat well, is durable, scratch-resistant, corrosion-resistant and easy to clean. Thermal flasks are available in plastic and glass as well but they aren't a great option as easily breakable and don't retain much heat. They might rust as well. 
Double layer or vacuum-sealed – check if your flask is double layered and vacuum-sealed. It retains heat more sufficiently and keeps your drink warmer for longer. 
Lid –You may think the lid of the flask is not that much important but it is! The lid must be secure, tight and should not come off easily. The lid must be 100% leak-proof for the flask to function and should clean easily. Screw caps over lids are a great option as they offer extra stability to the lid. However, the lid must flawlessly fit the flask. Many lids are doubled as a cup in the flasks. These cups are great for having the filled beverage whenever we wish to. The best part is they are also capable of retaining heat.
Heat retention –It is the estimated time for which the flask bottle can keep the ingredients warm. Thermal flasks have excellent thermal insulation. They normally offer a heat retention period of 4-5 hours while some brands can offer a heat retention rate of 12-24 hours. 
There are some more features to take care of while purchasing a thermos flask like size, warranty, guarantee, delivery system, design, etc.
To ensure you get the best thermal flask for you, we are here with a few suggestions. Have a look at the buyer's guide above and then look for these recommendations to make the best purchase possible.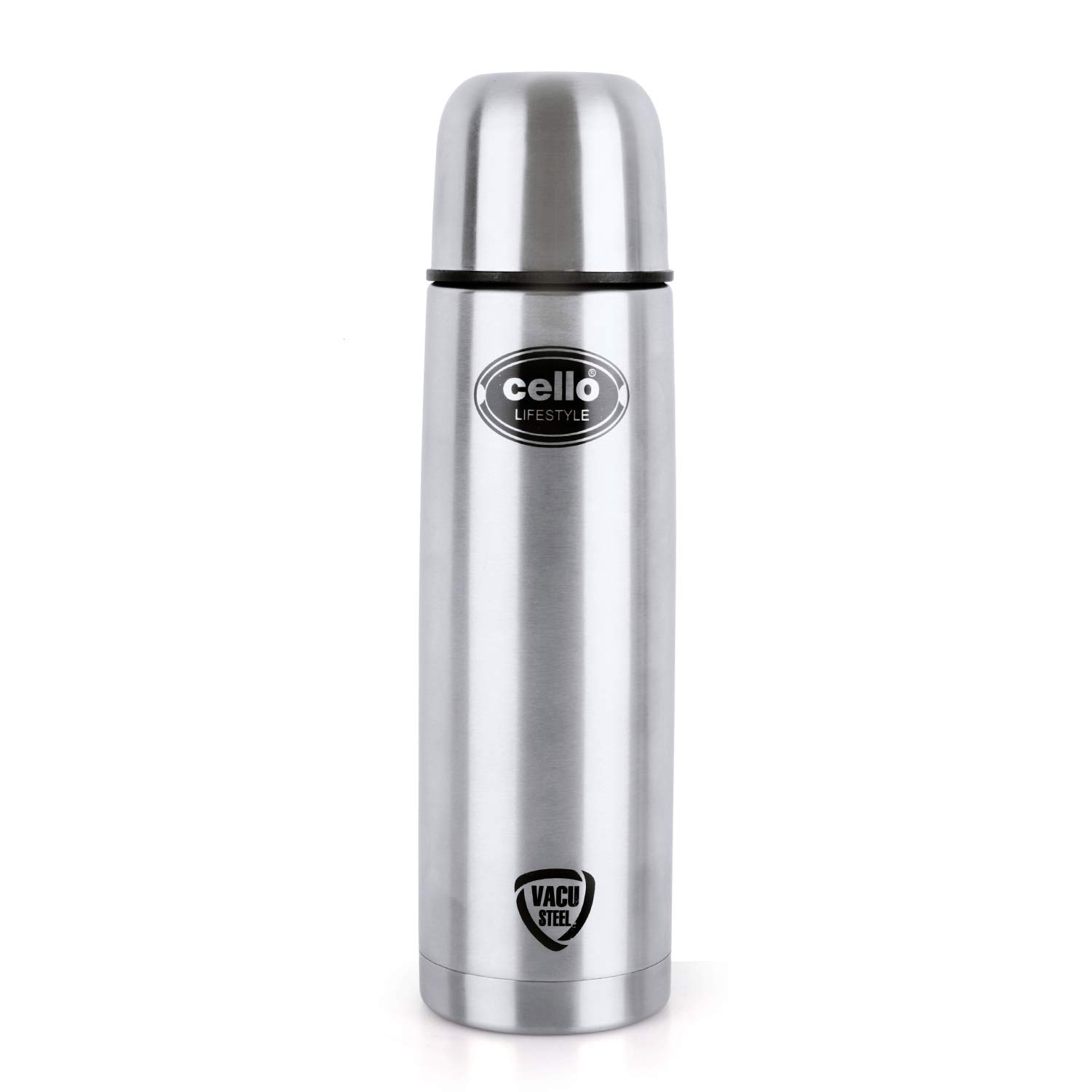 This is one of the most popular thermal flasks on Amazon because of its wide number of variants that can suit every purpose. This double-walled vacuum-insulated technology keeps beverages hot or cold for extended periods of time, with an inner copper coating for improved temperature retention and thermoseal technology. With this bottle's simple threaded cover, pouring and drinking is straightforward and spill-free. It also functions as a drinking cup.
Ideal for personal use and as a gift. It is simple to transport to and from the office, home, picnics, outdoor activities, camping, and other locations.
Pros
Lightweight
High-quality material
Durable
High brand value
Cons
Highly expensive
Poor customer feedback
No thermal jacket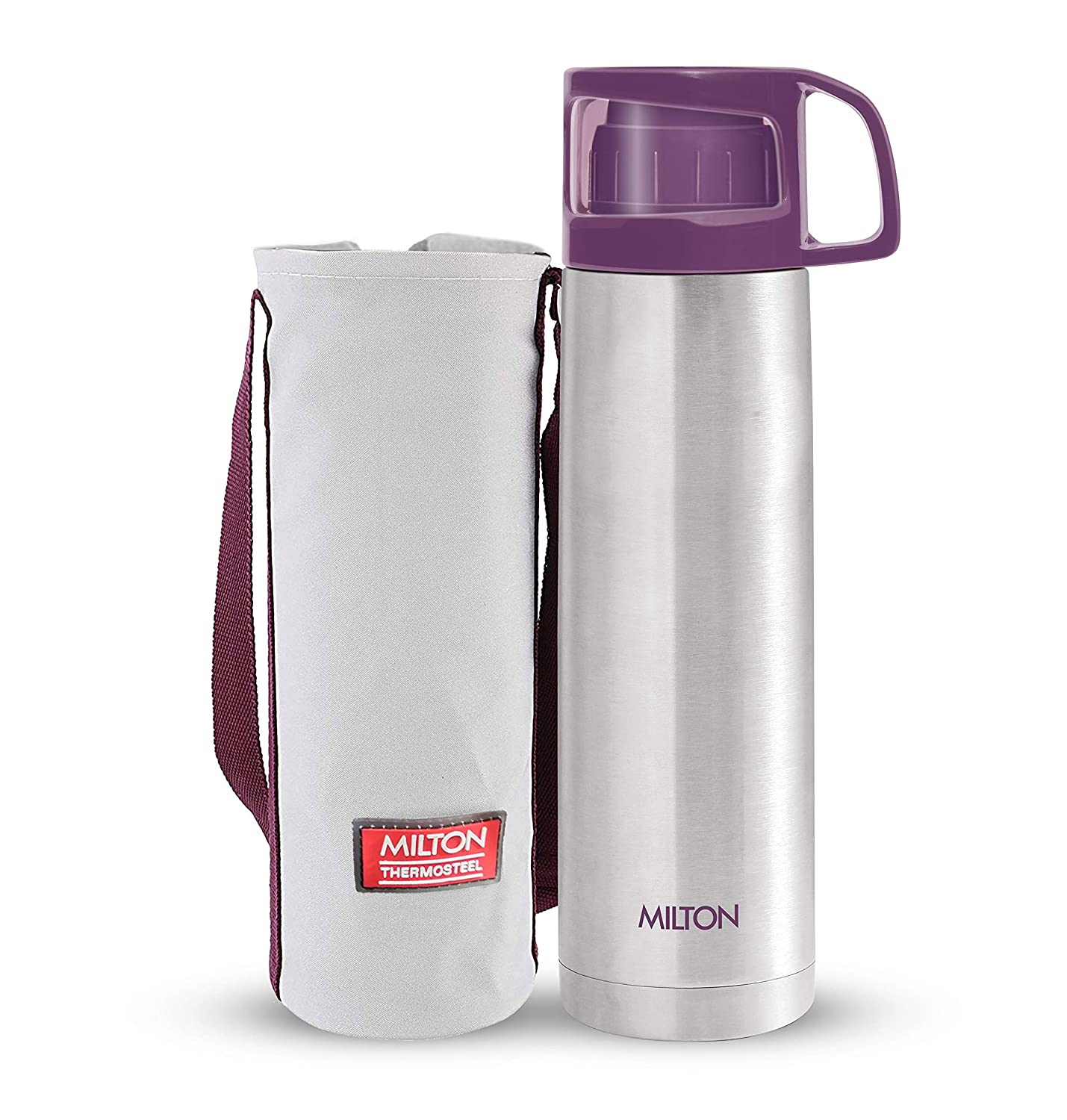 Features:
Price – Rs 13,490
Weight – 6 Kg
Design – Top loading
Warranty – 2 years machine warranty and 10 years motor warranty
Rating – 4.5-star rating
Other features – Stainless-steel washtub, toughened glass-lid, quick wash, child-lock, digital panel control, 9 wash programs, and 700 spin RPM, active soak and many more.

This thermal flask is amongst the most preferred bottle on Amazon because of its unique glassy feature. It's robust and long-lasting since it's made of 18/8 stainless steel on the inside and out. If using a hot beverage, pre-condition the bottle with hot water; if using a cold beverage, pre-condition the bottle with cold water. It is suitable for both personal use and gifting. It is simple to transport to and from the office, home, picnics, outdoor activities, camping, and other locations.
Pros
Thermal jacket
Leak-proof
High-quality material
Rust-resistant
Warranty
Glassy lid
Cons
Little expensive
Unattractive looks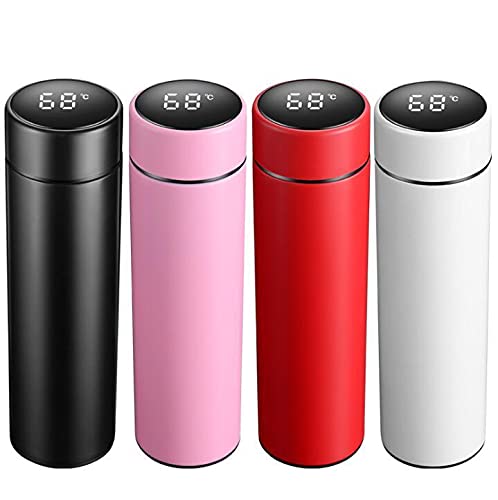 This is one of the most sold thermal flasks on Amazon as it is quite affordable and features a digital LED temperature display. The specifically constructed shell keeps moisture at bay, ensuring not only that your hands and luggage stay dry, but also that the flask does not slip while held. Featuring a specifically constructed mouth for drip-free drinking as well as a big enough opening for ice cubes for those who want their beverages extra-cold. It works well with both cold and hot beverages.
Pros
Lightweight
Affordable
Digital temperature display
Appealing colors
Cons
Low-quality material
Poor customer feedbacks
No warranty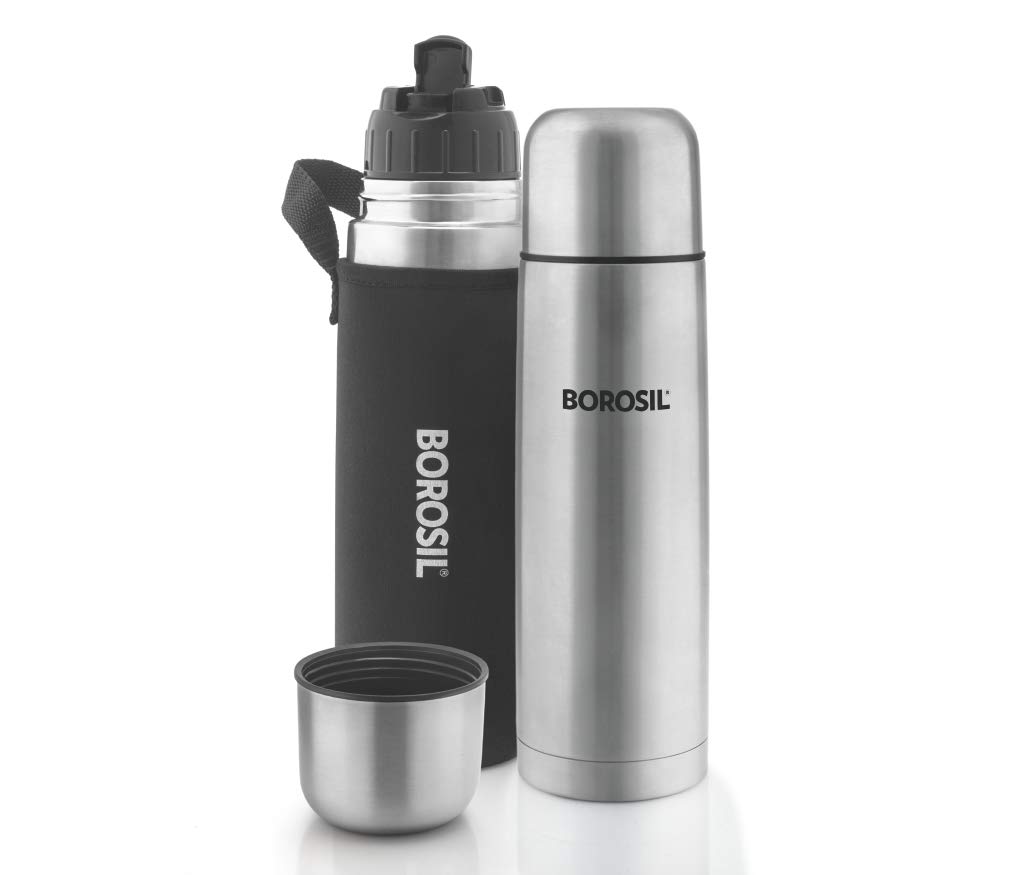 This is one of the most purchased thermal flasks on Amazon because of its attractive design and thermal jacket. It is a vacuum-insulated steel flask made of the rust-free stainless steel grade 304 on the interior and outside. Inside, copper is treated to improve heat retention. For your convenience, it includes a press-and-pour lid.
Pros
Warranty
Thermal jacket
Attractive design
Leak-proof technology
Cons
Expensive
Negative customer ratings
Low-quality material
It is one of the best looking thermal flasks on Amazon because of its top quality material. With Milton's fashionable insulated bottle, you can travel the world without a concern in the world. This lovely beverage bottle is made of stainless steel both inside and out, making it a reliable travel companion. Its vacuum insulated design keeps both hot and cold liquids fresh for extended periods of time. The leak-proof design and easy maintenance make it an excellent choice for your gym, school, or travel requirements.
Pros
Attractive colour combination
High-quality material
Excellent customer ratings
Cons
Highly expensive
Heavyweight
Low-temperature retention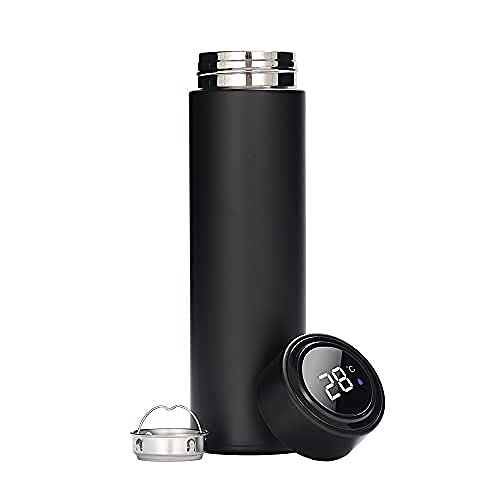 It is one of the most preferred thermal flasks as it is quite easy to carry because of its lightweight. Waterproof LED display that can be immersed totally in water. Simply touch the LED screen, and the temperature of the liquid will be shown. You are not need to test the temperature with your mouth or risk getting burned. The inner wall is constructed of high quality 304 stainless steel, while the outside casing is made of high quality 204 stainless steel. The FDA has cleared it for your drinking requirements.
Pros
High-quality material
Easy to carry
Digital temperature display
Affordable
Lightweight
Cons
Low durability
Poor customer feedback
No warranty
Low brand value
This thermal flask is recommended for those who are looking for premium quality material at an affordable rate. The most amazing feature of the Borosil Hydra Trans Flask is that it keeps hot beverages hot and cold drinks cold for up to 24 hours, whether it's a steaming cup of coffee or a refreshing iced tea. All of the plastic pieces in the Hydra Flask are BPA and Phthalate-free, so you can be confident that no toxins or chemicals will leach into the beverage you're transporting.
Pros
High-quality material
Vacuum insulated
Affordable
Excellent customer feedbacks
Cons
No product warranty
Heavyweight
Low durability
Features:
This thermal flask comes with a 1-year warranty from the retail purchase date
It is built from high-quality alloy steel that makes it more durable
It comes with a thermal jacket which makes it easier to carry
This water bottle provides better temperature retention because of inner copper coating
It is having a volume capacity of 1000 ml
This bottle is having dimensions of 8.6 x 8.6 x 31 cm and weighs around 660 grams

This thermal flask is quite useful for those who are looking for large capacity and easy usage. To avoid contamination when drinking fresh and clean water when travelling, it is advisable to bring water from home. Carrying a flask around with you is the most convenient way to remind yourself to drink water. And what better option than Milton Thermosteel flasks? This stainless steel 1 litre flask is long-lasting, easy to use, and extremely useful. Not only does it keep the water clean, but it also maintains the temperature stable for up to 24 hours. As a result, it is not only suitable for transporting water but also hot and cold beverages. Carry your favourite hot beverage for a day's journey during the winter and simply cold water or juice to refresh oneself when travelling during the summer.
Pros
Large volume capacity
Warranty
Rustproof
Thermal jacket
Cons
Expensive
Average customer ratings
Heavyweight
Features:
This thermal flask is having a capacity of 500 ml
It is completely backed by a full 1-year warranty
This bottle is made from 18/8 stainless steel for better heat retention
This thermal flask is having a dimension of 10 x 10 x 10 millimetres and weighs around 500 grams
It is specially designed with a narrow mouth that makes it less spilling

It is one of the most popular thermal flasks on Amazon because of its unique colour combination. Milton The double-walled vacuum-insulated stainless steel water container keeps liquids hot or cold for hours. Copper plating on the inside for improved heat retention. This bottle is comprised of high-quality steel, food-grade, and BPA-free stainless steel, making it suitable for everyday use. The flavor and nutritional content of the drinks are preserved for hours, making the bottle an excellent choice for keeping beverages. Food-grade material is 100%. The mouth makes it simple to drink without spilling everywhere you go, whether at work, on the road, or at the gym.
Pros
Attractive colour combination
Warranty
Durable
High-quality material
Cons
Highly expensive
Low capacity
Negative customer reviews
Features:
Stainless steel is used in this thermal flask
It is having a capacity of 350 ml
It is equipped with double-wall insulation
This thermal flask is fabricated with 18/8 quality stainless steel which makes it more durable
It is having dimensions of 22 x 8 x 24.99 cm and weighs around 290 grams

It is highly recommended for those who are looking for a durable thermal flask at an extremely affordable rate. Featuring thermosteel bottles with a separate section for sugar cubes, medications, and other items. It is composed of rust-free steel and has a copper coating that provides temperature retention for lengthy periods of time. This thermal flask keeps beverages hot or cold for extended periods of time. It has a copper covering for improved heat retention. It has sections for storing sugar cubes, medications, and other items.
Pros
High-quality material
Leak-proof
Warranty
Quite affordable
Cons
Low-temperature retention
Low capacity
Poor customer ratings
Frequently Asked Questions
1) For how long does a thermal flask keep my boiling water hot?
On average, the boiling water in a flask can be kept for around 6 hours. It will come down to a lukewarm temperature in about 12 hours. A simple rule is that a larger flask bottle can keep the water hot for extended periods.
2) Why there is a vacuum inside a thermal flask?
Vacuum is to prevent heat transfer through conduction. This is an additional method to keep the temperature of your beverage intact.
3) Can I keep milk in my flask?
Although your flask can keep your drinks cold for about 12 hours but still dairy products without processing like milk are not recommended. This is due to the risk of its spoilage. Though, you can keep cold coffee, iced tea, and others.
4) Does the thermal flask pose the risk of lead exposure?
No, for consumers' safety thermal flasks are lead-free. They do not pose any threat of lead exposure as they don't contain lead at all.
Irrespective of what kind of beverage you are taking along, the thermal flask is your saviour. Whatever you keep in a thermal flask, it will remain hot and fresh. The extraordinary temperature retention is because it has a double-layered vacuum insulation design.
No matter what kind of beverage you wish to store, thermal flasks are for all!