Little bundles of joy necessitate enormous piles of diapers. The actual problem for parents is the unlimited options in baby diapers and finding a solution that works for them. Some parents know right away that they'll appreciate the convenience of disposable diapers. And some parents recognize that the velvety sensation of cotton nappies against their newborn's skin is just ideal. Other parents, on the other hand, are in a pickle. There is no such thing as a correct or incorrect choice. What works for one person may not work for someone else.
TOP 10 BABY DIAPERS FOR NEWBORNS AND INFANTS
Type of Diapers
Diaper pants and tape-style diapers are the two most common styles. Diaper pants, as the name implies, can be worn and removed like regular pants. When it comes to tape-style diapers, the adjustable straps on both sides help alter the fit. While diaper pants are more practical, tape-style diaper pants offer a more personalized fit. As a result, it comes down to a matter of personal preference.
BEST BABY DIAPER: BUYERS GUIDE
Before you choose a diaper brand, make sure it meets the following criteria:
1) Protection Against Leakage
Other than rapid absorption, the diaper must contain a layer that evenly distributes the liquid. That helps keep the diapers from becoming too heavy and inconvenient for the baby.
2) Material
The diaper's innermost layer should comprise of thin, cotton-like material. As a result of the gentleness of the cloth, your baby will not experience any irritation or rashes.
3) Tabs
Tabs that are reusable and adjustable are ideal for rapidly checking if the infant is moist. When the baby is wet, these lines change color.
4) Pocketed Waistband
These pockets on the back panel of the diaper assist in keeping the poop contained. They can be a lifesaver if you're always dealing with blowouts.
5) Environmental consequences
Parents concerned about the environment might select a diaper created in the most environmentally friendly way possible.
6) Diaper fit
The elasticized leg openings of a diaper that is too tight might irritate a baby's skin, while a diaper that is too large can lead to leaks.
7) Wetness Indicator
Some diapers have a wetness indicator that lets you know when it's time to change the diaper. This feature relieves the parent of the constant stress of changing the baby's diapers.
8) Size
When picking a diaper, size is an important element to consider. There's a danger the diaper will leak if it's too big. Your infant may develop rashes if the diaper is too tight.
9) Ultra Absorbent Care
Diapers contain an extra absorbent layer on the crotch, reducing leaks and increasing the diaper's durability. Look for the extra-absorbent padding as well.
10) Stretchy Sides
Stretchy sides conform to the shape of the baby's body, preventing leaks. As a result, such diapers will be a better choice for your child.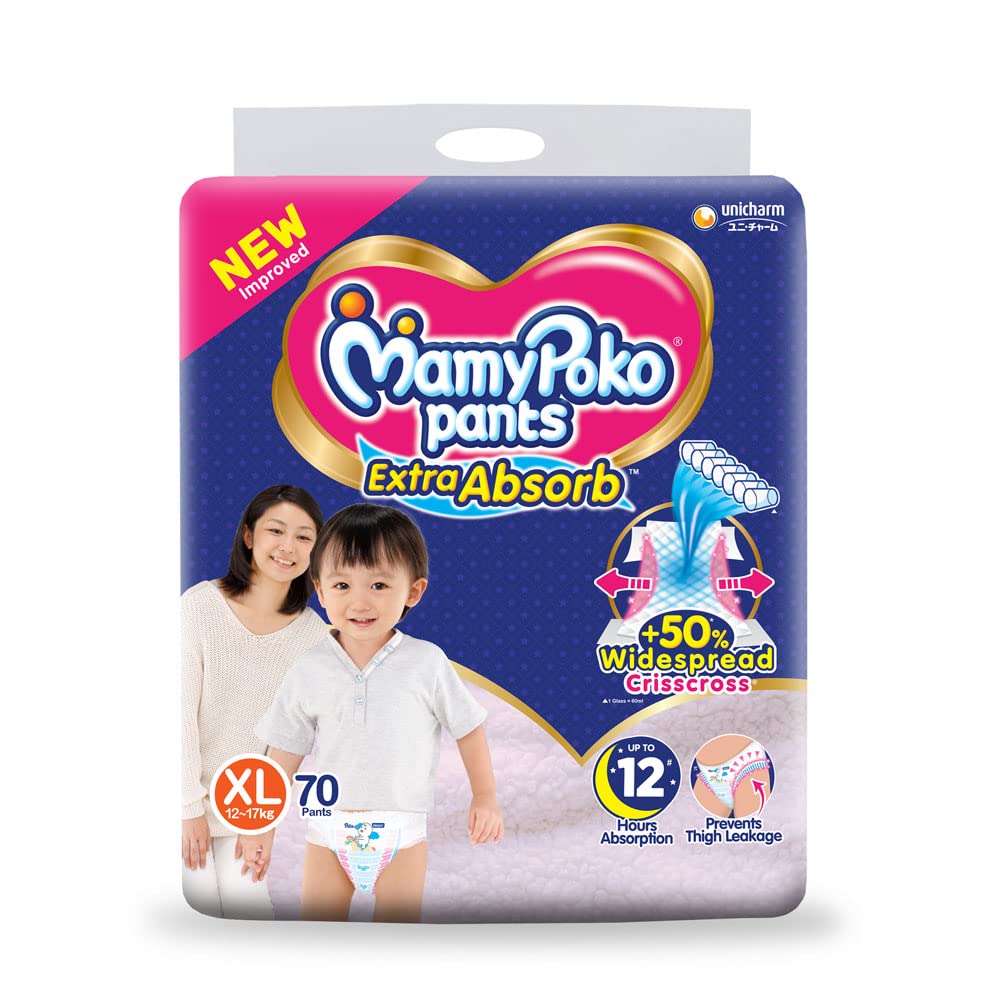 MamyPoko Pants are highly absorbent pant-style diapers that are simple to use. These diaper trousers have a crisscross absorbent material that distributes fluids evenly for faster absorption. It reduces leaking by avoiding gaps between the diaper and the baby's thighs.
In addition to that, the diaper can be removed by tearing the sides and pulling it down. There are seventeen different sizes available with these diaper pants.
Highlights:
12-hour absorption
Crisscross absorption sheet
Stretchable thigh support
It does not make the diaper heavy
Made with breathable cotton
Pros
This brand diaper is easy to pull up and discard;
The gel attraction of the diaper aids in the consumption of huge volumes of liquid while keeping the infant dry.
Cons
The diaper does not have a wetness indication.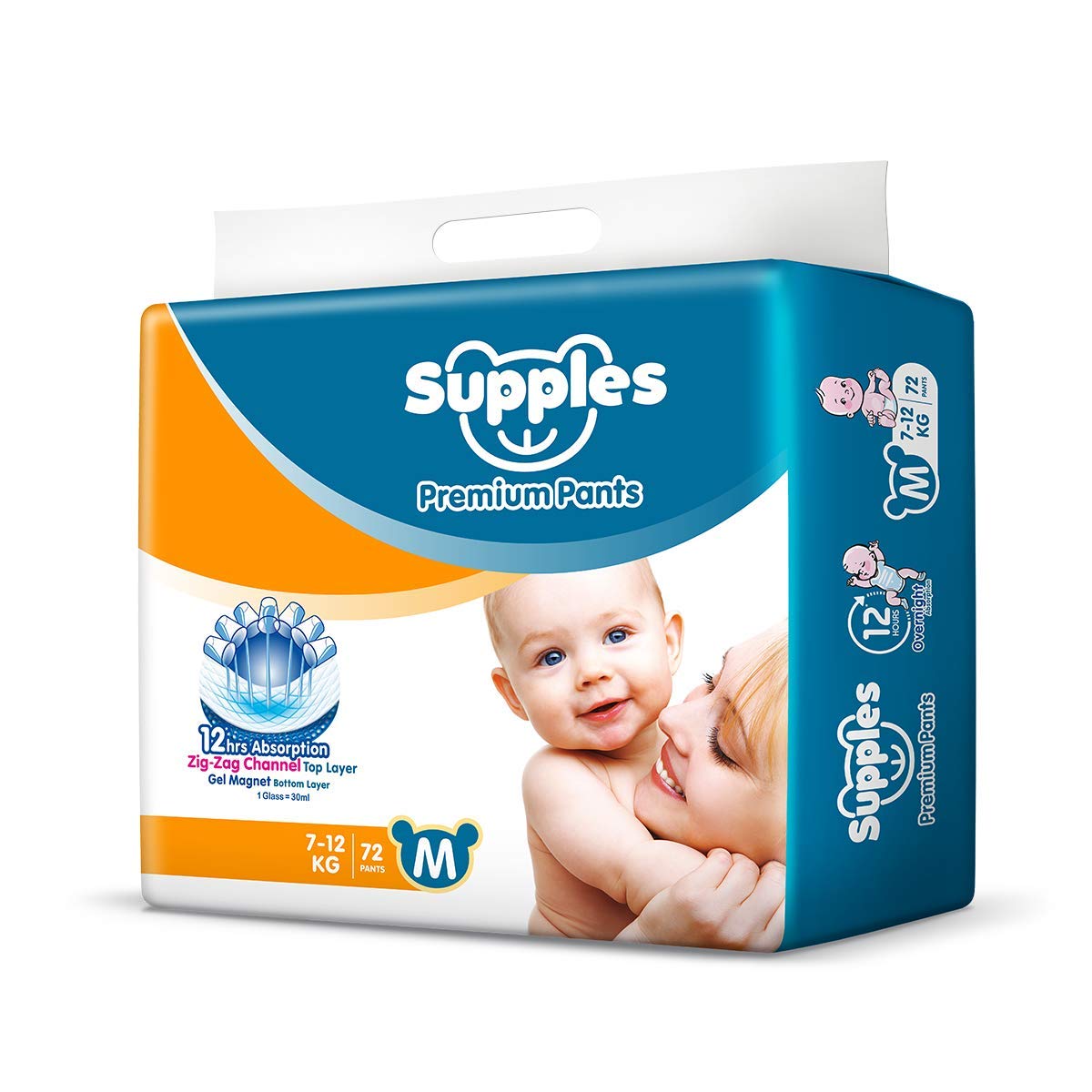 Due to the soft, breathable, and non-woven materials, these diapers are exceptionally gentle on the baby's skin—the zig-zag layer on top aids in spreading the liquid evenly and absorbing it thoroughly. For total absorption and comfort, even the bottom layer is comprised of gel magnets. It is designed in such a way that the core absorption pad of the diaper is large enough for maximum absorption, allowing the diaper to remain dry.
It is available in sizes ranging from Small to X-Large.
Highlights:
Zig-zag top layer
Gel magnets in the bottle layer
12-hour absorption
Non-woven material
Triple lock side cuffs
Rash-free
Pros
Features as gel magnet, zig-zag channel, trickle lock side cuffs
Works well to absorb liquid and avoid leakages
Superior quality material
Economical and affordable
Cons
No sealing tape to ensure proper disposal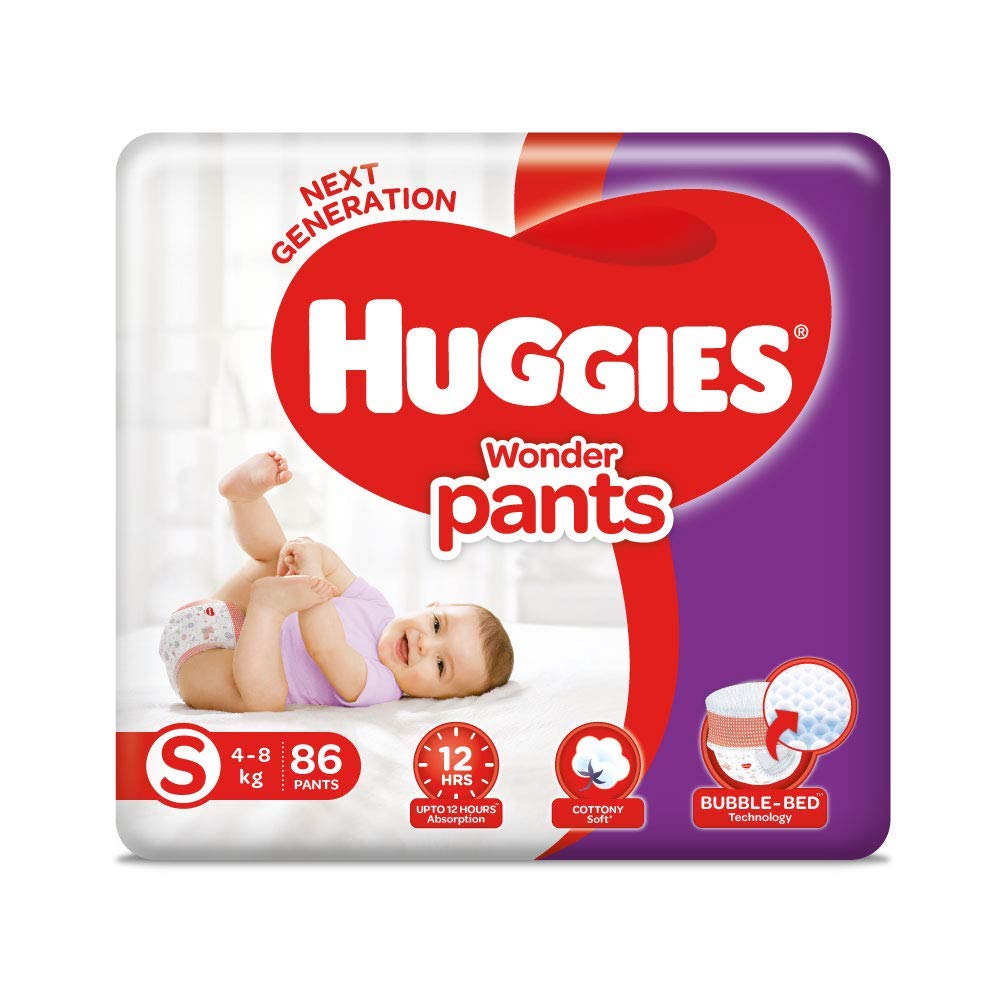 This technology disperses the moisture for speedy absorption, keeping your baby dry all day. There's a triple leak-guard on the inside, as well as extra padding on the sides. It also has an air-fresh cover that helps to prevent diaper rashes.
The minimum weight recommendation is 7 kg, and the maximum is 12 kg Sizes of the diapers range from small(S) to XXL.
Highlights:
Cushioned waistband
Triple-leak guard
Extra padding on the sides
Rash-free
Pros
Double leak-guard provides additional protection.
The pant style makes it very convenient to wear and dispose of off
Unisex diaper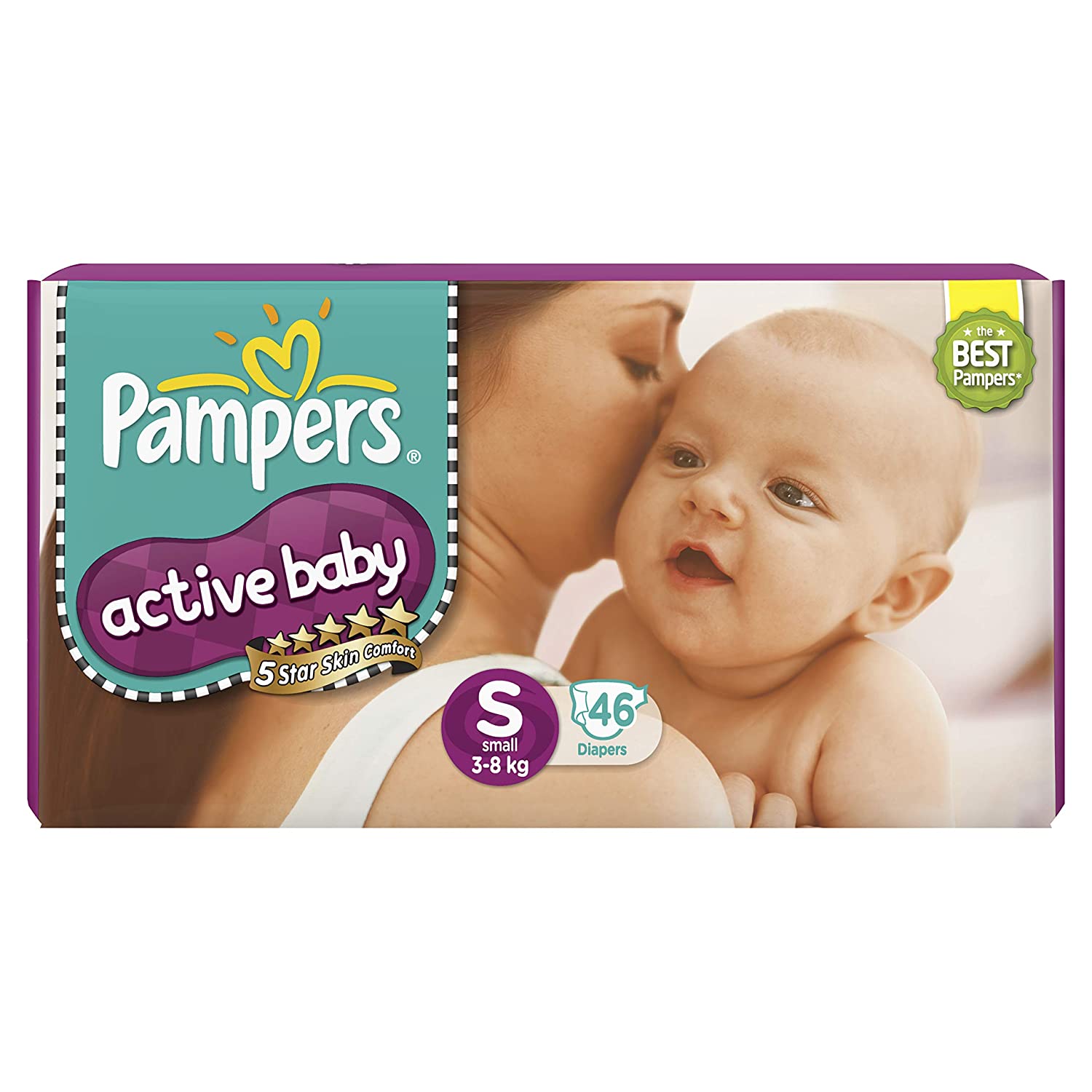 This cotton-like newborn diaper is comprised of ultra-soft material. The magic gel technology spreads and absorbs the liquid effectively and efficiently. Despite the fact that this is a tape-style diaper, it is simple to use, remove, and dispose of.
Highlights:
Tape style diaper
Custom-fit
Stretchable soft sides
Wetness indicator
12-hour absorption
Pros
Sleek, light, and the right size
It has a wetness Indicator,
Soft and stretchy sides conform to the baby's size, preventing leaks
Has many fastening and unfastening options
Superior quality and absorption capabilities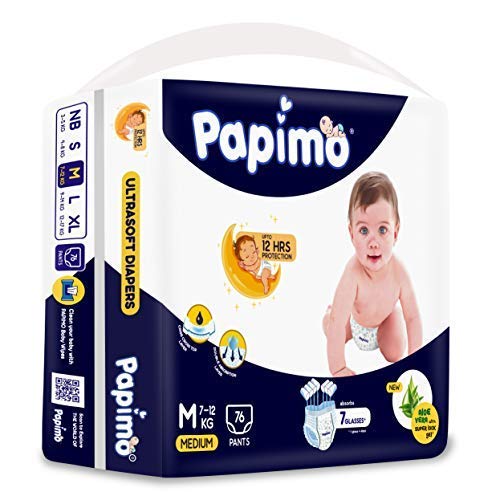 Papimo Baby Diapers provide protection and care for the babies. It is attentive to the babies' sensitive skin and its needs. They are made from non-woven, soft, and breathable material for a comfortable feeling on babies' skin.
Highlights:
Has hand sanitizer gel
The diaper is not sticky
Has a wetness indicator
Has great absorption power because of the hydrophilic gel magnets
Pros
Easy to wear and remove
Provides a snug fit and is comfortable
The goodness of aloe vera prevents rashes
Cons
Quality could have been better
Sizes differ from regular diaper sizes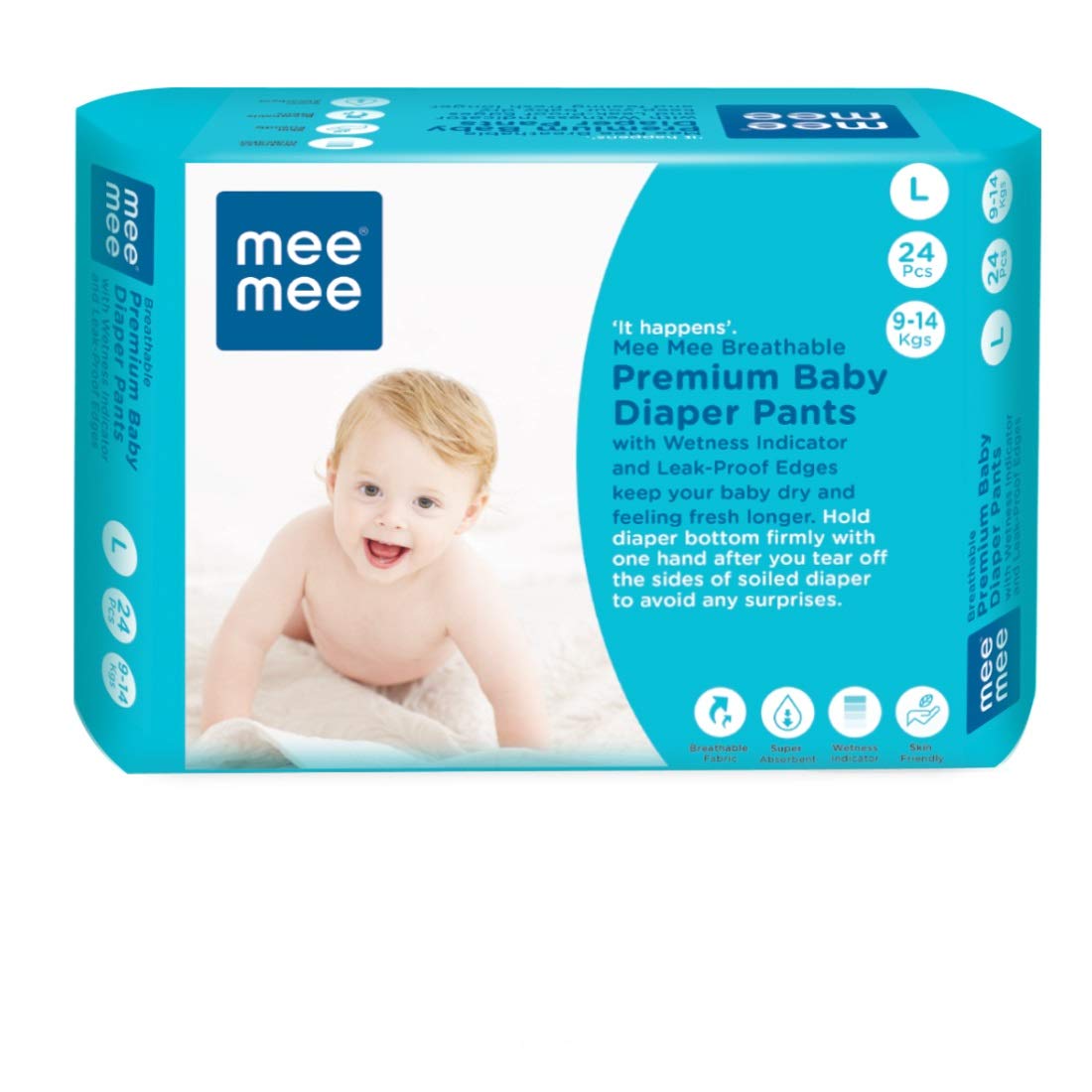 The MeeMee Premium Breathable Diapers is a disposable item that features leakproof technology. This diaper will be an excellent option for your little one because it is easy to carry and use. The baby's maximum recommended age is three months.
Highlights:
Breathable and disposable.
Made of the softest cloth-like materials available.
SAP (Super Absorbent Polymers) is used to absorb numerous wettings
Pros
Being a disposable diaper with Velcro straps, it is easy to use
Cloth-like fabric is gentle on the baby's sensitive skin, preventing rashes and itchiness
Leakproof technology is embedded to avoid leakages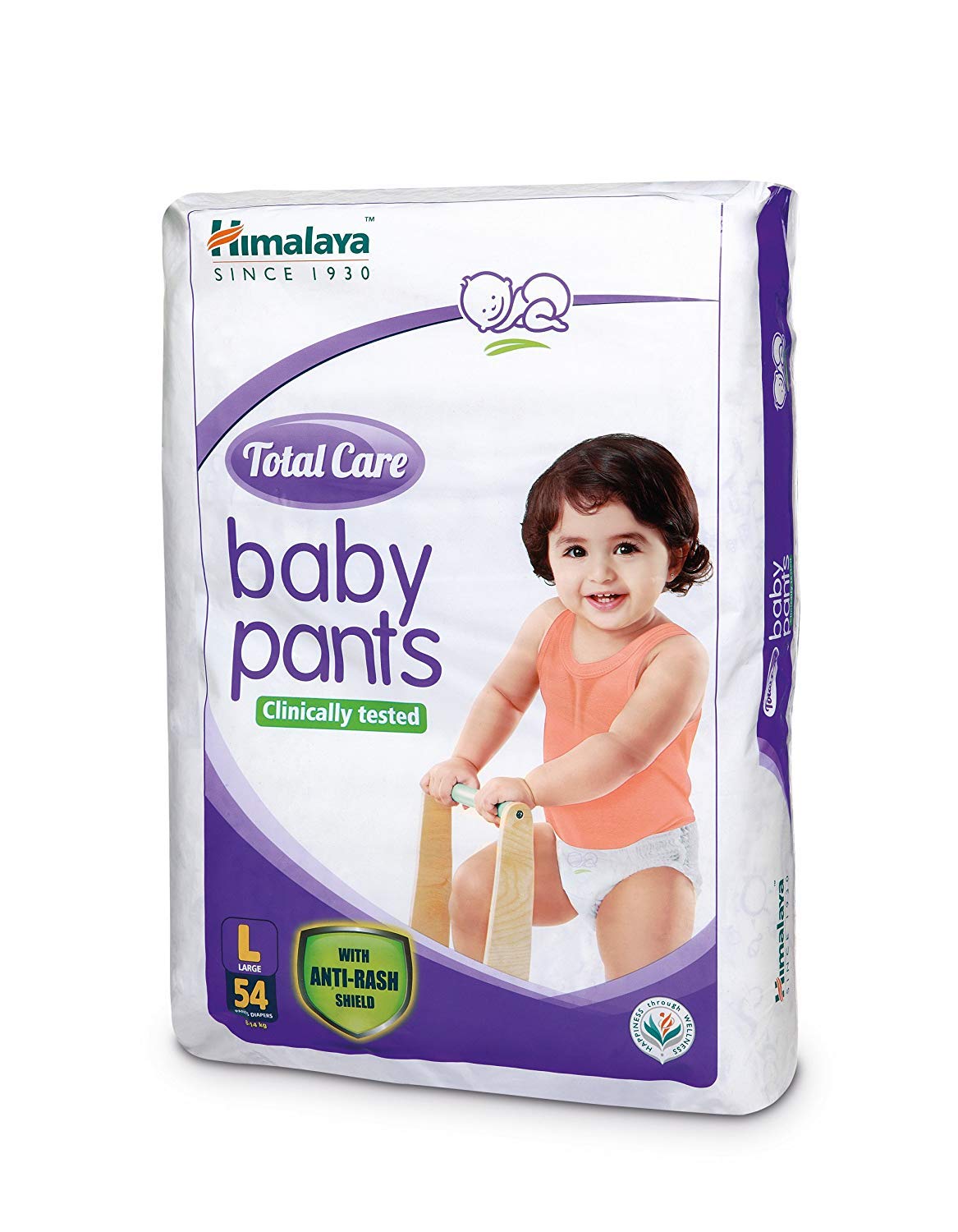 This diaper is a one-step diaper solution with total protection, comfort, and care. The product is enriched with herbal products that offer premium comfort and extra protection to babies with sensitive skin.
The product is available in sizes ranging from small to XL.
Highlights:
Anti-rash shield
Wetness indicator
Side elastic edges for leakage prevention
Recommended by doctors
Clinically proven
Easy to wear
Pros
Different natural powders are present
Material is leakproof.
Forms an anti-rash shield
Easy to wear and remove
Cons
The herbal components might be unsuitable for some skin types
A bit expensive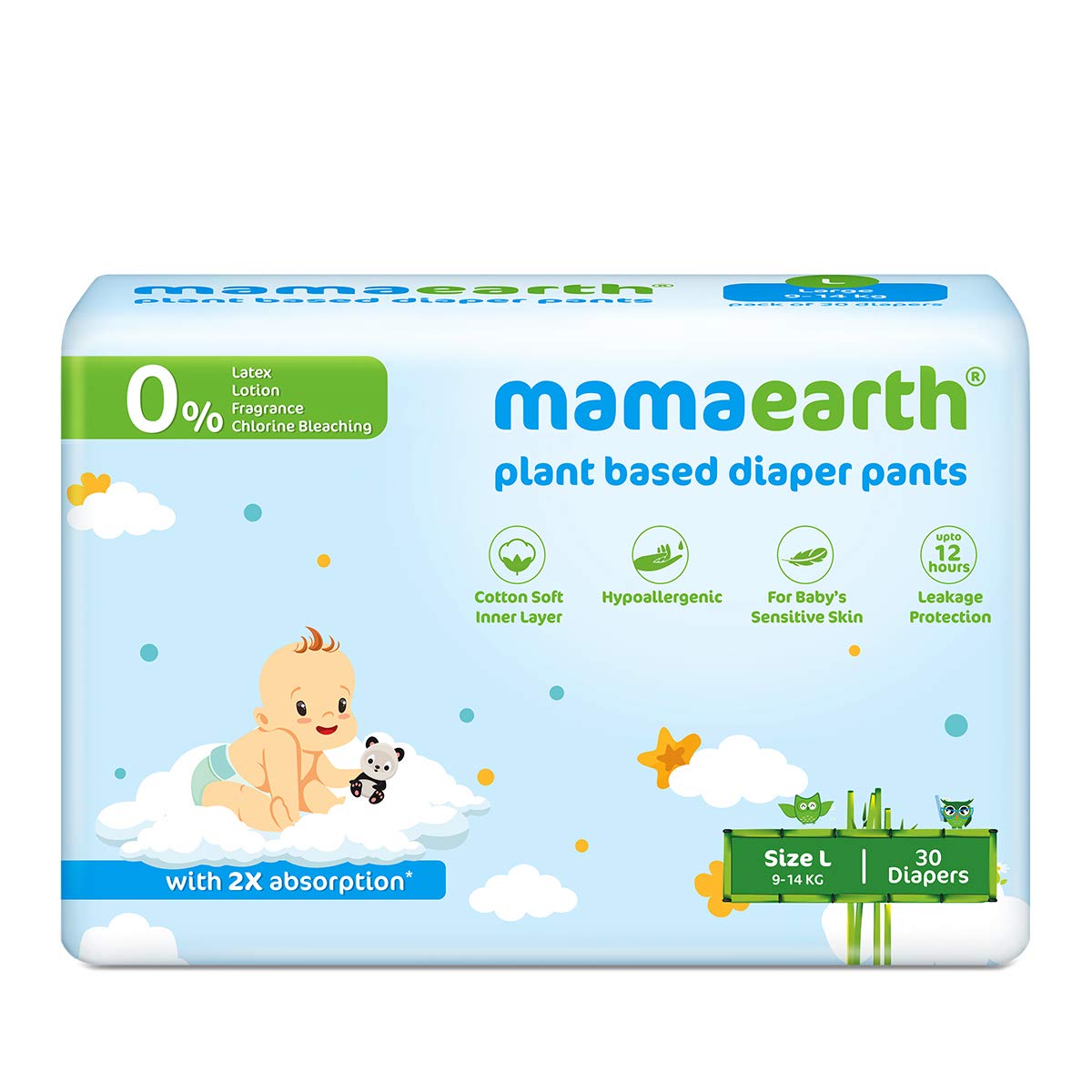 Based Diaper Pants are pleasant on both the baby's skin and the environment! Latex, scent, chlorine, and petroleum-based lotions are not present in this diaper. It is entirely organic and made of maize starch. Because of its multi-layer design, it is very absorbent.
For babies 7-12 kg
Highlights:
Free from chlorine bleaching, petroleum-based lotions, fragrance
Multi-layer absorbs two times more to lock in moisture
Pros
Super- absorbent
Easy to use
Causes no irritation
Chemical-free
Cons
Lacks a wetness indicator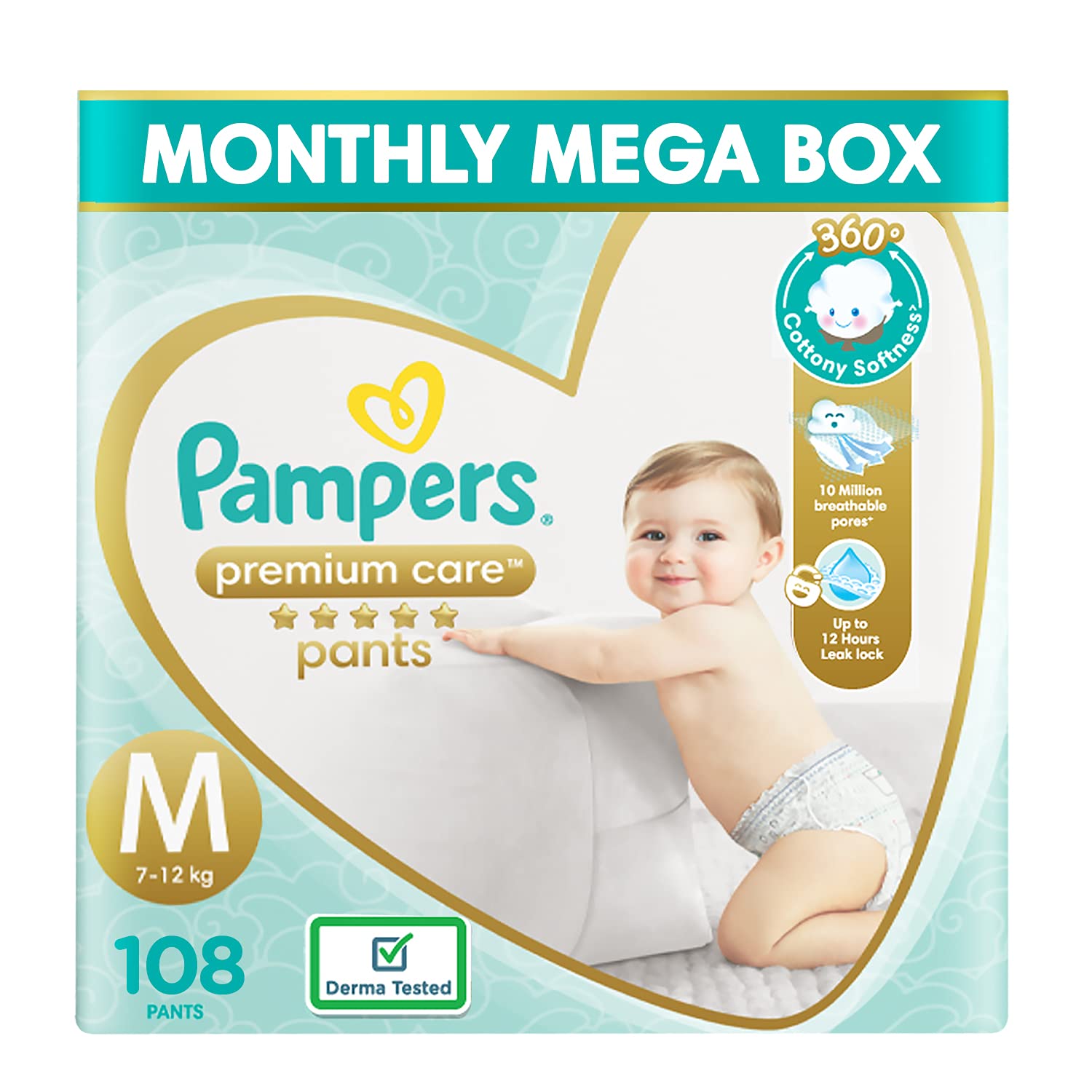 These diapers are made from silky soft materials and filled with a mild baby lotion to give a moisturizing effect, reducing the risk of skin irritations. Its S-Curve design is meant to protect the baby skin from friction movements, while the three air channels help the baby skin to breathe adequately.
Highlights:
Fresh and improved cotton-like softness for a more comfortable fit.
The three air channels keep the skin breathable
The wetness indicator changes color
A relaxed fit that adapts to movement
Best For Newborn babies up to 5Kg

Pros
It has three absorbing channels
Wetness Indicator for the diaper change
Tape for easy disposal
Cons
Likely to leak within 5-6 hrs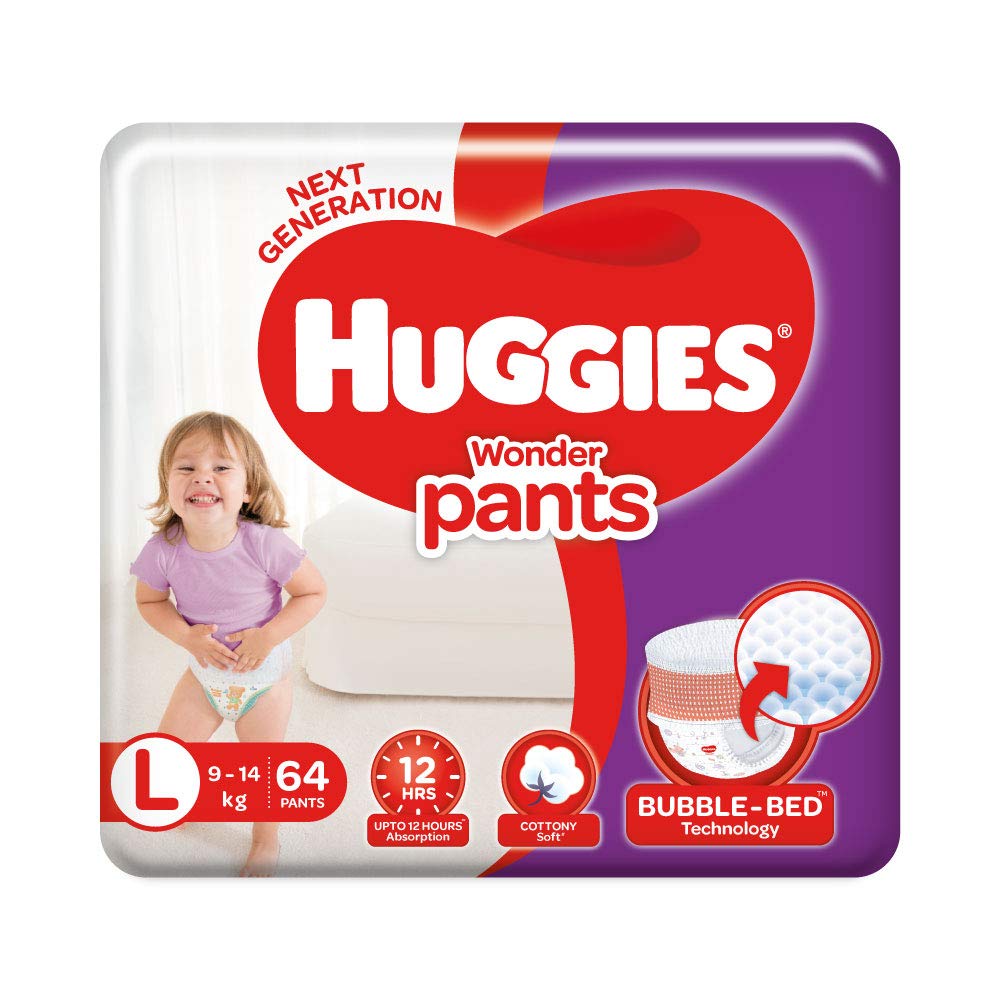 Baby hug advanced soft diaper pants are composed of a cottony-soft, breathable material that protects the baby's delicate skin. The incredibly flexible elastic moulds to the shape of a baby's waist, ensuring a secure fit! Honeycomb layers in these diapers aid in rapid urine absorption and provide up to 12 hours of dryness.
These diapers are entirely leakproof, come in a variety of sizes, and fit pleasantly.
Highlights:
Honeycomb Layer aids in even liquid distribution
Absorption AD Layer instantly guides the liquid downward
Active Gel rapidly absorbs liquid
Anti-Rash Shield prevents the risk of diaper rashes
Aloe Vera allows moisturization
Pros
Anti-rash shield
Completely leakproof
Fits perfectly
Made out of breathable fabric
High Absorbency
Cons
One cannot use this diaper overnight
Microfibre insert takes a long to dry
Frequently Asked Questions On Baby Diapers
1) What is the best way to use diapers?
It is recommended that diapers be changed every 2-3 hours. More than that can cause a rash on the skin of newborns.
2) How should a baby's diaper fit?
On the waist and just below the belly button, the diaper should be snug. It should not leave markings on the baby's skin that indicate the diaper is overly tight.
3) How long can a size one diaper be worn?
Size 1 diapers are for babies weighing up to 7 kg. When babies are 3-4 months old, they attain that weight.
4) How do you figure out what diaper size your baby requires?
Their age and weight determine the size of the baby's diaper. Let's take a look at the size based on the baby's weight.
4-8 kg: Small
7-12 kg: Medium
9-14 kg: Large
12-17 kg: X-Large
5) What is the best way to tell if a diaper is wet?
If your child is weeping, pay attention to it. Jiggle the front area of the diaper with your hand to see whether it moves. The diaper is damp and needs to be changed if it moves in a jelly-like manner.
6) In a day, how many diapers should I use for my baby?
Newborns will need to be changed six times every day.
7) How Do You Choose the Correct Diaper Size?
Since each style of diaper fits differently, it's a good idea to try on a few different types before investing in those mega-packs. A well-fitting diaper will:
Grasp your baby's belly button just below the navel.
symmetrically fasten on both sides
Fit snugly without digging into your baby's skin while also allowing them to move freely.
While it may appear that picking the appropriate diaper is simple, there are other variables to consider. Baby's health, budget, convenience, lifestyle preferences such as environmental consequences are all things to consider when choosing a diapering system.