For a very long time, Samsung worked on perfecting and launching the world's first ever foldable smartphone. Along with Samsung, we saw other major smartphone companies also join the bandwagon of designing foldable phones. After years of waiting, Samsung finally launched its foldable smartphone in the form of the Samsung Galaxy Fold. It became one of the world's first foldable smartphone to make its debut. In technicality, the Royole FlexPai was the first foldable smartphone to make its appearance in January during the CES. However, this is not all! OEM's like Huawei, Motorola, Xiaomi, Oppo and even Apple are working on their own foldable smartphones. Without a doubt, we are going to see a few more foldable devices make their appearance this year. This is where the question arises – are we ready for foldable smartphones?
The smartphone industry has developed tremendously over time. From just being basic devices only used for calling and messaging, the smartphones of today can pretty much do everything. From thick bezels, we are now offered bezel-less display mobile phones. Additionally, from extremely bulky devices, the current day smartphones are lightweight and easy to carry around. With such amazing growth in mobile innovation, do we really need the folding form factor? To make things clearer and to answer that question, let's take a look at the pros and cons surrounding foldable smartphones.
The Case 'For' Foldable Smartphones
1. Ease of Flexibility
One of the major advantages of foldable phones is their flexible form factor. Depending on the design, these smartphones come with two or three folds. Basically, these folds make it convenient for a user to fold and use the device as a smartphone or to open it and use it as a tablet. Foldable phones have definitely made it easier to carry around tablet-sized devices in the pockets. Additionally, such devices also make multi-tasking seem incredibly convenient. Moreover, with the form factor of a smartphone and tablet, users can make extreme use of foldable phones anytime and anywhere.
2. Bigger Form Factor
The latest mobile phones can pretty much do everything that we require from them. However, most of the times we switch to our laptops majorly because of bigger screen space. Foldable phones solve that problem altogether! Users can open up their foldable smartphone and make use of the large display. Currently, most of the newest smartphones offer multi-tasking window which allows users to use two apps at the same time. However, the small screen space makes this usage extremely uncomfortable. With foldable devices, the split screen feature can be used to display two different apps at the same time. Additionally, the large screen space will also make it convenient for users to play games, watch videos, or just multitask.
3. Space for Hardware
You must have noticed that the design and features of smartphones keep getting better and better. However, there is a fall back when it comes to hardware specifications. People still complain about smaller batteries on their smartphones. This is mainly because as smartphones get slimmer, designing big battery mobile phones gets difficult. Foldable devices are going to be thicker than regular smartphones. This means manufacturers can add more hardware components to these devices. Manufacturers will find it easier to add bigger batteries and powerful processors on foldable smartphones.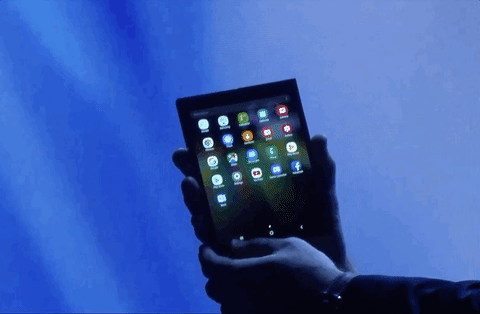 Gif Source: Giphy
4. Amazing Single Camera Setup
Camera has been one of the most coveted features for users who are looking for a new smartphone. With the ongoing trend of selfies, good selfie camera mobile phones have been on a rise. With foldable smartphones, users will just need a single exceptional camera for all their photography needs. A foldable smartphone will allow a single sensor to act as the front and the rear camera. Users will be able to fold their smartphone to either click a selfie or a normal picture, depending on which side they fold their smartphone too.
5. Superior Performance
There is a lot of scope for foldable phones in terms of performance. As the hardware gets better, there is scope for superior performance. With more storage & RAM, bigger batteries and powerful processors – these devices are sure to offer exceptional performance. We might also get to see the 5G network soon make its way on these foldable phones.
The Case 'Against' Foldable Smartphones
1. Expensive Price Tags
The Samsung Galaxy Fold launched with a whopping price tag of $2000 (Rs 140,790). It is safe to say that this device does not come affordable. Even the other foldable phones that will launch later in the year will most likely cost just as much. If you want to own a foldable smartphone, you have to be prepared to shell out money. These foldable mobile phones that will launch this year will come with high-end specs and features. Being the first few devices in the foldable category, they are sure to be pricey.
2. Prone to Errors
We are going to be seeing foldable smartphones for the first time ever. This makes them more susceptible to problems and errors that even manufacturers must not have thought of. For instance, recently Samsung shipped a few models of its Galaxy Fold to reviewers and gadget enthusiasts. Most of the review units experienced display failure just a day or two after being delivered. Some reviewers experienced display failure, while some experienced constant flickering. The Galaxy Fold display breaking was something that Samsung had not expected.
This issue was mainly because reviewers removed the protective layer on the display that they weren't supposed to. However, being the first-gen foldable devices, we can expect more such errors. To be fair, errors are common especially when new innovation and technology come to life. However, it will take a while for manufacturers to perfect their folding devices.
3. A Heavy Device
While better specs and features are definite advantages, there is no hiding the fact that better hardware specs and features will make these devices bulky. Additionally, these big screen mobile phones also add on to the overall weight. So, if you are planning to invest in a foldable smartphone, be prepared to carry around a bulky device.