Unicorns have always been a beloved element of childhood. They generate a sense of enchantment and awe. It's understandable that they'd be popular with kids, especially those who are artistic or have a strong sense of whimsy. People have long pondered about why girls love unicorns. Girls' interest in these animals is more than just about power – these animals stimulate girls' imaginations. They're all active, sources of energy, motion, and transformation. They appear delicate yet are ferocious. They have a horn that protects them against poison. They have the head of stag, elephant-like paws, and, boar-like tail. They have survived in culture because they are simply too beautiful and rarely forgettable.
There aren't many creatures like the unicorn, who have served as a symbol of Christ, a panacea, and a fashion accessory all at the same time. Unicorns come in various types of toys and stationery which fascinates girls and even boys to a larger extent. There's something for everyone here, whether you're looking for the ideal stuffie, a fun project, or a fantastic unicorn figurine. Let's have a look at their interesting existence and history.
Popularity of Unicorns
Unicorns are everywhere if you're a youngster. They're unavoidable if you're a girl. They're also making inroads into popular culture. The unicorn inflatable was the summer's most famous beach item. This year, Starbucks introduced the Unicorn Frappuccino, and rainbow-hued unicorn toast and pastries have become popular. Unicorn hair, unicorn nails, and Unicorn Snot, a glittering body gel, are all available in the beauty section.This trend isn't just a gimmick, either. The value of a unicorn – as a rare and magical creature – has led to the employment of many in a start-up valued at more than $1 billion. As a result, the unicorn has had monetary worth for millennia. For many kids, it is a healing remedy or cuddly toys.
Top 9 Unicorn Toys for Girly Fun
Top 9 Unicorn Toys for Girly Fun
Here are the top selections for the most fantastic unicorn toys for kids of all ages, whether it is to gift for a baby shower party, birthday party, or preparing the child to be a fairy-tale dressage champion.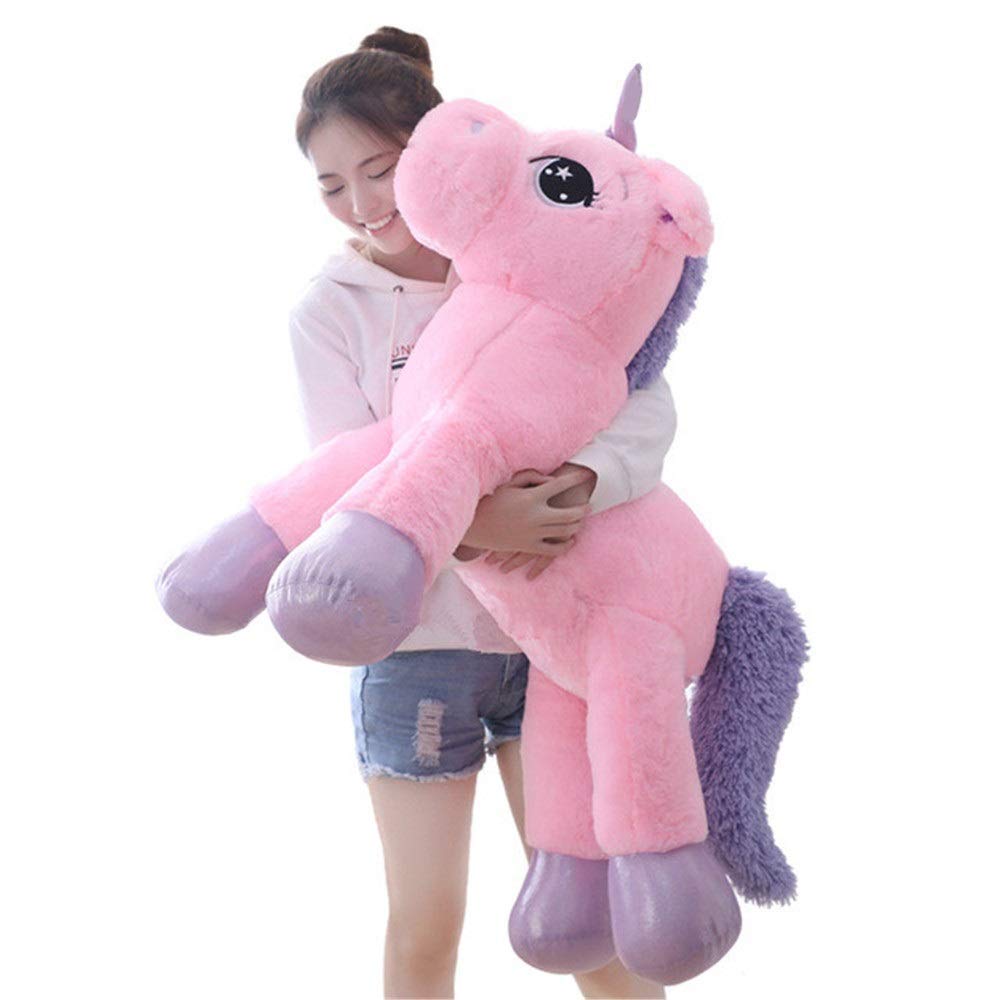 Spark the little one's imagination with this large, one-of-a-kind stuffed animal, allowing them to have their very own life-size unicorn friend. Everyday use as a toy for imaginative play and a pillow for television, bed, or travel time will appeal to children of all ages. To wrap their arms around and play with this magical playmate is a feeling that makes them go oh-la-la, making it an ideal gift for birthdays, holidays, and more. A sparkly, colorful horn with matching hooves and bandana adds excitement and character to any kid's room or playroom. Ideal for fun and relaxation, this adds excitement and character to any kids' room or
playroom.
Light weight, soft, and easy to carry
Attractive, colourful vibrant looks
Perfect gift for kids, birthday gift, or decorative home
The ultra-soft plush is ideal for snuggling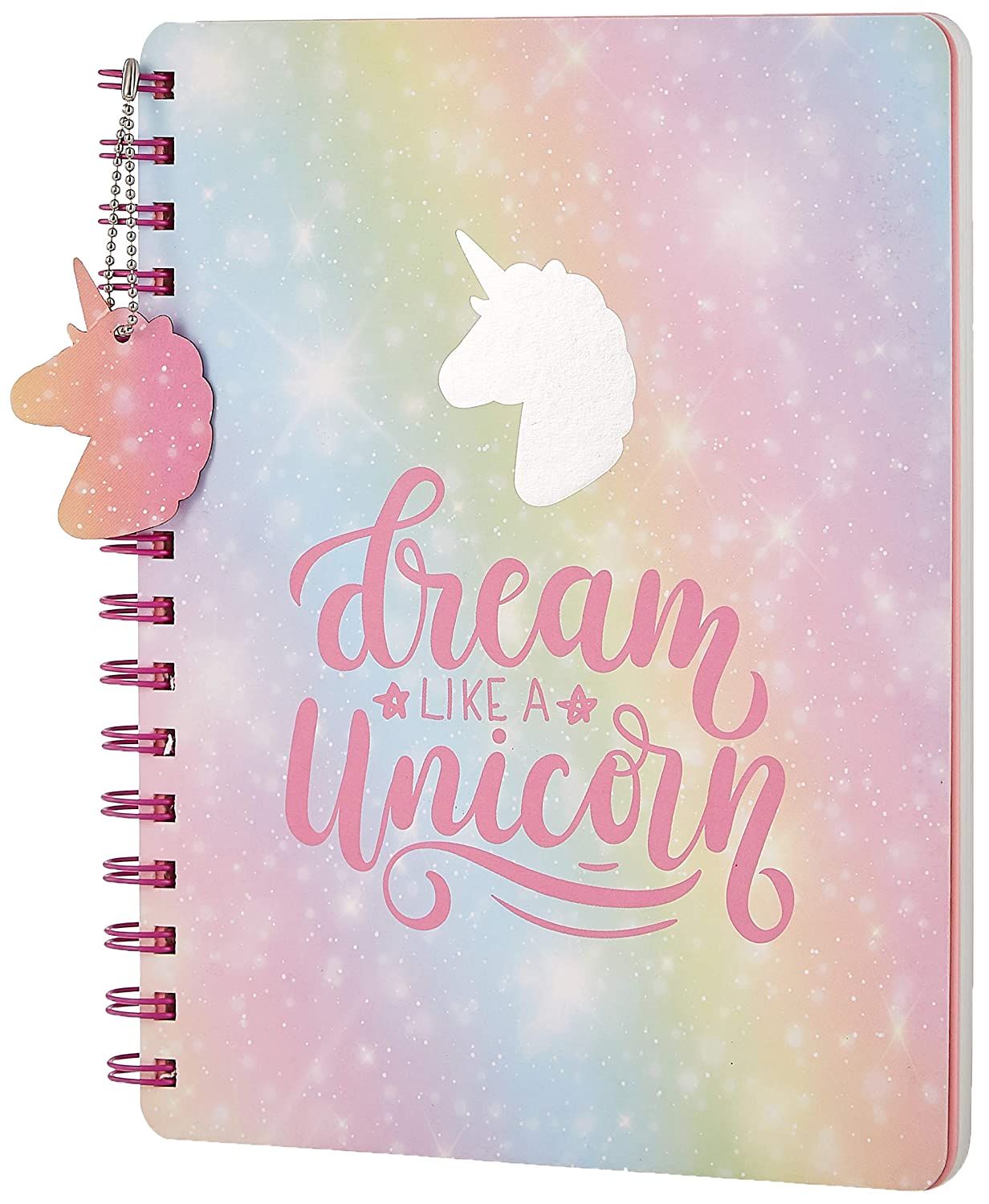 Kids always hope to have a particular journal to write their thoughts, dreams, and secrets. This cute unicorn notebook is the best partner and recorder for every kid; they can write all their stories and emotions in it. The distinct design is bound to appeal to young girls. It is a perfect stationery item for writing, sketching, drawing, sticking photos, doodling, coloring, writing down valuable thoughts, fun experiences, and memories.
Notebook for school, college, and home learning activities
Hardcover and wire bound
80 GSM, 160 ruled, non-dated pages with colored end pages
Comes with a paper dangler that can be used as a bookmark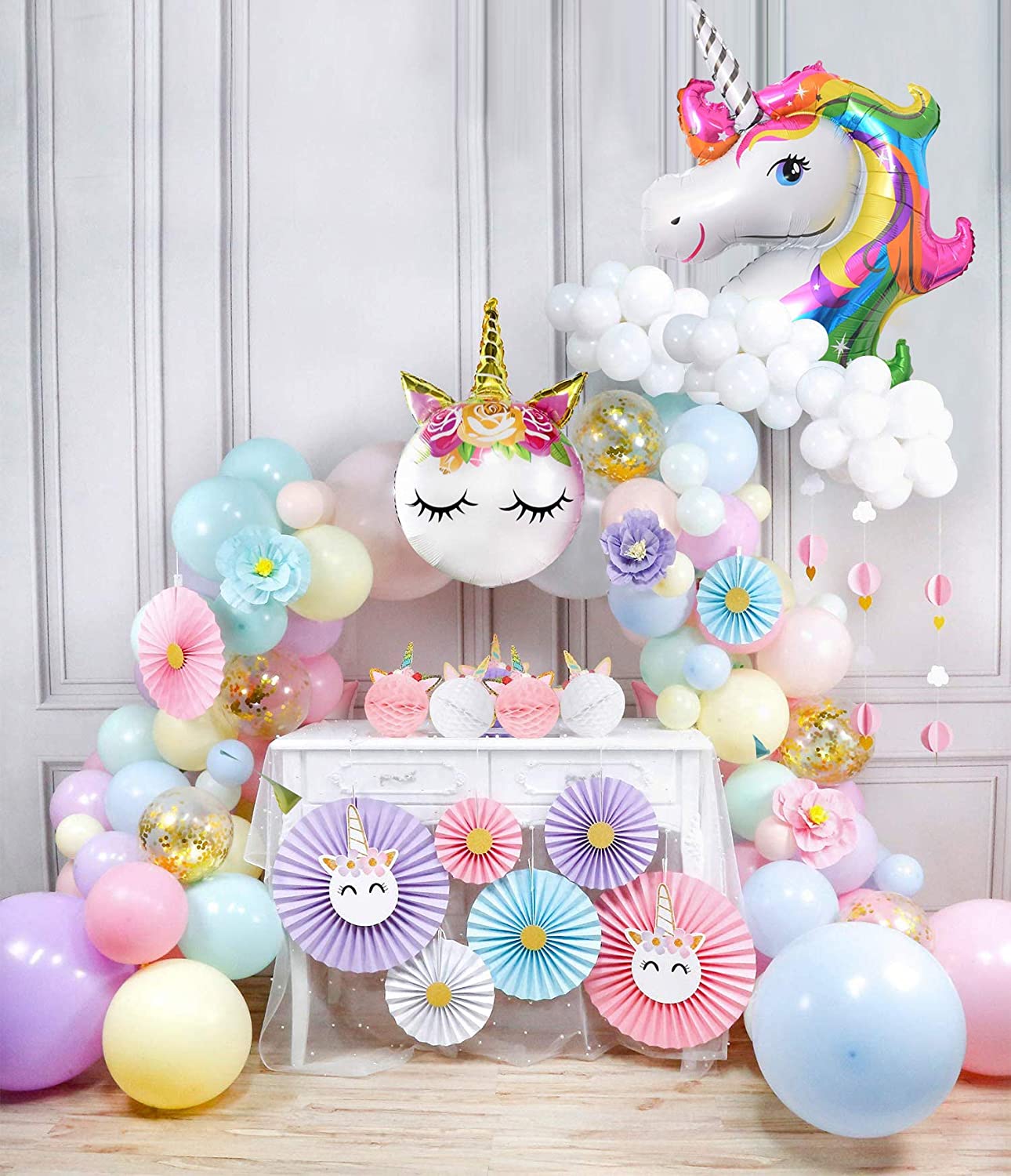 Is the little girl's birthday approaching? Make the entire party planning experience less stressful and more enjoyable by shopping for supplies. The unicorns-themed party kit will undoubtedly woo the little girl and her guests while saving the organizer time, money, and stress shopping for individual things. This party set has everything one would need for a memorable celebration at a low price!
1 unicorn head balloon, 1 unicorn round head foil balloon, 25 5″ white latex balloons, 8 unicorn paper fans, 1 18″ blue balloon, 1 purple balloon 4 pieces of star confetti, 50 pieces of 10″ maca balloons, 1 piece of glue dot, and 1 piece of balloon arch
Made of high-quality Unicorn paper, folding fans are convenient, long-lasting, and reusable
Hanging strings and sticky tape are included
Balloons are long-lasting and 20% thicker than typical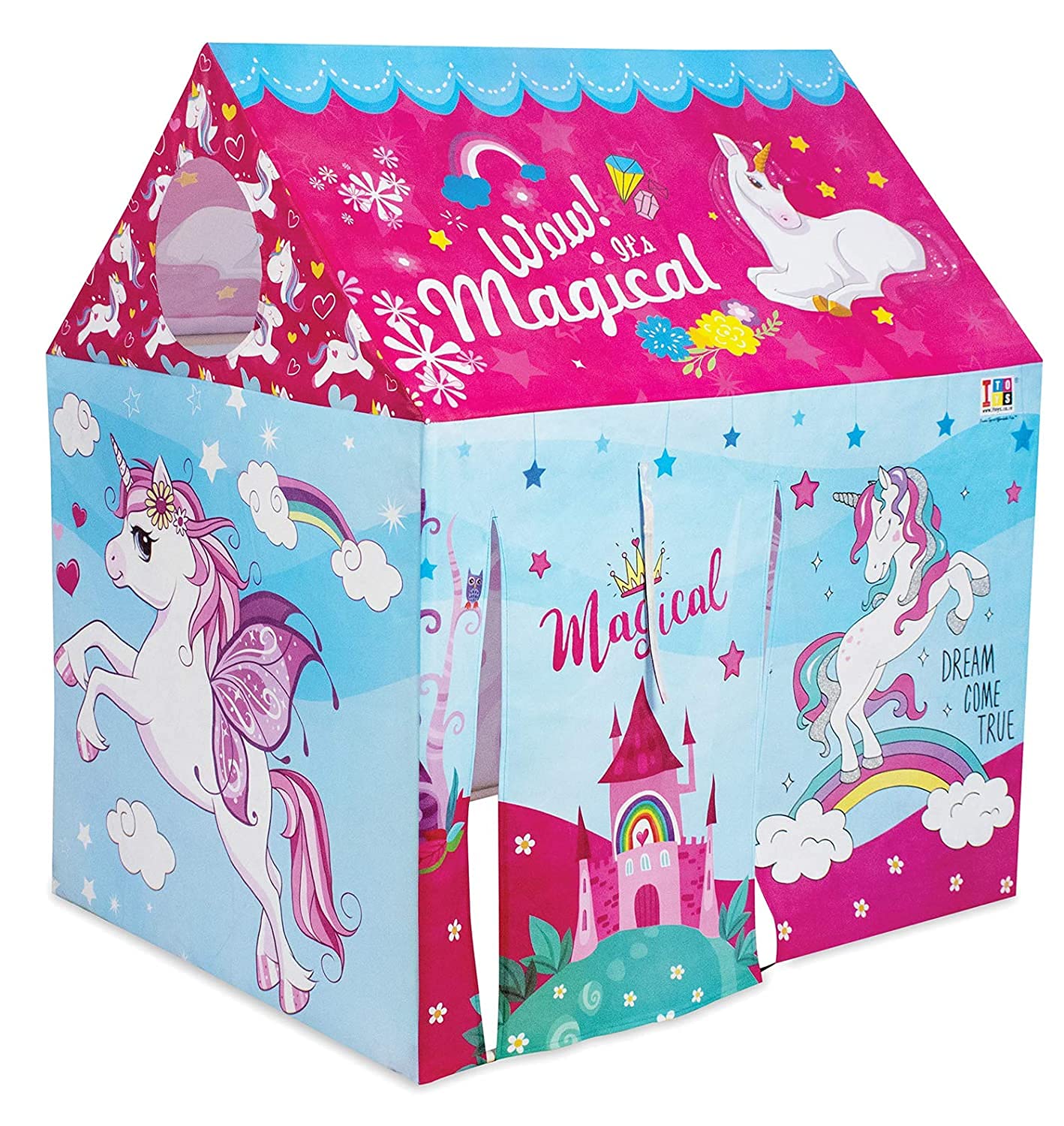 A cute little play castle is the perfect home away from home, offering a comfortable shelter for kids for adventurous and fun playtime that also encourages role-play. This unicorn play tent makes for a beautiful voyage through magical forests, mountains, fields and is complete with bright artwork of the mystical land of unicorns, rainbows, and glitter. The girls' play tent is safe and durable for both indoor and outdoor use. This toy also encourages role play and fine motor skills.
Made in India and BIS approved
BIS approved (ISI)
Quick and easy to assemble
Sets up in seconds! The castle folds flat when it's time to clean up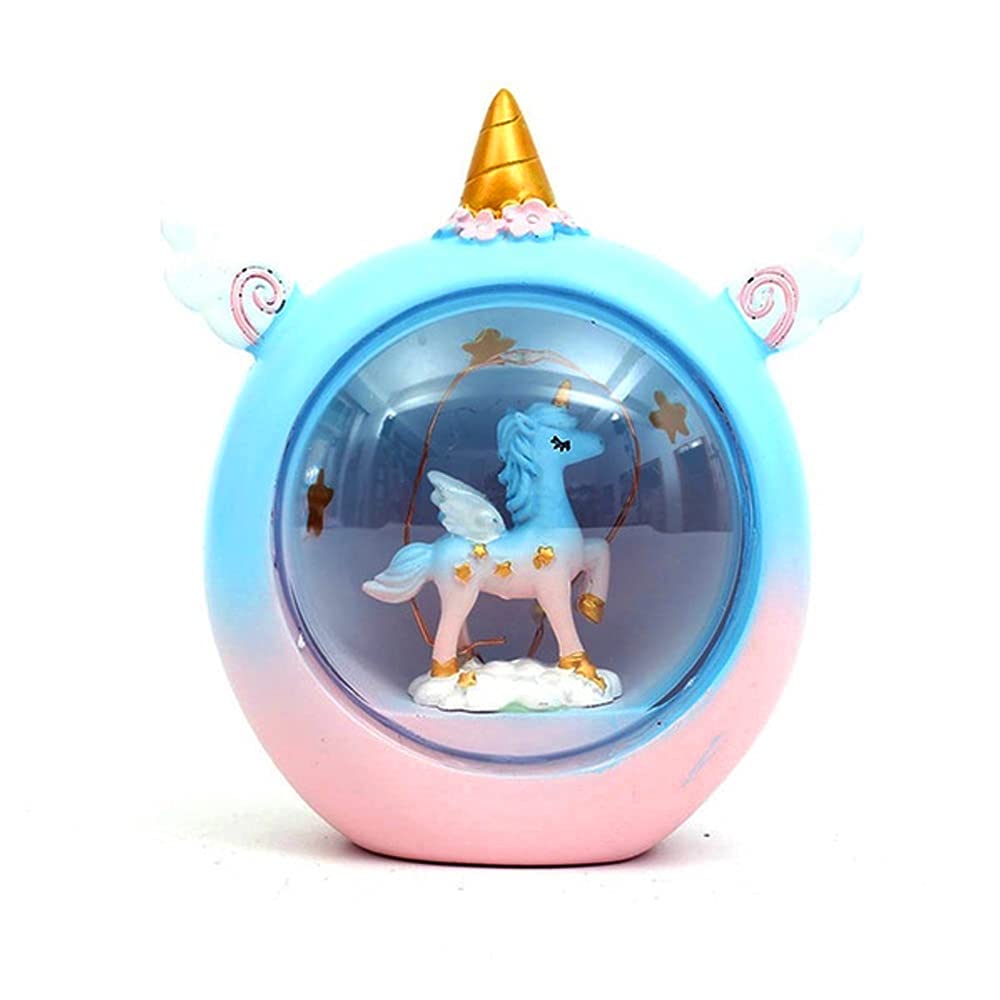 Imagine her reaction when she opens her unicorn dream box and sees a magical unicorn nightlight. It's not just a girl toy; it's also a lovely unicorn decor that will perfectly match her unicorn toys and other girly items. It is indeed a wish true for every girl! A brilliant combination of unicorns and nightlights with all of the elements that girls adore!
LED night light, eco-friendly and energy saving
Made of premium synthetic resin material
Very comfortable and safe to use
Best choice for kids night lighting, as well as a pretty room decoration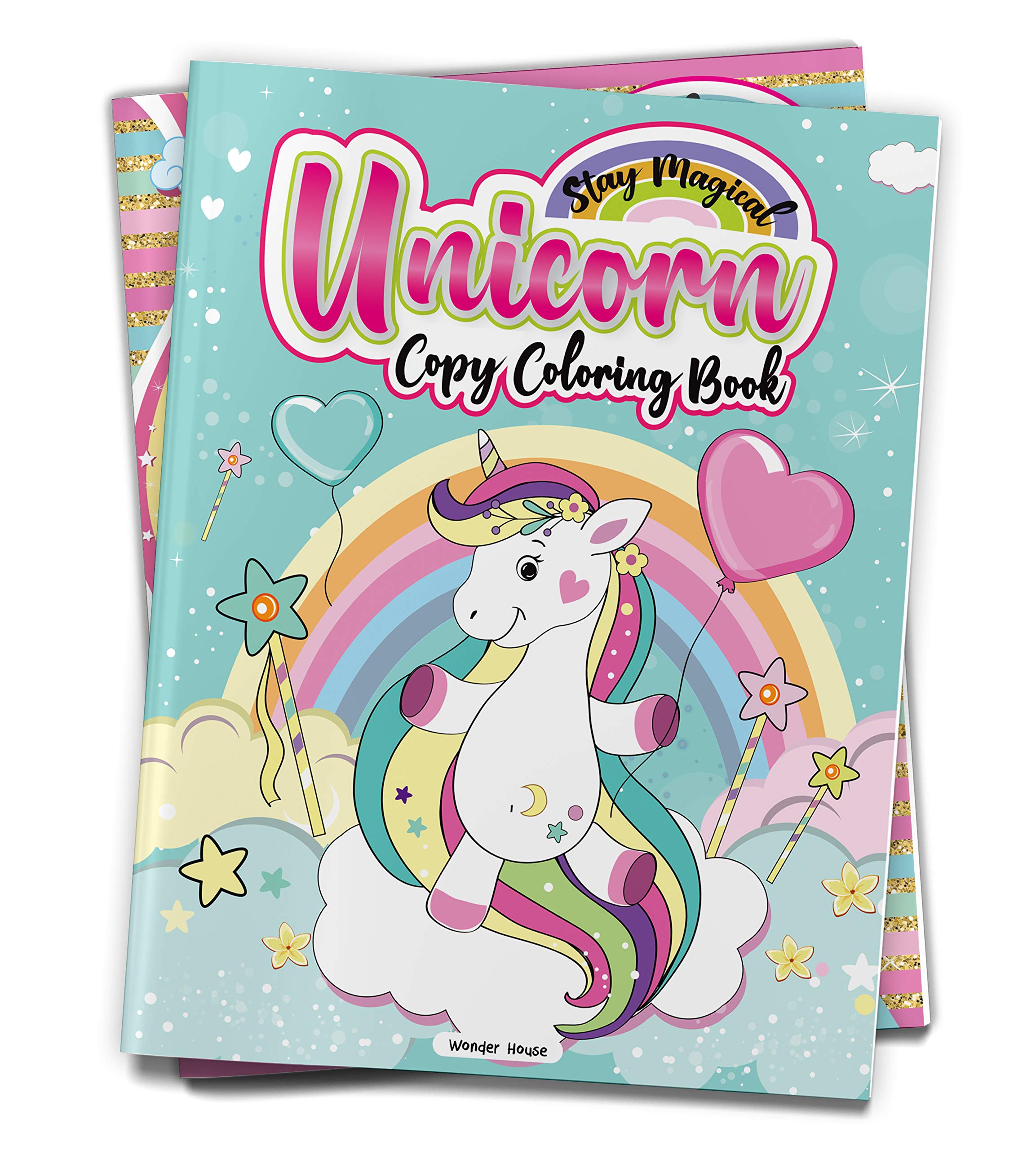 Inspire young imaginations with these toddler-approved coloring pages, which are perfect for unicorn fans of all ages. These unicorn coloring pages for kids can be colored with crayons, colored pencils, or markers, making them the ideal unicorn present for young children who appreciate art projects and mythological creatures. Coloring in these fascinating illustrations will spark the child's imagination and encourage them to be creative. The white, strong paper can withstand a range of coloring tools children use to embellish their masterpieces. Take the book on the go or keep it at home for rainy days.
Copy color option works as a guide for little children
Great way to enhance motor skills and creativity suitable for young kids
Age-appropriate activities, magical illustrations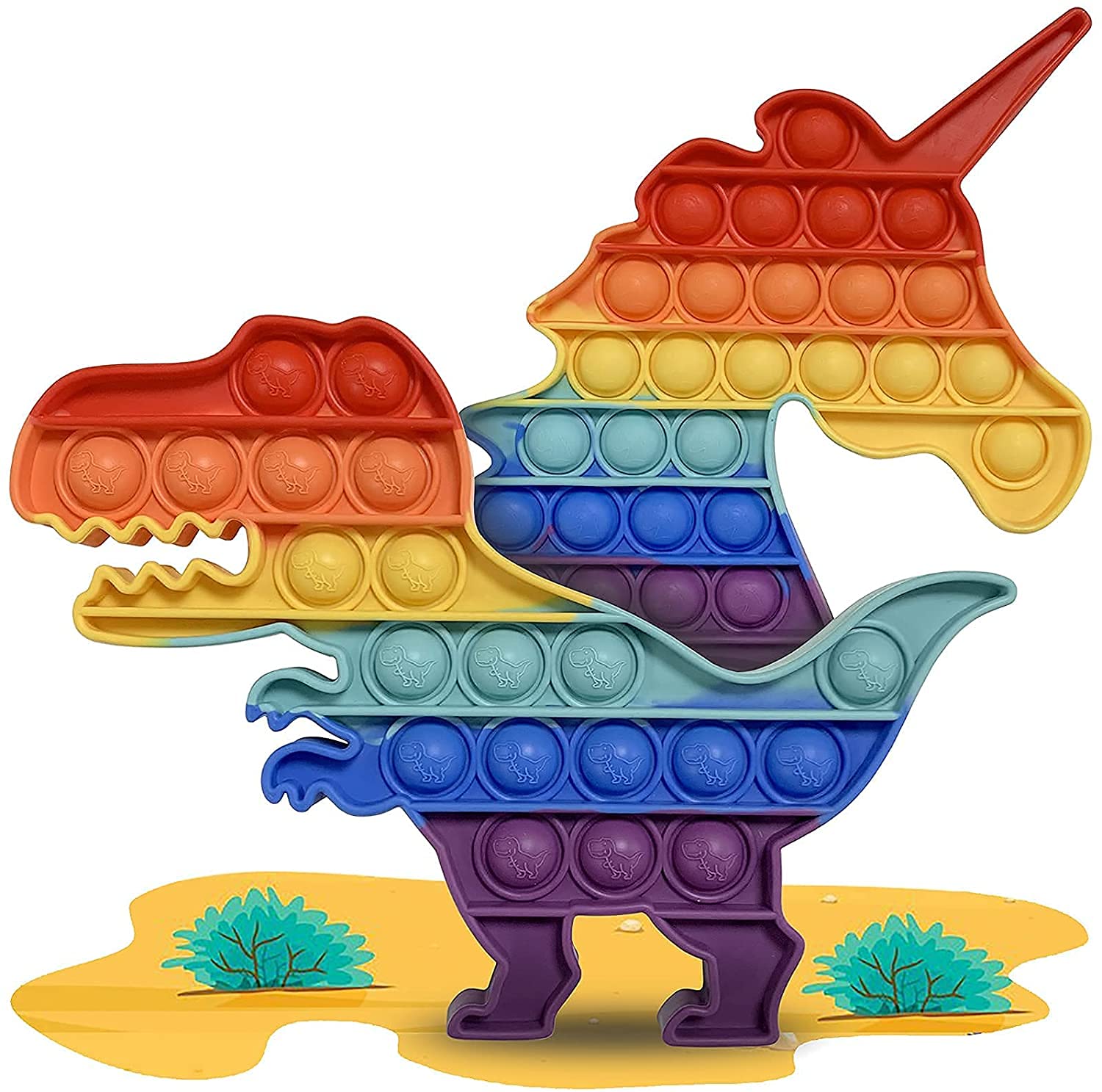 Have you ever caught your child, or perhaps yourself, popping a package's bubble wrap? Then you'll love these bubble fidget toys. The fidget toys have a quiet side and a loud side, and the sound of pressing and popping can effectively release muscle tension and work off nervous energy. The portable, lightweight push pop sensory toys have compact sizes and are very easy to carry around with you to play anywhere, anytime. Perfect for most occasions, such as travelling in a car or on a plane, camping, on the beach (they're waterproof!), or for office, school, restaurant, playground, and more. Simply unlimited uses with endless fun!
Children's mathematical thinking, reasoning strategy, mental arithmetic, logical thinking, and fine motor abilities are all aided by fidgeting. It may be played with a number of different rules. It will successfully ease anxiety and tension while also restoring one's mood.
Safe and durable for children
Simple to clean and use
Effective as an anxiety reliever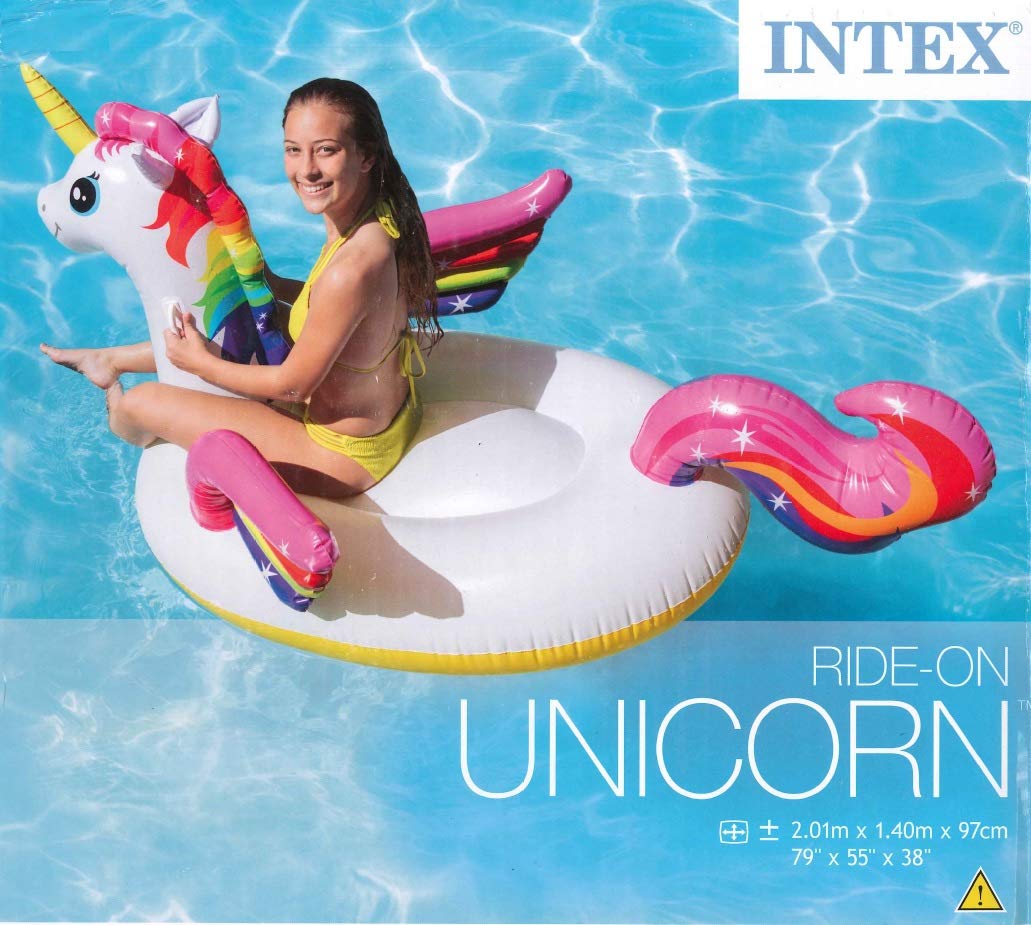 This glistening inflatable pool tube will make a big statement this summer. The float's bright swimming ring design makes it a terrific addition to your pool's decor. Inside, there are glistening confetti glitters that will make you stand out in the water. You're your tiny swimmer his or her own amusing baby pool! This summer, an inflatable pool for kids is the ideal size for one youngster to splash around in. When pool time is over, let the air out, fold, and store in the matching portable drawstring backpack. Great for the backyard, beach, or just next to an in-ground pool, so your tiny one doesn't feel left out while the big kids are swimming.
Made of sturdy, durable vinyl Material
Two air chambers for added safety
Durable handles
Durable handles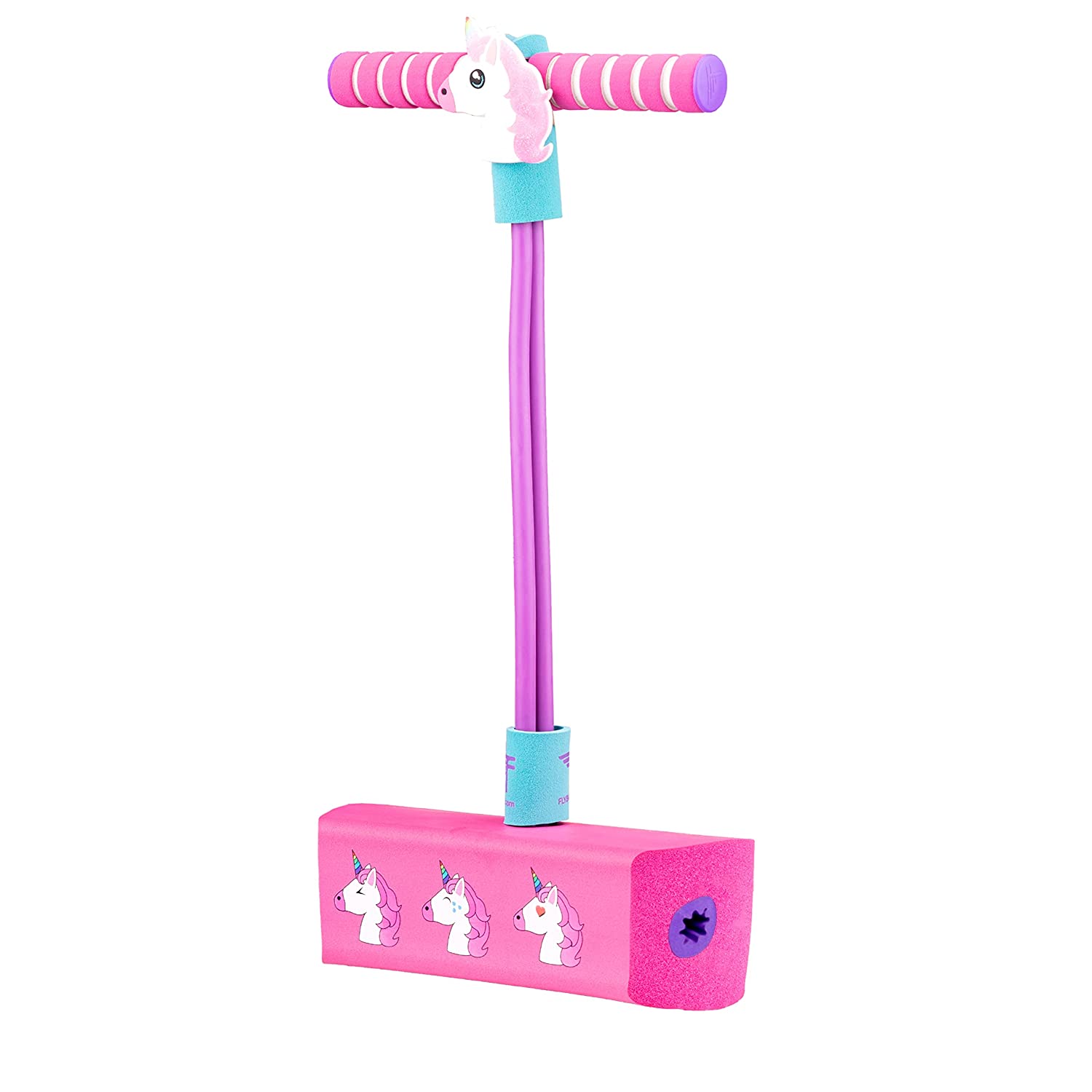 Boing, boing, squeak! Our bungee jumper is a foam pogo stick that promotes healthy activity whilst being incredibly bouncy boing fun Pogo sticks make great active toys for kids because they help train hand-eye coordination, balance, and gross motor skills. It is ideal for indoor and outdoor use, and unlike inferior jumping toys, this pogo jumper for kids is made to last! Give your kid a head start in life with it!
Soft, comfortable foam handles
Strong stretchy bungee "spring" suitable for most heights
Strong, durable foam base with built-in "squeak" speakers
Frequently Asked Questions
1) Why do unicorns make for a great choice in toys?
Unicorns make an excellent choice for youngsters' toys for a reason. Consider the following:
a. Unicorn toys encourage tons of play. They speak to both fairy-filled and adventurous forests, thus keeping them engaged and intrigued with their enigmatic appearance and traits.
b. Open-ended play happens when the child is allowed to create their own rules and world build with unicorn toys. It is a great way to inspire imagination and support development.
c. We live in a very stressful world. Children are pushed towards adulthood faster than they should. Give them something fanciful they can enjoy to help make the most of their childhood years.
2) How to determine if the unicorn toy is age-appropriate?
Check if the material of the toy is as per the appropriateness of the child. Unicorn toys compose plastic, but it is essential to determine if it is soft or hard plastic. There may be some components that may have choking hazards for small children. Keep an eye out for tiny trinkets as well. Check if the plastics and paints used are safe for children's toys.
3) How to choose a good unicorn toy?
Don't be afraid to think outside the box when it comes to unicorn toys. Even if youngsters don't spend hours on end playing with model unicorns on the floor, there's probably something out there for them.
4) Are unicorn toys exclusively for girls?
There Are Several Factors To Be Considered While Purchasing Furniture Online Like Color, Texture, Comfort, Assembling
Strategy, Shipping Cost, Availability, Return Policy, And Customer Reviews.
Unicorn toys are a classic that will never go out of style. Everyone has allied with the unicorn as the symbol of hope, purity, and oddity. The thought of being open to new ideas, of taking a chance in life to bond with a mystic creature, is enthralling. It is imperative to construct or revitalize myths to help make sense of the world in each period yet also engaging and fun. Our list of unicorn toys will help you choose the best for your child or for gifting. After all, it's not every day that you can mix a positive remark about being different with sparkles!