The sweltering summer months are already upon us. And surviving these escalating temperatures can get a little too uncomfortable. Air coolers are the easiest and most affordable way to beat this scorching heat. Along with being extremely affordable, air coolers are also environmental friendly. Additionally, they are ideal for places that are both hot and dry. However, with so many different types of air coolers, brands and products available in the market, making a choice can get confusing. Things like the size and type of cooler play a major role when you make your choice. To make your choice easier, here is a brief look at our air cooler buying guide. Our air cooler buying guide will give you an insight into the different types of air coolers, advantages and the things to consider. Take a look!
Top 8 Air Coolers in India
Air coolers are available in 5 different types. Every type of air cooler comes with different features and functionality. To give you a better understanding of how every air cooler works and which one you should pick, here are the different types of air coolers available in the market.
1) Personal Cooler

Personal air coolers are mainly ideal for places that receive humid weather conditions. These coolers are designed mainly for small rooms and areas. Additionally, personal air coolers are energy efficient and consume less energy. They are also quite and do not make a lot of noise. In spite of having small water tanks, these air coolers can run for hours and provide you with cool air at a go. Here are some benefits of personal air coolers:
Ideal for small or medium-sized rooms
Mainly used in areas where extreme cooling is not required
Very economical – you can find easily find air coolers below 5000 in this type
Allows 20-30 litres of water capacity
2) Desert Cooler
Like the name already suggests, desert air coolers are mainly preferred in areas that receive climatic conditions. These air coolers are large and easily cool a large room. To ensure that the entire room receives cool air, these air coolers are designed with large water tanks that distribute cool air to every corner of the room. Interestingly, these air coolers can also be used outdoors. Here are a few advantages of desert coolers:
Can easily cool medium and large sized rooms
They are built with huge fans that make the cooling process easy
Water tank capacity usually varies between 30 – 60 litres; this lessens the need to refill the cooler every few hours
3) Tower Cooler

These coolers are tall and come with the vents placed on the top. Since these coolers are tall, they occupy minimum amount of space, making them easier to store. Moreover, tower air coolers are also a great option if you require instant cooling. Since, the vents are at a height, cool air is conveniently circulated around the room. In terms of cooling and water tank capacity, these coolers are considerably better than desert air coolers. However, they are also comparatively on the expensive side. Take a look at some of the advantages:
Offer high cooling efficiency
Large water tanks make reduce the need to refill water every few hours
Due to their tall shape, these coolers require minimum amount of space for storage
All thanks to their height, these coolers can offer instant cooling throughout the room
4) Room Cooler
These coolers are pretty similar to personal air coolers. These coolers are specifically designed for cooling smaller rooms and spaces. Furthermore, they consume minimal amount of energy and are pretty affordable. Plus, these coolers are small in size and come with smaller water tanks. Following are some of the benefits of a room cooler:
These coolers are perfect for small and medium-sized rooms
They use blowers for distributing cool air across the room
5) Window Cooler
Window air coolers are very similar to window air conditioners in India. These type of air coolers do not require any extra space for storage and are directly installed into the window unit. Nevertheless, if you do not want to install them in a window, you can also use them as portable coolers by placing them on trolleys. They are the best options for small offices and big rooms. Here are some of the advantages:
They only consume 1/10th of the energy generally used by an air conditioner
They do not require any additional space in a room
Large water tanks that can hold 50 litres of water reduce the need to refill regularly
Advantages of Buying an Air Cooler
Most people would prefer buying an air conditioner instead of an air cooler. However, air cooler have their own set of advantages that make them a better choice. Here's a look at some of the advantages of owning an air cooler.
The very first advantage of opting for an air cooler is that they are economical and cost-effective. It is easy to find high-quality air coolers below 7000. On the other hand, a basic air conditioner will cost you more than Rs 30,000.
Air coolers consume minimum energy, this means you will not have to deal with sky-rocketing electricity bills. They are a big save on electricity
They offer fresh air – air coolers provide air with the help of cool water. This is more natural and safe for your health.
They are eco-friendly and do not cause any harmful effect on the surrounding environment.
Another major advantage of air coolers is that they are portable. You can easily move the air cooler from one room to another without any hassle.
Buyer's Guide: Pick the Best Air Cooler
1. Water Tank Capacity
The size of the water tank in an air cooler impacts its efficiency. The water tank size of personal air coolers should be between 25 and 35 litres, whereas the water tank capacity of desert air coolers is between 35 and 65 litres.
2. Air Delivery
When choosing air coolers, the capacity to properly cool heated air and the strength with which the air cooler spreads the air around the space are crucial factors to consider. A speed regulator or automatic louvre movement is also included in an air cooler to ensure that air flows in all directions.
3. Cooling Pads Efficiency
Cooling pads are an interior component of an air cooler that has a direct impact on the product's cooling effect. Cooling pads made of cellulose or aspen fibre absorb water well and allow fresh air to travel through them.
4. Design and Movability
It is advisable to choose air coolers that are sleek and attractive, so they won't take up too much space in your room. Furthermore, acquire an air cooler with castor wheels to make moving it about the house easier.
5. Safety/Durability
Certain models with particular safety features, such as thermal overload prevention, no water level alarm, or voltage fluctuation protection are favoured.
6. Other specific features
While giving preference to air cooler models, we consider the presence of many useful features such as remote control, auto fuel, auto drain, easy-cleaning, and so on.
Allows customers to store ice cubes in the air cooler, which melt and provide chilled water to the storage tank, enhancing chilling.
Integrated castors, also known as multi-functional wheels, make it considerably easier to transfer a cooler, increasing its portability.
Air Coolers With Inverter
The latest air coolers have been linked with inverter technology to save power and enhance energy efficiency.
This shows how much water is in the tank. When filling the tank or planning future refills, it can be really handy.
The cooler's automatic water level management keeps the water level at the ideal level for use. Flooding and leaks are also avoided.
Knob for controlling the speed
The cooler fan speed can be easily adjusted. Allows the user to customize the cooling to his or her liking.
The latest air coolers have an auto mode that allows the cooler to automatically select the best settings based on the ambient temperature and humidity.
Improves the accessibility and convenience of use of an air cooler dramatically. Allows the user to control the cooler from afar.
7. Verified Customer Reviews & Complaints
Last but not least, we took into account the real-life experiences of people who publish their feedback on various web platforms about various aspects of an appliance.
Top 8 Air Coolers in India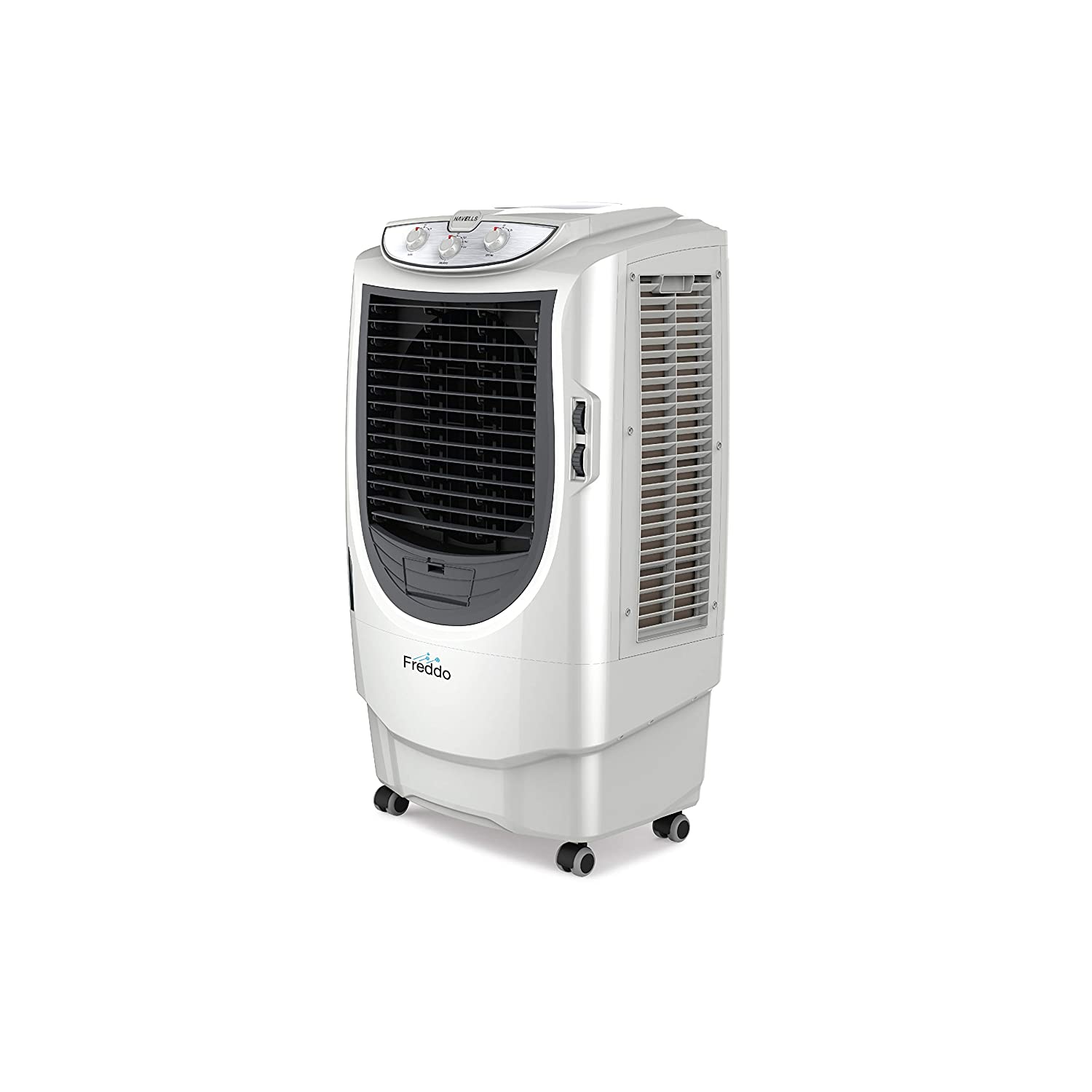 Havells, one of India's most renowned companies, is known for producing some of the best air coolers. As a result, their cooler with a plastic body is one of those electronic products that can easily cool vast places like ceremony halls. The standby power consumption is 220W, which includes the cooler's wattage. The cooler is equipped with a three-layer protective barrier that keeps dust and insects out of the tank. The tank includes a digital readout and a capacity of roughly 75 litres. On all three sides, it has a honeycomb cooling pad and dust-resistant netting. The cooler can cool spaces up to 116 m3 and delivers roughly 3500 m3/hr of air. The cooler can be manually operated or controlled via remote control. It also contains an auto drain system, which ensures that the water inside the tank does not become stagnant. As a result, you won't have to be concerned about the usual mosquito breeding problem in India.
Pros
It regulates humidity.
There is a temperature display on it.
It has a high tank capacity of 70 litres.
It is equipped with a self-draining system.
A one-year warranty is included.
Cons
This cooler's windows are designed to be manually adjusted.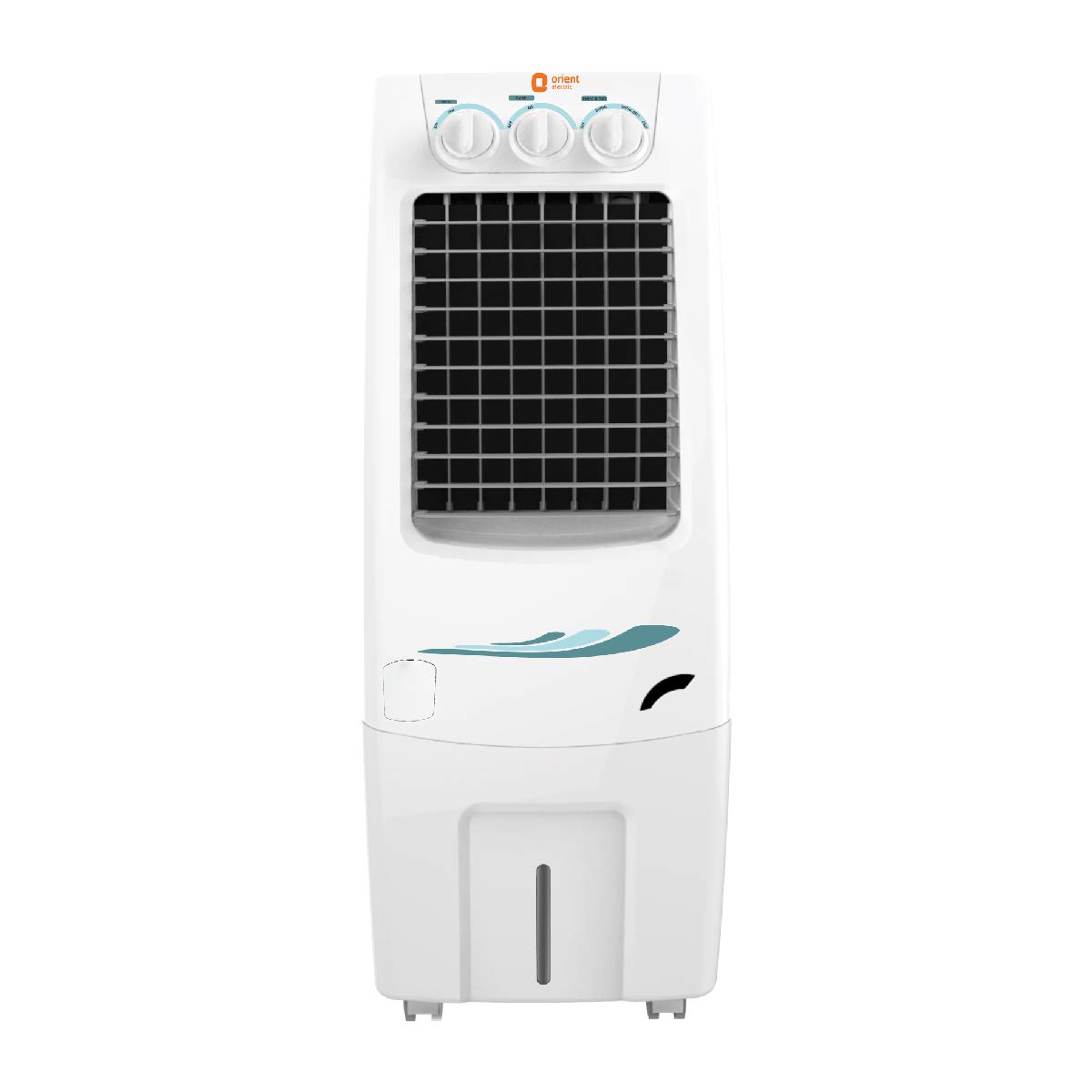 With Orient Electric Smartcool Air Cooler, it's easy to get a sensation of winter this summer with an optional snow cooler with a 30-litre tank capacity, 11-meter range, and automated recharge capability. The cooler weighs 10.3 kilogrammes and has a power of around 140 watts. It boasts two sets of wheels for easy manoeuvrability and an ice compartment for speedy cooling, making it one of the most user-friendly coolers available. This cooler is very inverter compatible, so it can keep running even if the power goes off. The control panel has several knobs that can be utilised to execute tasks. This air cooler is great for bedrooms, living rooms, offices, study rooms, and businesses, among other places.
Pros
It has three motor speeds: high, medium, and low.
It has a high-capacity motor.
It can be used with an inverter.
It moves easily thanks to four castor wheels.
Cons
No remote control access
To achieve good outcomes, enough ventilation is required.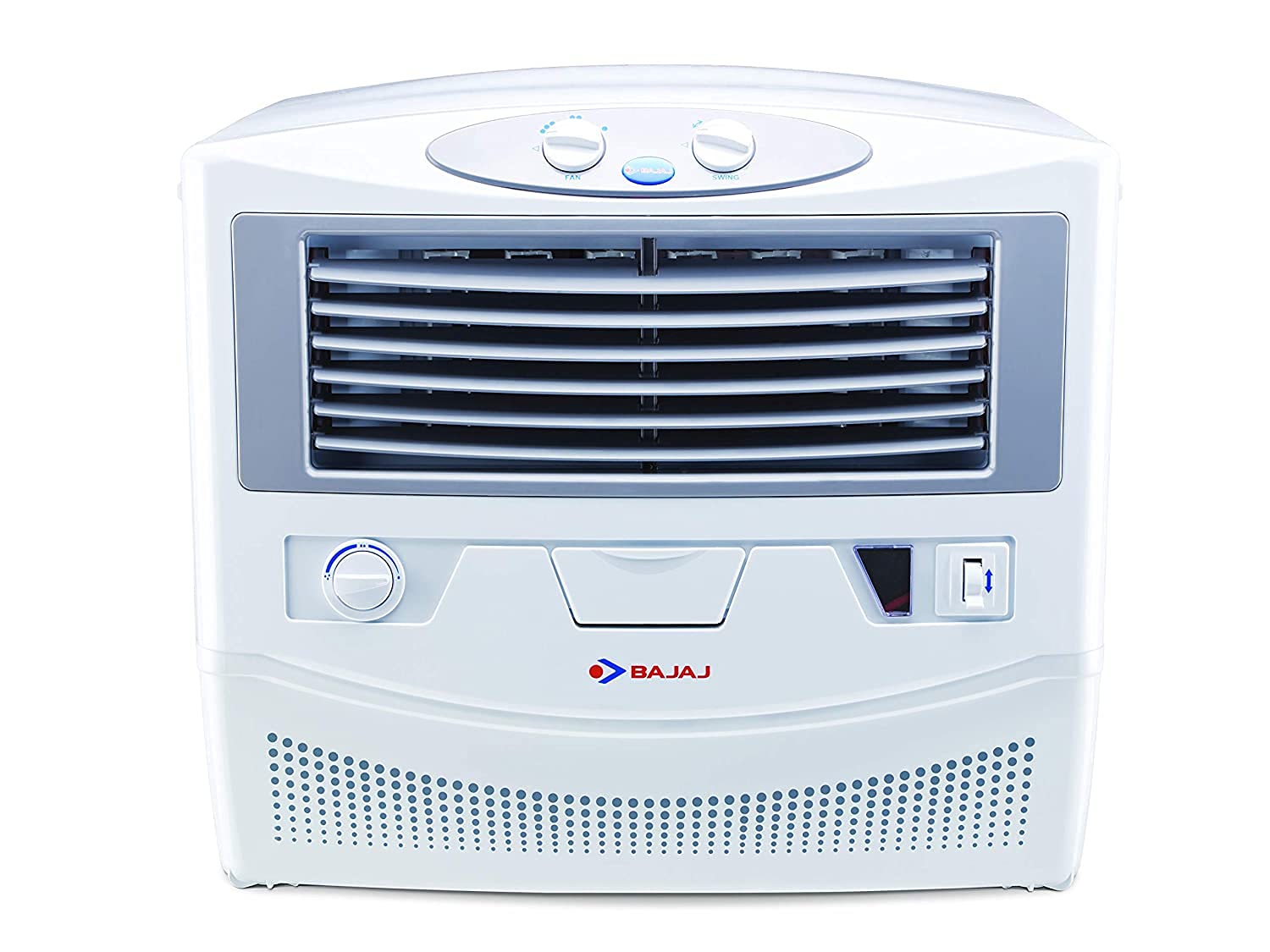 Bajaj MD2020 54-litres Window Air Cooler is ideal for a variety of temperatures and geographical areas. This air cooler features a huge water tank and a high air supply, allowing it to deliver continuous and effective chilling. Furthermore, most Bajaj air coolers employ cutting-edge technology to give an effective cooling experience, ensuring that you enjoy a cool-cool summer inside your home or office. All of these air coolers include wheels for simple transportation.
Pros
There are three airflow speed adjustments.
The water tank has a capacity of 54 litres.
It has a fast cooling effect.
It is dust-resistant.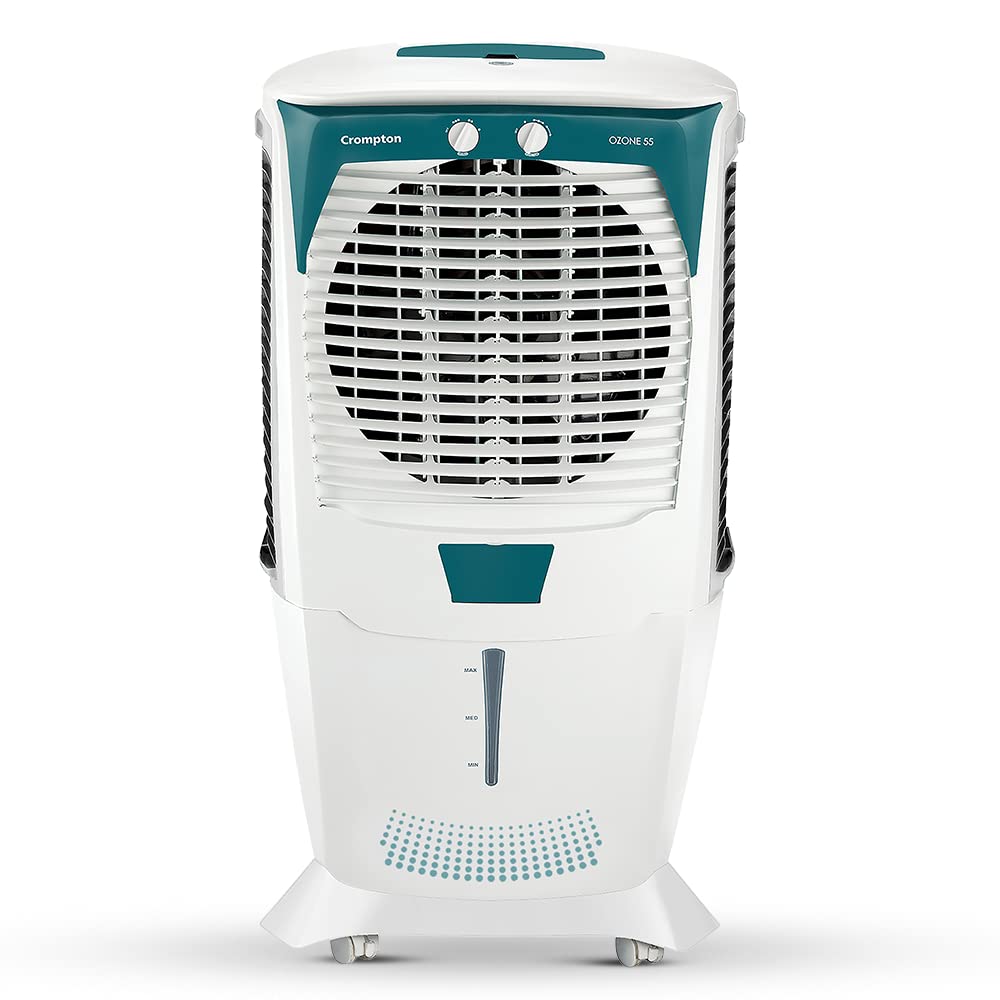 Crompton is one of India's leading consumer goods firms, with a 75-year brand history, so you can trust them, and this inverter air cooler provides a multi-function cooler that is meticulously designed based on in-depth knowledge of the cooling solution needs of the Indian market. For excellent cooling, this Crompton Multi-Purpose Cooler features a wide-angle airflow, humidity control, and improved air supply.
Even if the TDS level in the water is high, the Everlast pump is less likely to clog.
Mosquitoes are kept out by the mosquito net, and the automatic drain mechanism makes cleaning a breeze. This air cooler is also powered by an inverter.
Pros
A one-year warranty is provided.
Its body is rust-free.
It offers quick and efficient cooling.
Cons
Effective cooling necessitates ventilation.
There is no remote control.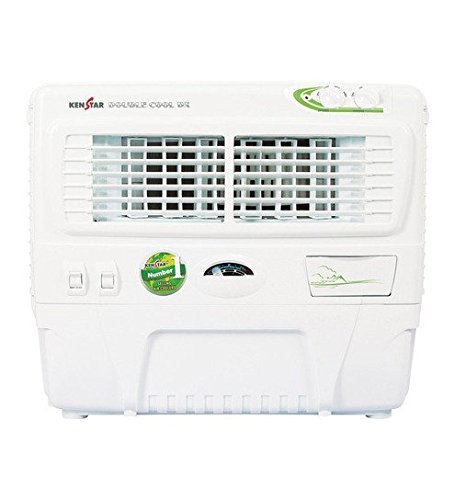 Take the Kenstar dual cold air cooler home this summer to be cool and comfy. This Double Cool air cooler has a 50-litre water tank and consists of a corrosion-resistant, thermally modified plastic body. This air cooler is perfect for living areas, bedrooms, offices, and dining rooms and is suitable for arid conditions.
Pros
It is quicker and easier to set up.
It uses less energy.
It evenly cools your room.
It has a 50-litre tank.
It's a reasonable item.
Cons
To function effectively requires adequate airflow.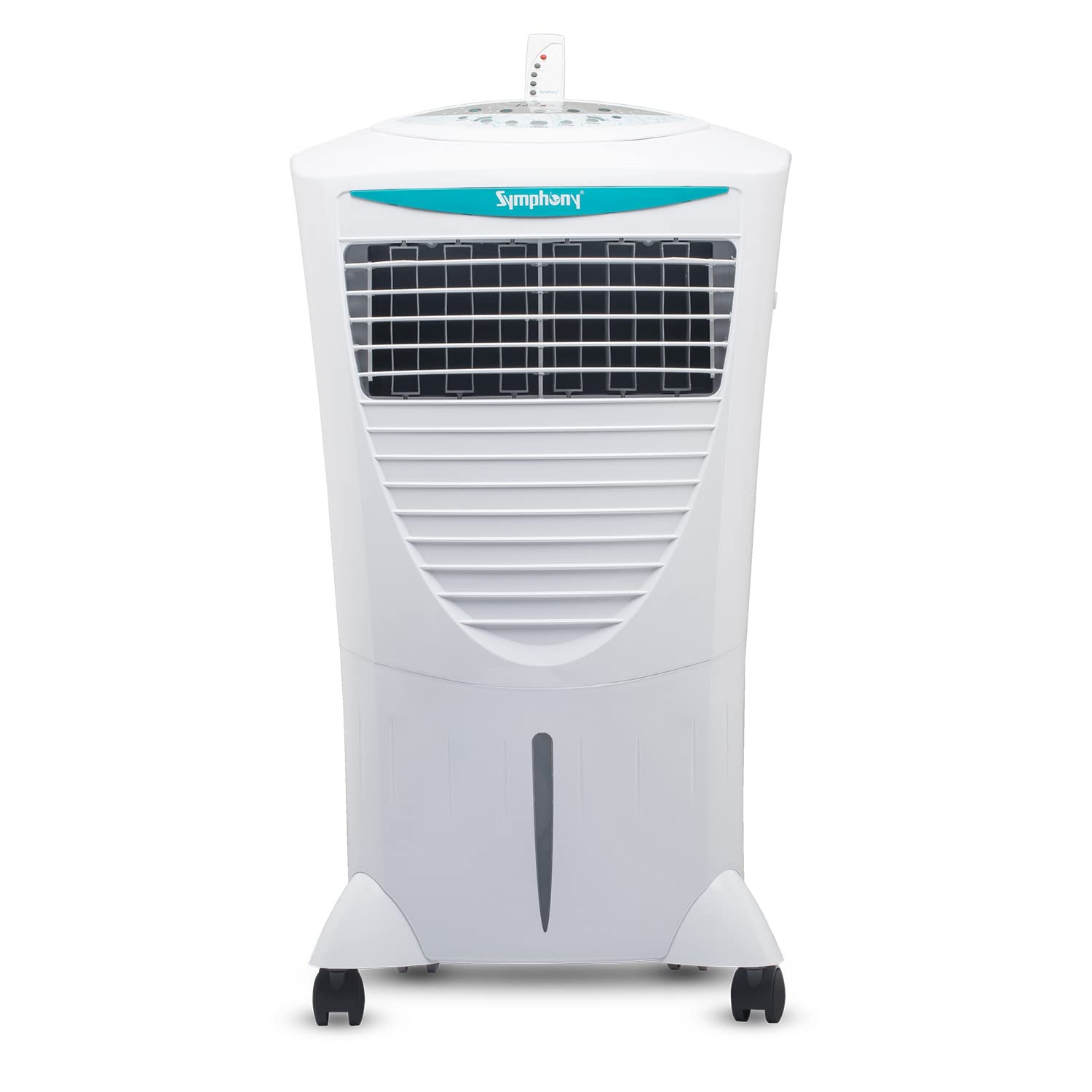 Symphony has invented the HiCool I personal room air cooler, which is both smart and stylish. Because the airflow can be readily adjusted to the height of your bed, this cooler is ideal for homes, businesses, and medium-sized rooms where you spend a lot of time. It has multi-directional wheels, allowing you to use it both inside and outside your home as a portable gadget. Fresh, filtered cold air is provided thanks to iPure technology, which includes multi-stage air purification filters. A huge water tank with a capacity of 31 litres can be readily coupled with a room measuring up to 17 square metres. There's also an empty water tank alarm, which can alert you when your water supply is running low and prevent harm to the pump.It only uses 185 watts of electricity, making it an energy-efficient air cooler.
Pros
It's an easy-to-use air cooler.
It has an SMPS feature that protects it from voltage fluctuations.
It may be operated from a distance.
It has a touch-screen interface.
Cons
Controlling humidity is not very effective.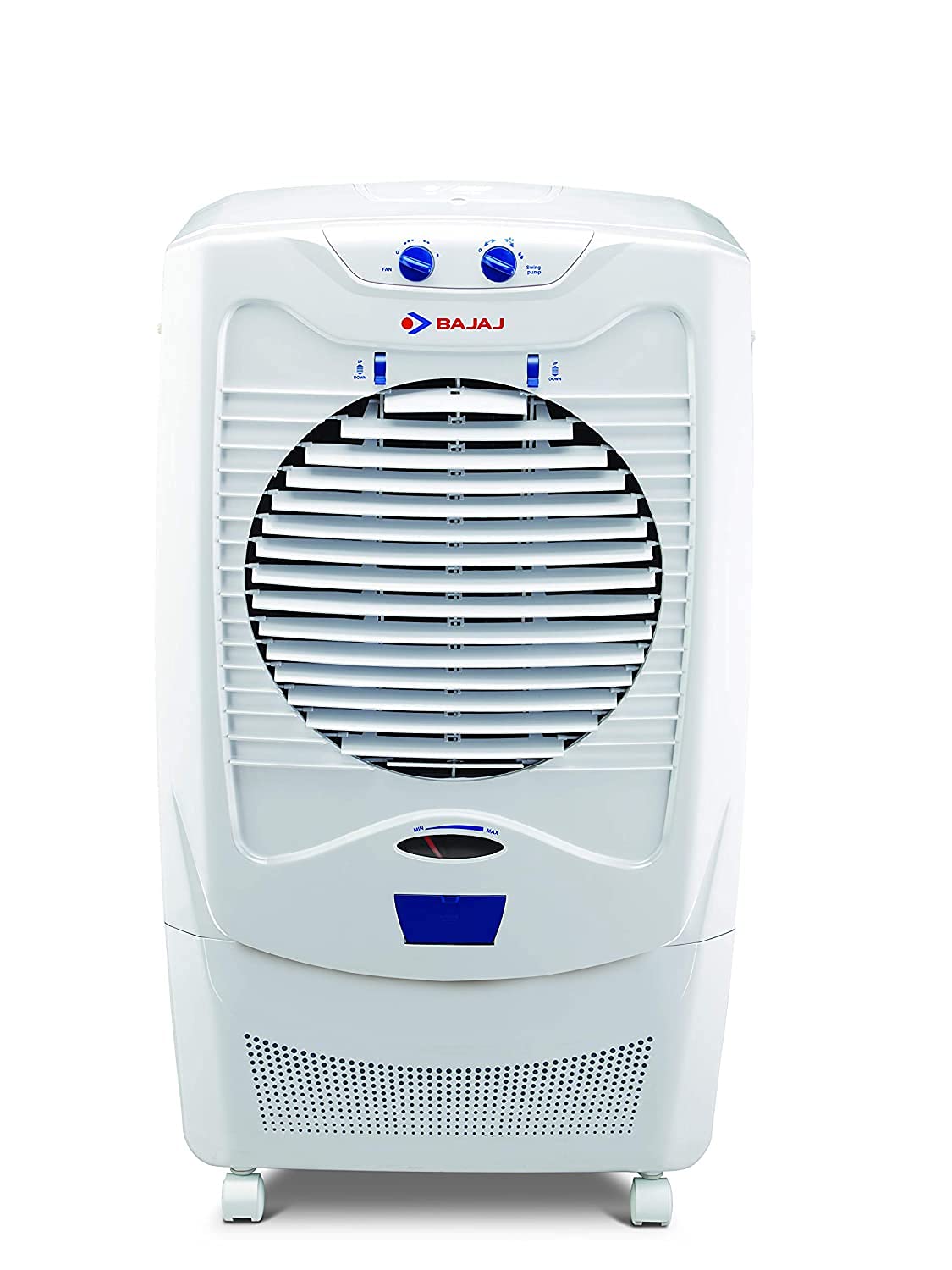 Air coolers from Bajaj Electricals are ideal for a variety of temperatures and geographical areas. The Bajaj DC 55 DLX 54-litre Desert Air Cooler has a high air supply and huge water tanks to provide continuous and effective chilling, ensuring a superior cooling experience in the searing summer heat. Furthermore, most Bajaj air coolers employ cutting-edge technology to deliver a comfortable cooling experience. All of the air coolers have casters for convenient mobility.
Pros
aids in the cooling of huge areas.
This air cooler retains water for a very long time.
It includes three honeycomb pads on the sides that help to keep you cool.
It incorporates a fan-based cooling system that allows for efficient air movement.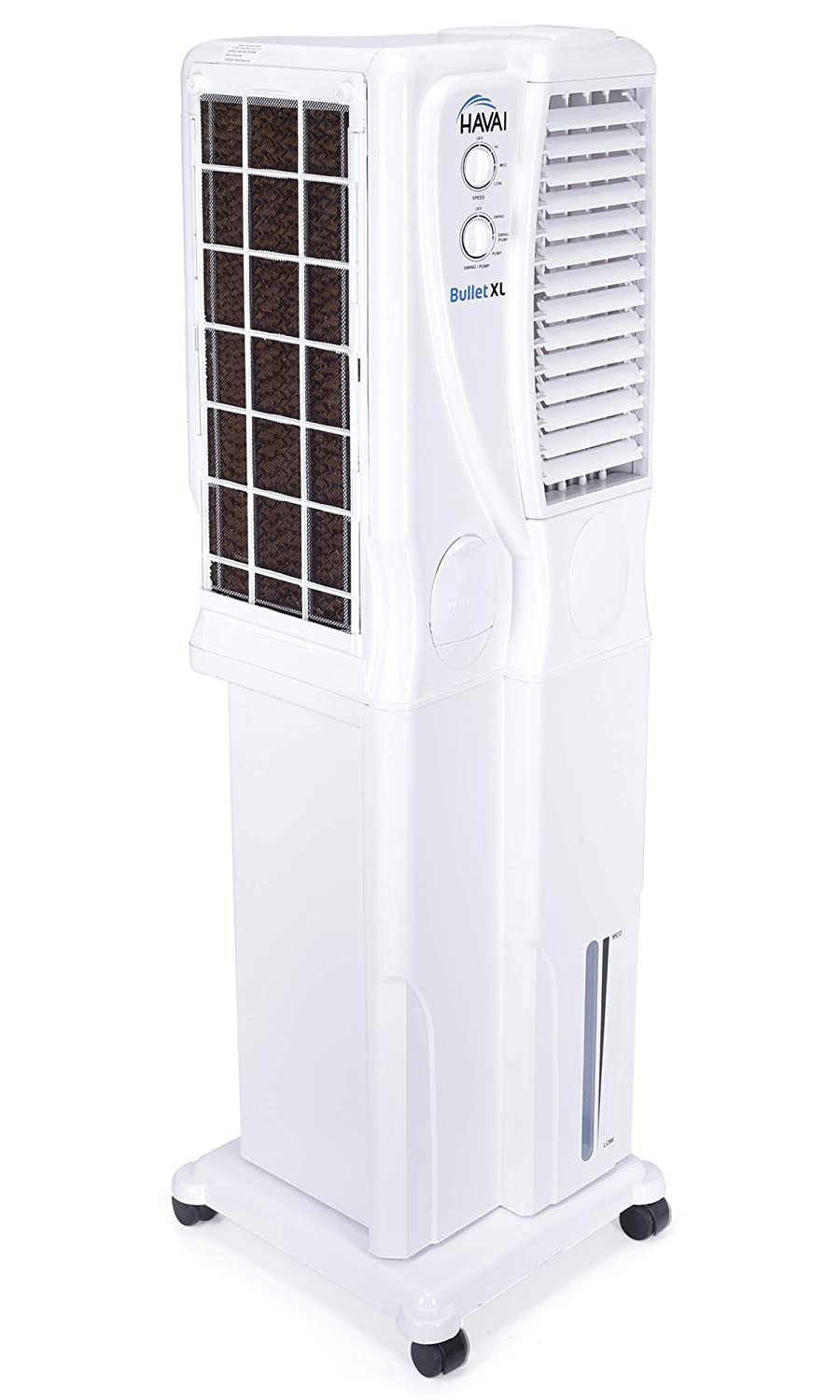 The HAVAI tower cooler is ideal for every room in your house because it simply blows cold air and does not provide the same outcomes as your air conditioner. It comes with a 35.5cm high-end ABS blower and a thermal overload protector on the motor to assure safety. This tower cooler's solidity is ensured by its ABS grade foundation. A 3-pin ISI power cable is included with this chiller to ensure that the plug is properly secured to the fuse.
Pros
It has three high-speed motors.
It produces less noise.
It provides easy movement.
It is dust-free.
Cons
This air cooler's finish might have been better.
Frequently Asked Questions
1) Are there any air coolers that don't have a water tank?
There are no air coolers available without a water tank. The basic principle of an air cooler is to generate and circulate cold air using water.
2) How much can the air cooler lower the temperature?
Water and air are used in air coolers to lower the temperature. As a result, it can only lower the temperature by about 5 to 8 degrees Celsius.
3) Is it better to use an air cooler or an air conditioner?
An air conditioner is an expensive purchase that is only utilised indoors. An air cooler, on the other hand, is cost-effective and portable. It is somewhat eco-friendly, because it circulates fresh, filtered air. As a result, if a family is searching for a low-cost investment.

Air coolers are both environmentally benign and cost-effective, thanks to their long-lasting functionality. It can not only help you save money on power, but it can also enhance the air quality in your home. You may simply enjoy fresher, cleaner, healthier, and more breathable air after you invest in a high-quality air cooler. It is evident that air coolers may provide you with more benefits in the long run if they are properly maintained.